The invitation read as – 'Invitation to Kolkata's largest transitional gastro Brew pub'. The question which came to the mind is- what is a transitional gastro pub and we found the answer.
Afra Tafri has opened up at a place which doesn't have too many night spots, leave aside pubs. Adjacent to Industry House, this is on the first floor of Haldiram Building – 9 Camac street. With Monkey Bar on the same line and 22 Camac street, popularly known as Pantaloon building, hosting few of the other big names, this stretch of road is definitely going to be in news and action for the next few years.
We were greeted by Shatbhi Basu, the legendary bar tender, mixologist and one of the authoritarians for Bar tending in India (as a matter of fact Shatbhi Basu needs a separate blogpost altogether) and it was a fan boy/girl moment for both of us for sure. As per her, the cocktails are planned keeping in mind the infusion of local produce. While it is an array of cocktails which will be on offer, it was an experience to see her going behind the bar counter and whizzing up some great cocktails for us. The few that we tasted had Watermelon Mojito comprising of watermelon juice, fresh watermelon chunks pounded to a pulp and black pepper with white rum, Phuchka caprioska is a version of the classic caprioska and here, she used lemon, jeera powder (cumin powder), rock salt and mint leaves with vodka. My personal favourite was Island affair – as Shatbhi explained, imagine you in some island and lost in paradise. So it had white rum at the base, lychie juice, blue curacao and she poured in dark rum (old monk) from top. Shatbhi feels that Kolkata has a strong love for Rum, so there will be various rum based cocktails. One cannot also help but remember the smoked old fashioned which was served with orange marmalade, cloves which were pounded and finally smoked to perfection. Many of the bloggers present requested for a repeat of this cocktail and my prediction is this will become a popular one with many.
The Holi punch gave way to Gondogol. Shatbhi mentioned that she was always in love with the word 'gondogol' and wanted to use in one of her cocktails. What better way to name it here in the heart of the city for a cocktail made with thandai and scotch? A couple of these would surely lead to gondogol. Towards the end came Jager Atoms in shot format. Visually it was stunning, smalls glowing atoms at the bottom enveloped with a sparkly drink, I have never been much of a fan of Jagermeister and overall it tasted quite like cough syrup. Well, many loved it; this is completely my personal opinion. The microbrewery is yet to open but we are told that it will bring in more excitement to this place.
The interiors were nothing short of stunning. The place is divided into 3 sections- one is a casual smoking zone with beautiful bright couches and some leatherette high stools. Arched wood panelled ceiling, a quirky mural on the wall and large windows which can be opened, overlooking the street is a visual delight. There is a PDR with conferencing facilities, projectors etc where one can have meetings and end with some potent drinks and gastronomic food. The centre area has an interesting DJ console, the bar, high stools and various kinds of seating arrangements. The look and the feel is very colonial Kolkata with a modern outlook. So on to the question of transitional- one can move from cafe to a pub from lunch to dinner at the same place.
The food menu is quirky and vibrant with a lot of catchy and engaging names, some to the regular food as well. Celebrated Chef Ranveer Brar has been brought on board to curate the menu and in his usual style, he has given a lot of twist to popular dishes. Few of the dishes that we tried and had an impact on us were the Akkad Bakkad Kukkad which is available in 2 formats- malai tandoori chicken or a fiery red tandoori chicken tikka. A very common dish but done uncommonly well. We have all eaten mochar chop and mochar cutlet but mocha (banana flower) in a kebab form was the first of its kind. Mocha e Ulfat was a beautifully executed Mocha kabab filled with dry fruits and nuts. The love for Tangra Chinese was evident in the way everyone devoured Tangra mein Bhangra– perhaps the best executed dish of the day, it was crunchy and crispy and smothered with chatpata Chinese sauces, chillies and onions. Many other interesting dishes did the rounds, like biryani which came in a tiffin carrier, mushroom pate in a jar coupled with grilled Bhavnagri chillies and ulta parathas, Manglorean chicken with Bajre ke roti and many more. Sweet Nachos turned out to be a splendid dessert where the dip was white chocolate mousse with caramel sauce on the side and the nachos being brandy snaps.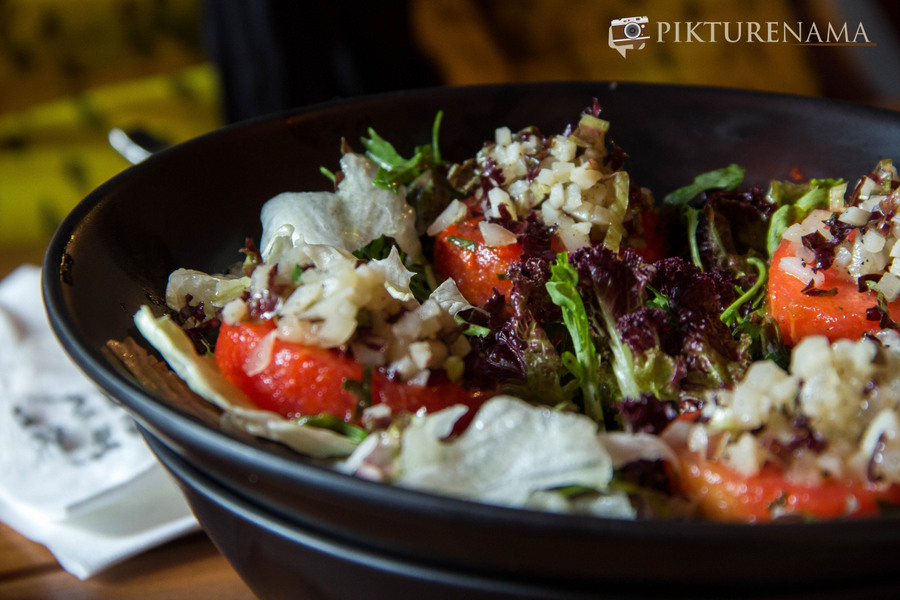 The official launch of Afra Tafri is on the 19th of March 2017. We were privileged to be part of the preview. This post is definitely not a review and in any case, it is too early to review a place which has not tasted time yet. We are simply happy to see restaurateurs going all guns blazing in the food business to bring Kolkata to the national standard. No longer is it about only Chinese and Biryani. No longer is it about only Park Street. Kolkata seems to be shining.