Food always has some kind of emotional connect. Therefore, everything we eat, reminds us of some memory or some thing from the past. It could be the taste of the food or the smell, or the way it was served. It could be just about anything and it always takes you back to some place in your memory bank. I make aloo bati chorchori almost once a week and yet, each time, it reminds me of my mother. During winter, Ma would often make aloo bati chorchori with hot phulkas for breakfast and that's a memory I am stuck on.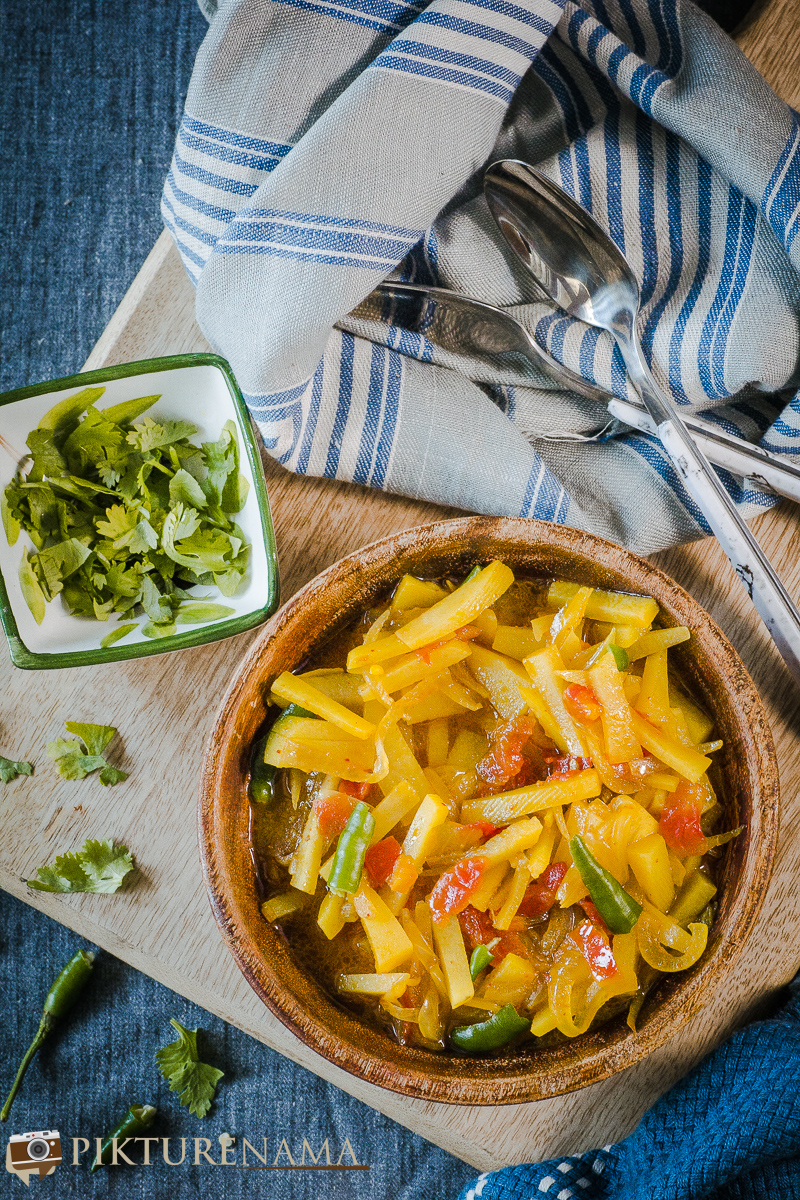 It is a lockdown friendly recipe
The covid situation and the lockdown in turn, made us all think of innovating in the kitchen and cooking up different food, to keep us going. At the same time, we needed to be frugal and use whatever resources were available to us. So, out of all the vegetables, the one vegetable which appeals to everyone is potatoes. Potatoes are cheap, you can buy them in bulk and you can make a thousand recipes with potatoes. In a situation, where you are time pressed and want to wash as less utensils as possible, aloo bati chorchori is a saviour.
Aloo bati chorchori is moreish in a very rustic way. Mustard oil plays a key factor in the taste of the dish. I have to say that without mustard oil, the taste can never be the same. There are finer details to every food that we make and we Bengalis, are extremely particular about the cut of the vegetables, the tempering of the spices, the order in which the vegetables are cooked, so on and so forth.
You can check out our other Lockdown recipes here, check them out 
How to make a Perfect Aloo Bati Chorchori
As I wrote earlier, the finer details make for a perfect dish. Aloo bati chorchori is perhaps one of the easiest things to make as long as you follow the steps. The cut of the potatoes is important. You have to make fine sticks and of equal length and width. That's because, it is cooked in steam or pressure and hence, for even cooking, we need to cut them in equal shape. Onions have to be finely sliced too. With the tomatoes, you can roughly cut them lengthwise. Once you have prepped all the vegetables, you can put them together in a mixing bowl. If you have a high tolerance for spicy food, add chopped green chilies. And if you are like my family with zero tolerance for spicy food, add a couple of whole green chillies for flavour only.
Mix the vegetables with salt, turmeric powder (not too much), red chilli powder (optional) and sugar. I would highly recommend not skipping the sugar. It creates a fine balance in the taste. If you wish, you can also add chopped coriander leaves. And then comes the final ultimate ingredient, that is, mustard oil. You can choose to be generous with it or frugal. Either ways, add some mustard oil to bring everything together and then transfer to a tiffin box or a container with a lid. Put the container into a pressure cooker with a little bit of water at the bottom and cook for 10 minutes or two whistles. If you don't have a pressure cooker, cook in a steamer for 15 – 20 minutes or until the potatoes have become soft. Once done, you can take it out and serve it immediately. Ma sometimes, sprinkles a tsp of aata to this too. It gives a nice mushy consistency.
Serving and Storing Suggestions
You can serve aloo bati chorchori with roti, paratha or poori. You can also eat it with rice. It is quite versatile that way. You can store aloo bati chorchori in the refrigerator for upto 5 days. You can store in the freezer for a month and thaw in room temperature. Before re heating, drizzle some mustard oil and fresh green chilies.
Are you following us on our youtube channel Cook with Pikturenama? Pls subscribe. 
Check out the video of the recipe here – 
Do try this recipe and share your feedback. You can reach out to us at our social media handles: Instagram, Facebook or any of our personal Facebook (Madhushree and Anindya) and twitterprofiles. Post a picture and tag us.
Pin this for your recipe board ? You can follow us on Pikturenama recipes for more recipe ideas (Link)
Aloo Bati Chorchori | Bengali Steamed Potato Curry
It is a rustic Bengali potato curry cooked with onions and tomatoes in steam.
Ingredients
3

nos

medium sized potatoes

1

no

large tomato

1

no

large onion

1

tsp

turmeric powder

1

tsp

red chilli powder

1

tsp

sugar

1

tsp

whole wheat flour

optional

1.5

tbsp

mustard oil

2

nos

green chillies

salt to taste

chopped coriander leaves

optional
Instructions
Wash the potatoes and peel them. Then cut them into 1 inch long slices all of equal thickness (much like potato sticks)

De-seed the tomato and cut them into thin slice. Finley slice the onions too.

In a mixing bowl, take all the vegetables and add chopped or whole green chillies.

Add turmeric powder, red chilli powder, salt to taste, sugar and mustard oil and mix everything. If you like mushy consistency, add whole wheat flour too.

You can also add coriander leaves if you like the flavour. It is optional.

Then transfer everything to a tiffin box or a container with a lid. Place it inside a pressure cooker with little water at the bottom (just enough for steaming).

Cook for 10 minutes or 2 whistles. If you don't have a pressure cooker, then place the container in a steamer or a kadai with water and cover and cook for 20 minutes or until the potatoes have become soft.

Once done, take the container out and serve immediately with rice, roti, parantha or poori.