Bori and some pleasant memories of childhood 
My earliest memories of Bori is associated with bribe. At my mamar bari (nani ki ghar), there used to be a big terrace, where we would play round the year. Winter afternoons always meant playing on this terrace, oranges and safe guarding the Bori tray. I don't remember what kind of Bori those were. What I do remember is that my Dimma (nani) would give me an additional gujiya (small Bengali sweet made from evaporated milk) with the prasad after her evening Puja. Small dumplings, dropped in a synced manner on a long cloth, covered with a black mesh. That was my first impression of Bori making. 
Bori while growing up 
Small, deep fried crunchy Bori were mandatory as a part of panch bhaja (five fried stuff) with Khichuri in Durga Puja. Then, on birthdays, Bori Bhaja was mandatory. In Summers, with dal, biulir dal in particular, we always had bori bhaja on the side. At lunch, everyone at the table would much on bori and the crackling sound would fill up the room. Then at times, Ma used to make Bori'r Jhal. This was not Aloo Bori Jhal but Bori'r jhal. There used to be no Aloo and little dumplings half dipped in a rich mustard paste adorned the bowl along with green chilies. However, the silliest yet unpleasant memory of Bori for me is by Ma. She was always unhappy with the shape of my nose and even few days back, she said that my nose looks like a Bori. 
Aloo Bori Jhal for Indian Food Observance Day – Papadvadi Day
Have you heard about Indian Food Observance Day? Our friend, Culinary consultant Rushina M Ghildiyal, had started this in 2016 and it's a celebration of Indian Food. You can read about this in details here. In the past, we had made Panch Mishali Torkari  for Masala Day celebration. We also made prawn pickle for Achaar day and the saga continues. This year, on the occasion of Papad Vadi day on 13th May, we had a blast. Across India, food historians, chefs, home chefs came together to celebrate the Papad Vadi day.
We had Dr. Pushpesh Pant, Chef Ashish Bhasin, Chef Jyoti, Ruchi Srivastava, Alka Jena, Chef Harish Rao and us along with Sayantani from Kolkata. We spoke, cooked and had fun. You can watch all the recordings of the day here on LF Originals channel. So for papad vadi day, we prepared Aloo Bori Jhal. This one however, had a slight Madhushree touch compared to the recipe which Ma had passed on to her. Madhushree added aloo so that the volume is more and one dish could be enough for a large family like ours. Rest all is like a cookie cutter model taste, if there can be a cookie cutter style at all. 
Badi, Vadi making and a lost community activity
One of the essential part of Vadi or Bodi is lost now. Bori making in the past was a community activity. Women sat together, chatted and passed on wisdom to each other and in the process, learnt the fine art of Bori making as Dr. Pant shared. So, Bori making is a summer process in many parts of the country. However, in Eastern Inida, summer sun is always harsh and there is the possibility of rain too. Hence, Bori making process starts after Dussehra or Bijoya Doshomi. Bori used to be stored in Large glass vessels called Boyam. Since its humid, the jars used to be taken out from time to time to be soaked in sun otherwise they would catch insects. Nowadays, of course, there are large industrial drying units to make bori, even in cottage industries. 
Like a Kasundi and Achar, Bodi making was a sacred ritual. Women took a bath, put on clean clothes and then started making Bori. Some household also had the ritual of making a 'Bor and Bou' (bride and groom) to begin the process. I can easily draw a parallel with the first Ilish of the season which came to many Bengali Households. So the 'Bor and the Bou' were blessed with dhan dubbo (unhusked rice and green grass) and sindur on the 'bou'. It was their way of believing that the bori would turn out perfect. 
Types of Bori in India
My knowledge of Bori was limited to two or three types. We, the present generation are to be blamed. We don't give Bori anymore but we buy them from the market. At home, we have Biulir daler Bori made with Urad dal, game changer Hinger Bori which has Asafoetida or hing and Musur dal Bori. Some musur dal bori are sold in the market as Phul Bori but they are far from it. The present day Phul Boris are not as fluffy (in Bengali Phule jaoa or being fluffy) as in the past.  Goyna Bori, on the other hand, is an art form and that deserves a separate blogpost all together.
There are naal vadis (found in Uttarakhand made with Colacasia stems), Kakodi vadis, Amritsari vadis, Pethe ki Vadi, Mooli ki Vadi, Gosht ke masale ki vadi, the list is endless. Maharashtra has songde, which is the local version of the Vadi made with Pumpkin and Toor dal. Hearing about all these on the day, it was clear that Vadi is definitely one of the most underplayed, underexplored ingredients of Indian cuisine. 
It's not only Aloo Bori Jhal where we have our Bori 
Every bori has multiple ways of cooking them with. So how do you have your Bori? I think the most popular one is the crunchy, deep fried ones which are easy to make and add that zing to a dull plate. That's not all. Musur dal er bori is had on the side, Motor dal er bori is used in shukto or even in a classic bori with macher jhol. These are not the crunchy ones but soaked in salt water just after frying so that they can soak in the flavours of the jhol. In a chorchori or begun borir ombol, it's the crunchiness of the bori which is highlighted.
Vadi acts as a saviour in hilly areas when there aren't enough supplies. It's not much different for plains too. At home, Aloo Bori Jhal is made to keep it simple yet delicious and this one is a winner definitely. The minute you add bori to a dish, the flavour profile changes. The vegetables or the curry takes on the flavour of that particular bori. All I can say is that, when there is nothing else, just make aloo bori jhal.
Since you are interested in Bengali cuisine – here is the recipe of Bengali Bhaja Moshla –
Share your cooking with us
Are you following us on our youtube channel Cook with Pikturenama? Pls subscribe. 
Do try this recipe and share your feedback. You can reach out to us at our social media handles: Instagram, Facebook or any of our personal Facebook (Madhushree and Anindya) and twitter profiles. Post a picture and tag us.
Pin this for your recipe board ? You can follow us on Pikturenama recipes for more recipe ideas (Link)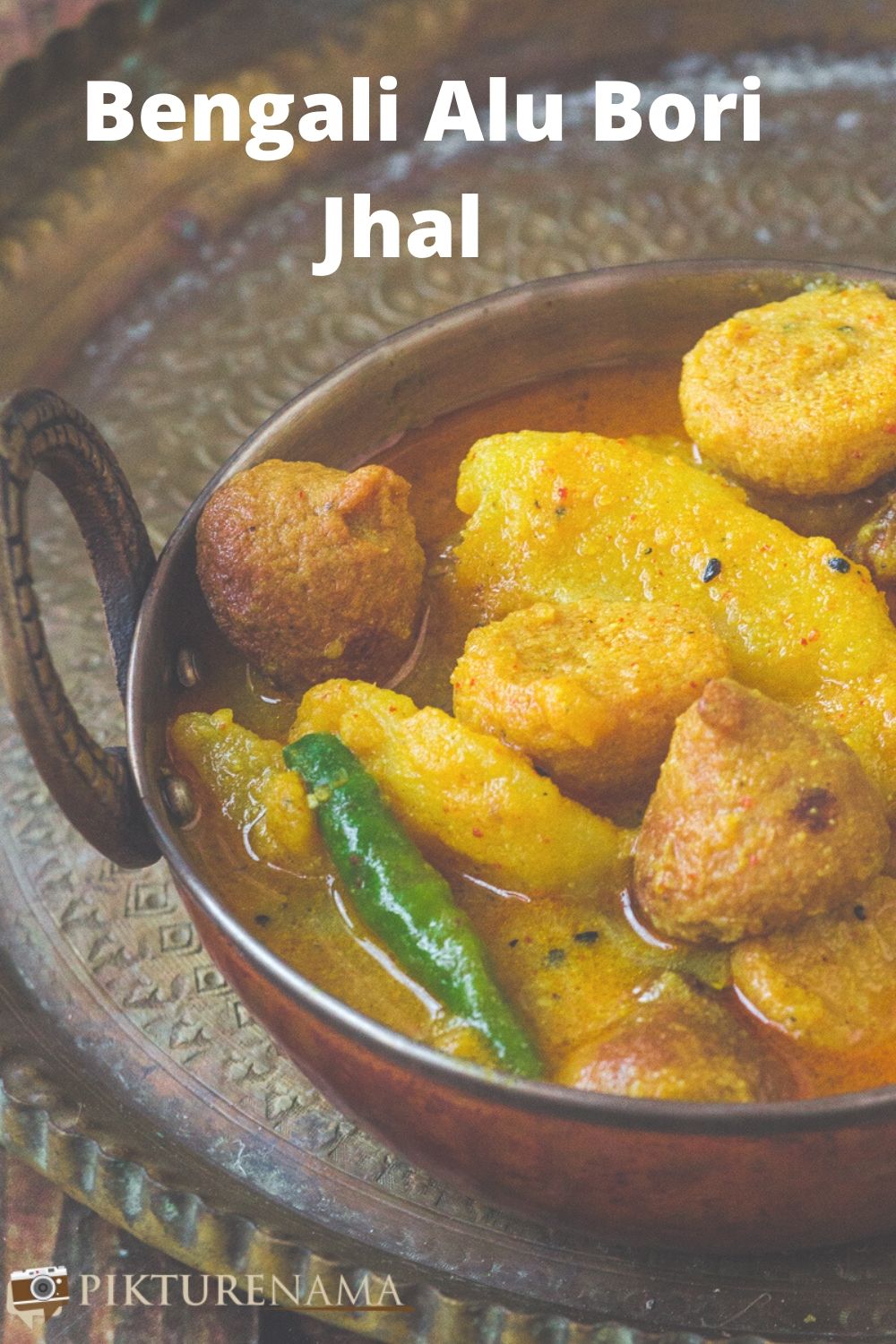 Aloo Bori Jhal | Bori Aloor jhal
Potato and dried lentil dumplings in a mustard sauce
Ingredients
1

cup

Urad Dal Bori

Biulir Daler Bori

2

Medium Sized

Potatoes

1

tsp

Nigella seeds

3 - 4

Green chillies

4

tbsp

mustard oil

1

tsp

red chilli powder

1

tsp

turmeric powder

2

tbsp

yellow mustard paste

see notes

salt to taste
Instructions
Peel the potatoes, wash them and cut them into thin half moon shaped fingers. Keep the potatoes aside. 

In a kadai, take 2 tbsp of mustard oil and let it heat. Take a bowl of water and add a pinch of salt in that and keep aside. 

When the oil is hot, reduce the heat and add bori. Fry them till they are red and take them out and drop them in the bowl full of water. You need to control the temperature since bori burns fast.

In the same kadai, add one more tbsp of oil and when it is hot, add one green chilli and nigella seeds. Let the spice temper and start releasing aroma. 

Then add the potatoes, sprinkle salt, turmeric powder, red chili powder and stir fry on high heat.

Sprinkle some water if the spices start sticking to the bottom. Then reduce the flame and cover and cook till the potatoes are cooked. 

At that time, add yellow mustard paste and a cup of water and let it simmer and cook for 3 to 4 minutes. 

Then discard the water in the bowl and add bori to the kadai. If the gravy has thickened too much, add a little bit of water. This dish has typically a thick consistency. 

Add some slit green chilies and check the seasoning. Adjust with salt if required.

 Finally, drizzle the balance mustard oil, give it a boil and turn off the heat. 

Serve alu bori jhal with steamed rice. 
Notes
To make yellow mustard paste, take 1/2 cup of yellow mustard and soak it in water for 15 minutes. After that grind it with a little bit of mustard oil and milk (instead of water). It gives a stronger pungent taste to the mustard paste. Keep pulsing and adding little bit of milk to get the best result. 
Once you use the required amount of paste, store the rest in the fridge for upto 3 days and in the freezer for upto a month. Whenever you want to use out of the freezer, take it out 15 minutes before the cook and keep on a bowl or plate of water. It doesn't take long for mustard to defrost in a hot country like ours. Just scrape out how much ever you need and keep the frozen part back in the freezer. 
Alternately, you can pour mustard paste in ice cube tray and then freeze them. That way, you can use as many mustard cubes as you need.