Are you one of those people always looking for recipes for party appetizers? Then you are in the right place. Andhra pepper chicken is super easy to make. I don't think I can call it an authentic recipe. Not that any recipe is 'authentic'. After all, recipes evolve over time. It is a great party snack and if you have a penchant for spicy food, this will go great with you.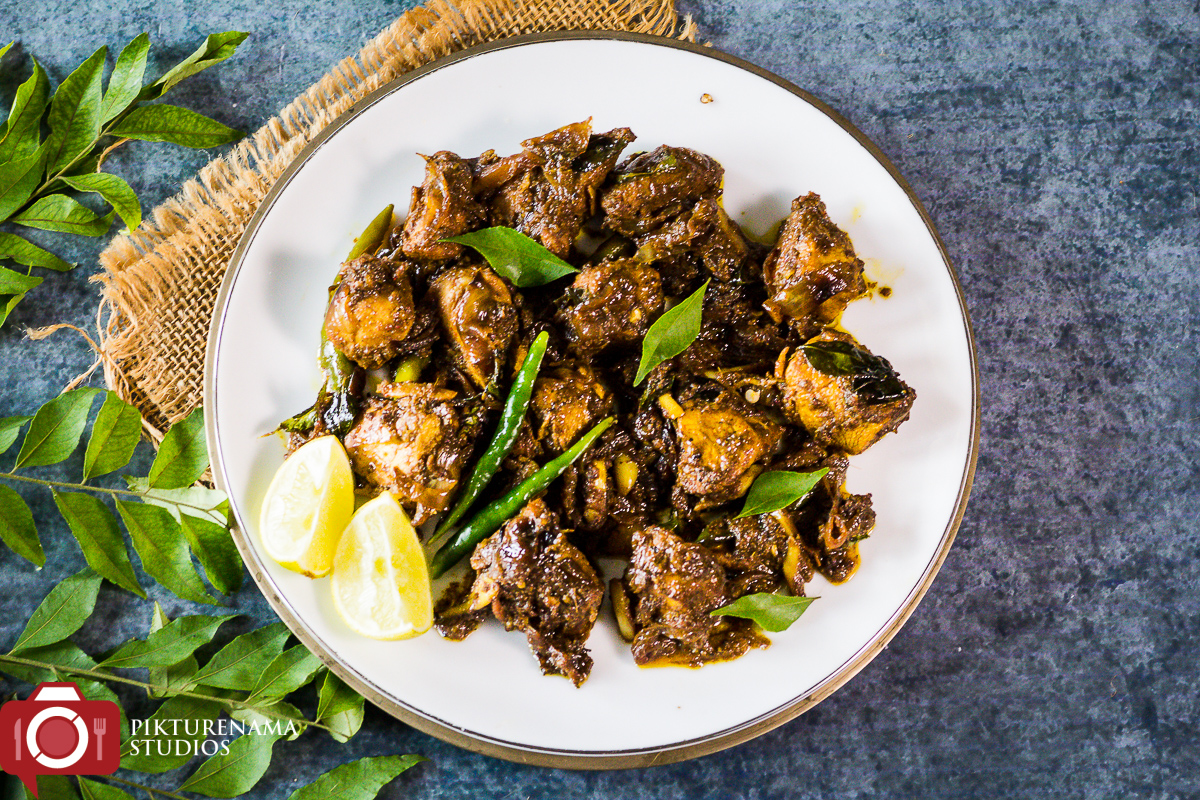 Andhra Pepper Chicken is a typical restaurant style dish
This recipe is more of a restaurant-style dish. These days, gastropubs come out with several appetizers that go well with drinks and this recipe falls in that category.  I can't remember exactly which restaurant I tried this dish but one evening I was desperately craving some spicy peppery chicken dish. Tugga's best friend is from Andhra and I called her mother, Purnima, and asked her for the recipe for Andhra pepper chicken. She explained the dish to me and she also mentioned how it is not typically made at home. On the first go, it was a super hit at home and with our friends. I made it a couple of times more. Shared it with more of my family and everyone loved it. 
You can also try this very interesting Mutton liver masala which has flavours from Telangana. 
Or how about some Spicy mutton pakodas?

"Capture the essence of your cuisine with Pikturenama Studios' food photography." BEHANCE
Serving Suggestions
You can serve Andhra pepper chicken as it is. It is a typically dry dish. You can also use leftover pepper chicken fry as a sandwich filling. It also acts as a great side dish for lemon rice. 
Do try this recipe and share your feedback. You can reach out to us at our social media handles Instagram, Facebook or any of our personal Facebook (Madhushree and Anindya) and Twitter profiles. Post a picture and tag us.
Pin this on your recipe board? You can find some awesome recipes at Pikturenama recipes in Pinterest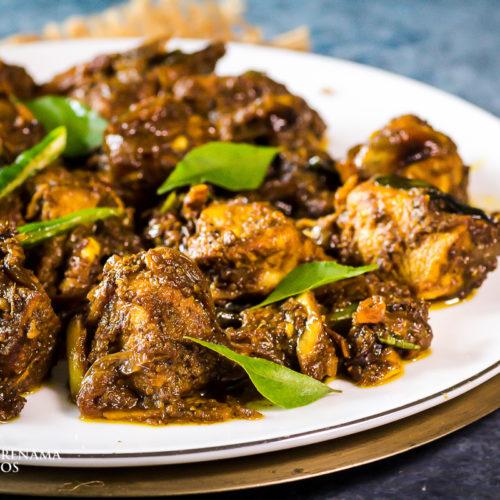 Andhra Pepper Chicken | Restaurant style Andhra Chicken fry
This is a spicy dry chicken recipe with plenty of onions and ginger.
Ingredients
200

gms

boneless chicken

you can make this with chicken on bone too

1

large

onion sliced

1

sprig

curry leaves

1

tsp

ginger paste

1

tsp

garlic paste

1/2

tsp

turmeric powder

1-2

tsps

black pepper

1

tsp

soy sauce

1/2

inch

ginger

julienned

4-5

cloves

garlic

thinly sliced

1/2

tsp

garam masala powder

1/2

tsp

coriander powder

1/2

tsp

fennel powder

1/2

tsp

red chili powder

2-3

slit green chilies

salt to taste

1.5

tbsp

cooking oil
Instructions
Cut the boneless chicken into small pieces and marinate with salt, turmeric powder, 1 tsp black pepper powder, ginger paste, and garlic paste. Keep for 15 -30 minutes.

Cut the onions, garlic and ginger. In a frying pan, heat oil and add the chopped ginger and garlic. Stir fry for half a minute, add curry leaves and then add the onions.

Keep frying them till the onion is soft. Add green chilies and all the dry spices.

Sprinkle some water and stir fry on medium heat. Keep stirring otherwise the spices will stick to the bottom of the pan.

Add the chicken into this and coat them with the spices.

Increase the flame and stir fry on high heat. Adjust salt and cover and cook the chicken over medium to low heat. It takes about 5 minutes.

After that remove the cover and again increase the heat so that all the water evaporates.

Finally, add 1 more tsp of black pepper powder and soy sauce. Give everything a good mix.

Garnish with some more curry leaves. Then turn off the heat.