It took me fifteen minutes to figure out the keyword for this post. We call it alur dom. However, SEO says Bengali aloo dum generates better hits. Hence, Bengali aloo dum and incidentally, this one is a niramish recipe- meaning no onion and no garlic recipe.
Niramish in Bengali is Pure Vegetarian
In Bengali cuisine, we categorise our food into niramish (vegetarian) and amish (non-vegetarian). And strangely enough, for us, niramish means pure vegetarian. Food cooked without animal protein, onion and garlic. Hence, most of our vegetarian recipes are without onion and garlic.
You can check out our professional work portfolio here and our Behance profile here 
Let your food speak for itself with Pikturenama Studios' stunning photography.

BEHANCE
Bengali aloo dum is cooked and served in many different ways
There are several recipes or ways of making Bengali aloo dum. Some make it with the flavour of bhaja moshla. You can make it with cumin and coriander powder. Some use onion, but it is rare. Some like to keep a bit of gravy. This particular recipe is the niramish variety without onion and garlic and flavoured with heeng or asafoetida. Now, I like to use tomato puree in the winter for the recipe. However, traditionally, tomatoes are not used in alur dom. Having said that, with time and the availability of tomatoes around the year, no harm in adding a little bit of tanginess and the freshness of tomatoes in this robust potato curry.
In winter, this is a must-try recipe with notun aloo or new potatoes. You can also choose to make alur dom with baby potatoes. Tastes absolutely divine. Alu dum typically goes with luchi (Bengali version of poori). It is also a great combination with paratha or with pulao Typically basanti pulao, alur dom and kosha mangsho are a perfect combination. December and January also mean aloo dom with koraishutir kochuri (green peas kachori).
Recipe of Bengali Garam Masala which is absolutely necessary.
We tried making a video of the same and you can find the same here
https://www.instagram.com/p/CirSs21JdsH/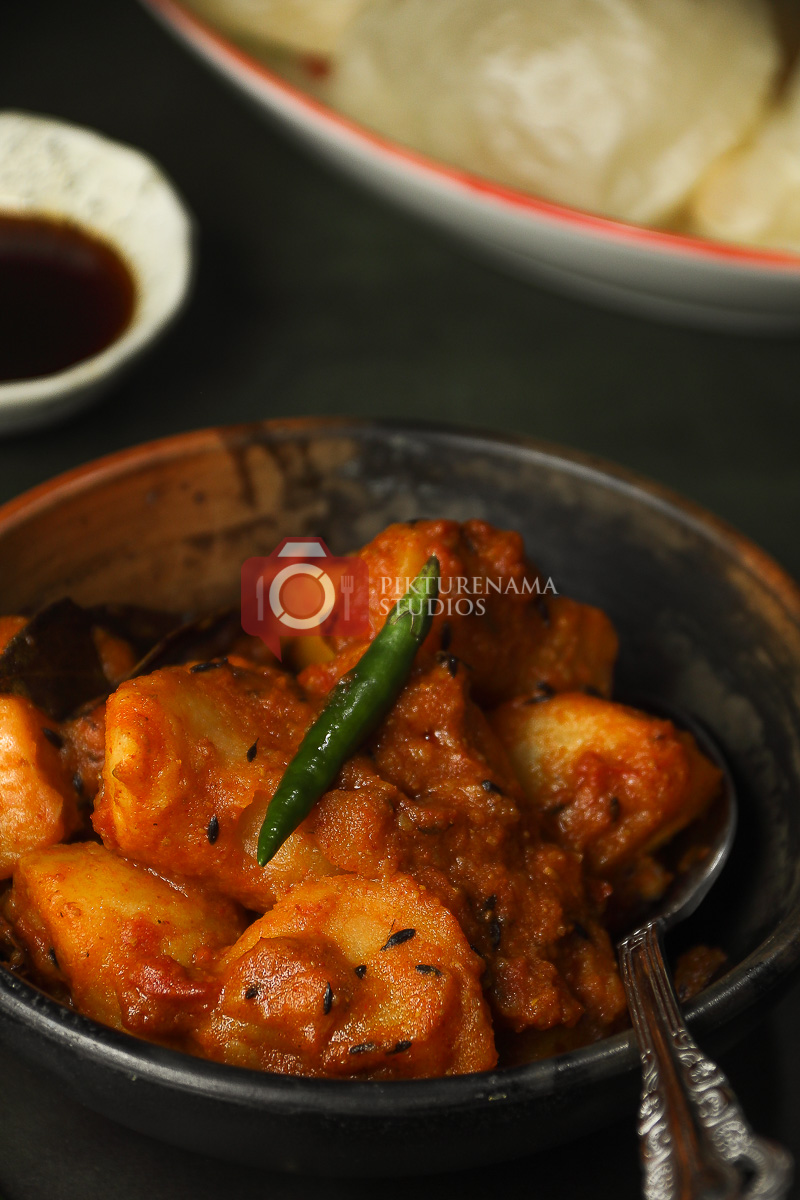 Share your cooking with us
Are you following us on our youtube channel Cook with Pikturenama? 
Have you heard about Alu Kabli ? Here is an easy way to make this –
Do try this recipe and share your feedback. You can also reach out to us at our social media handles Instagram, Facebook or any of our personal Facebook (Madhushree & Anindya) & Twitter profiles. Post a picture and tag us.
Pin this for your recipe board? You can follow us on Pikturenama recipes for more recipe ideas (Link) Have you heard about the idea pin You can follow us for idea pins also like this one –
Bengali Aloo Dum | Niramish Aloo'r Dom
Bengali Aloo dum is a mildly spicy potato curry, very popular with luchi or pulao and is cooked without onion or garlic.
Ingredients
500

gms

baby potatoes

from the new crop, called notun alu. see notes for more

1

small

tomato

½

cup

yoghurt

2

nos

bay leaf

2

nos

dried red chillies

1

inch

cinnamon stick

3

nos

cloves

2

nos

green cardamom

½

tsp

cumin seeds

1

pinch

heeng

asafoetida

1 ½

tsp

Kashmiri red chilli powder

½

tsp

turmeric powder

1 ½

tsp

freshly grated ginger

1 ½

tsp

cumin powder

1

tsp

sugar to taste

2 ½

tbsp

mustard oil

1

tsp

ghee

2-3

nos

green chillies

salt to taste

¼

tsp

Bengali garam masala powder
Instructions
The first step is to boil the potatoes in water. Add 2 tsp of salt to the water while boiling. They need to be boiled till they are cooked but quite firm.

Make a paste of the tomato. In a bowl, whisk the yoghurt and add Kashmiri red chilli powder, turmeric powder and cumin powder. Mix them and keep this aside.

Once the potatoes are boiled, let them cool down. Discard the skin. If they are large-sized potatoes, cut them into quarters or halves, depending on the size.

In a kadai, heat mustard oil. Add bay leaf, dried red chillies. After that, add cinnamon, cardamom and cloves. Let them splutter in the oil for a few seconds. Now reduce the heat and add the cumin seeds. They burn fast, so keep the heat in check. As soon as you start getting the aroma of cumin, add heeng and then the ginger paste. Stir for a few seconds. Again, heeng burns fast.

At this point, add the tomato paste and increase the heat. Stir on high heat for a couple of minutes till the raw smell of the tomato is no longer there. Sprinkle water if you have to.

Then add the whisked yoghurt with the spices. Lower the heat so that the yoghurt doesn't split. Keep stirring continuously for a couple of minutes.

Then add potatoes to this. Give it a good mix. Add half a cup of warm water and salt. Then lower the heat and cover and let the potatoes cook in the spices and the yoghurt.

Check time and again to see how the potatoes and the spices are cooking.

Once the potatoes have become soft, and you need to break one and check if the potatoes have taken in the flavour or not.

Then, add sugar and a little more water. Potatoes soak up all the water. This doesn't have a runny gravy but a thick and saucy kind of gravy.

Add ghee, garam masala, split green chillies and adjust the seasoning. Keep stirring and mixing everything.

When you have the desired consistency, take it off the heat.

Serve with luchi or paratha or even radhaballavi.
Notes
This recipe is with new potatoes and the baby ones, hence the cooking time is longer. You can make the same thing with any potato and even the large ones. Quarter the potatoes after boiling and then make the curry. The photos in the recipe have large potatoes (from the new crop) cut into quarters.