"It is now more than two years that Shankar Pandit opens up the famous phuchka Shop at Vivekananda Park alone. His wife, Durga pandit or Durgadi to all the loyal customers, passed away rather untimely around September 2014 in a  freaky road accident in front of Priya Cinema. Durga di, the daughter of famous Thakur Pandit who used to sell Phuchka in front of the Dhakuria lake, was the first woman to get into the business. If there is a food pilgrimage in Kolkata, then this place will definitely come in as one of the stops.
Vivekananda Park and its phuchka sellers are only a representation of the approximate 200000 phuchka sellers that we have in the city. A very interesting study was done almost a year back, where a small sample size of area was picked up and the number of phuchka sellers was extrapolated to 201 Sq km of Metropolis area as defined by Kolkata Municipal corporation.
Just like it's politics, football, cinema and songs, Kolkata gets divided over it's Phuchka too. For the unknown, the Phuchka is Kolkata's version of Paani Puri but just like the famous Chinese dishes in Kolkata have their Kolkata touch, the Kolkata Phuchka is also unique to the city for the stuffing of spicy mashed potato enhanced with gondhoraj lime juice and tangy tamarind water. There is rarely a situation where the mashed potato is not customized as per the buyers taste. While the Mumbai or the western version is called Pani puri, where the stuffing  is primarily the white peas or the matar and the various types of Paani or water that goes as filling (also includes a variant which is little sweet), the Gol Gappas are primarily North Indian. Just like the Pani puri, the filling here is also focused more on chickpeas rather than aloo. It's also called pani ke bataashe in UP, where the filling is with white peas and options of two or three types of water and same as the ones served in MP. Although I must say, I love the name 'phulki' in MP.
Like the presence of roadside Chinese stalls and roll corners are now synonymous with Kolkata streets, the phuchka vendor are not far behind. It's almost like a sure shot recipe of success. The kolkata phuchka sellers have become legendary and most of the time, the personal connection in addition to the taste that makes a customer loyal to a particular place. It's not only phuchka that one can find within these stalls. Although it all started with Phuchkas but innovation has no end. One can find Churmur or the crushed phuckhas mashed with the same aloo stuffing with some additional spices, the dahi phuchka where instead of the tamarind water, dahi with a sweet jaggery sauce is used as filler and some sewai sprinkled on the top. Some sellers, like the ones at Vivekananda Park, go to an extent of selling a very spicy Alur Dom too.
Every Bengali family has a phuchka story and a phuchka champion. Long before, when the small cart of Phuchka used to come to the para (the neighborhood as we call in Bengali), it was one of the source of fun and entertainment for all. Normally the kids who cannot handle spicy stuff used to have their share first and then the moms and aunties would have there spicy, sour and hot stuff. This was a simple contest of determining the winner. Who can have the most? No one objected on this as normally phuchka was seen as a replacement of evening snacks. My jethu (father's elder brother) had a family record of having 80 phuchkas in one go. Just as the cricket folklore says in 1989, when Md Azharuddin was going through his lean phase, Zahir Abbas, the legendary Pakistani cricketer had passed some tip to him. Since then, Azharuddin flourished with runs; it was same for me.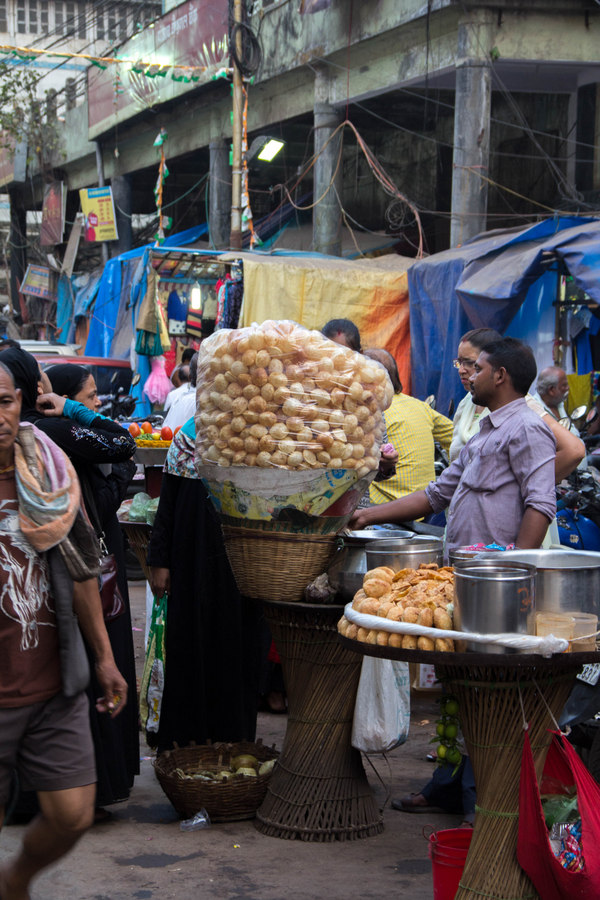 Jethu shared with me the trick that if you are planning for a huge number of Phuchkas at one time, then go for smaller sizes and less of tamarind water. Smaller size means you don't have to open the mouth that much and less tamarind water means less filling up of the stomach.
It will be a futile exercise to pin down one particular phuchka walla who sells the best phuchka of the town and can be called the Phuchka king. Everyone has their own preferences and a battle line can be easily drawn on who is the best. There are many good ones who can be the best on their day, however there are certain areas and certain phuchkawallas who have earned their name and reputation for being the best.
The phuchkawalla in front of Vardaan Market at Camac Street and the ones in front of Victoria Memorial are extremely popular amongst office goers and tourists and people in the vicinity. However, many from South Kolkata will vouch for the phuchkas in front of Lake Kalibari and Vivekananda Park. Although in both these areas, the founding father is the same person, except for the famous Dilip da at Vivekananda Park; now his sons and son in laws have opened their own stalls. I have frequented more of the central and South Kolkata stalls, however the only famous one that I tasted in North Kolkata has been selling phuchka for more than 40 years. In Muktarambabu street and Central Avenue crossing, there is Amarnath Shaw, a part of the famous Chacha Bhatija Shop who will mesmerize you with his phuchkas.
She carried so much pride on her shoulder that she had become a household name in the locality and it is known that there were many people in South Kolkata who would sometimes travel quite a distance to enjoy the phuchkas and alu dum made by Durga Pandit.  More so, since she claimed that her imli paani was made with purified water. Today she is no more; however her husband and son are carrying on her legacy.
The phuchkawalla at Dakshinapan Shopping Complex has a special type called the alur dom phuchka which is something available only here. There is a Jain phuchka available at Triangular Park made with mashed bananas instead of potatoes. Salt Lake has many pockets of good phuchkas as well as New Alipore area. I could go on and on.
It's no wonder that a dish like this will take no time to have fusions, remixes, Jhankar beats and all possible violations just the way it happens with the Old evergreen film hits. At Gabbars, one of the places known for molecular gastronomy, you get balam phuchkari – where you infuse the imli water with a dropper. Someone in Mumbai has recently started Phuchka ice cream, nothing major has been heard about changes in the puffed flat breads other than I have seen one place in Burrabazar where they sell green coloured phuchkas (made with coriander leaves) and another one sells suji made phuchka which is very popular in Meerut and Agra, but its the filling and the water which gets innovated time and again. From grape juice to Vodka, from chicken, mutton to chocolate fillings, this simple dish has been truly inspirational to all. No wonder that half Indian Chef Adam D Silva gets inspired from Panipuri and introduces that in his Australian restaurant in Tonka, with some fruit juice and mixed salads.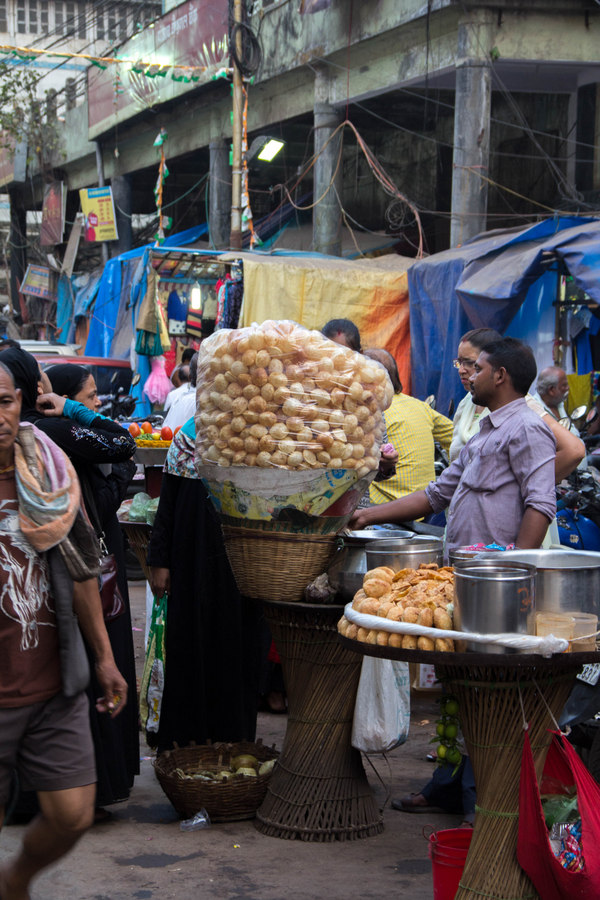 The puffed up dough filled with customized aloo as per your taste and then the tangy tamarind water, has been the silent workhorse of the street food team of Kolkata. While the roll and chowmien takes away the all the limelight when it comes to street food of Kolkata, kolkata phuchka is like the Mr. Dependable who never fails to win the heart on any occasion.
Will it be too much to say that Phuchka in Kolkata is more than a food and kolkata phuchka is a religion? Just like we respect all the temples of all the gods and fold our hands, whether we are a devotee or not, I don't want to hurt any great phuchkawallah or his fan following by not mentioning the name here. I am sure you must be knowing some. Please recommend in the comments section.
P.s. Finally, you have not had phuchka if you have not asked for the fau- the last free piece which comes with any number of phuchka is smaller and without tamarind water but with stuffing and coriander leaves.