Dada, you are from Kolkata? Bhalo achhi? Ami tomake Bhalobashe .. Machhi Bhat khabe? When loosely translated these are the most common welcome dialogues you will hear outside Kolkata trying to get close with you. Bengalis love their food and fish is inevitably the staple. Rohu, Katla, Chara Pona, Bhekti, Koi, Chngri , tilapiya – the list is endless . If these are the ones which you will find on your table regularly then there is Ilish – the queen of all of them. Come monsoon, all the Bengalis will swear for one Ilish meal. But this is just the tip of the iceberg
Mutton and Sundays
There is Mach Mishti and more to Bengali cuisine and if it's a Sunday then it has to be either Murgi or Mangsho. The Bengalis call the poultry meat Murgi or hen and then the goat meat is called Mangsho. A few decades back it was not an option as Chicken did not make a foray into the Bengali kitchen. Mutton or goat meat was expensive and luxurious indeed. In a middle-class Bengali household, Mutton was considered a delicacy not to be had every day but on special occasions. Once a month or in two months, on birthdays or on Poila Boishakh or Pujo. It was so special. Kosha Mangsho was ordered most of the time and that was in the latter part of the '90s and 2000 onwards.
The real star was Mangshor Jhol which was easy to make and was the star guest of the dining table on Sundays. The half potato, the fine layer of oil on top, and chunky pieces of mutton were all that we waited for eagerly on Sundays. It was much later that we started trying out different mutton dishes like Mutton Roganjosh, Mutton Korma, etc. Eventually, we tried out the following mutton dishes at home like Dal Gosht, Peshawari Namkeen Gosht, and Mutton Nihari at home. All the recipes are here and can be tried out. You can also try out the new Indian Forbidden Lamb Spice Mix for easy mutton gravy without any hassle.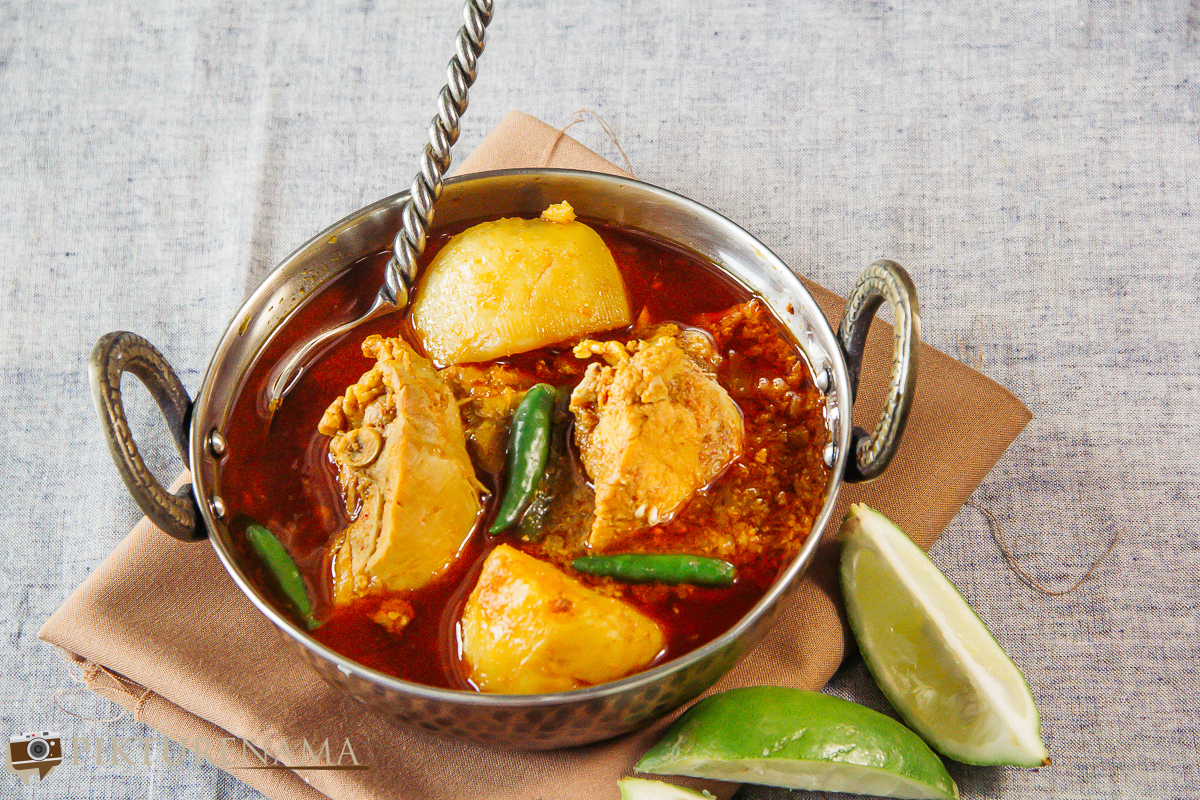 Good food photography isn't just about showing what the dish looks like, it's about capturing the essence of the food and the experience of eating it. BEHANCE
Country Chicken and Broiler chicken-how life became easier. 
For a long time, Chicken did not enter the kitchen. Most of the time it was perceived that the chicken was not cleaned properly and it will have a certain smell. So the tussle was between the mutton and fish primarily, for a supreme choice. The country chicken was mostly used in dak bungalows and resorts and other places. The Bengali Bhadralok never liked the fact that chicken was brought up uncaged in an uncontrolled environment. Broiler chicken changed the scenario completely.
It came from an authentic source, pre-cleaned, and hence life was easier. Many dishes had the mutton replaced by chicken. This was also a time when the health consciousness creeping inside the head. Mangshor Jhol was replaced at times by Robibarer Murgir Jhol. Slightly easy on the pocket, everyone realized that one can experiment with the dishes. Chicken stew was extremely popular in Kolkata maidan and was often served to patients too. Chicken Chaap. Murgh Irani, Poshto chicken, chicken Jhalfarezi, Chicken Kosha all started getting prepared and experimentation was on high. 
Chili chicken-the most popular Bengali dish? 
The most popular Bengali chicken dish has no roots or connection to Kolkata for sure. The frequently ordered Chinese dish in any Kolkata restaurant is Fried rice and chili chicken. It's the safest order too and there will be times/ most of the time, the waiter will be ready to customize the dish as per your preference. Kolkata or erstwhile Calcutta was the hub from where Chinese food started and got popular in Kolkata.
Eau Chew as of date is the longest-running private-owned Chinese restaurant in India. As Chinese food got popular, the demand for the same got pushed to the roadside vendors too. The easiest to make was noodles/chowmein/chow, chili chicken, and fried rice. Each one, each cook, each stall had their version and process of localizing the already local popular Chinese food. Boneless chicken pieces batter-fried, dunked in a soy rich cornflour added gravy with some fried onions and capsicum peeping from the gravy – chili chicken is ready. It was a close fight between Sunday chicken curry and Chili chicken which made chicken even more popular. 
Chicken or Mutton? Who is the winner ultimately? 
So, is it chicken or mutton? It's a close fight. A lot has changed. Post globalization and growth story of the country chicken, mutton is no longer a luxury nor is it restricted to Sundays or special occasions. Chicken is now in many forms. It can be batter coated and fried as chicken strips, can be served with Gondhoraj as Gondhoraj chicken, can be found as a patty between the buns of a burger. With Mutton, the fear of cholesterol the demon is always there, however that does not deter the consumption. The quantity of mutton consumed on a day is getting replaced by the frequency. It's a tie in my opinion 
Are you following us on our youtube channel Cook with Pikturenama? Please subscribe if you haven't already. 
Do try this recipe and share your feedback. You can reach out to us at our social media handles Instagram, Facebook, or any of our personal Facebook (Madhushree and Anindya) and Twitter profiles. Post a picture and tag us.
You can follow us on Pikturenama recipes for more recipe ideas (Link)