What is the tradition of Poila Boishakh or Bengali New year? Other than a few that I remember from my childhood, the pertinent question that needs to be asked is- what is the food tradition of Poila Boishakh?
Different houses will have different traditions which have been passed on from generation to generation but as the families have grown nuclear, the custodians of traditions have reduced and the rigidity of the traditions have loosened. No, we didn't wear new clothes this year, whereas this was mandatory in the formative years.
If the question is asked about the tradition with respect to food, you will perhaps get more views than on recent past demonetization. Which dish is a must have? Shukto? Begun bhaja? Biulir daal? Ilish Macch or Katla? While we were doing a piece in Eazydiner on places to eat in Kolkata during Poila Boishakh, we realised two things. One – Topshe Machh was in high demand this year as almost all the places were doing Topshe fry and Kosha Mangsho is still the undisputed king when it comes to tickle the customer sentiments. This raises few more questions. Eating out or cooking at home? I guess, in most of the households, where the older members are still existent, eating out is still a no no. Some may beg to differ, since nowadays, one gets to see entire families at restaurants during Poila Boishakh.  And by restaurant, I don't mean the one serving good old Bengali food. The half brother of Bengali food – Amader Chinese is also equally coveted along with other contemporary food joints.
As an onlooker of the food traditions and as Bengali food lover, I guess, next few years will be exciting to keep a watch for more change. We have had very bad experiences in the middle rung Bengali restaurants and I got quoted in The Telegraph (pat on the back). The words may sound rude and may ruffle some feathers but it has to be read in the whole context and not as a standalone piece. The other issue is that it has been 1 year that we visited Pune and with much aghast, I had written this on Bengali restaurants in Pune. However when Facebook popped up the memory and I asked the same group of people who has responded last year – the response is same. Leave aside any conclusion, the biggest and the only takeaway now is that in the last 1 year, no new name has popped up in the Bengali food restaurant genre.
A picture worth of thousand word. Behance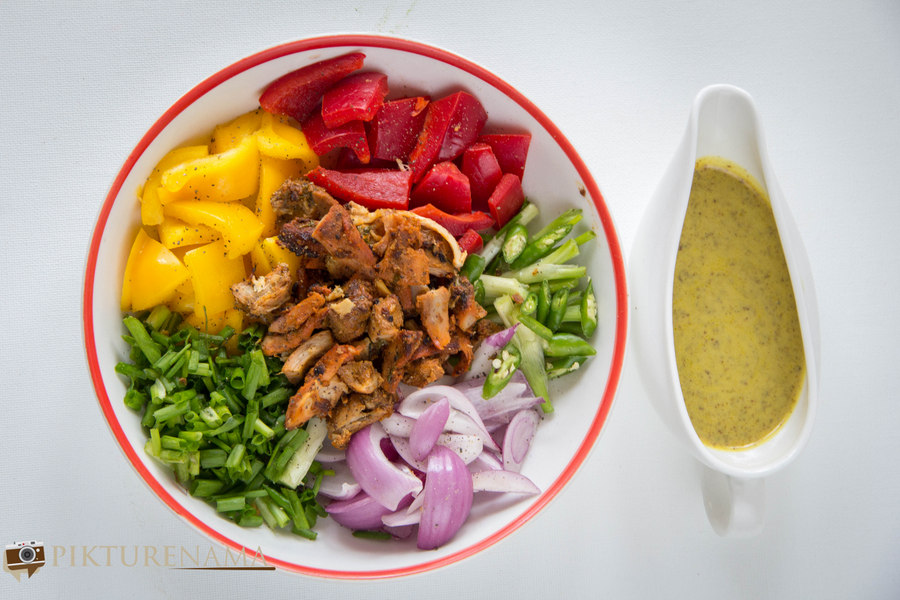 We had lunch at home and ordered some kebabs from outside in the evening. Kosha Mangsho was also there as a part of the lunch as was Mourala Machh Bhaja. The problem was the next day – Sunday. The body and the taste buds have got such conditioned that one cannot have completely niramish khabar. The temperature was also on the rise. The refrigerator had plenty of leftover chicken kebabs. Chicken salad was made.
Read – Some of the best Kosha Mangsho in the Kolkata 
Not only the colours of the chicken salad looked like a temptress, presence of yellow and red bell pepper and plenty of onions gave that crunch and the kasundi/mustard dressing gave the necessary spike. I guess this is a twofer. The summer menu is taken care of and Sunday Amish craving is addressed.  Let me know how it turned out?
Share your cooking with us
Are you following us on our youtube channel Cook with Pikturenama?
Do try this recipe and share your feedback. You can also reach out to us at our social media handles Instagram, Facebook or any of our personal Facebook (Madhushree & Anindya) & Twitter profiles. Please post a picture and tag us.
Pin this for your recipe board? You can follow us on Pikturenama recipes for more recipe ideas (Link)
Chicken salad with leftover kebabs
Fresh and light summer salad recipe made with leftover chicken kebabs with a mustard dressing. It is super easy to bring it all together using ingredients commonly found in every kitchen. Recipe by Madhushree
Ingredients
1

Cup

Chicken Kababs

cut into small pieces

1

No

Medium Sized Onion

Diced into cubes

1

Cup

Red and Yellow Bell Pepper

Diced into cubes

1/2

Cup

Spring Onion

Cut into 1 inch length

1

No

Green Chilli

Chopped

2

Tbsp

Kasundi

In case kasundi is not readily available, you can use mustard paste

2

Tbsp

Thick Yogurt

1

No

Lemon

1

Tsp

Honey

1/2

Tsp

Grated Garlic

Salt and Pepper for seasoning
Instructions
In a small bowl, bring together kasundi, yogurt, juice of half a lemon, honey, grated garlic, salt and pepper and give it a good stir. In case you are using mustard paste instead of kasundi, add a little extra lemon juice. Your dressing is ready.

Have all your vegetables and chicken ready in a bowl. Drizzle the dressing over it and mix it all up before serving. You can serve this salad cold.
Notes
None of the measurements for the ingredients need to be exact. For the vegetables and the leftover kebabs, it would be anything. For my salad, I had some tandoori chicken, malai tikka, bits and pieces of fried chicken and some hariyali chicken tikka.
For the dressing too, one has to go by one's own taste preference for bringing out the perfect balance of sweet, sour and pungent.