I never thought that one day, I would make chital macher muitha. I don't have many memories of eating muitha before moving to Kolkata in 1992. Before that, it was always short summer vacations in Kolkata. However, I do remember eating muitha several times after that.
Rui and Katla are mundane. Fish fry means bhekti. Other than these, pabda and tyangra mach are also pretty popular in Bengali homes. But then there are fish like ayre mach, chital mach and lottya mach, which are not often cooked in a lot of homes. Okay, so before I go any further, there are always exceptions. It is mostly in Bangal homes that you find a wide variety of fish being cooked. And chital macher muitha, probably because of the hard work, is usually cooked only during some special occasion.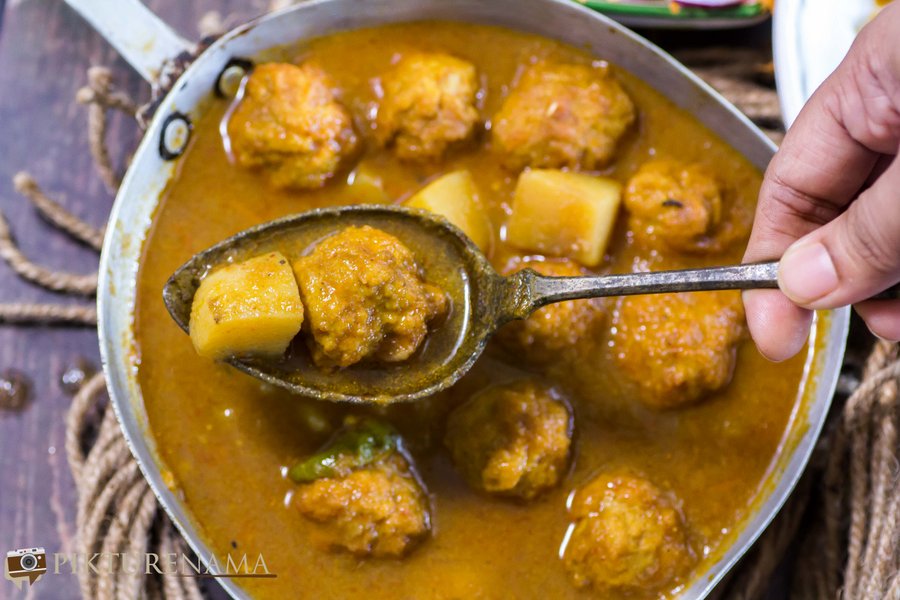 Can Chital macher muitha be called an exotic dish?
Anindya had never eaten Chital mach, ayre mach, boal mach, koi mach (I could go on) before our marriage. The first time he ate was at his first jamai shoshti. Ah! Coming to jamai shoshti (a festival dedicated for son in laws) and the jamai ador (going all out to impress your son in law), I just don't get all the fuss. Having said that, jamai shoshti at our home was quite different in many ways. It was meant for celebration with the entire family. There were dalas (bamboo trays) with clothes for each family member. So, you can be a daughter and a daughter in law and a son, it did not matter; you were getting a gift.
So, hurray! Who cared about the rituals as long as you get to eat good food and also get a gift. Dida (my grandmother) would cook a very elaborate meal, which would include chital macher muitha amongst other things. It tastes fantastic but above all, I would never get why she would put so much effort into behind the dish. I get it now. I love cooking and I love cooking for others. There is a different kind of gratification in that.
Here is how I made tel koi, another favourite of mine.
Would you do it from scratch or are you the ones with the shortcuts?
Normally, I look for shortcuts while cooking. The pressure cooker is my best friend in the kitchen and sometimes, I microwave vegetables with a little bit of water before cooking. It shortens my cooking time by a great deal. Having said that, there are a few dishes which need utmost love and care and a long time to cook. And hence, these would be left for Sundays or holidays.
Kolmi shaker bora shukto takes time to cook, but it is so worth it. 
You can get ready to fry muitha in Kolkata. It does make your life easier but then again, the ones made at home are far better in taste and texture. Nowadays, you can also get the deboned flesh of chital mach. Isn't that something? Chotu, my fishmonger, couldn't get chital mach for me after repeated requests. I found some at Mukundapur market but they were asking for INR 1200 per kg!! Then I started looking online and found chital peti, gada and to my surprise, deboned fish for muitha at www.delybazar.com at a very reasonable price.
Do you know why it is called chital macher muitha?
Muitha is derived from the word 'mutho' in Bengali or 'mutthi' in Hindi, which literally means fist. So basically, the fish is deboned and then using your palm or rather 'fist' you make balls out of them before cooking. Hence- muitha. The most time-consuming part about chital macher muitha is deboning the fish and then making the fish balls. The fish balls are boiled in water and then deep-fried. Finally, a gravy is made and the fish balls are added in the end.
Here are some more Fish recipes which you can try from our blog 
Have you ever cooked Doi Machh 
This recipe of Chingri Malaikari is worth trying out
Can Malabar fish curry is a replacement for Machher Jhol?
My mother learned to make chital macher muitha from my grandmother. After Dida passed away, Ma has been the custodian of this recipe at home. With time, fewer people cook complicated dishes at home but I think it is important that someone in the family picks up the traditional recipes. Now I know how to make chital macher muitha from scratch and it's payback time for the years that Anindya has not had this delicacy.
Do try this recipe and share your feedback. You can reach out to us at our social media handles Instagram, Facebook or any of our personal Facebook (Madhushree and Anindya) and Twitter profiles. Post a picture and tag us.
You can follow our pinterest board Pikturenama recipes (Link) for more recipes and some great pictures.
Chital Macher Muitha
A traditional Bengali recipe made with deboned chital mach or clown knife fish, where fish balls are made from the flesh and then cooked in an onion gravy. Recipe Author: Madhushree
Ingredients
For the muitha
500

gms

chital macher gada

1 1/2

tbsp

Garlic Paste

1

tbsp

Ginger Paste

1/2

tsp

Red Chili Powder

1

tsp

coriander powder

1

tsp

Cumin Powder

1/2

heaped tsp

bengali garam masala

powdered cinnamon, green cardamom and cloves

1

no

medium sized boiled potato

Salt To Taste

oil for deep frying
For the gravy
1

no

Medium-Sized Onion

1

tbsp

Garlic Paste

1

tbsp

Ginger Paste

1

no

tomato

2

nos

potatoes

1

no

bayleaf

3

nos

green cardamom

4

nos

cloves

1/2

inch

cinnamon

4

nos

green chilies

1

no

Dried Red Chili

1/2

tsp

Turmeric Powder

1 1/2

tsp

kashmiri red chili powder

1

tbsp

Ghee

1/2

tsp

bengali garam masala

1/2

tsp

Sugar

3

tbsp

Mustard Oil

Salt To Taste

1/2

tsp

aata or whole wheat flour
Instructions
Flatten out the chital mach in half and then using a spoon with a sharp edge, scoop out the flesh. It takes time to do this and take out as much flesh as possible. The bones remain stuck to the skin.

Add all the ingredients as listed above for the muitha (except the oil) and mix it thoroughly with your hands.

Keep a saucepan with boiling water ready next to you. Put some salt and a couple of tsp of oil in it. When the water is boiling, use your hands and make small fish balls and dunk them in the boiling water.

The fish balls need to be boiled only for a very little time. Just as they start to float up, take them out with a strainer. If you overdo this process, the muithas become hard and chewy.

Once all the muithas are boiled, ready a kadai for deep frying them. When the oil is hot, slowly slide the boiled fish balls in the hot oil. Keep control over the heat. We want golden colour, not brown.

Keep all the fried muithas aside. You can store them in the refrigerator for a week to cook later with the sauce.

For the gravy, cut the potatoes into 1-inch cubes. Make a paste of one onion. Make a paste of one tomato and keep aside.

In a kadai or a wok, take 3 tbsp of mustard oil and let it heat. When it starts to smoke, add dried bay leaf, dried red chili, cardamom, cinnamon and cloves. As they start to colour, add the onion paste and start frying. Reduce the temperature to medium and keep frying for a couple of more minutes.

Add the ginger and garlic paste and again fry for a few minutes. As the raw smell starts to go, add the tomato paste and mix thoroughly. Fry for a minute or two and add the cubes of potatoes.

Add salt, turmeric powder and Kashmiri red chili powder. Fry for a couple of minutes and sprinkle water if the masala is sticking to the bottom.

Add a cup of warm water, give it a stir and then cover and cook the potatoes. Depending on the type of potato, it takes approximately ten to fifteen minutes for the potatoes to soften.

In between, you will have to remove the lid and stir to check that nothing is sticking to the bottom. If it does, then add a little bit more water and let the potatoes cook.

Once the potatoes have softened up, add 2 cups of water. Add sugar and salt and some split green chilies.

Let the gravy boil and then add the muithas to the gravy. Add ghee and garam masala and adjust the seasoning if needed.

Now reduce the heat and let the gravy simmer. Add a little bit of aata in 1/4 cup water and add that to the sauce. It enables the gravy to thicken.

After five minutes of simmering in the gravy, switch off the heat. Serve chital macher muitha with steamed rice.