The festivities are almost never-ending towards the end of the year. Right from Durga Puja till New Year's eve, eating out, making sweets, cakes and more takes over. And sugar cravings go through the roof. I don't know if we are genetically wired for this or not but a week before Diwali, I start getting cravings for laddus and burfis and all things too sweet. Like clockwork, I get on to making Diwali mithais, other than the boxes that come home. And by the end of Diwali, all of us would have gained a couple of kilos. This year, we made some cake pops and I thought of making something very easy but a crowd-pleaser- Chocolate badam burfi.
In case you are looking for Food Photography – check this out
Remember the Lonavala fudge shops?
Even though everyone talks about the chikis at Lonavala, I was always fond of the fudges that they would sell. The variety would stun me. Every time we would go to Mumbai from Pune, we would pick up some chikis and fudge on the way back. So, over the years, I have recreated many of those fudges at home after we left Pune. And Diwali was a perfect occasion to make another fudge. I decided to go with ingredients that were at home and hence, chocolate almond fudge. Cook it a little further and they become chocolate almond burfi.
Chocolate badam burfi is the easiest Diwali recipe
Doesn't require heavy prep. Doesn't take too long to cook. And most importantly, it has the least number of ingredients. With a handful of almonds, condensed milk, chocolate bars and butter, you can make chocolate badam barfi. Instead of keeping the almonds chopped, I crush the roasted almonds into an almond meal, which helps in giving a body to the burfi. It takes about 15 minutes to complete the recipe and then it needs to sit in the refrigerator for a couple of hours to set.
Serving and Storing Suggestions
If you manage to save any, just store the chocolate almond fudge in an airtight container in a cool place. It stays well outside for a day and after that, I keep it in the fridge. It stays fresh for a week in the fridge. However, I prefer to eat them at room temperature, once they are out of the fridge.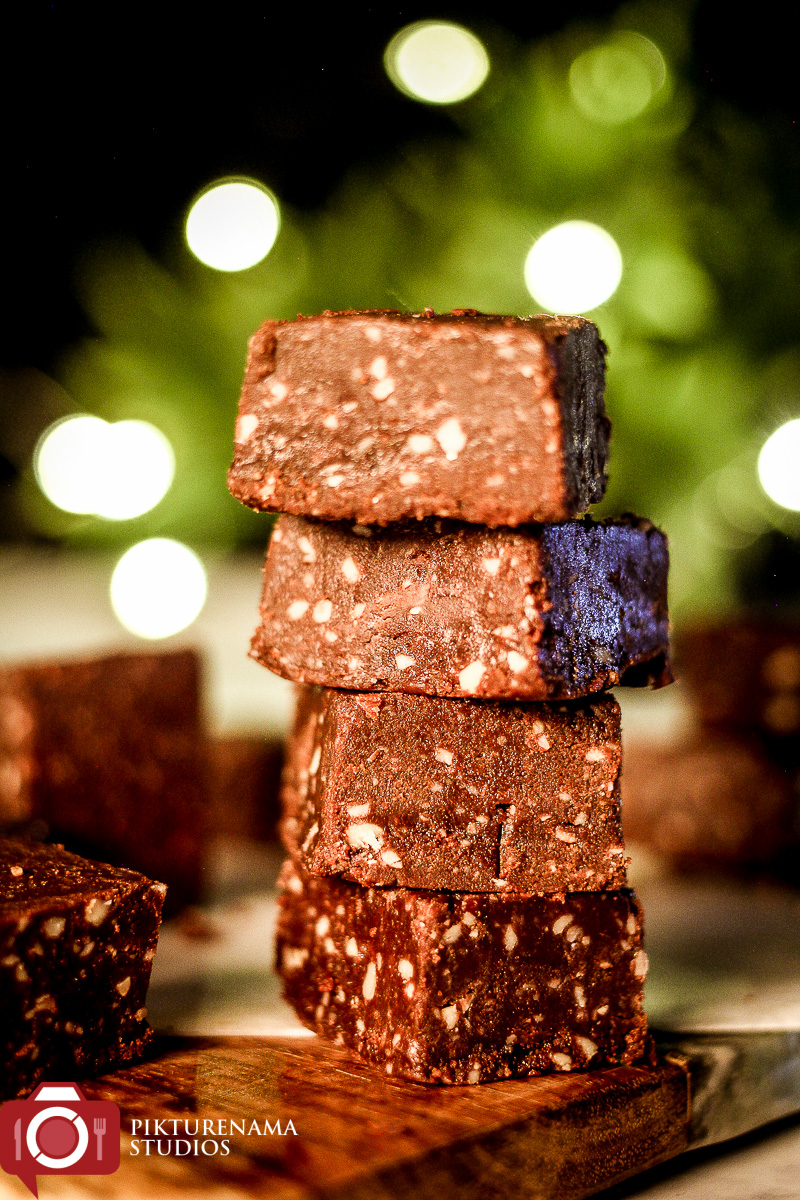 Here is an easy way to make Chocolate Badam Burfi. You can subscribe to our channel here 
Do try this recipe and share your feedback. You can reach out to us at our social media handles: Instagram, Facebook or any of our personal Facebook (Madhushree and Anindya) and twitter profiles. Post a picture and tag us.
Pin this on your recipe board? You can find some awesome recipes at Pikturenama recipes in Pinterest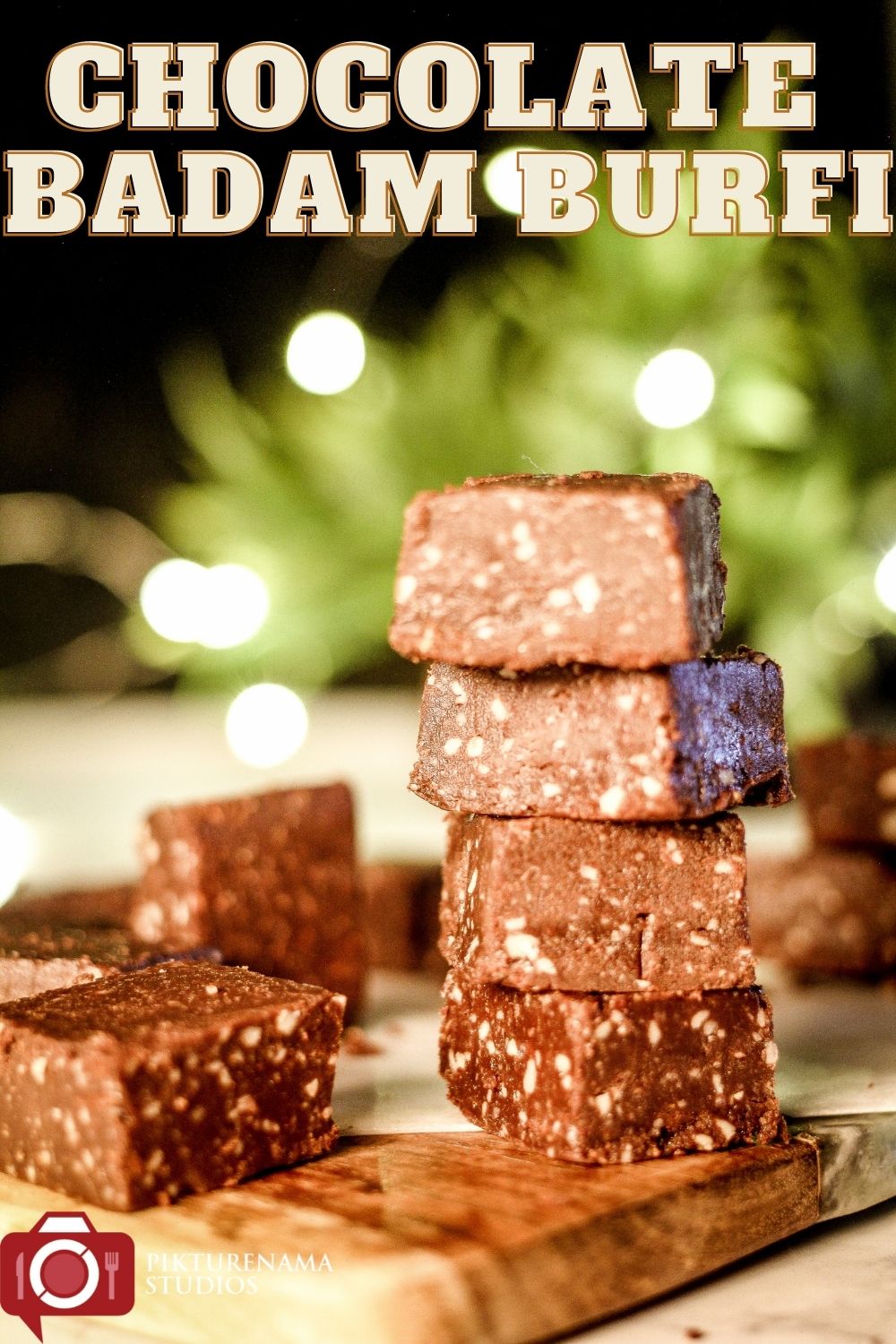 Chocolate Badam Burfi | Chocolate Almond Fudge
Soft and fudgy dark chocolate with almond meal makes for a brilliant Diwali mithai.
Ingredients
1/2

cup

almonds

1/2

cup

condensed milk

plus 1 tbsp extra

2

tbsp

butter

50

gms

milk chocolate

150

gms

dark chocolate
Instructions
Dry roast the almonds for 3 - 4 minutes or until they have browned a little and then let them cool down completely.

Once they have cooled down, pulse in the grinder 2 - 3 times to get a coarse almond meal with a few bits and pieces.

Chop the chocolates into small pieces. You can use any combination of dark and milk chocolate. In total, there must be 200 gms of chocolate. And use good quality chocolate for the best results.

In a heavy-bottomed pan, add the chocolate and keep the flame low. Add butter to the chocolate and let them melt together.

Halfway through, add the condensed milk and keep melting and incorporating everything together.

Once you have a smooth mixture, add the ground almonds. Quickly stir and mix everything.

Keep stirring and cooking till butter leaves the sides of the fudge.

Once it has come together and you can see butter coming out from the bottom and the sides, take it off the heat.

Take a 7 inch by 7-inch square baking dish or any container. Grease with butter or use parchment paper to cover the bottom and sides.

Transfer the fudge into the container and refrigerate for a couple of hours.

After that, take the fudge out of the fridge and remove the parchment paper. Cut the sides to get smooth lines for the large square.

Then cut into the desired shape and serve.