Is there any food that can be related to Bengali dol? Dol? The Bong brother of National Holi 
In my opinion Kochi pathar jhol or mangshor jhol and sweets and that too not any special sweets. In our childhood we used to get Motth, tough crystallised sugar in different bright colours and used to come in different shapes and forms like animals, chariots etc. Eating them was big fun. Unlike rest of India, where there are a huge collection of recipes which are made specially for Holi, there aren't many for Bengalis.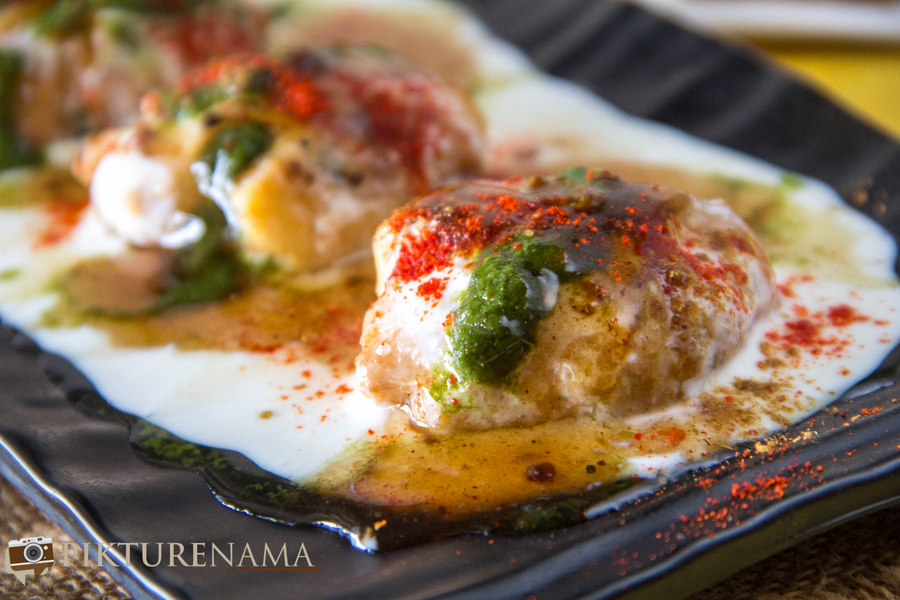 Madhushree made this Dahi Bhalla which is a very popular dish associated with Holi. Difference between Dahi Bhalla and Dahi Vada. 
Dahi bhalla has variety of names and comes in various shapes and style in various parts of the country. While in North India it is called Dahi Bhalla, we Bengalis call is doi bora and in Southern India it is called Thayir Vadai or Dahi Vada. The North Indian Bhalla is dumpling and comes with sweet chutney as well as the green chutney. The South Indian version has the vada with a hole in the centre and does not come with a green chutney. Sweets like  Gujia, laddoos, imartis, jalebis or savourites like kachori. Multiple variations of chats or the drinks like thandais, lassis and others; it's a plethora of choices.
Here are some more Holi recipes which you can also try –
Mawa gujiya is delicious and if you are from UP then you are bound to have some momories with this 
Dahi Bhalla and Aloo Tokri ki Chaat is being spoken in the same breath almost 
If you are from Delhi, then there is a high chance that  you will have some stories with Bedmi Poori and Dubki wale aloo 
Speaking about thandais, there are innocent versions as well as the adulterated versions with Bhang. Bhang is associated with Holi and it's in the last few years that I have tasted it and it's a demon in disguise. It's refreshing and initial sip will leave you wanting more but the after effect starts slowly and stays for a long time.
Bhang Trance and that Holi Celebration 
In one of the Holi celebrations Madhushree had lost her voice and kept smiling for almost 7 hours (she feels that she was speaking but no one was listening to her). Tugga was born just a day after Holi in 2012 and then it was Tugga's Mama who had the Bhang and acted like zombie.  Tugga's Mama (maternal uncle) who had gone overboard.  Next day when he came to Hospital to meet his nephew, he was speechless and reactionless. In his own words later, 'everyone thought that I was reactionless but I was clueless about the people around me. I couldn't understand who the kid was.' Shibuji Soda and Shikanji in Vardaan Market, Kolkata sells one of the most lethal thandais and a must try.
There are others also who make Bhang ke Kachoris or samosas at home. What's a Holi where one cannot give in to the celebrations. Afterall, if there is one song which symbolizes Holi in modern era, it's Rang Barse from Silsila. Leaving aside the underlying theme, it's one of the most fun daring songs possible. 
Try out this recipe of Dahi Bhalla and let us know how it worked. Did you make anything special? Do let us know? In case you have any hilarious incident with Holi, please let us know too. Wishing you all a great colourful Holi. Love and Peace  
We have a small tutorial for you for the Bengali Bhaja Masala . Learn how to make Bhaja Masala and this video will help you definitely 
Share your views / Follow us
Do try this recipe and share your feedback. You can reach out to us at our social media handles: Instagram, Facebook or any of our personal Facebook (Madhushree and Anindya) and twitter profiles. Post a picture and tag us.
Pin this for your recipe board ? You can follow us on Pikturenama recipes for more recipe ideas (Link)
Dahi Bhalla Recipe
This North Indian delicacy is the perfect snack or even a mid meal at any time of the day. It is made with few and basic ingredients. Urad Dal dumplings are assemled with yogurt and other chutneys and spices to make it a delightful snack.
Ingredients
For the Dumplings
1 1/3

cup

urad dal

1/4

tsp

fennel seeds

1/2

inch

ginger

finely chopped

1

pinch

Baking soda

1

no

green chili

finely chopped and optional

1 1/2

tbsp

coriander leaves

finely chopped

`

Salt To Taste

any white oil for deep frying
For Green Chutney
1

handful

coriander leaves

1

tbsp

Lemon Juice

1/2

tsp

Sugar

salt as required
For Sweet Chutney
2

tbsp

tamarind pulp

1/2

tsp

Red Chili Powder

8

tbsp

Sugar
Other Ingredients
1 1/2

cup

Thick Yogurt

1

tsp

Roasted Jeera Powder

1

tsp

kashmiri red chili powder
Instructions
Soak the Urad Dal over night in Water. 6 hours is more than enough.

After 6 hours, drain the water out and grind the urad dal in a fine paste with some salt and 1/3rd cup of water.

Then add in chopped coriander leaves, chopped ginger, fennel seeds, baking soda and whisk vigorously to make the batter light a fluffy.

In a frying pan or kadai, take oil and heat it.

Wet your palm and take small portions of the batter and drop in the oil o deep fry till golden brown. It is important to keep the temperature at a medium or else the dumplings will brown from outside quickly without cooking in the inside.

This step is important. When you have put in the kadai for heating the oil, instantly also put in a saucepan full of water for heating.

As you fry the dumplings, drop them in the water. Do not boil it. Just trun off the heat for the water once it is hot.

Keep the dumplings in the warm water for 5 to 6 minutes and then with a spatula take them out and place on a place.

Now take the dahi and whisk the dahi propely. Add a little bit of water to thin it.

If your dahi is too sour, add some powdered sugar to it.

The sweet chutney and the green chutney needs to be made in advance and kept.

For the sweet chutney, add the ingredients in a saucepan with a cup of water and boil it till the sugar dissolves and the consistency has become syrupy.

For the green chutney, grind everything in a fine paste with a little bit of water.

Now for assembling, take the dumpling on a plate. Add the yogurt (generous amount) and then drizzle the sweet chutney and green chutney. Finally, sprinkle jeera powder and red chili powder. We Bengalis use bhaja moshla instead of jeera powder. Salt is usually ot required since the green chutney has salt in it. However, if you feel the need, please sprinkle some rock salt.

Serve it immeidately or chill it in the fridge for 1/2 hour and serve.
Notes
For garnish, there can be several other options like sev, anar dana, chopped coriander leaves etc.
While making the dumpling, one can also put in a raisin in the centre before dropping in the oil.