Murgir Dim, Hansher dim or Ghorar dim? Which one is more popular?
I wonder which one amongst the three, mentioned above, is the most favourite amongst Bengalis. Is it the Poultry egg, Duck egg or Horse egg? The first two are an integral part of a Bengali household, though poultry eggs are most used. We never used to prepare Duck eggs at home and I don't think I have missed much for that. Ghorar dim or Horse egg is unseen but often referred to as Nonsense. Kishore Kumar had sung this long back Dim nei tobu ashwo dimbo (there is no egg still it's Horse's egg).
Dim Kosha was never made at home
When I wrote Dimer Dalna is a secured love affair, it was a feeling from within, where the love is dependable, trustworthy and a life long journey. Long days of laziness with an immense 'Dhat-teri' (Dhatteri is a Bengali feeling, yes a typical Bengali feeling of not liking anything), the eggs came to the rescue. Upon unannounced arrival of a guest, if not anything else, an omelette would save the grace. When there is nothing in the kitchen, procuring Dim from the local gorcery shop was easiest. The millennials can never imagine- of no chicken or meat or fish present in a bhanrar (the kitchen store of a Bengali household fondly called) as they cannot imagine a house without a refrigerator or a big basket service. Dim Kosha was never made at home though and Hanser Dim was far fetched.
Dim Kosha is so strong that we got an authentic recipe of Kerala egg roast to make after this. (link)
Dim Kosha is not Dimer Dalna 
The main difference between a Dim Kosha and Dimer dalna is the reason why perhaps Ma never cooked Dim Kosha. Baba and Grandma, both I remember, needed torkari with jhol (light watery gravy). Dim Kosha comes with thick onion gravy. It's good with a roti or fried rice or pulao and luchi but not with plain white rice. Dimer Dalna is with light watery jhol and over a lunch, with white rice as staple, that's perhaps the best companion. Dim Kosha is reddish brown in colour where as Dimer dalna can be turmeric laden too. The colour and the base distinguishes both. Aloo – one cut into 4 pieces is the LCM between the two. There is no authentic recipe of Dim Kosha but without aloo it will be incomplete.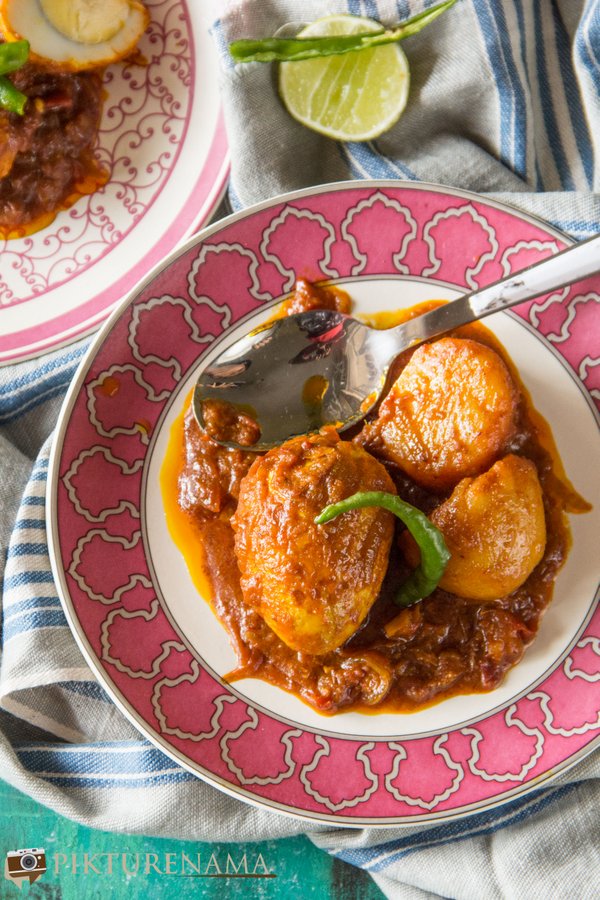 The texture of eggs, the gravy in Dim Kosha
The boiled egg fried to golden red and brown colour forms wrinkles on the outer surface of the egg, which makes it an attractive proposition. What we call in Bengali a "thokthoke kai" is what the gravy of this dish. One of the types, where you slather a roti or a luchi with the onion gravy and pop into the mouth. I have always had a personal problem in having dishes like a DIm Kosha, a Chicken Chaap or even a Kosha Mangsho. It's a condition of the brain but I can't help it. For a better planning of my meal, I need to know how much gravy is allotted for me. In simple words, I cannot share these kind of dishes. Gone are the days when Ma used to distribute the food on every plate with precision. These days, we have three greedy foodies on table who squabble over the delicious parts. Soon this number will become four.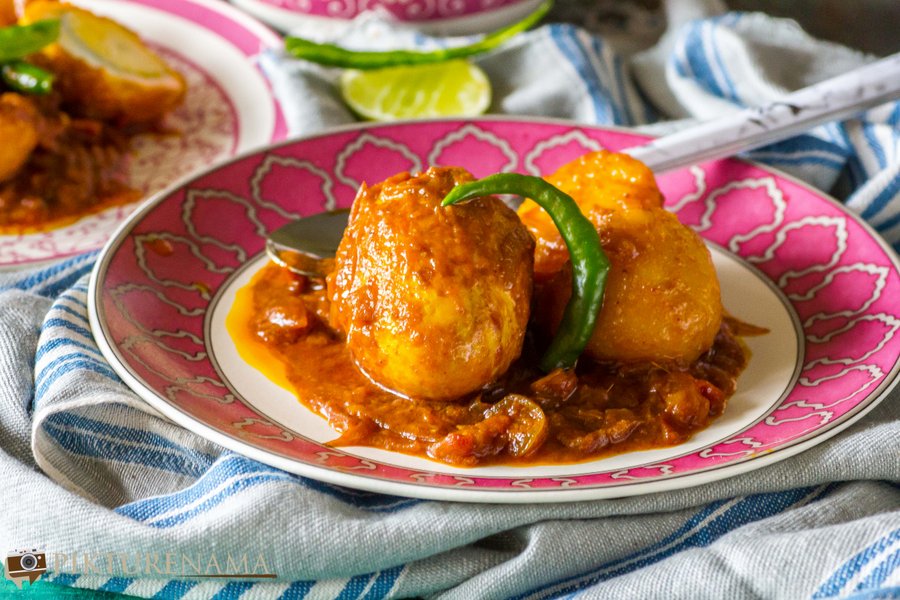 Let Dim Kosha be elusive 
I judge people who don't love eggs. It's beyond my imagination, how one can enjoy a breakfast without an egg. If someone tells me that they don't like Dimer Dalna, I look at them as if, they are alien. Perhaps, I woudn't do that for Dim Kosha or Omelette curry. Dim Kosha should be elusive like Amir Khan movies. Much to the dislike of Madhushree, someday I will also write and put up the recipe of Omelette Curry. Not many restaurants serve Dim Kosha but it's a very popular dish for the roadside vendors. In High Court para, Dalhousie, Dacres Lane, you will find lots of Dim Kosha loyalists. 
It was one of the Sundays, while scrolling through instagram, Madhushree came across a picture of Dim kosha by Sanjay Ramachandran (a friend and a famous photographer). She couldn't help but decide on cooking it for the day. And as usual, I insisted that we put it up on the blog. Essentially, the recipe of a dimer dalna and a dimer kosha is the same. It is the cooking technique and the quantity of the ingredients which vary. She also added another secret ingredient to this dish, which completely makes it stand apart. She found this secret ingredient from Rimli's video (scratching canvas)- tomato ketchup. 
Sanjay's work can be found here
Do try this recipe and share your feedback. You can reach out to us at our social media handles: Instagram, Facebook or any of our personal Facebook (Madhushree and Anindya) and twitter profiles. Post a picture and tag us.
Pin this for your recipe board ? You can follow us on Pikturenama recipes for more recipe ideas (Link)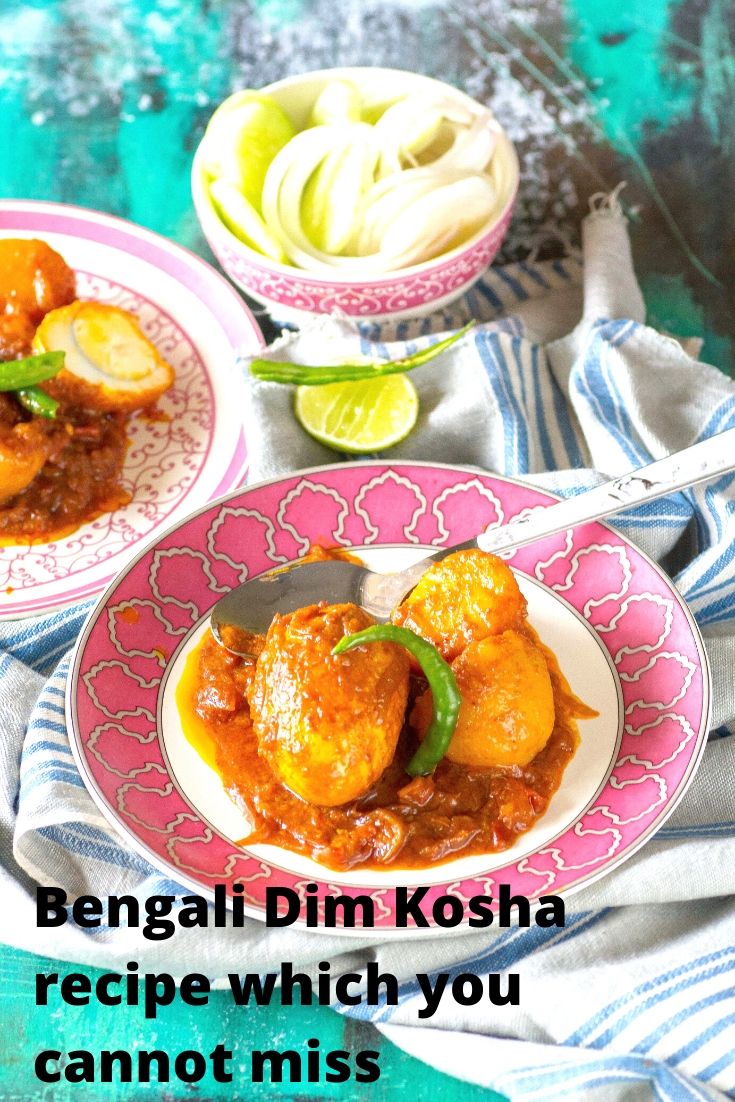 Dim Kosha
Bengali style egg curry with a thick oinon based gravy, to be eaten with luchi or pulao or fried rice.
Ingredients
5

nos

boiled eggs

It's your choice if you want it hard boiled of soft boiled.

2

nos

large potatoes

1

no

large sized onion

1

no

alrge sized tomato

1

tsp

ginger paste

5

nos

garlic cloves

1

no

dried bayleaf

1/2

inch

cinnamon stick

3

nos

green cardamom

4

nos

cloves

1

tsp

turmeric powder

2

tsp

kashmiri red chili powder

1

tsp

cumin powder

1

tbsp

tomato ketchup

5

nos

green chilies

5

tbsp

mustard oil

1/2

tsp

sugar

salt to taste
Instructions
Par boil the potatoes and then peel them and cut into quarters. Peel the boiled eggs.

Place the eggs and the potatoes in a mixing bowl and sprinkle some salt, 1/2tsp turmeric powder and 1/2 tsp kashmiri red chili powder and toss them in the spices.

Finely slice the onions and chop the tomatoes and keep aside.

In a kadai or a frying pan, take 2 tbsp of mustard oil. When the oil is hot, add the eggs and fry them on a medium heat till the skin has turned golden reddish and brown in colour. Take the eggs out and keep aside.

In the same oil, lightly fry the potatoes till they have a golden colour. Then take the potatoes out of the kadai with a slotted spoon and keep aside.

Add 2 more tbap of oil in the same kadai and let it heat. Add dried bayleaf, cinnamon, cloves and cardamom to the hot oil. Also add a couple of split green chillies.

When the spices have got some colour, add the sliced onions and stir. Crush the garlic pods with the flat end of your knife and add to the onions.

Now over high heat to medium heat, fry the onions till there is a golden colour.

Add the ginger paste and stir for a couple of minutes and then add the chopped tomatoes.

Add the rest of the turmeric powder, Kashmiri red chilli powder, cumin powder, little bit of salt and the sugar and give it a good stir. Fry until the tomatoes have become soft and the spices have cooked.

If the spices are sticking to the sides, sprinkle some water. Add the potatoes and fry the potaoes further with the masala. Add the ketchup at this point. sprinle some water and cover and cook till the potatoes have become soft.

At this point, add the eggs and combine everything. Add more salt if required and split the green chillies and add them to the gravy.

Add 1/3 cup warm water and combine. Now increase the heat and give the gravy a boil till oil starts coming out from the sides. Drizzle a tbsp of mustard oil and cook it for a few second and then turn off the heat.

Dim kosha is ready and can be served with luchi or roti/ pualo or fried rice.