Like many fans, I too celebrated the 86th birthday of Gulzar Saab. Listening to his songs and catching up with other Gulzar fans over Social media. I went through numerous playlists and figured out some trivia and there was a happy feeling all over. This post is neither meant to figure out which one is the best song of Gulzar, nor to analyze his writings. However, since I am a food writer, this is about food and dim posto, in particular. 
In our blog, the love for egg or Dim is evident. Once in every 4 months, we come back with some recipe of Egg. It all started with Dimer Devil. There is Achari Anda, the quintessential Dimer dalna, there was Dim Kosha. Stepping out of Kolkata, we reached South India and Kerala in particular for Nadan Mutta Roast and I thought, things will come to rest when Madhushree finally confirmed to make the recipe of Omeletter Jhol.
Gulzar and food
One of the major influences in Gulzar's life has been Rabindranath Tagore, which he has mentioned every where. He named some of his movies as Angoor, Namkeen and Khatta Meetha. He had three characters in Namkeen (an adaptation from Akal Basanto by a Bengali author – Samaresh Basu), Nimki, Mitthu and Chinki. So I wonder, what are his food habits or preferences? He got married to Rakhi ji, a fine classy actress, whose cooking skills are as reputed as her acting. Though living separately for decades, Rakhi ji shared on an interview that she manages two kitchens, Gulzarji's in remote control.
Like any couple, Gulzar ji informs her at the last moment on guests and requests for some prawn curry. His love for Bengali food is now famous and like any husband, he doesn't mind pleading Rakhiji for Bengali dishes. In his own words – "Even today, whenever I want to eat fish cooked by her, I first gift her a saree as a bribe like I used to do when we were courting. I gifted her so many sarees during our courtship days, that I learnt to identify beautiful Dhakai and Tant sarees. And I used to gift her the best ones. I still do."  Ref  His love for baigan/begun was played along by his long-time friend and soul brother RD Burman. In the song 'aanki chali, baanki chali', there is a line which is, 'Panta Bhate tatka begun pora'. Did you know that this part of the lyrics was written by RD Burman and not Gulzar and it was his trademark gibberish which became immortal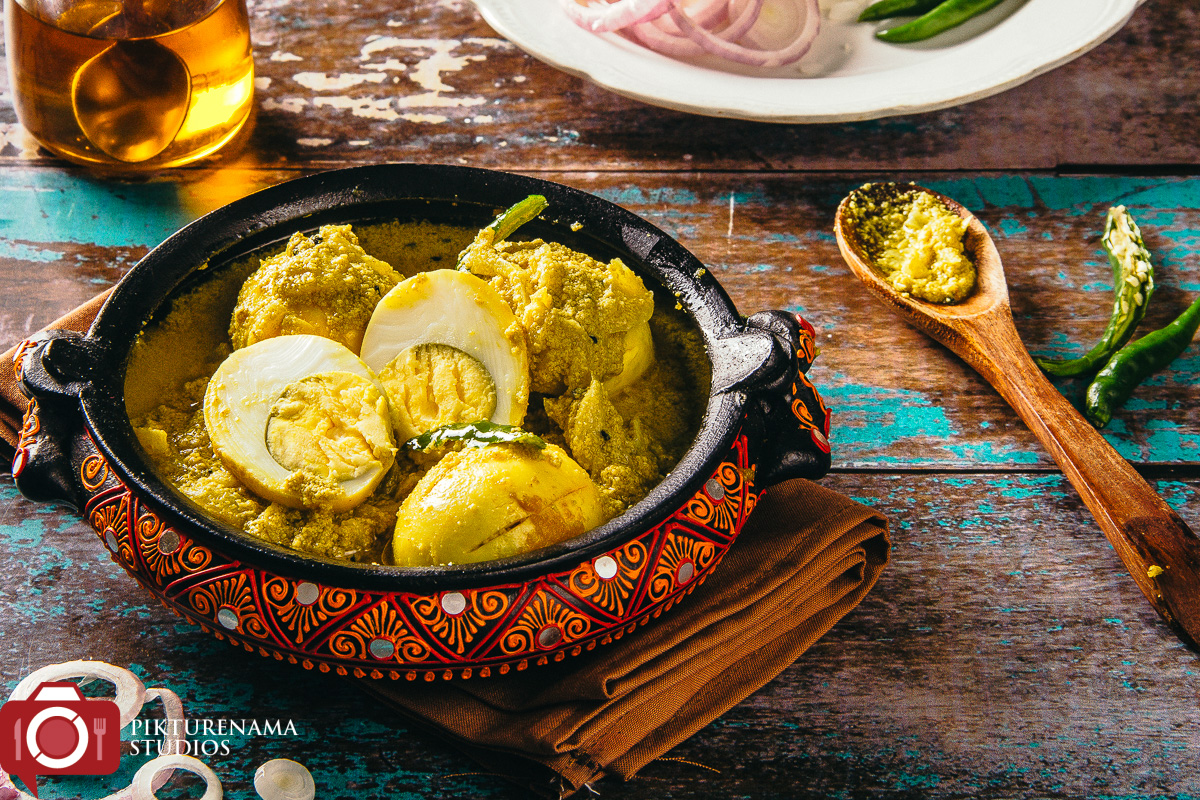 When music director Santanu Moitra met Gulzar on his Birthday with Dim Posto 
The most interesting part of the story is here. Music director Shanatnu Moitra shared this story on an online event along with poet Srijato, journalist Sanchari Mukherjee and others. Normally, Gulzar avoids celebrating his birthday and he flees from Mumbai. However, that was not possible this year. A day before, during a conversation, he requested Moitra, to come visit him with Anda. He wanted his favourite Dim Posto.
Moitra made it himself and wanted him to drizzle the last mustard oil as a finisihing touch. He carried a spare bottle, in case Gulzar Saab didn't have any in his kitchen. When asked if he has mustard oil, came the classic reply from Gulzar – I don't have a back up power at home, neither I have back up for electricity but I have enough backup of mustard oil to avoid any midnight exigency. 
Dim Posto will always be synonymous with Gulzar Saab now 
Dim Poshto was made at home. For some, including Shantanu Moitra, Gulzar Saab's house is like a temple. He is an instution to many. The meagre music lovers like me, whose introduction to Gulzar has been only through film music, took time to realize that he is a supreme poet. He can be handed over any word and a poem or nazm can be made out of it. May he live long and may we always know that the old Banyan tree with all its roots is still firmly planted on ground, whose couple of lines can be a like calm breeze in these troubled times.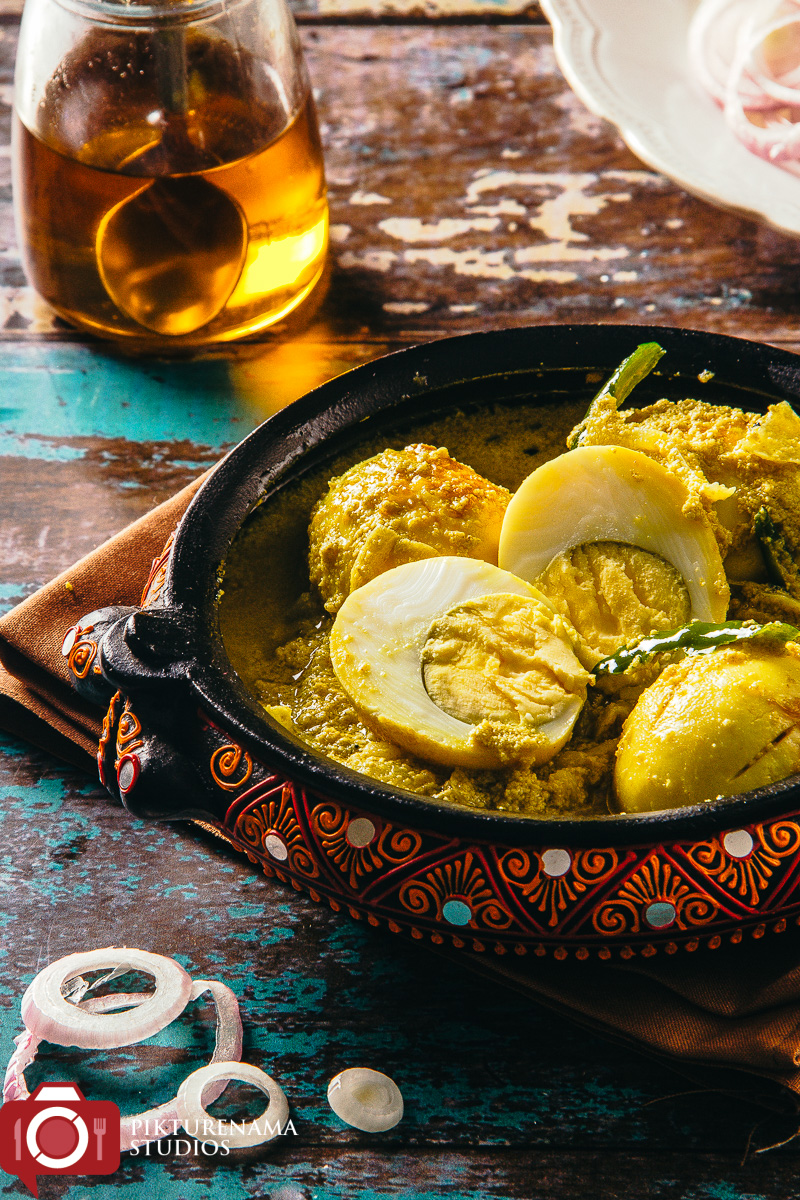 In case you are looking for food photography solutions have you checked Pikturenama Studios ? 
Try this out as we made a short reel on making of Dim Posto –
Share your cooking with us
Are you following us on our youtube channel Cook with Pikturenama? Pls subscribe. Here is a video of the Dim Posto in the making – 
Do try this recipe and share your feedback. You can reach out to us at our social media handles: Instagram, Facebook or any of our personal Facebook (Madhushree and Anindya) and twitter profiles. Post a picture and tag us.
Pin this on your recipe board? You can find some awesome recipes at Pikturenama recipes in Pinterest
Dim Posto
Bengali egg curry with boiled eggs and poppy seed paste
Ingredients
4

boiled eggs

4

tbsp

poppy seed paste

1/2

cup

mustard oil

you will probably not need that much

1

tsp

nigella seeds

2- 4

green chillies

1/2

tsp

sugar

2

medium sized oions

finely sliced

salt to taste

1

tsp

turmeric powder
Instructions
Make long 4- 5 slits on each egg. Smear them with salt and 1/2 tsp of turmeric powder.

In a kadai, take 1.5 tbsp of mustard oil and gently fry the eggs till they have a mild golden colour.

Take the eggs out and keep aside.

In the same kadai, add nigella seeds and 2 green chillies. fry them till the onions have softened and have browned on the edges.

Add 1/2 tsp of turmeic powder and 4 tbsp of poppy seed paste to this. Keep the heat low and mix the onions and the turmeric powder.

Bring the heat to a medium and stir for half a minute. Add a cup of warm water and salt to taste and let it simmer. Add the eggs to this and coat the eggs with the poppy seed paste.

Then add 2 tbsps of mustard oil and a few split green chillies. Stir gently and then cover and cook for 3 minutes.

Once it is done, remove the cover and stir. Check you seasoning and add some more mustard oil if you want.

Turn off the heat and serve dim posto with steamed rice.