2015 was the first time we experienced the culinary magic of Chef Asish with Ilish. We were elated and we wrote a blog post. 2016, we got a repeat of the show with similar thrill and vigour. And now again, its 2017 and that time of the year. Do we really have to do a blog post again on the same topic? That was our thought process. That did not stop us from attending the bloggers' meet and enjoying every bite of everything that we had. We came back and realised that a blog post needs to be up on this. After all, The Gateway never fails and like a magician, Chef Asish always manages to bring out something new from his coat.
The GM and a very good friend, Devraj Singh greeted us and after all pleasantries, we were leaded to the tables loaded with the Ilish in all its glory from both epar and opar Bangla. We were busy taking pictures and chef was explaining the dishes to us when finally, Dolon said- "Shall we now eat?" With grins on all our faces, we found our place at the table and the journey began.
The baked and boneless Hilsa, always a masterpiece at The Gateway was the first entrant. This time it was very mildly smoked but the flavour of the Parmesan cheese and hilsa was like a match made in heaven (have to try it at home). High in salty factor and even though Parmesan itself has a strong aroma, it actually brought out the flavour of the fish instead of masking it. This came with a herbed pilaf and some greens. It was so good that I believe the sticklers of traditional Hilsa dishes must give it a try and they would not be disappointed.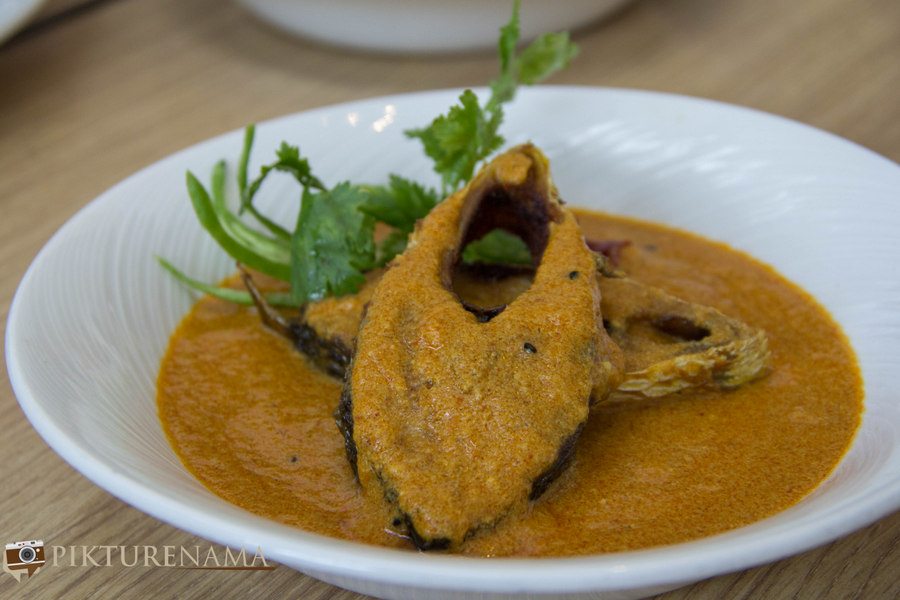 Then came all the traditional fare. From Dhakai shorsher bata to Ilisher Korma, Doi Ilish where the Hilsa has been steamed, Ilish bhaja with a glorious roe, ilisher chop and more. The signature this time was ilish diye jhuri posto. But what rather impressed me was kancha aam kasundi diye Ilish. Thinly sliced green mango in a mustard curry, bringing out the flavour of the Ilish and glorifying it in every way possible was a clear winner. I guess, no matter what, you cannot take the mustard out of a Bong's DNA. Spoon out the gravy on a plateful of steamed rice, mix it all well and you are set for a journey of joy and ecstasy (if I must say).
This monsoon, if you are looking for a some great Hilsa fests, this is the place to be. Both for lunch and dinner at a la carte basis, the various Hilsa dishes are on the menu for a whole month or more.  Average cost would be Rs. 750 plus taxes per person.
We plan to go again. If you do go, please share your feedback.
Could not help but catch the expression from Kirti – the fellow blogger on Hilsa and how much she loves them.