When in Bhutan, you have to eat Ema Datshi. It is afterall, their national dish. 
When my Bhutan tour was fixed, courtesy Taj Tashi, everyone suggested I have one dish. It's the national dish of Bhutan called – Ema Datshi. Ema means chilies and Datshi is the cheese. A meal at Chig Ja Gye and an extensive chat with Executive Chef Piyush Mishra helped me to get my concept clear about Ema Datshi. It is easy to make chili and cheese stew in simple words. The homemade ricotta cheese is very popular across Bhutan and almost every home makes it. It is little high on salt and has a crumbly texture, for better understanding, the taste is a mid way between a feta cheese and a gruyere cheese. 
If you love chicken then trying to make this Nepalese Chicken Sadeko. (Link)
Bhutan and its tryst with chilies 
Winter in Bhutan means scarcity of vegetables. They often dry their vegetables. Ema Datshi can be prepared with both red and green chilies. The small picturesque country treats chili as a vegetable and one can find its presence in almost every dish.The cheese here is local cheese made of yak's milk and butter is the medium of cooking for this dish. Bhutanese cuisine is guided by its simplicity and this dish is a perfect testimony to it.
If you are in Bhutan then a visit to Jungshi paper factory is must. (Link)
What all did I pick up from Bhutan ?
Madhuhsree, made her choices clear before I travelled. She wanted local cooking ingredients.  I  picked up the red dried 'wrinkled' chilies at INR 500 a kg, the green chilies at INR 100 a kg and the local cheese – 5 cubes at INR 100. form the large vegetable market opposite to the Thimpu weekend market.
The Thimpu weeekend market is worth shopping . Do you want to know why ? Read here – Link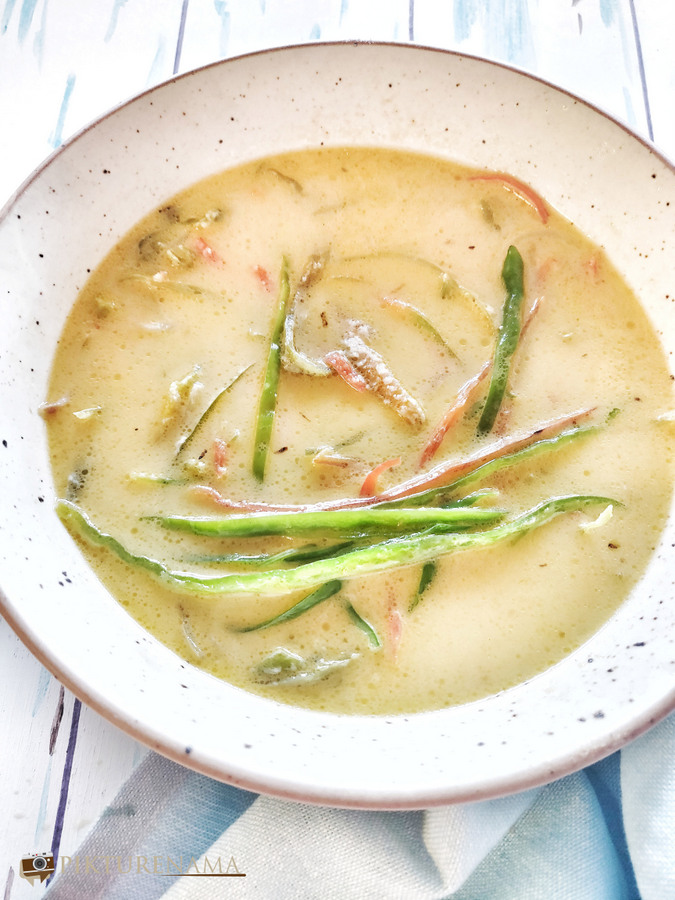 Surprise surprise Whats the meaning of Datshi ?
The chilies, burns your mouth but mellows down drastically in this cheese stew. When Madhushree was making this, she had by mistake popped a tiny portion of the green chili in her mouth and the result was catastrophic. 
For Summers you can have this Frozen Melon Ball Salad with Bandel Cheese (Link)
The Datshi does not only come with Ema. There is kewa datshi (with potato), shamu datshi (with mushrooms), shakam ema datshi (Ema datshi with local Bhutanese dried beef) and many more.There is also shakam shukam datshi, which is the beef cooked with white chilies. Ema Datshi is the national dish and the spotlight always falls on it. 
Add this to yummly ? – Yum

Share your views / Follow us
Do try this recipe and share your feedback. You can reach out to us at our social media handles: Instagram, Facebook or any of our personal Facebook (Madhushree and Anindya) and twitter profiles. Post a picture and tag us.
Pin this for your recipe board? You can follow us on Pikturenama recipes for more recipe ideas (Link)
Pin it for future reference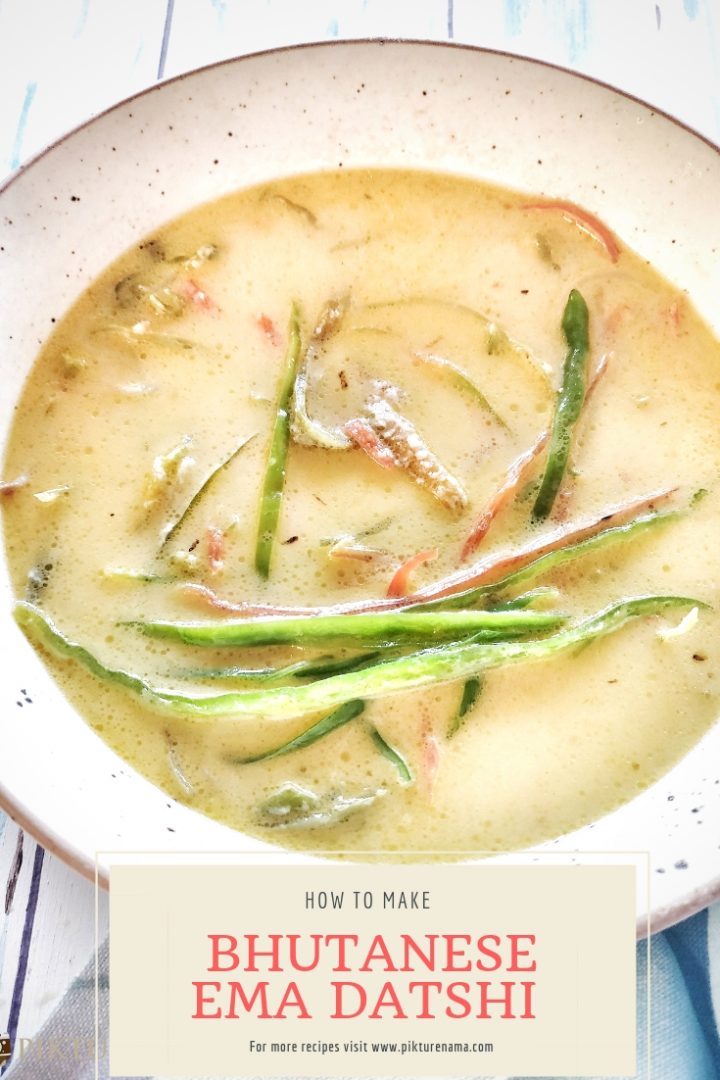 Ema Datshi - The national dish of Bhutan
A thin cheese and chili stew from Bhutan made with butter. This is a recipe which we have picked up from Chef Piyush Mishra- The Executive Chef of Taj Tashi, Bhutan.
Ingredients
12

nos

Bhutanese Green Chilies

1

no

Medium Sized Onion

1

no

medium sized tomato

3/4

cup

Bhutanese local cheese

3/4

cup

processed cheese

1

tbsp

Butter

Salt To Taste
Instructions
Finely cut the green chillies length wise and discard the seeds.

Slice the onions and the tomatoes too.

In a frying pan or a sauce pan, take the butter and melt it.

Add the onions to it and simply sweat them. Keep the heat at medium so that the onions don't turn brown.

When the onions have become soft, add the tomatoes and then again cook for about five minutes and add the Bhutanese green chilies.

Cook the chilies for five minutes and then add the local cheese and the processed cheese. Immediately add 2 cups of water and cook till the cheese has melted and formed a nice sauce.

It takes about 10 to 12 minutes for the sauce to be prepared.

Finally add salt if required and turn off the heat.

Serve the stew hot and it can be had as it is or with rice if you wish.
Notes
The quantities for the ingredients given by Chef Piyush were in tbsp whereas here I have given them in the quantities convenient for home cooks (eg one onion and one tomato).
In case you want to make this dish when you do not have Bhutanese cheese, you can try it out with some feta and processed cheese. (I have not tried it hence cannot guarantee result. However, I do know that most people outside of Bhutan make this with just amul cheese)
The amount of water required is also dependant on the thinness of the stew you prefer. Add more water if you feel like but add slowly instead of at one go.