In my last recipe post, which was the chicken/ murgir dum (Link), I had mentioned about the Pop up which Debjani and Madhushree had planned for the 16th of December. Now, as I retrospect, the number of guests who paid up (we didn't offer any complimentary seats), the number of final last minute refusals, the feedback from the guests; all were positive enough and heart warming.  For those of you who could not attend the first one or the second one as a kiosk at Kolkata Market by Karen Anand at Hyatt, there is another one of blog to plate coming soon, sooner than you can think of.
I can go on and on about blog to plate, as I have seen the stages and steps unfold closely but I will leave that to the main protagonists of the story. This is a story about a dark horse winner. A brisk walk back to past, remember the match between India and England in 1989 at Kanpur? When he was promoted to bat at no. 4 ahead of Vengsarkar, Azharuddin and Kapil Dev, many thought that this was a suicidal decision. What happened after that is recorded in many places and has now become a folklore. Much like that was the story of chhana korai shutir cutlet. Would like to put on a disclaimer here, that in a pop up when there are two equally accomplished cooks – there isn't a competition, rather they play both to their own strengths. There were many show stoppers like the chandana ilisher bhorta/ kankar jhaal / komola kheer cooked by Debjani and few others cooked by Madhushree.  Honestly, Madhushree and I never thought that the chhana koraishutir cutlet will be such a hit.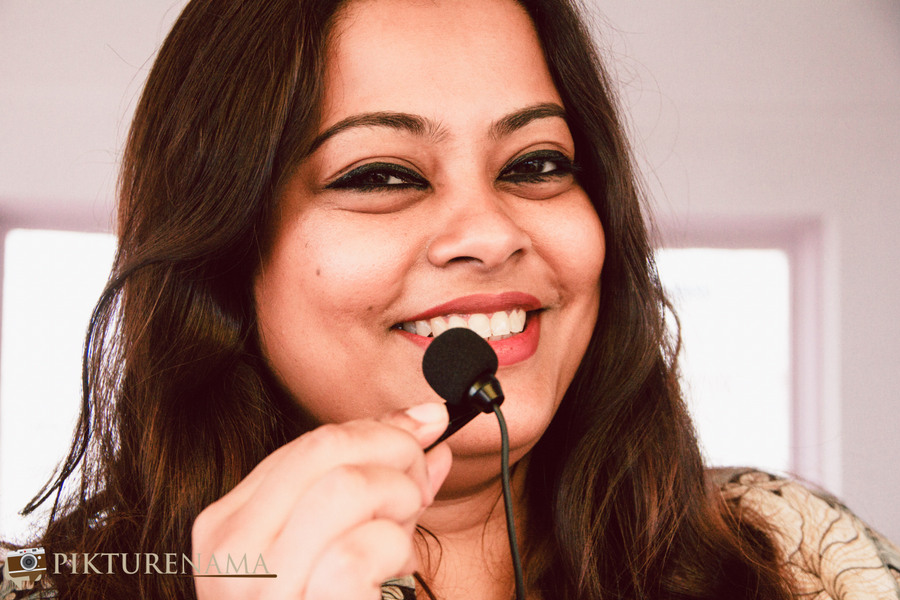 The backstory of Chana koraishutir cutlet.
A chop is eliptical and a cutlet can be rectangle or square. A chop usually has a bengal gram flour batter. Sometimes though, it does have a bread crumb coating. I don't know what went in Madhushree's mind.  Initially it was named as a chop. After a few trial and error, the shape was finalised as a rectangle and the dish was renamed to a chhana koraishutir cutlet.  Some called it as soft as heart, some found it well layered and textured and Doma di even set it a flying kiss. Slightly textured boiled green peas mashed with smooth chhana on the other side with crispy outer cover and a dash of kasundi makes your heart sing. As flavours, I thought it was a fantastic duet. Very familiar ingredients, when bound together was just plain good. 
While we were dredging the chhana koraishutir cutlet pieces in flour and then coating them with bread crumbs the previous night, Tugga took a nice beautiful video. I didn't let the chance go to become vociferous about how my growing up in Chandannagore had virtually prepared me to make telebhaja and cutlets.
Video Link – https://www.facebook.com/anindya.s.basu/posts/10156341538994011
Few of the things which I learnt while making the chhana koraishutir cutlet were –
The more you knead the cheese, it's better. One needs to add on some amount of bhaja masala and salt to taste

Getting the exact square shape from the large block of green pea and chhana can be slightly tricky.

I realised why dredging is time consuming and especially when you dip the cutlet pieces/ fish fillets (in case its fish fry) in flour or egg white and get the coating of bread crumbs, it takes forever. An assembly line with two people makes the process faster than doing it alone. 
The Chhana Koraishutir cutlet has this unique feature of both the layers on top of one another. So two distinct tastes and textures happily coexist. Try this out at home and let us know?
Pin it for future use ? 
Chana Koraishutir cutlet / Green peas and home made ricotta cheese curd cutlet
This is a rendition of the chhana koraishutir chop. Classic flavours of mashed green peas cooked with some asafoetida and bound together with home made ricotta or chhana/ chhena, coated in a nice bread crumb layer and deep fried is a brilliant showstopper appetiser. Recipe Author: Madhushree
Ingredients
For the filling
200

gms

boiled green peas

1 1/2

tsp

chopped ginger

1/2

tsp

cumin seeds

1/2

cup

chopped coriander leaves

1

no

chopped green chili

optional

pinch of asafoetida

2

tbsp

broken cashew

2

tbsp

Kismis/ Golden raisins

1/2

tsp

Sugar

1

tsp

bhaja moshla

see notes

300

gms

chhana/ chhena

soft homemade ricotta

Salt To Taste

oil for deep frying
For the batter
2

cups

bread crumbs

1/4

cup

Flour

1

tbsp

corn flour

2

tbsp

semolina

1/2

cup

water
Instructions
In a food processor or a blender, just give the boiled green peas a bit of whirl to break it down. It needs to be mushy but not completely pureed. Do not use any water for this.

In a frying pan, take a tbsp of oil and when it becomes hot, add the cumin seeds, pinch of asafoetida (use amount depending on the strength of the heeng, which should be the primary flavour here), chopped ginger, chopped green chilies and stir it.

Then add the cashews and the kismis and stir it for a minute till the cashew becomes a bit roasted. Then add the mushy green peas.

Add salt and sugar and the chopped coriander leaves and continue cooking the mushy green peas till the raw smell goes off and the water has somewhat evaporated.

It takes about six to seven minutes on medium flame. Take it out and spread it to cool it down.

Now for the layer of chhana, the most crucial part is the freshness of the cheese. It has to be fresh for the best result. Either make it at home or you may also get it from your local sweet shop. For making at home, all you need is to curdle the milk with some lemon juice and then strain out the cheese from the whey. You also have to quickly wash it under running water in a cheese cloth to remove the smell of lemon juice. We don't want that flavour here.

Once you have the chhana with you, add some salt and the bhaja moshla. If you do not have bhaja moshla, you can just add 1/2 tsp of roasted cumin seed powder too.

Knead it thoroughly into a smooth dough.

On a flat surface or a baking tray or a large chopping board brush some oil. Then spread out the chhana into a 2 mm layer. Use a spatula to make the layer even.

Then take the mushy peas and spread it over the layer of chhana. Be careful while doing this and try not to press too hard or the layers will mix. Once the peas have layered over the chhana, use a knife to cut out squares.

Keep another tray ready to prepare the cutlets and keep. Have a plate ready with the bread crumbs. In another bowl, make a thick slurry out of flour, corn flour and semolina. Don't add the entire water at one go. Add the water slowly while mixing so that you stop when you get a slurry which is thick enough to coat a cutlet.

Slide out a square from the chopping board using a knife and dredge it into the flour corn flour slurry. Then using a fork, lift it and make sure excess flour is back in the bowl. Drop it in the bread crumbs and coat all side thoroughly and then place in a tray.

Repeat the process with all the cutlets.

Heat oil and deep fry till golden brown. Make sure that the oil is not to hot or else it will burn the outer later.

Serve it with some onion lachcha and kasundi.
Notes
the number of cutlets depends on the size of the squares or the rectangle you cut into. Too big is difficult to handle in terms of dredging and deep frying. Keep it within 2 by 3 inch for best result. Cut it a bit smaller since as you dredge, the size will become bigger.
Bhaja moshla is a typical Bengali spice mix of roasted cumin seeds, coriander seeds, dry red chilies, bay leaf and green cardamom (optional). In case you don't have bhaja moshla, just use roasted cumin seed powder with a little red chilli powder.