It is simple. I always wondered, for a country which has been living on 'dahi' forever, why they were so floored by the whole 'Greek yogurt' revolutiion recently. Well, revolution is quite a strong word. But you get the point, right? Dahi may not be as creamy as a Greek Yogurt but we do have Shrikhand in the Western part of the country which is as creamy as it gets. Then why is our Shrikhand not popularised in the same way? The same goes for mishti doi (but then mishti doi is far from being healthy).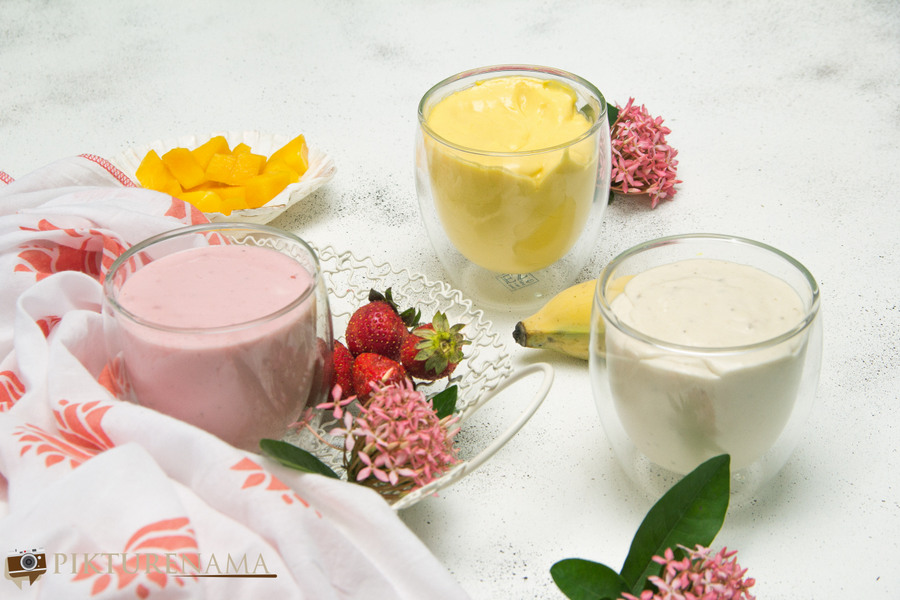 Recently I saw a lot of ads on Epigamia, the Greek yogurt brand. It was everywhere, from social media posts to print ads. I tried it too. It was really delicious. However, a small cup of Epigamia, which had just about 2 table spoon of yogurt costs Rs. 40. No offence meant to anyone but for me, I would not pay that much for yogurt. Tugga gobbled up two flavours in a row. Same was with me. Between the four of us (including Ma), we finished 6 of them in one afternoon. That's a whopping Rs. 240!!! Next came Tugga's request of wanting fruit flavoured Greek yogurt everyday as his mid meal snack.
The cost sensitive mom in me jumped into action and churned out 4 different flavours of Greek yogurt. It is actually quite easy to make and if you have the necessary ingredients at home, it is no rocket science.
It was the strawberry season. Hence I made one with strawberry flavour. Banana is the easiest since you can find them round the year. I also made mango and one with mixed berries. We did not have the time to photograph the flavoured Greek yogurt with mixed berries. Here I will explain how to make the rest of the 3 flavoured Greek yogurt.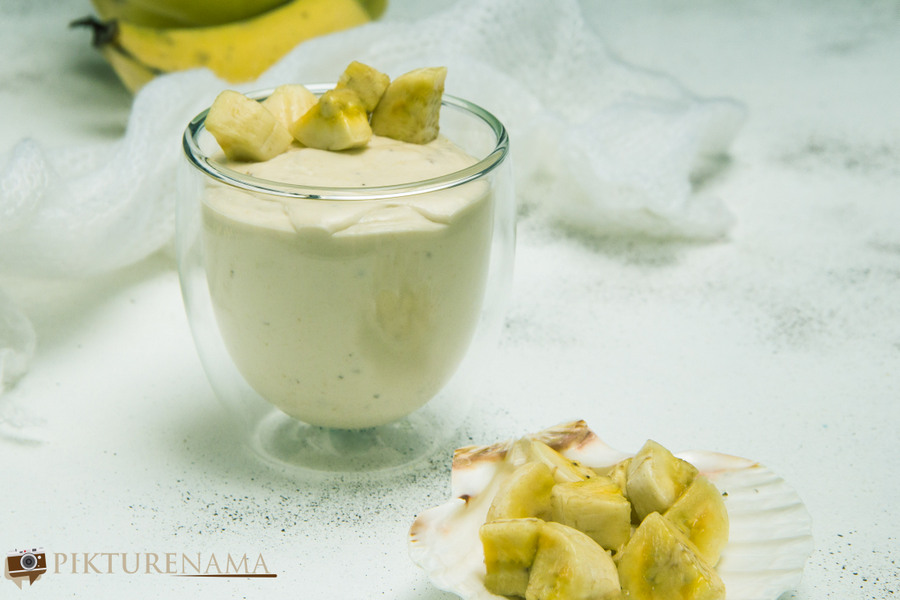 Please note that I have no idea about the traditional way of making Greek yogurt. But whatever process I have used here has churned out a very creamy textured yogurt which is as good as the ones you get in the market.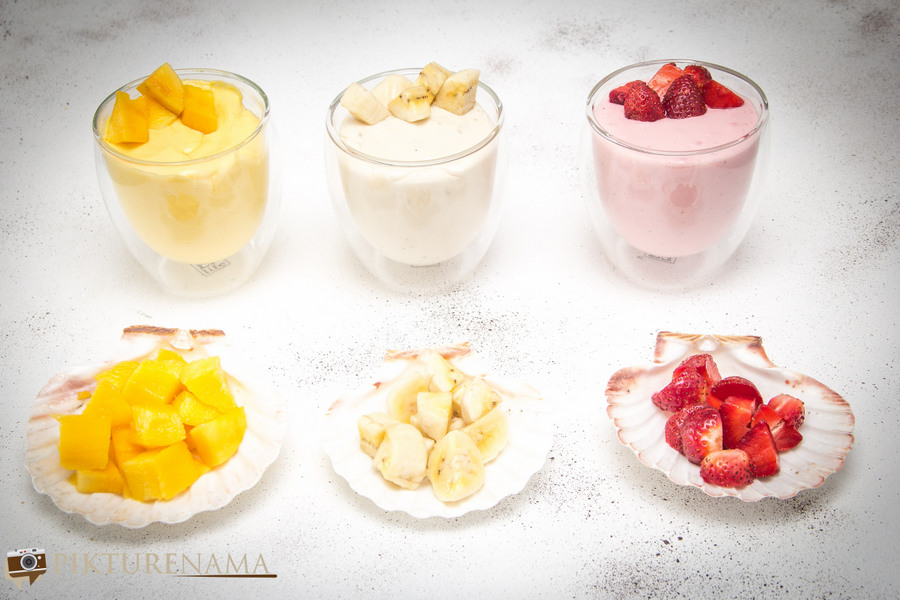 Like the recipe ? Add it to Yummly ? – Yum

Pin for future reference –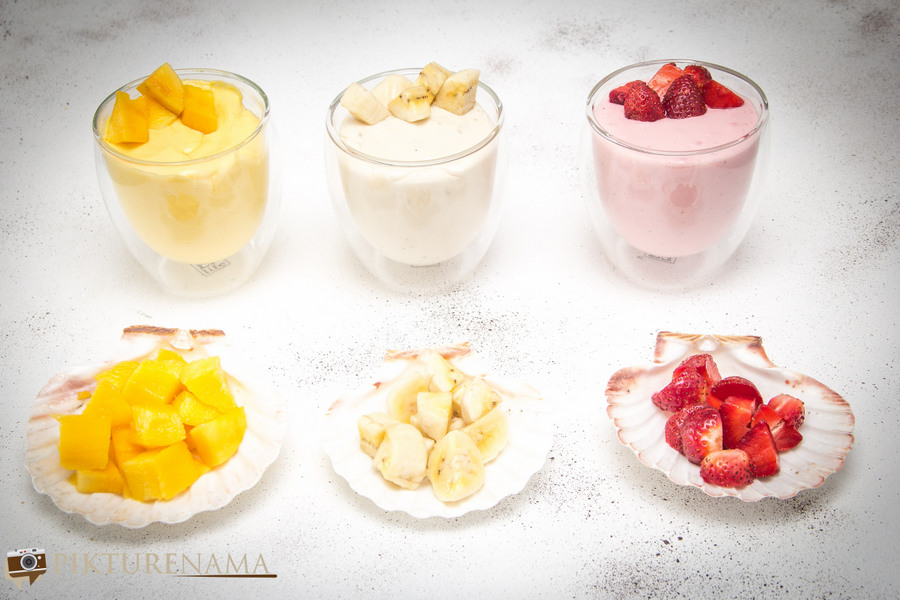 Flavoured Greek Yogurt
Homemade creamy Greek Yogurt with three different fruit flavours. Recipe Author: Madhushree
Ingredients
Strawberry flavoured Greek yogurt
1 1/2

cup

yogurt or dahi

1/2

cup

chopped strawberries

1

tsp

Honey

optional
Banana flavoured Greek yogurt
1 1/2

cup

yogurt or dahi

1

no

medium sized banana

chopped

1

tsp

Honey

optional
Mango flavoured Greek yogurt
1 1/2

cup

yogurt or dahi

1

no

ripe mango
Instructions
For making Strawberry flavoured Greek yogurt
Hang the dahi in a muslin cloth for a couple of hours till the water has drained out and you have thick yogurt. When you are ready to make the yogurt, squeeze out any excess liquid, even a drop.

Keep the chopped fruit in the freezer while the yogurt is getting prepared.

When everything is ready, in a blender, add all the ingredients. The amount of honey is completely dependent on the tartness of the strawberries and your taste.

Give it a blend untill the strawberries have completely pureed with the yogurt. Then take it all out in a bowl and serve immediately or refrigerate for half hour and then serve.

It tastes better if refrigerated.
For making banana flavoured Greek yogurt
The process is same as above. Just that banana yogurt is different in consistency than strawberry yogurt. It is more creamy and thicker in consistency. You may also add a few drops of ginger juice for a little bit of extra zing.
For making Mango flavoured Greek yogurt
Same as above.

Honey is not required here since mangoes are mostly very sweet.
Notes
The yogurt used here in this recipe is home made with double toned milk. 
If you want to have these for breakfast, hang the yogurt overnight in the refrigerator and blend in the morning.
Eat within a couple of days or else freeze them in popsicle moulds and have later. 
To have strawberry flavoured Greek yogurt round the year, you will have to freeze strawberries. 
You can use almost any fruit or combination of fruits for making flavoured Greek yogurt.