What happens when five or six women of different age group gets together? First point of discussion is always the children. The older ones will tell you what to do and what not. The younger ones will defend their actions and so on. Then comes the point when the older ones will talk about their husbands and how insensitive their men were. Nowadays, men are much more proactive towards house work and are most of the times, equal partners at home and work. The discussion of coping up with mother in law does creep in but only in unthreatening company. Finally, there is always some exchange of recipes and ideas of maintaining home and kitchen. This is the part which always excites me. Small conversations lead to some wonderful exchange of notes.
In case of food Photography please contact us at Pikturenama Studios
Kancha tomato from canning and kancha tomato diye musurir dal
It was Saraswati puja and I was at my hometown in Canning. Sitting around with my mother, sister in law and many of aunts, we were chit chatting about the simple pleasures of life. Tapan, the gardener, was pulling out fresh vegetables from the kitchen garden and was showing them to us, when a bunch of beautiful green tomatoes or kancha tomato with the sepal intact caught my attention. The stylist in me has always craved to shoot tomatoes with the sepal intact and you would never get them at the market. I missed Anindya and his camera. I nearly snatched the tomatoes out of Tapan's hands and took a quick picture with my oneplus6. I thought it was good enough for an instastory. Do not laugh or judge me? We are always on the look out for content creation just like most of our peers. Once that was done, I started with what can be done with kancha tomato or green tomatoes? Do we always have to wait for them to become ripe or is there anything that can be done with kancha tomato? Swati pishi (one of my aunts) immediately said that cook them with musurir dal. It tastes wonderful. Within no time, there I was sitting with a bunch of ladies and already with two bright ideas on how to cook green tomatoes.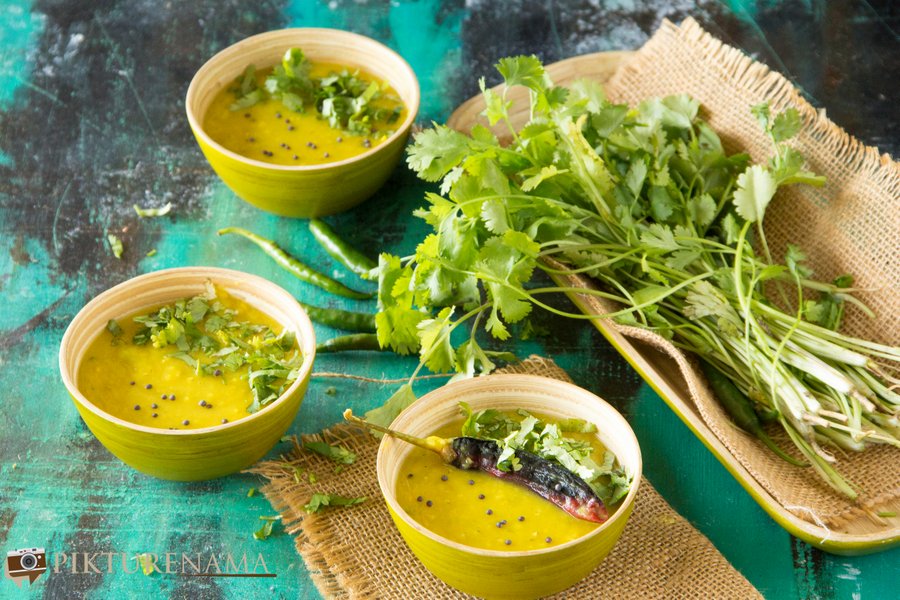 Kancha tomato diye musurir dal and Kancha tomato jhaal 
One recipe was kancha tomato diye musurir dal, ie cooking green tomatoes with masoor dal and the other was kancha tomatoer jhaal, which will come up in another post. The method of making this dal is very simple and the taste is from the tempering, as always. Bengali cooking is disinguished by the different kinds of tempering of spices used for different preparations. So for this musurir dal or masoor dal, the tempering is of black mustard seeds and dry red chillies. It is much like the tawk dal with green mangoes that we cook. There is also some sugar that you have to use to balance the sourness of the tomatoes. The most essential part of this dal is the consistency, which needs to be a bit thick and the drizzle of that pungent mustard oil in the end, which just elevates the dish instantly.
Have to say that this catch up with aunts was fruitful in more than one way and must do it more often. So before winter is completely over and the green tomatoes or kancha tomato is out of the market, do try this recipe.
Do try this recipe and share your feedback. You can reach out to us at our social media handles Instagram, Facebook or any of our personal Facebook (Madhushree and Anindya) and Twitter profiles. Post a picture and tag us.
Pin this on your recipe board? You can find some awesome recipes at Pikturenama recipes in Pinterest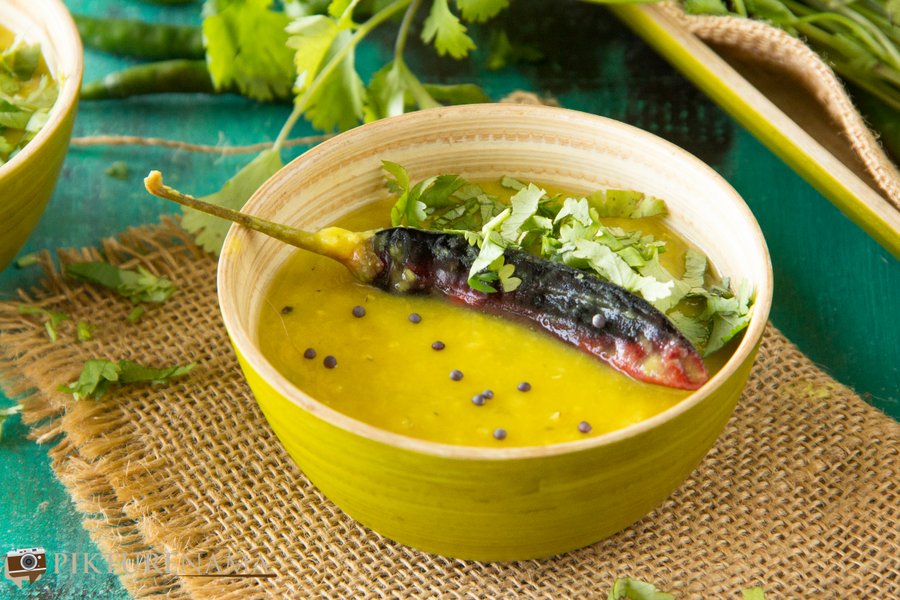 Kancha tomato diye musurir dal or Bengali styyle masoor dal with green tomatoes
A very easy to make dal recipe using masoor dal and tempering with only two spices. Thhis dal is heavy on the consistency and the flavour comes from the drizzle of mustard oil in the end. Recipe Author: Madhushree
Ingredients
2

Nos

Large green tomatoes

1/2

cup

Masoor Dal

1/2

tsp

Turmeric Powder

1

tsp

Sugar

2

tsp

black mustard seeds

2

nos

dried red chilies

1 1/2

tbsp

Mustard Oil

Salt To Taste

chopped coriander leaves for garnish
Instructions
Wash the dal under running water and then in a pressure cooker or a heavy bottomed saucepan, boil the dal with the turmeric powder, salt, sugar and chopped green tomatoes.

In case you are using a pressure cooker, then do not add too much water, just enough for the dal to boil, perhaps only one whistle.

When the dal is ready for tempering, in a small tadka pan, heat 1/2 tbsp of mustard oil and add the mustard seeds and dry red chillies. Toss them around till the mustard seeds splutter and start giving out a nice aroma.

Then pout the tadka over the dal and tunr on the heat to cook the dal for a couple of minutes more. Adjust the seasoning and add more water if required. The tomatoes are more or less quite a pulp in the dal.

Finally garnish with coriander leaves and drizzle mustard oil over top and switch off the flame. The taste of raw mustard oil with the dal is phenomenal.

Serve it with some steamed rice.