Who has kancha tomato or green tomatoes for lunch as a vegetable? 
If you had seen the insta stories in www.instagram.com/pikturenama, kancha tomato or green tomato has been one of the many loot of the home grown vegetables which Madhushree got from her home in Canning. Since then, various suggestions came from differen corners of social media and home about the use of kancha tomato. The experiments began and kancha tomato jhaal was one such surprise. 
What is kancha tomato jhal?
I must admit that I haven't had kancha tomato till now and when the kancha tomato jhaal was served without any preamble, it almost looked like a sauted long sliced yellow bell pepper. The first bite confirmed and strongly objected too. Robust presence of mustard paste as the background and slightly tangy sour taste of the green tomato makes it an unique experience. Slightly crunchy green tomato slices with the texture almost same as the yellow bell pepper and the colour changed to yellow made it a replica of yellow bell pepper. I love mustard and can have almost everything with with mustard. That's the added object of desire for me. Add on to that, the green chilies. Must say, more spunk. Spicy, hot, flavoured, textured – what else do you need from any torkari? Yes, one would also find the creaminess from the poppy seed paste.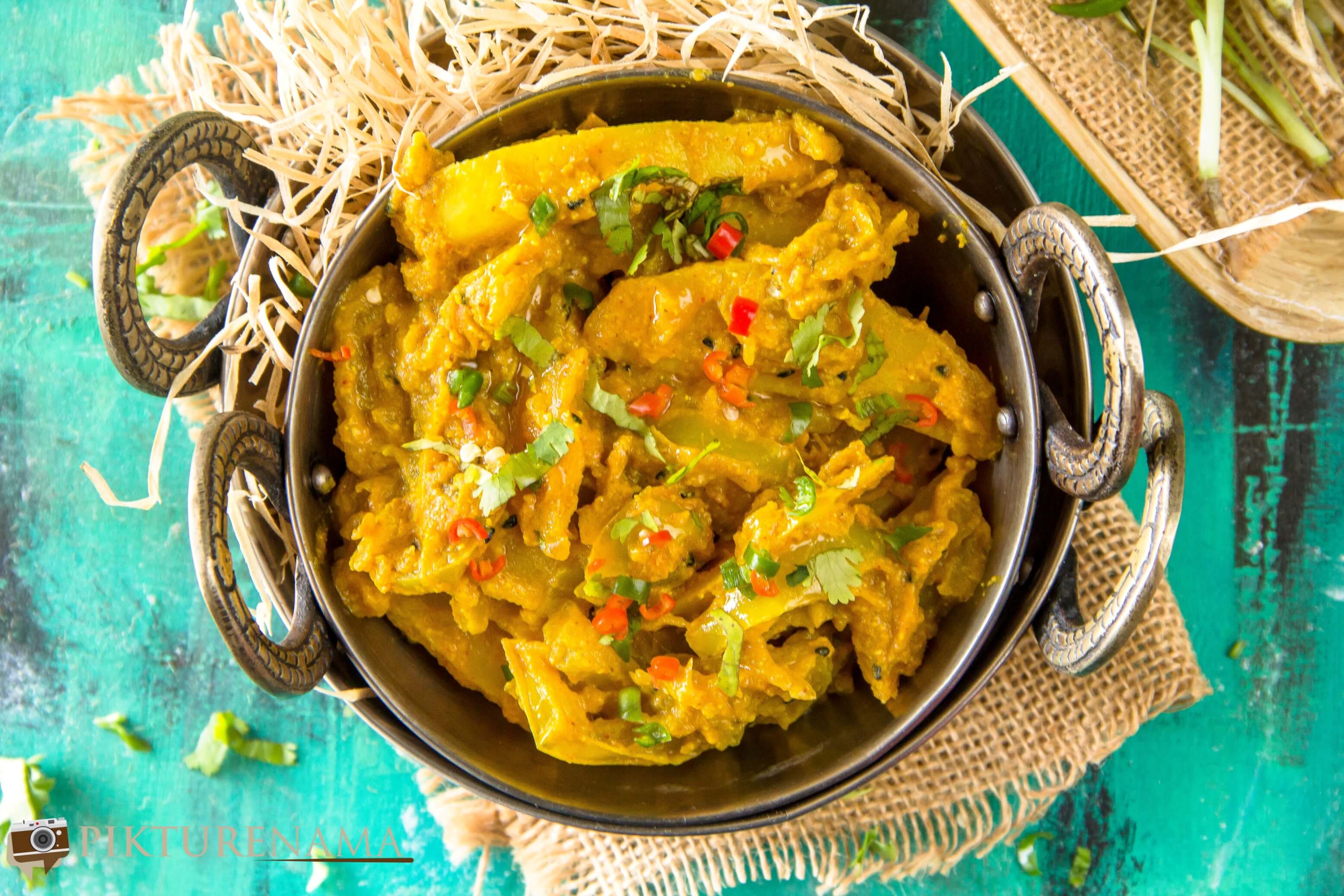 How to make Kancha Tomato jhaal  
It's not that tough, rather an easy recipe, one tweak which was done was addition of aloo or potato otherwise the torkari would not have increased in volume. And as Bengalis, we have to add potato to everything, including the Biryani. So I would safely say that Its okay to add potatoes to this vegetable. It doesn't take much time to make it too. Just saute the potatoes and tomatoes in our basic spice tepering, ie nigella seeds with green chillies. Some salt, turmeric powder, red chili powder, sugar to balance the sourness and the finaly addition of mustard paste and poppy seed paste. That's it! Finish with some green chilies and mustard oil. 
Take a bowl of rice and nicely mash it with the kancha tomato jhaal, using you fingers. I tell you, that was one winter delight.
You could also try to make Kancha Tomato diye Musurir Dal. It tastes terrific. 
Share your views / Follow us
Do try this recipe and share your feedback. You can reach out to us at our social media handles: Instagram, Facebook or any of our personal Facebook (Madhushree and Anindya) and twitter profiles. Post a picture and tag us.
Pin for your recipe board ? You can follow Pikturenama recipes here
Kancha tomato jhaal / Green tomato in mustard paste
A very easy to make vegetable using green tomatoes and potatoes, with mustard paste being the primary taste. Little tangy, little sweet and little spicy, this dish is a perfect accompaniment with steamed rice. Recipe Author: Madhushree
Ingredients
4

nos

Large green tomatoes

1

no

medium sized potato

2

tbsp

Mustard Oil

1/2

tsp

nigella seeds

3

nos

green chilies

1/2

tsp

Turmeric Powder

1 1/2

tbsp

black mustard paste

1

tbsp

poppy seed paste

1/2

tsp

Red Chili Powder

1

tsp

Sugar

coriander leaves for garnish
Instructions
Peel the potatoes. Cut the potatoes into half lengthwise. Now cut them into 3 mm slices, much like we cut for machher jhol. Then cut the tomatoes into half and slice them as well.

In a kadai or a frying pan, take a tbsp of mustard oil and when it heats, add the nigella seeds and one chopped green chili. Stir it for a few seconds and add the potatoes. Add turmeric powder, red chili powder and salt and stir fry on high heat for half a minute. Then reduce the flame to medium and continue frying the potatoes for a couple of minutes more.

At this point, add the tomato slices, some sugar and continue mixing. Add more salt if required but remember that the tomatoes will reduce in quantity at a later stage.

Reduce the flame and cover and cook for five to eight minutes. Remove the cover and stir to make sure nothing sticks to the pan. In case you feel that the vegetables will stick to the pan, then sprinkle some water. Stir and cover and cook till the potatoes have become soft.

Take a bowl with the mustard paste, poppy seed paste and a couple of tbsp of water and add this to the vegetables when the potato has become soft.

Mix everything thoroughly and cook for 3 to 4 miutes over high heat till the raw smell of the poppy seed paste goes off. Add a little bit more of water, if you feel everything is becomes too dry.

Once you have achieved the desired consistency, garnish with chopped coriander leaves, more chopped green chilies and a drizzle of mustard oil.

Turn off the heat and serve with steamed rice.