It was towards the end of 2008. We were going to have a baby for the first time and our excitement saw no end. As days went by, everything changed for us. The baby was not growing as per the rate it should have. Our first double marker test came as high risk in all areas of a genetic anomaly. For those of you who are not aware of this, a double marker test or a triple marker test are genetic screening tests which are done via a blood test of the mother and her age, weight and other medical conditions are taken into account before coming up with results for a possible genetic anomaly. Why possible? Since it is a completely statistics oriented test and the accuracy is less than 90 percent. Without going into further details, that was the first time we were brought face to face with the understanding of the various syndromes, especially downs syndrome. Eventually we had to terminate the pregnancy in the 20th week since the baby did not grow at all. However, those few weeks, when we had to wait for results of various tests (including amniocentesis) were nothing short of an emotional ordeal for the both of us.
We were lucky that we lived in an age when such anomalies could be detected before time. But despite the tests too (since they are statistical), children with special needs are born and no matter what we say, life is difficult for them as well as their parents, who love them to death. Very soon I am going to be a mother once again. Yes, we are having a baby in December and all we hope is that we have a healthy baby. But we can only hope. We can never know anything for sure.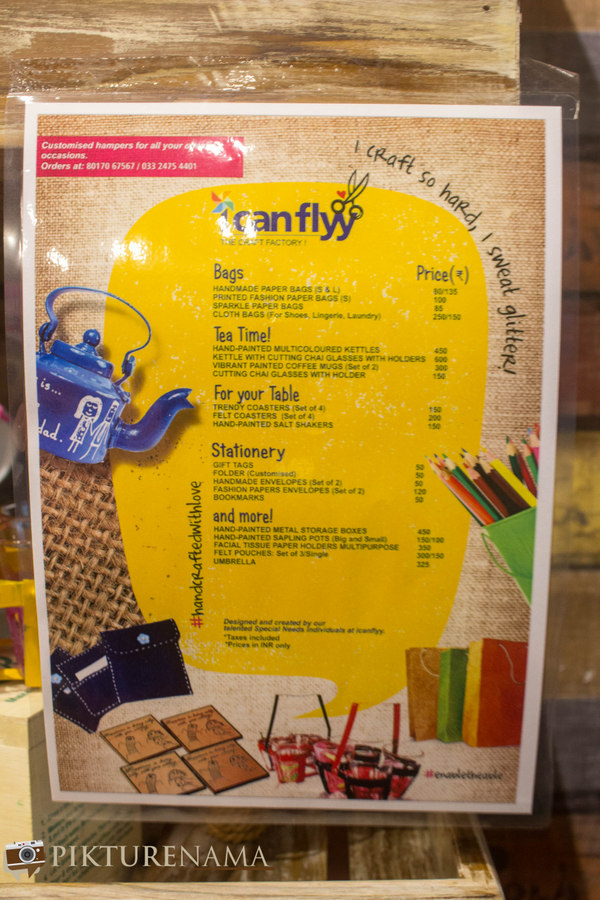 Recently we were invited to Cafe I Can Flyy, which is a brain child of mother and daughter duo, Minu Budhia and Preeyam Budhia. They started out with 'Caring Minds', a psychological wellnesss centre for all, especially children and adults with special needs a few years back. It eventually branched out to I Can Fly, which is a concept built on developing vocational skills for young adults with special needs so that they can be self dependent (to a certain extent) in the long run. Today they have 27 of these young adults between the age group of 15 to 32 in various skill building platforms like art and craft, laundry (where they learn to wash, dry, fold and repeat), computer data entry, financial skills development which includes handling money, banks etc, social skills, grooming skills, photography, flower arrangement etc. Other than these, they have the opportunity for honing hobbies like music, dance, yoga, games and many more.
Cafe I Can Flyy which opened just a month back is another of these platforms, where a few of these kids can have an avenue of working and even earning money. As you enter the cafe, the first thing you notice and it probably hits you, is the positive energy around the place. A very cheerful and colourful ambience, you are greeted with an infectious smile from Saloni. She is a girl with special needs and like her, there are a total of 7 of them either in service or in the kitchen, in areas where they do not have to deal with fire. You notice a whole wall stacked with goodies from the food factory and the crafts factory. The food factory has packaged products like makhana, baked crackers, roasted chidwa, some dips and sauces, a variety of breads, chocolates, cookies and so on. The crafts factory has some cute and some quirky yet useful products like paper bags, cloth bags, colourful kettles, tea cups, gift tags, handmade envelopes, storage boxes and the likes. Plus there is a whole section of a number of board games stacked up for anyone who would love to spend some time there and believe me, you would.
The food has been kept reasonably simple – nothing fancy, nothing out of the world. You need to place your order by writing down what you want on a notepad and order at the counter. Then the food is served to you. The menu has a selection of coffees in both hot and cold, some thick shakes, thirst quenchers, finger foods, pizzas, pastas, maggi and wai wai made in different ways, sandwiches, omelletes and the likes. We went with cold coffee and some cutting chai. Absolutely loved the way the cutting chai was presented in small kettles with a chai glass on the side. If not anything else, I have a super craving for maggi for the past three months, hence did order a cheese and garlic maggi, which I was told was very popular as well. Now what can go wrong with maggi rite? It was simply perfect.
The mushroom and cheese pizza was my favourite, even though I am a hard core non vegetarian. It was a thin crust (not paper thin) and super cheesy with your basic processed cheese. It felt very homemade and had a hearty taste to it. The chicken poppers are a natural superhit in the cafe amongst meat eaters. Small crunchy bites of chicken with a barbecue sauce dip was a fun bite along with sips of cutting chai. The magical moment was when we had their signature dessert. It was a bountiful of flavours in bite size called Caprese-  a basil sponge with tomato confit, white chocolate, mozzarella, and mascarpone mousse and is a must have. Even though you can try an array of desserts from pancakes to brownies and danish, this is the one dish which needs to be tried. It comes in different bright colours everyday and is packed with flavours which explode in your mouth.
As I look down, I realise that I have already written 971 words, which is simply too long for a post. But I am sorry, I can't help it. This is one initiate which has captivated my heart and I wish and hope all the best for them. The theme of the cafe is 'freedom of celebrating who you are' and isn't that what everyone wants in their lives? So why not for these special individuals who deserve the best in the world without being judged.