Just last Sunday, I was suddenly faced with a revolt from the father and son. They did not want to eat luchi on a Sunday anymore. Above all, they did not want something Bengali. Trust me, there couldn't have been a happier 'me'. I think for the last year or so, we have been having luchi for Sunday breakfast (on demand, of course). Skillet baked eggs or a Farmer's frittata were also not an option, since we do eggs every weekday morning. I went for a straight forward easy dive from a luchi to a paratha. And that was kasuri methi paratha.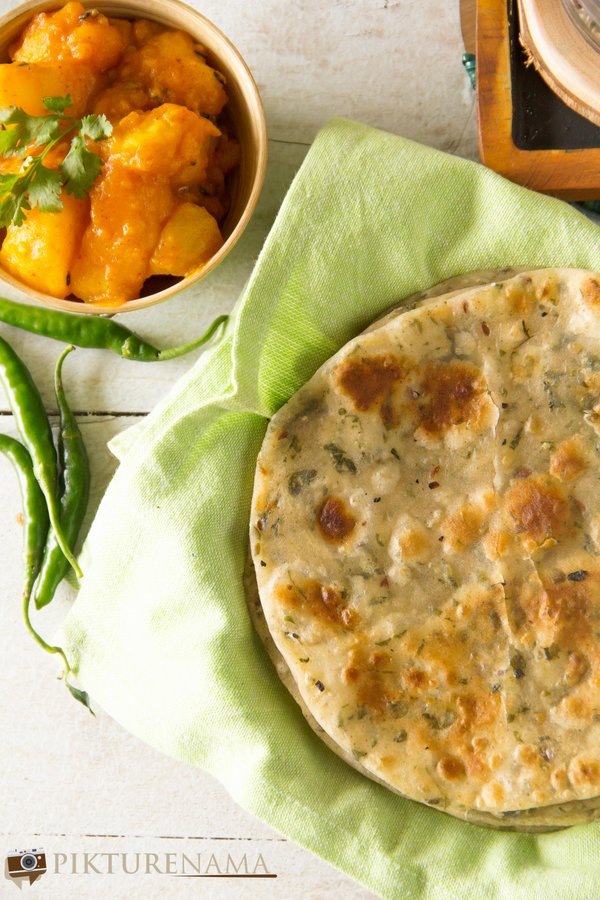 Kasuri Methi paratha can be a good substitute for methi paratha round the year
You need not wait for winters to make the best of parathas. Moms in general are very creative and we try to figure out shortcuts in our daily lifestyles. So, fresh methi or not, I wanted to make methi paratha. I had the option of alu paratha, but that again goes to Tugga's lunch box once a week. I had a box of kasuri methi in my pantry and even though it is the dried from, it does have a strong methi fragrance, especially when cooked. Therefore, I made kasuri methi paratha for our Sunday breakfast.
I have always seen my mother make methi roti or methi paratha during winters for dinner. A couple of weeks back, I went to visit an aunt of mine and she was packing lunch boxs for an NGO. Her house was filled with the fragrance of kasuri methi. There were 120 bags getting packed with kasuri methi paratha, alur dom, vegetable chop and patishapta. I can still remember that aroma and I couldn't wait to get a bite of that delicious paratha.
Check out Pikturenama Studios for Professional Food Photography
Kasuri Methi paratha with maida or aata or a mix of both?
I am a true blue Bengali, when it comes to nuances in my cooking. So, my paratha doughs are almost always with maida or all purpose flour only. However, North Indians make their parathas with aata, i.e., whole wheat flour or a mix of aata and maida. The recipe here is with maida but you could do it with aata or half n half aata madia too. It's your choice.
Few points to remember while making kasuri methi paratha
If you have fresh methi leaves, then it is a different ball game. There is the part about washing the leaves and drying them completely before making the paratha. In case of kasuri methi paratha, the one key thing is that the pack of your kasuri methi is not too old. I have noticed that if you used some kasuri methi and have left the rest for a long period of time, the fragrance goes away.

You can use half n half of aata and maida or choose to make it with aata only. The difference lies in the quantity of water while kneading the dough and also the time taken.

I have added some garlic oil from my pickle jar while kneading the dough. You can use any other kind of flavoured oil or even ghee for kneading the dough.

It is best to add the water slowly to the dough. We need a tight elastic dough for the kasuri methi paratha.

Lastly, the dough needs to rest for about 15 to 20 minutes for the gluten to start working.

If you want to make it healthier, add a tsp of flax seed powder to the dough while kneading. Also add 1 tsp whole flaxseed for the crunch. However, this is completely optional and does not do anything additional to the taste.
Serving Suggestions
You can serve kasuri methi paratha with some Rajasthani Lehsun ki chutney or any other garlic pickle or any other pickle of your choice with a bowl of yogurt. As a side, you could also serve it with this street style alur torkari (alu ki sabzi).
Our youtube channel has some cooking videos which you can enjoy –
Do try this recipe and share your feedback. You can reach out to us at our social media handles: Instagram, Facebook or any of our personal Facebook (Madhushree and Anindya) and twitter profiles. Post a picture and tag us
You can follow our recipe board Pikturenama recipes in Pinterest for more recipes. (Link)
Pin these for future reference ?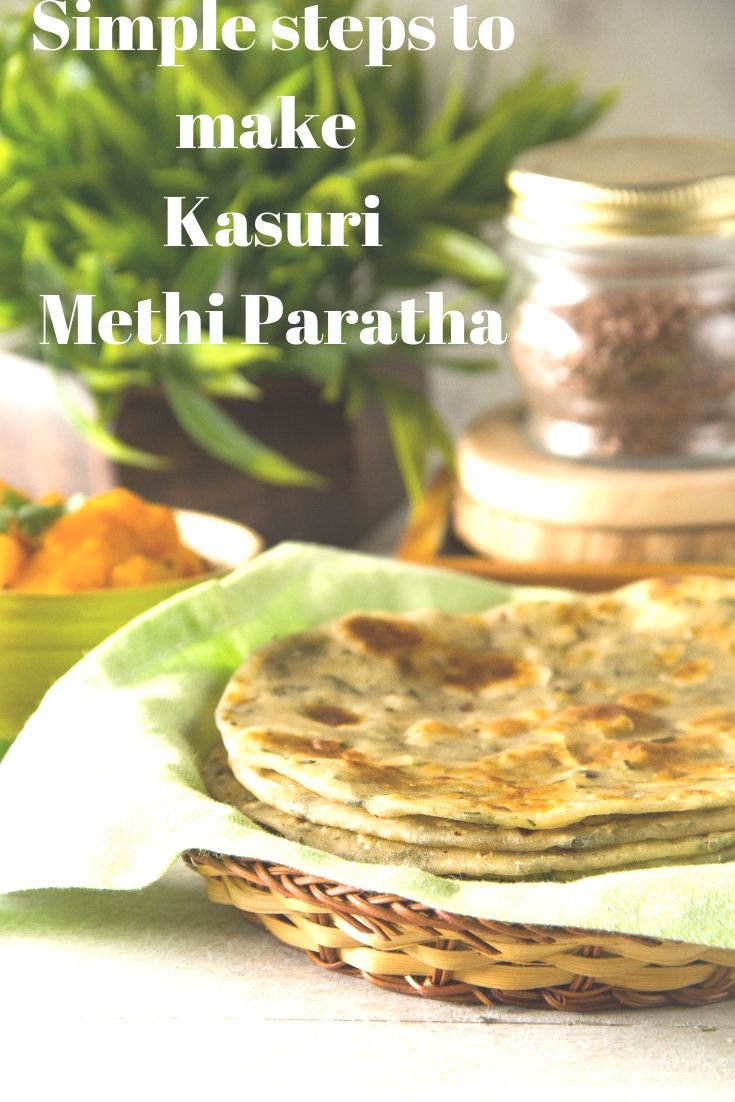 Kasuri Methi Paratha recipe
A wholesome breakfast paratha made with kasuri methi. Recipe Author: Madhushree
Ingredients
2

cups

Maida or all purpose flour

alternately you could take 1 cup maida and 1 cup aata ro whole wheat flour

1

tbsp

garlic oil

or you could use 1 tbsp ghee

3

tbsp

kasuri methi

dried fenugreek leaves

salt as required

ghee for frying the parathas
Instructions
Make a dough with all the above ingredients. Add water very slowly. You will not need more than half a cup of water. Still, add water little by little till the dough comes together and knead for 8 to 10 minutes till you get a smooth elastic dough.

Cover the dough with a cloth and rest it for 20 minutes.

Cut the dough into small balls and start rolling them into 6 to 7 inch disks and about 2 mm thin. You will need to dust with extra flour for rolling the parathas.

Heat a tawa and place one paratha over the tawa. Cook it for a few seconds and then flip to cook the other side. Then brush the top of the paratha with ghee and turn it and cook once again.

Brush the other side and turn it and cook till the paratha becomes brown and crispy. Repeat the process with all the parathas.

Serve them hot with some achar, any side of a vegetable and some yogurt. See the serving suggestions above.