Shami kebab and Chota peg, that was what most of the evenings used to be for Kayasths – Well known Food writer and one of the faces behind popularising Kayastha Khatirdari / Kayasth food in India, Anoothi Vishal said with a slight smile. We were at Kayasth Khatirdari at ITC Sonar Kolkata in colaboration with Johnie Walker. The huge banquet of Pala was tastefully decorated with long strings of jasmine at the entrance and the set up was of two long tables at opposite corners of the room where the stage was set for a proper sit down dinner.
Experiencing the clap service at Kayasth Khatirdari for the first time. 
Yes, it was a clap service. The captain will clap once and the wait staff will come out from both the entrances at opposite corners with the food. The movement was synchronized, equal number of staff to the diners, elegantly they place the food in front of you and wait. Clap – they retrace the path they had come and no wait staff inside the room other than the captains. After a while, when more or less the food for that course is over, Captain claps again and the staff comes and clears the plate. Hospitality background, hotelier background of mine will make me believe that it had taken some practice to do this. It was seamless, just as all the pop ups or curated dining experiences by Anoothi in the past (I had not been to any previous pop ups, however got the feedback from several people that her pop ups are nothing short of a show. It is always brilliant). 
Clap 1 / Scene 1 of Kayasth Food – Namak Dan / Shree Dan Learning 1 – As Anoothi says – in parts of Agra, Avadh, Dilli, Mathura, Allahabad, Benaras, a guest is welcomed by offering savoruties (Namak Daan) and Sweets (Shree Dan) on Saal leaves. This part of the meal was paired with Johny Walker Gold Label. Four dishes which I never had before – Kulfa Pyazi Mangore with Aam Panna chutney, Cholai Anar ke kulle, Lauki ki Lauz and Pisteh Lukme. This comes as a surprise for a hardcore Bong as I always levitate towards savoury. To start with, the Moong dal fritters with slightly tangy Aam Panna chutney was a dream start but then Sweet dishes like Lauki ki Lauz, which was almost like a peda yet not overtly sweet was a surprise. I can never imagine having Bottle gourd in a dessert yet this one had a very favourable appeal. Cholai anar ke kulle was a dish from Delhi which was served in small cucumber boats like a scone.
History of Kayasth food 
Kayasths were a community of scribes appointed by the Muslim rulers for book keeping and it's no wonder that there are  influences of Mughal cuisine here too. As Anoothi writes – "The community is a mix of many diverse influences, including local sub cultures of Indo Gangetic plain, courtly Mughal etiquette and British colonialism." They imbibed the nuances of elite Persian culture prevalent in the courts. If one analyses, the biggest Kayasth meat dishes like Kofta, Kaliya, Badam Parsinde, Shami kebab, Yakhni Pulao all are a result of this. It was a learning for me to know that most of the times, the meat was cooked by men and use of alcohol was not uncommon and women were vegetarian who would use mock meat to replicate the taste of the meat. This took us to the next phase –
Clap 2 / Scene 2 of Kayasth Food – Courtly Grandeur 
This had 2 sections – Veg and non Veg. We had opted for Non Veg but by mistake we were also served veg. So we had a mix and match from both veg and non veg. Kathal ki Tahri (a vegetarian rice dish with Jackfruit which replicated pulao, since there was no biryani in Kayasth kitchen) along with Sookhi Urad Dal and Pyaz ka Ghee, Poori, Dahi Mirchi and other condiments were common. Let me tell you that both the kathal ki tahri and the sookhi urad ki daal were completely cooked in desi ghee and despite the richness, both the dishes were brimming with flavour. The Non veg section had Shami Kebab – would not describe this as the taste still lingers in mouth, Thande masale ki Machli which is from the Bihari Kayasth region cooked with Poppy seeds and Mustard was sublime and the star was Badam Parsinda. Anoothi confirmed that she used Johnie Walker Blue Label for the same. Badam parsinda is an elite Mathur dish and it's said that the parsinda refers to the choicest cuts of meat. A dish which must have been again inspired from Pasanda or Pasinda from the Awadhi cuisine, hit all the notes perfectly.
Clap 3 / Scene 3 of Kayasth Food – Stiff upper lip
This has got a strong connection with British rule in India and definitely Kolkata. The British had set foot in India from Calcutta and colonial connections had an impact over the food here also. The menu had Masala Mushroom Wellington, an adaptation of beef wellington, Mrs LC's bake which had potatoes baked inside a tart shell with makhana chironjee sauce, Fish in a jacket which had the local favourite bhekti in the form of a puff pastry and instead of being flambeed at the Table, was done in the kitchen and brought to the table. Accompanying these were a mango chutney  and a fancy nancy roll, which was an Indian masala bread roll. This was paired with Johny Walker Black label. 
Final Take – Pack up – Dessert 
After the heterogenous chapters of food which touched upon various era and some of the greatest impact that the Indian food had, a perfect climax was anticipated and we had it. There was a representation from each era like a Fruit Triffle, a Sponge and Jam Pudding from the British era, Royal bread pudding again from the British Raj which is supposed to be the Indian version of bread pudding. Meethe chawal was much like our mihi dana but not as sweet and was a Mughal influence.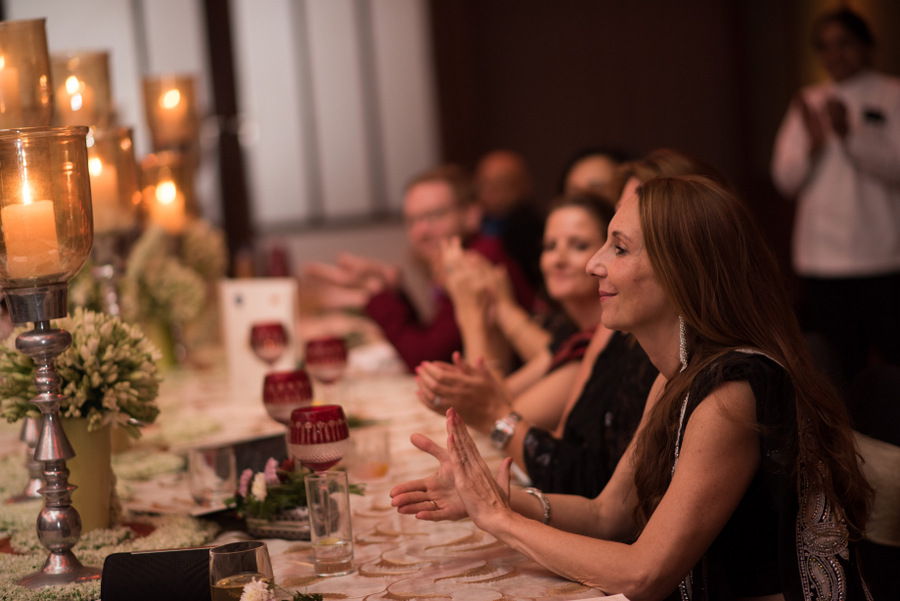 This has been one of the most thought provoking food writing for me in the recent times. Kayastha cuisine is a reintroduction of a 500 year old cuisine which naturally had an impact from various corners over years of journey. Being a kayastha myself, I pondered over the food that I eat and why it should have a separate uplifted status. Why my part of the Kayasth food hasn't been promoted that much or even talked about singularly? Was it because amongst Bengalis, the Brahmins and Kaysaths cuisine didn't have much difference? We have always seen jackfruit being made for my widow Grandmother as a mock meat. Why we, the Bengalis didn't speak about it? Perhaps because in Bengal, the primary food difference was between East and West Bengal rather than between brahmins and kayasths. 
The other reason why this writing was tough is because of the curater herself. Anoothi needs no introduction as a food writer, so each word used should hit the right notes for her food. Choosing words for a simple yet age old cuisine where lots of passion goes into making the food which is evident from the use of the masalas, cooking techniques of dum and bhuna, is tough. Perhaps I need one more round of Kayasth food to write a better one next time. Here is to many more evenings like this. Anoothi ,you are now counted in the inner circle of Kolkata food scene which was evident from the reaction of the guests that evening. While enthusiastically asking her the fifth question about the food with a long queue of people waiting, she questioned back with a smile – Why haven't you bought my book – Mrs LC's Table? Time to grab a copy of that. 
All pictures are provided by the Organisers/ Ms Anoothi Vishal