Most often, we tend to search for the best outside the daily normal? In the process, we tend to forget the beauty in the simplest things around us. It needs a trigger (can be from anyone, anywhere) and then there is no looking back. Ask me to cite one reason – rather, I can give you many such examples. I love dal. Many times in this blog  I have shared this. We have written about Narkel diye Cholar dal a great match with Luchi, there is macher muro diye dal that is like a meal in itself, there is even dal gosht which Sadaf had made. There is winter special Sobji Diye Bhaja Mug Dal, even Mulo diye dal too. There is my all-time favourite – peyaj diye musurir dal but not Kolai er dal. The inspiration came from a Biryani. 
We even did a post on various dals on Instagram 
Pet Puraan Biryani – Arghadip a young enthusiastic Ad person started Petpuraan in Delhi to serve Kolkata Biryani. We tasted his biryani when we went to shoot for The Tangra Project. We liked it and recommended his place to many. Arghadip planned to start the same in Kolkata. He sent us the trial with a nice note attached. However, my thoughts wandered around what is a true homecoming for me when it comes to food? 
Let our photos be the main course in your advertising campaign. Behance
The growing up years and food memories
I kept travelling down the memory lane for food memories. The mithai wala who used to come every evening to our para with a cane basket on his head and shouted 'Mishti Mishti'. And I remember his mouchak and goja till now. Those small shops around Chandannagore station used to sell deep-fried chops every evening. Macher Chop, Vegetable chop, mangshor chop (mutton as we call it), the occasional fuchka and Moghlai Parota. Each memory inscribed in memory and any of these food brings in a sense of homecoming. 
For food at home – Ma's prep work for cooking, the bonti (the arc-shaped cutting blade on a wooden plank), the sorshe r jhal magic and baba's exuberance on Kolai er daal. I still remember Baba was not as fond of other dals but if it was light runny kolai er dal, first he used to ask for the lebu (lemon), then check his Alu bhaate (mashed potato) and then the eating started. 
Kolai er dal after aeons and with Alu Posto 
It has been a journey for me since April and with Ma gone it was a blow that will never heal. Ma kept coming back in many moments when I remembered and food was definitely one of them. When your parents are gone, you feel rootless, unsettled and the smallest of the things open up the lid of emotion can. I don't know for some strange reason, I was craving for simplest Kolai er dal and Alu posto. This was after Biryani, Kosha Mangsho, Mangshor Jhol, Tangra Project and many more restaurant visits. The first morsel on steaming rice, with Alu Posto was all that I needed to come home. 
You can check out our professional work portfolio here and our Behance profile here 
The House is divided over Kolai er dal and I am happy
Madhushree doesn't like Kolai er dal. So, it's not made that often. However now, I have a supporter in my team. Tugga doesn't love many or most dals but he has grown a liking for Kolai er dal. Biulir dal, kolai er dal or Urad dal whatever you call, it's one of the brand ambassadors of Ghotis. In summers, Ma used to tell us that Kolai er dal keeps the stomach cool and it was a regular affair for us.  What is a great match for kolai dal? Gondhoraj Lebu, Pati lebu, alu bhate and Alu postor torkari. After a long tour, after tough days, after happiness, post-victory – I can come back home only for this.. That's my homecoming.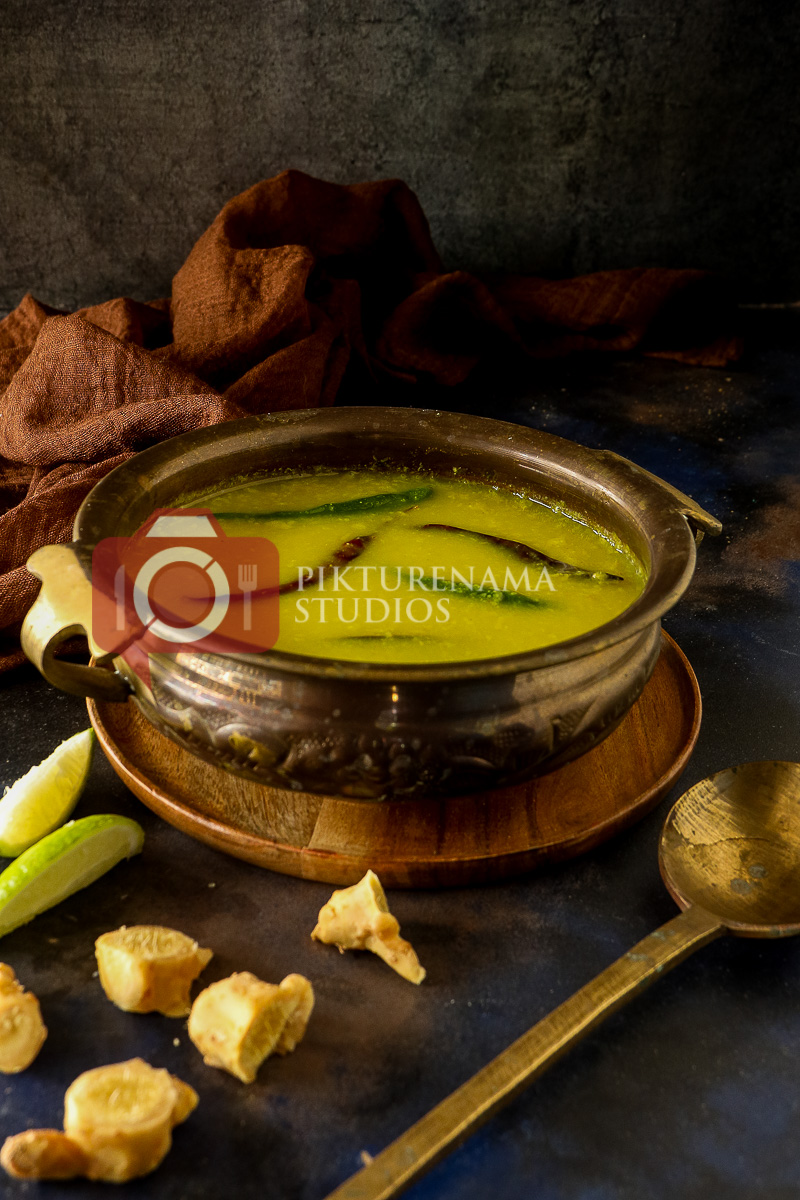 Share your cooking with us
Are you following us on our youtube channel Cook with Pikturenama? Since we discussed Sorshe – here is a recipe of Sorshe Ilish – 
Do try this recipe and share your feedback. You can also reach out to us at our social media handles Instagram, Facebook or any of our personal Facebook (Madhushree & Anindya) & Twitter profiles. Post a picture and tag us.
Pin this for your recipe board? You can follow us on Pikturenama recipes for more recipe ideas (Link) Have you heard about the idea pin You can follow us for idea pins also like this one –
Kolai Dal |Bengali Urad Dal | Biulir Dal
Kolai er dal has a slippery and slurpy kind of consistency but has a beautiful fragrance of fennel and ginger. It is a summer staple.
Ingredients
¾

cup

Urad dal

skinless

1

heaped tsp

fennel seeds

2

heaped tsp

freshly grated ginger

1

pinch

asafoetida

1

dried

red chilli

½

tsp

turmeric powder

1

tbsp

mustard oil

2-3

nos

green chillies

salt to taste

Lemon
Instructions
Wash the dal under running water and then pressure cook the dal with 2 to 3 cups of water, salt and turmeric powder.

While the dal is boiling, keep the fennel seeds soaked in hot water. After about 10 minutes, discard the water and crush the fennel seeds with a mortar and pestle.

After the dal has boiled, it takes about 2 whistles or roughly 15 to 20 minutes. If you are not confident about using a pressure cooker, then simply boil in a saucepan. The dal has to be cooked till it has become soft but the texture is still there.

In a kadai, heat mustard oil and temper with dried red chillies and heeng. Immediately add the ginger and fennel paste. On medium to low flame, stir this for half a minute.

Then pour the dal with all the liquid. If you feel you need to add more water, do that.

Keep on boiling and stirring till it has reached a slurpy kind of texture. Add slit green chillies and adjust the salt.

Finally squeeze lemon juice and serve.