Winter meant a lot of things for us. From Pithe puli to cricket and Komla Lebu or orange there were many small little things to take us down memory lane. We used to play almost endlessly through the day running into the night. Winter was as much about playing, keo karpin oil and boroline as was the food. Winter vegetables adorned the vegetable markets. Carrots, red tomatoes, cauliflower, radish and green peas elevated the simplest of the food. And how can we forget koraishutir kochuri?  
Any winter story is incomplete without peas. From macher jhol to phulkopi diye dimer dalna, everything had some peas thrown in. However, Ma would make koraishutir kochuri only once or twice a season. 
Peas or Koraishuti and engagement for kids
It wasn't a big challenge to keep us engaged during winter. We didn't get bored quickly. We had limited exposure to the outside world. And everything new was exciting. Thammis and Didas (grandmas in Bengali) often made us sit with a big bowl of pea pods. The challenge was who can dig out the maximum number of peas. Press open the slender green pods between your thumb and first finger to get those beautiful emerald-like peas. For me, it was a fun chore and now Tugga does the same too. The peeling of the peas ended in one bowl of muri with some chanachur and peas thrown into it.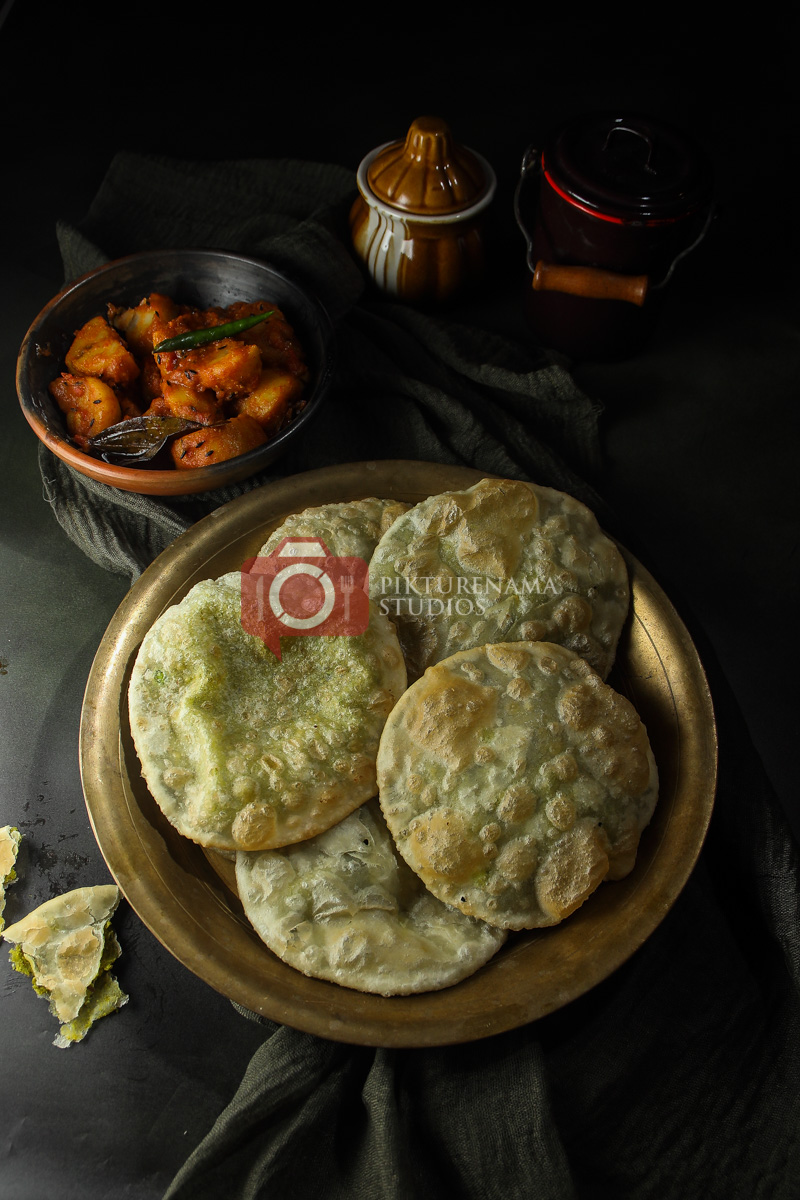 The cumbersome process of making Koraishutir Kochuri
Mixer grinders were quite rare in Chandannagore. I remember we had one. However, for some strange reason, Ma never used it. Making of Koraishutir Kochuri involved – taking the peas out of the pods, mixing them with ginger and green chilli, grinding them to a paste on a silbatta (flat mortar and pestle). Then saute the mash with the spices. This was your stuffing. 
Then came making the flour dough. After that, make small dough balls (we call them 'lechi') and stuff each ball with the green pea stuffing and roll it out like a disc. The rest is as you will make any deep-fried flatbread. It seems like yesterday when Ma single-handedly did all the steps and even mashed the peas on sheel nora (silbatta). For obvious reasons, it was once or twice a year. Since we are speaking about winter, Bedmi Poori  and bedmi Aloo Sabzi will also be remembered by North Indians. So one or max two Sunday breakfasts or dinner was koraishutir kochuri and that was the final stamp that winter is here. 
The winter rituals and Korai Shutir Kochuri
I can go on with peas – piece by piece. Much later, Madhushree made this Chana Koraishutir cutlet and it got so appreciated that she made it at various pop-ups later. Each state, country, the community has some winter rituals. Sarson da Saag, makki di roti, nihari, daulat ki chaat; the list is endless. Some can't let their winter go away without gajar ka halwa , I remember my Ma making gajar barfi and that was one sweet dish I never said no to. In Bengal, winter is the time for Nolen Gur , Patishapta , Puli Pithe and each one is traditional with some age-old practices. In my opinion, winter is incomplete in my house without one round of Koraishutir Kachuri. 
The pairing of Koraishutir Kochuri
This is the million-dollar question. For luchi we can have many combinations. Some prefer runny alur torkari, some even go for sada fulkopir torkari but the fluffy, heavily loaded Koraishutir kochuri needs a balance and some spunk too. I prefer this with notun alur dum. Don't forget the green chilli pickle or lonkar achar with it. 
Koraishutir Kochuri or Motorshutir Kochuri?
What do you call it? Is there a difference between what a Bangal or a Ghoti calls? I don't have the answers. I got the best answer from one of my Twitter followers – Anik Ghosh. As per him, we can call Koraishutir Kochuri as "hall-of-flame peas kochuri, flakiest barely-there skin stuffed with excellent peas with a hint of fennel" 
Share your cooking with us
Are you following us on our youtube channel Cook with Pikturenama?
Winters and Begun are inseparable too and this Begun Khagina is something which we love making at home –
Do try this recipe and share your feedback. You can also reach out to us at our social media handles Instagram, Facebook or any of our personal Facebook (Madhushree & Anindya) & Twitter profiles. Post a picture and tag us.
We made a reel for Koraishutir Kochuri also and you will love to read the responses on the reel –
https://www.instagram.com/reel/CmTJVC9P3ce/
Pin this for your recipe board? You can follow us on Pikturenama recipes for more recipe ideas (Link) Have you heard about the idea pin You can follow us for idea pins also like this one –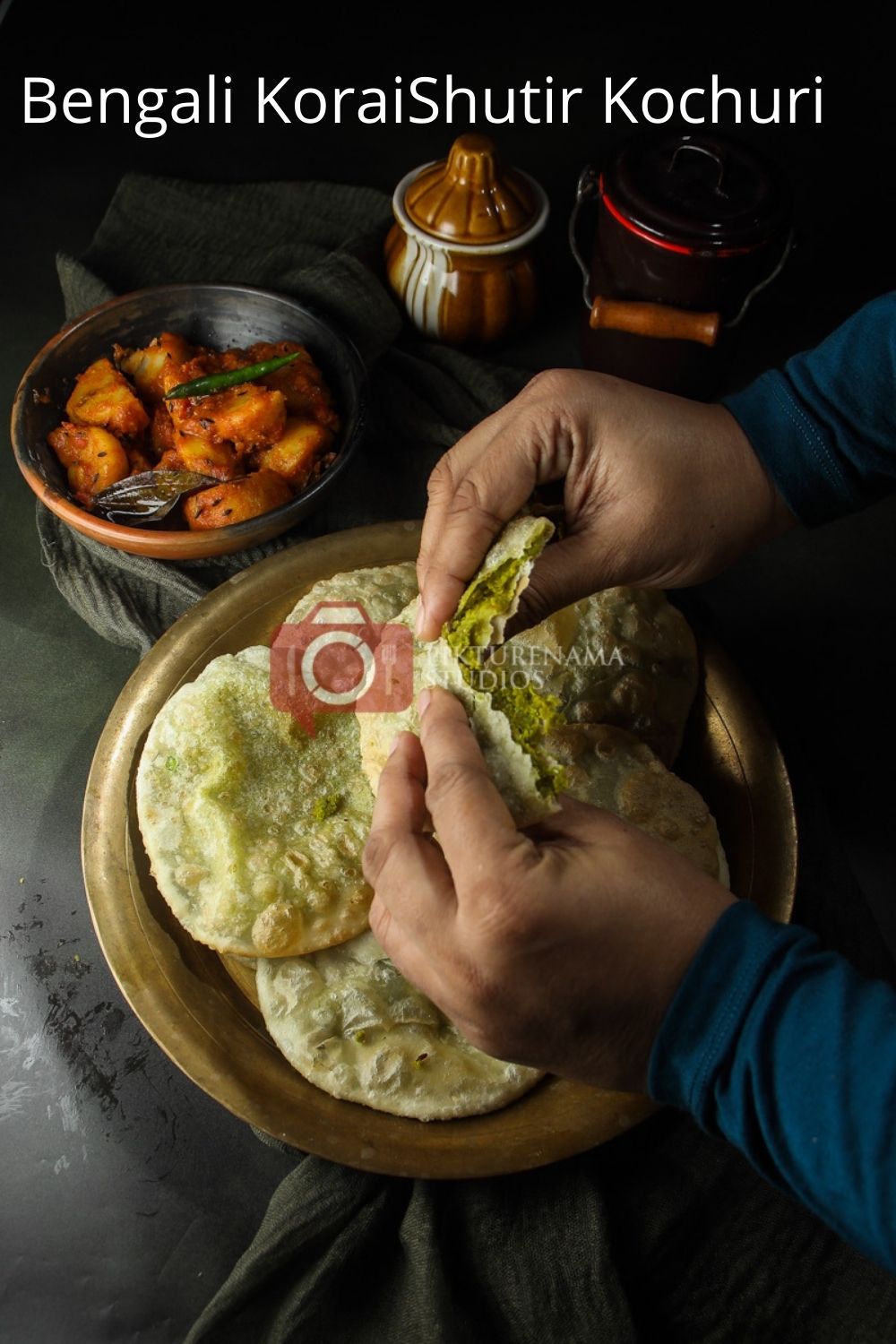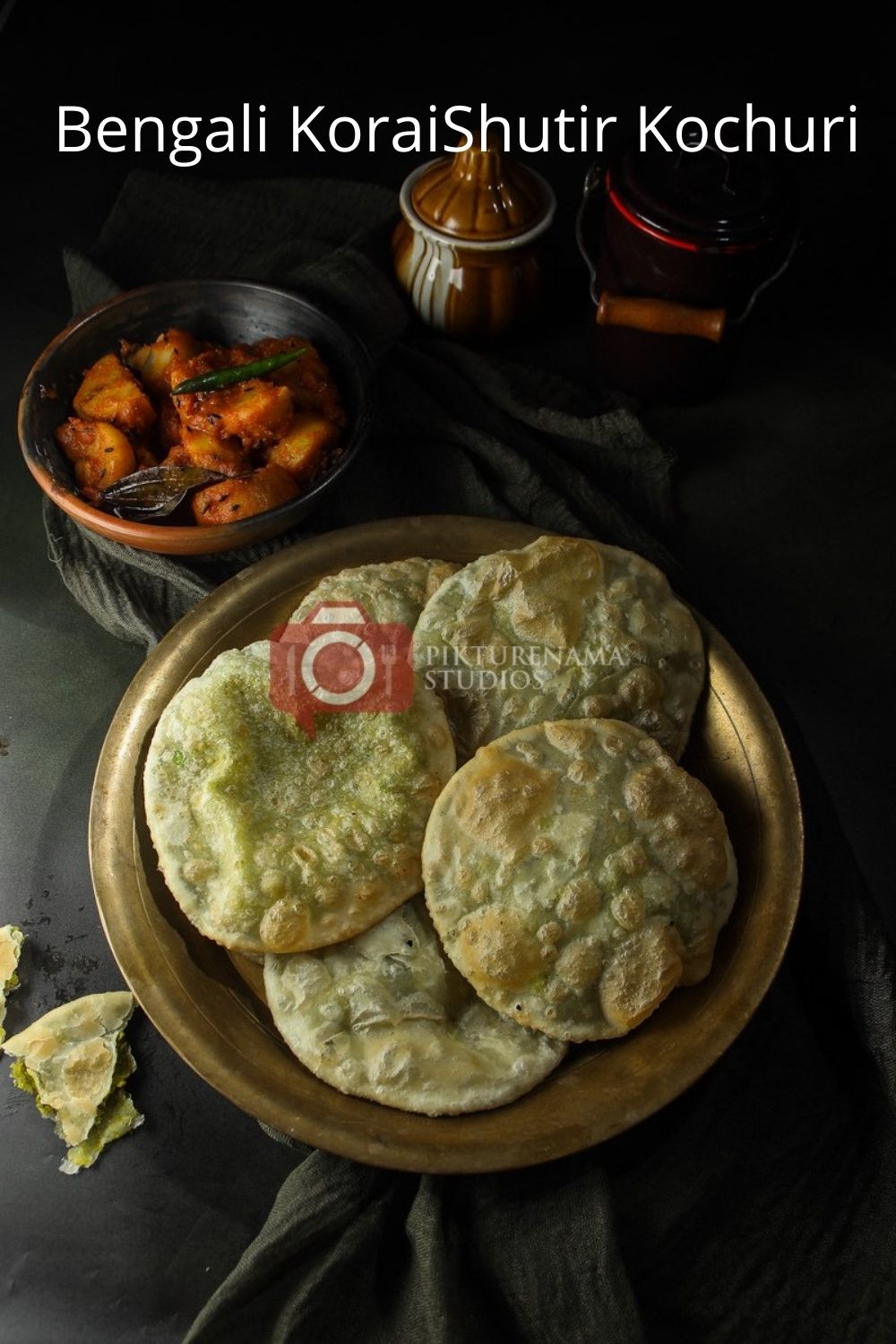 Koraishutir Kochuri | Matarshutir Kochuri | Green Peas Kachori Bengali Way
Luchi or poori stuffed with green pea pash along with a spicy potato curry
Ingredients
For the stuffing
300

gms

green peas

1

inch

ginger

2

nos

green peas

1

pinch

asafoetida

½

tsp

cumin seeds

1

tsp

bhaja moshla

alternately, you can also use roasted cumin powder. see notes

½

tsp

sugar

salt to taste

1

tbsp

vegetable oil
To make the dough
2 ½

cup

all-purpose flour

1

tbsp

vegetable oil

luke-warm water as needed

½

tsp

salt
Instructions
Grind the green peas along with ginger and green chillies.

Heat oil in a frying pan and add the cumin seeds. When they start to splutter, add the asafoetida.

Stir them for few seconds (since heeng or asafoetida burns fast) add the green pea mash.

Now on medium flame, stir continuously and cook the green peas.

When the raw smell has gone, add salt, sugar and bhaja moshla. Make sure the spices have been completely incorporated in the mash.

Cook the peas till they start coming off from the sides.

Take it off the heat and let the stuffing cool down completely. You can make this in advance and keep refrigerated. Take it out and bring it to room temperature before use.

For making the dough, take all-purpose flour, oil and salt in a bowl. Mix everything and then slowly add lukewarm water.

You don't need too much water for this dough. It has to be a soft and firm dough and easily pliable.

Once the dough is ready, cut out lemon-sized balls. Use 2 to 3 at a time and keep the rest covered with a cloth.

Flatten each ball on the palm of your hand and then stuff with a small ball of the green pea mash.

Then gather the dough and seal the edges.

Place that upside down on an oiled surface. With a rolling pin, gently press and roll out to a disc. It shouldn't be too thick. The green pea should ideally show from one or two places under the dough.

Heat oil in a wok and deep fry these discs. Basically, these are luchis stuffed with green pea mash.

Flip the kochuri when one side has been cooked. When it slowly puffs up, take it out of the oil and keep it on a kitchen towel.

Don't worry if they don't puff up. Not all kochuris puff up.

Serve kochuri with alur dum.
Notes
You can find our bhaja moshla recipe here - https://pikturenama.com/bhaja-masala-bengali-recipe/