It was our best friend Sakshi's birthday and with the new princess Sifat (the daughter of Saskhi and Dipjoy) around, we were happy and excited about the party. Tugga came with us tantrum free (he says he hates girls and we joke about what he would say when he turns a teenager) since he has a soft spot for Sifat.
The beginning of the party
Sunday afternoon, sultry humid Kolkata demanded beer and it started flowing with some Kali Mirch Kebab and spicy spring chicken. Don't ask, this is from our secret outlet which we believe, makes the best of these. The party was super hit and what are the tale tell signs of a party being hit? For me, the drinks and the starters initiate a lot of conversations and the main course gets delayed. So finally around 4 PM, yes around 4 PM, after several insistence from Aunty (Dipjoy's mother), we sat down for lunch.

The delicious Kumro Chingri from the kitchens of Thakurbari was served to us. 
This blog is also about the surprise over lunch. Aunty is an excellent cook and we experienced this many times earlier. So the food for this lunch was a collaborative effort. Sakshi's mother cooked mutton keema and sent it over. Saag chicken, alur dom, and daal were made by Aunty and then there was Kumro chingri. I had never heard about this dish and very few people know that Aunty has her roots in the famous Rabindranath Tagore family (the famous Thakur Bari). Late Gaganendranath Tagore was one of the earliest modern artists of India and he was also the paternal great-grandfather of Aunty.
Kumro Chingri as a regular meal 
This recipe of Kumro (pumpkin) with onion, garlic, red chillies and shrimp is a family recipe. Aunty explained to us that this is not meant only for any special occasion but a part of the regular meal as well. The recipe was passed on from generation to generation and this simple yet tasty dish is worth sharing with you all. Madhushree was quick to get the recipe from Aunty. And even though every dish present at the table was exquisitely prepared and tasted brilliant, somehow this dark horse dish stole the thunder.
Here is more about Gaganendranath Tagore here. (Link)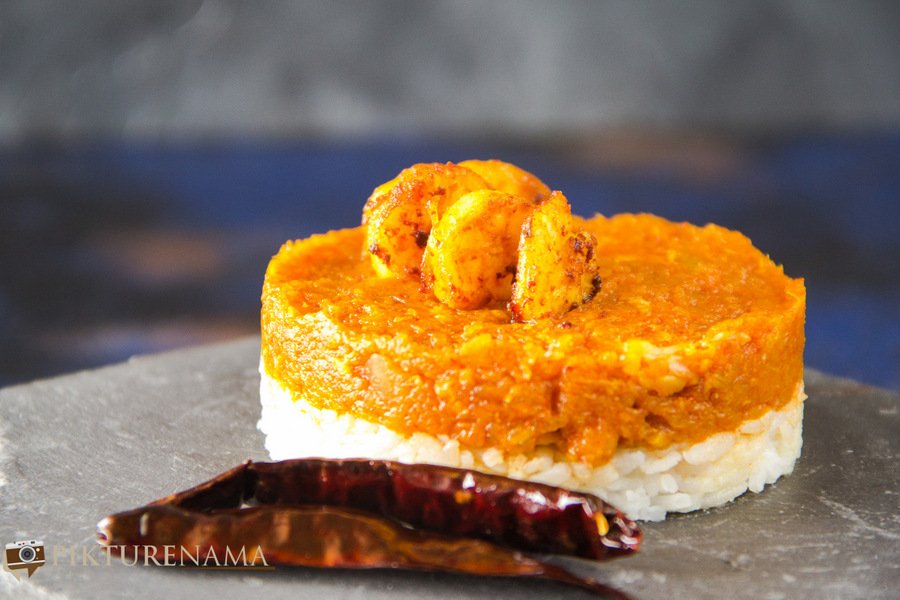 What did I like the most? I liked the pungency of mustard oil and the sweetness of the pumpkins. The soft freshwater shrimps along with these created a beautiful symphony. There was also a contrasting duel between the softness of the pumpkins and the texture of the shrimp. It was like playing the game Minesweeper. And you never know when the textured prawn will pop up from the soft pumpkin mash. Never knew before that Kumro chingri could be so delicious. What's your favourite Kumro dish?
In case you love Kumro, then try out this Kumro meter chorchori. / Pumpkin and mutton liver stir fried. Check this out (Link)
Do try this recipe and share your feedback. You can also reach out to us at our social media handles: Instagram, Facebook or any of our personal Facebook (Madhushree and Anindya) and Twitter profiles. Post a picture and tag us.
Pin this for your recipe board. You can also follow us on Pikturenama recipes for more recipe ideas (Link)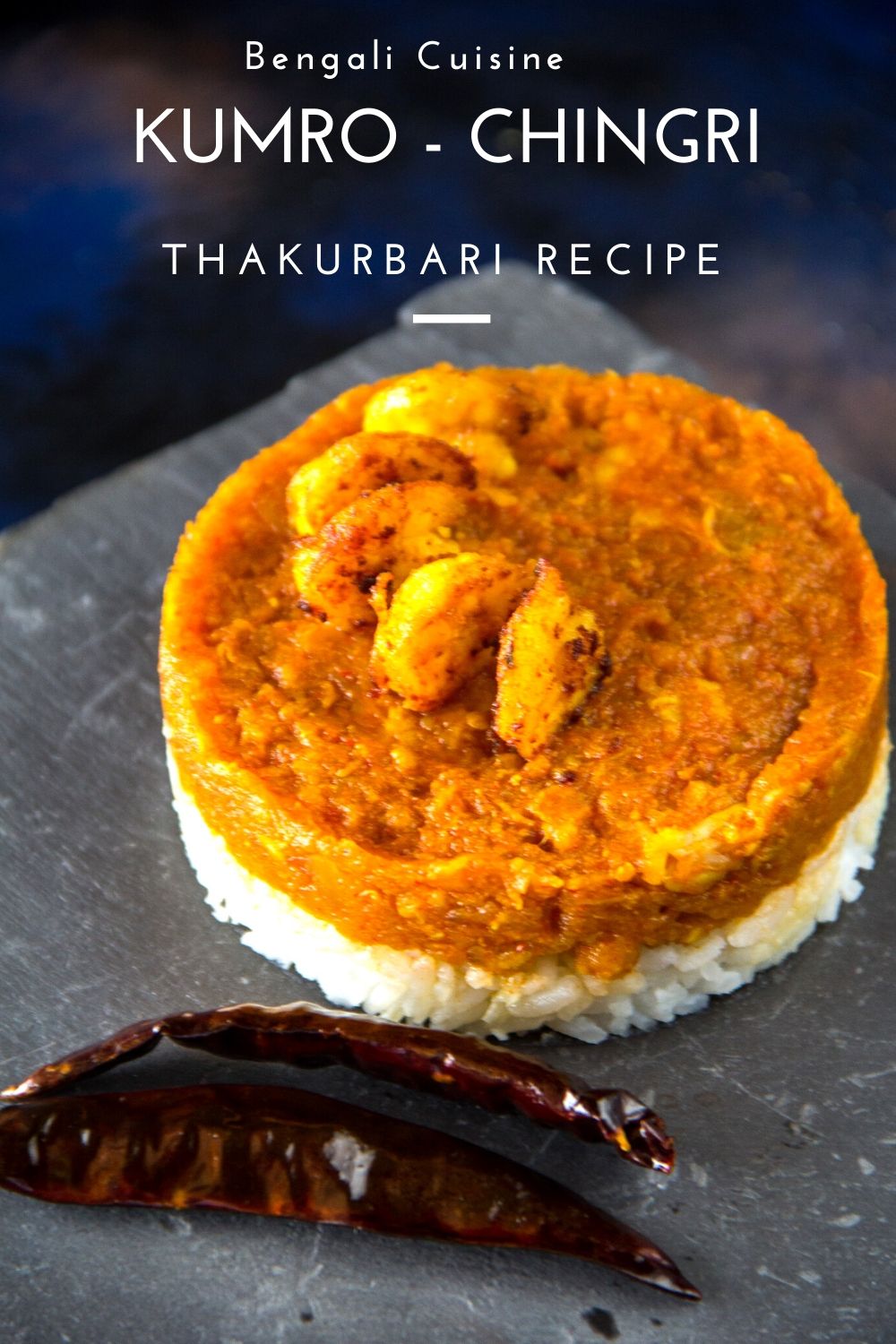 Kumro chingri - A surprise thakurbarir recipe
A very simple pumpkin and prawns recipe from Thakurbari which has a strong mustard oil flavour along with garlic and onion. Dried red chilies give an added kick to the dish.
Ingredients
750

gms

sweet pumpkin

roughly diced in 1 inch cubes

500

gms

medium sized prawns

shelled and deveined

1

large

onion

thinly sliced

5 -6

nos

garlic cloves

2

nos

Dried Red Chili

roughly chopped

1 1/2

tsp

kashmiri red chili powder

1

tsp

Turmeric Powder

1/2

tsp

Sugar

2

tbsp

Mustard Oil

Salt To Taste
Instructions
Take a pressure cooker and add all the above ingredients (mustard oil only 1 tbsp) to it. Add 2 tbsp of water (since the pumpkin will release water).

Close the lid and let it cook for 10 minutes or one whistle and then turn off the heat.

Once the steam releases, open the lid and pour out the contents in a wok.

Over high heat, with delicate hands just cook for further 10 to 15 minutes or until all the water evaporates.

At this point, you can either chose to mash up the pumpkin or leave a few pieces as it is. A few chunks of pumpkin, some mashed pieces and the prawn bullets form an incredible texture in your mouth.

Once the water has evaporated, drizzle one tbsp of mustard oil over top to give the extra kick. Check the salt and balance with more sugar, if required.

Serve it with some steamed rice.
Notes
Please note that in case you do not have a pressure cooker, then you can cook in a frying pan or a wok. In that case, you will have to add the musturd oil, then lightly saute the onions and garlic and then the rest of the ingredients. And basically cover and cook. Originally it was cooked in a wok only. However, nowadays with pausity of time, a pressure cooker works wonders.