Today is a khichuri labra kind of day. It has been drizzling since morning with a lot of haze. More importantly, today is Saraswati Pujo. Saraswati is the goddess of wisdom, knowledge, music and all kinds of art. Hence for her puja, we keep books and musical instruments at her feet for her blessings. The first thing I told Tugga when I woke up was that he didn't have to study today. I remembered that this being the high point of Saraswati puja in all of our lives. We were officially not allowed to study. Hurray! said Tugga and prepared his Bengali book to be kept at the feet of Saraswati thakur. 
Saraswati puja also means, like any other puja, khichuri, labra, bhaja etc etc. However, one differentiating factor from Durga pujo is the chutney. Saraswati pujor bhog has topa kuler chutney or chutney made with Indian berries or jujube. 
The vegetables in labra torkari?
Labra is a dish made of a number of vegetables. You could say it is a stir fried mixed vegetable dish. The tempering of the right spice mix matters and we use panchphoron to temper in labra. The vegetables that go into labra vary from season to season. In winters, we would generally use cauliflower, radish, sweet potatoes, brinjals, potatoes (of course) and banana stem. In summer, on the other hand, we would use, pumpkin and ridge gourd too. My mother says you have to include radish, banana stem and sweet potato in your labra. Another important ingredient is mulor danta or the stems from the radish head. That gives a lot of flavour. You can also add some cauliflower stalks to your labra mix. 
Did you know that we use all parts of the Banana plant in our food. Banana stem is widely used in a lot of cooking and it is called 'thor' in Bengali. Not the god of thunder! Thor has a crunchy texture and that adds to the over-all texture of the food. Since brinjal and pumpkin has a mushy texture, thor gives a nice crunch and bite to the dish.  
The Making process
The cut of the vegetables is important. All the vegetables need to be cut in a similar size. Normally, I would do the 'dumo dumo' cut for the potatoes, sweet potatoes, radish and brinjal. The cut of the brinjal would be a little larger than the rest of the vegetables. Thor or banana stem is cut in semi-circle shape. The radish stems and cauliflower stalks need to be cut of the same length. However, in summer, while using pumpkin and ridge gourd, I add them mid way of cooking, since the cooking time of these vegetables is lessor than the others. 
Mustard oil is the cooking medium for most of the Bengali dishes. However, for labra, I also use a little bit of vegetable oil for fist frying the brinjals and keeping them aside. Then I take mustard oil, heat it and temper with dried bay leaf, dried red chili and panchphoron. When they start to release aroma, I add the vegetables one by one, as per the time it takes to cook. So first goes the radish, cauliflower, banana stem and the two potatoes. Then I add the stalks. After seasoning the vegetables with salt, I cover and cook the vegetables in their own juice. When the vegetables are almost cooked, I add the brinjal cubes and then freshly grated ginger along with copious amounts of ghee. A sprinkle of sugar is required to give it a balance and a couple of slit green chilies. 
Serving and storing suggestions
Labra is served hot along with khichuri of any type. Bhoger bhuni khichuri is preferable. It can be stored in the refrigerator for up 4 days. Some people add grated coconut to their labra. In that case, it doesn't stay for more than 2 days in the refrigerator. 
Bengali style bhoger bhuni khichuri recipe

Bengali style tomato khejur aamshottor chutney- a perfect accompaniment to khichuri and labra

Share your views / Follow us
For Professional Food Photography contact us
Do try this recipe and share your feedback. You can reach out to us at our social media handles: Instagram, Facebook or any of our personal Facebook (Madhushree and Anindya) and twitter profiles. Post a picture and tag us.
Pin this for your recipe board? You can follow us on Pikturenama recipes for more recipe ideas (Link)
Have you subscribed to our youtube channel yet ? We have some recipes lined up for you. 
Labra making made easy for you here –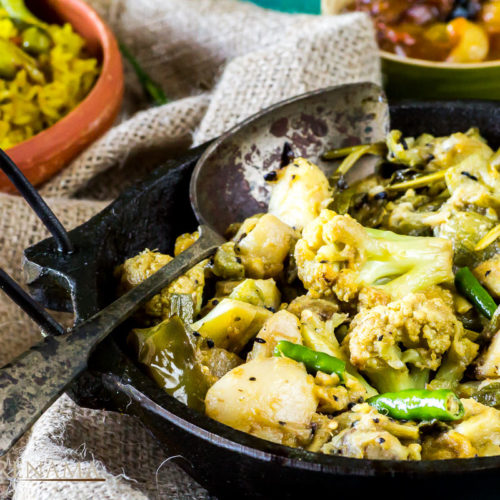 Labra- Bengali vegetable stir fry
Labra is a stir fried mixed vegetable dish which is served as a side to bhoger khichuri.
Ingredients
1

no

large potato

2

nos

sweet potatoes

1

no

large radish with stems

1

no

small cauliflower

1

cup

banana stem

1

no

medium sized brinjal

1

inch

ginger

1

tsp

panch phoron

1

no

dried bay leaf

2

nos

dried red chilies

1/2

tsp

sugar

2

nos

green chillies

1

tbsp

ghee

2

tbsp

vegetable oil

2

tbsp

mustard oil

salt to taste
Instructions
Wash the vegetables and pat them dry. Peel the potatoes, radish, sweet potatoes and cut them in equal sized cubes (1 inch cubes should be fine). Cut the brinjal in cubes but a little larger than the potatoes. Cut the cauliflower into floret - 8 to 10 florets.

Cut all the stalks and stems lengthwise (about 1 inch in length.) Cut the banana stem in half moon shape.

In a kadai, take the vegetable oil and once it it hot, add the brinjals and fry them. Once done, keep them aside. In the same kadai, add the mustard oil and add dried bay lef and dried red chili.

Once they get colour, add panch phoron and let the spices temper. Then add all the vegetables excpet the brinjals and the stalkhs and stems. Sprinkle some salt and stir fry them over high heat.

Then sprinkle a little bit of water, cover and cook the vegetables. Lower the heat to a minimum so that nothing sticks to the bottom. You have to uncover from time to time and stir them around so that heat gets passed on equally to all the vegetables.

After about 10 minutes, add the stalks and the stems of the radish. Again stir them around and cover and cook.

Once the vegetables are done, add the brinjals and sprinkle some water to bring it all together. Add the sugar and stir.

Finally add freshly grated ginger and ghee. Add a few slit green chillies and give it a stir and turn off your heat.

Serve labra torkari with khichuri.