Bengali vegetarian cuisine is rarely spoken about. There is a stereotype that we eat macher jhol bhaat, as if, only fish curry and rice would be sufficient for any human being. Over and above, we are blessed with the Ganga and other rivers and estuaries flowing through Bengal making it a rich and fertile land for a plethora of fish and vegetables. Without going deeper into the issue of stereotype or nutrition, let's say, our vegetarian food is vast and this lau shukto is just one of the many different recipes only with bottle gourd.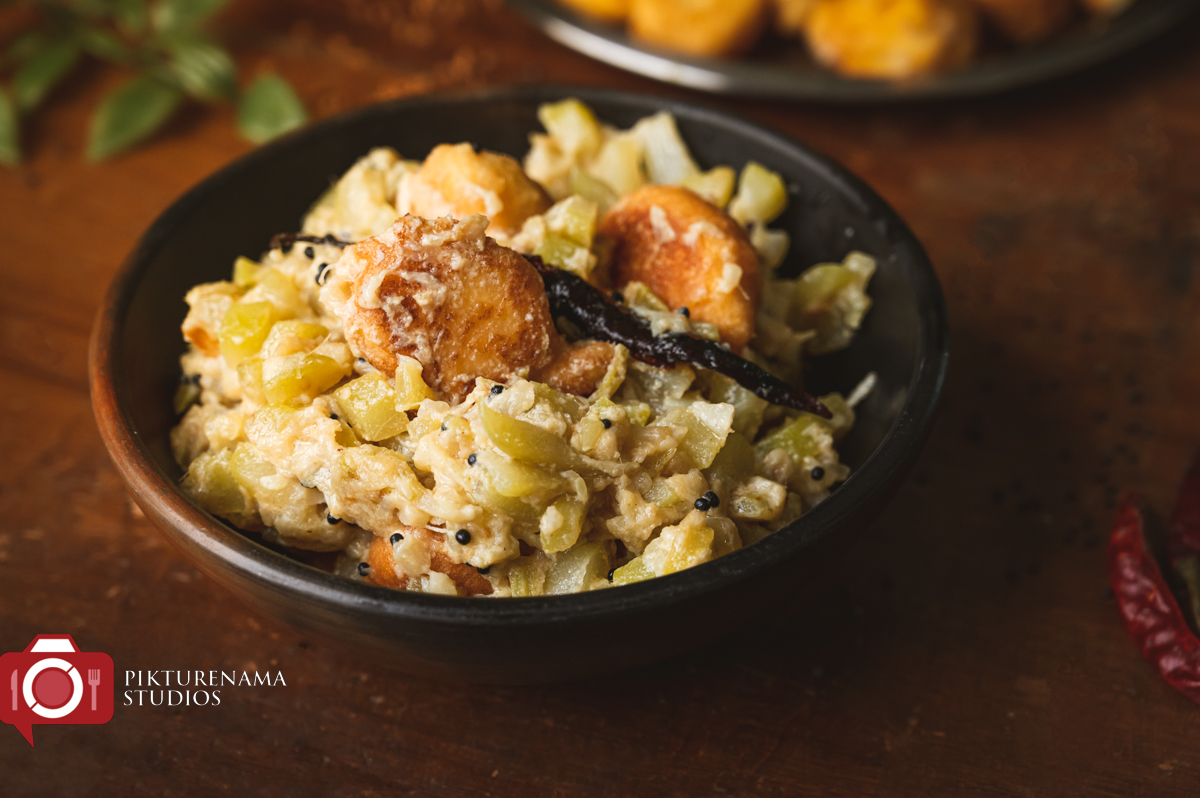 Different Kinds of shukto and what is lau shukto?
There are several kinds of shukto. The one that we all know about and eat often is the classic shukto. It's a bitter course that comes midway in a typical Bengali meal. And we like to call it a palate cleanser. All the heavy-duty food comes afterwards. Whichever kind of shukto you make, it is a cooling food. Also, there is one bitter quotient in it. Bitter gourd is normally used in most shuktos, However, this lau shukto does not have any bitterness other than 4-5 methi seeds that enhance the flavour.
There's a saying that shukto has no 'jhaal', meaning chillies are not added to shukto. Having said that, many Bangal shukto recipes have dried red chilli in tempering. My grandmother was from Rajshahi district of Bangladesh and she used to add dried red chillies to all her shuktos. Maybe that's how they cooked it there. Well, this lauer shukto is subtly flavoured with ginger and black mustard seeds. Poppy seed paste gives it a beautiful creamy texture. It is also cooked in milk and not water, giving it a lovely creamy texture. The only time-consuming factor is making the lentil dumplings. You have to soak matar dal (dried split peas) overnight in water. Then you have to grind it into a smooth paste. Just before cooking, you need to whisk this thoroughly after adding salt and sugar,
Here's another shukto recipe that you might enjoy. Kolmi shak'er bora shukto.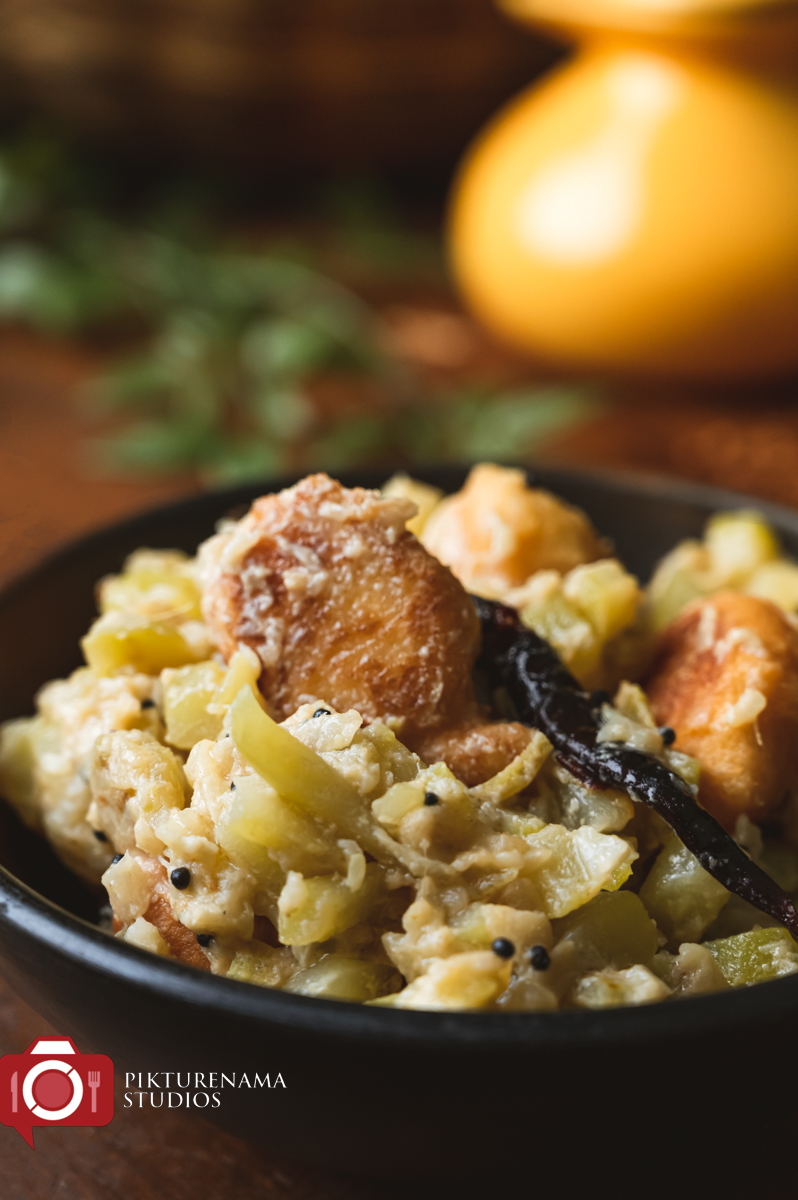 Share your cooking with us
Are you following us on our youtube channel Cook with Pikturenama?
Do try this recipe and share your feedback. You can also reach out to us at our social media handles Instagram, Facebook or any of our personal Facebook (Madhushree & Anindya) & Twitter profiles. Please post a picture and tag us.
Pin this for your recipe board. And you can follow us on Pikturenama recipes for more recipe ideas (Link)
Lau Shukto | Lau'er Shukto |
Lau shukto is a summer vegetarian delicacy made with bottle gourd and lentil dumplings cooked in milk and poppy seed paste.
Ingredients
1

medium sized bottle gourd

peeled and finely chopped

1

tsp

black mustard seeds

2-3

dried red chilies

4-5

methi seeds

fenugreek seeds

salt to taste

1

tsp

sugar

1

tsp

poppy seed paste

1

tsp

mustard paste

½

cup

milk

2

tsp

ghee

5

tbsp

vegetable oil

½

cup

matar dal
Instructions
Wash and soak dal in water overnight or in hot water for 2 hours. Make a paste of the dal with as little water as possible. Grind it into a smooth paste.

Take it out in a bowl and add salt and sugar to taste. Then whisk this using your hands till you get a light and airy batter.

Heat 4-5 tbsp vegetable oil in a kadai or a non-stick frying pan. In the case of the latter, use less oil. Add a tsp of hot oil to the batter and whisk again. Now using your fingers, add small dollops of batter in the oil, making dumplings. Keep the heat medium to low or else it will burn on the outside. Flip and cook both sides. Take them out of the oil and set them aside.

Heat 1-2 tsp vegetable oil and temper it with dried red chilies, mustard seeds, and fenugreek seeds.

Add the chopped bottle of gourd. Stir fry this for a couple of minutes and then cover and let it cook. Bottle gourd will release water and this will cook in its own steam. Keep the temp low.

Meanwhile, take ginger paste and poppy seed paste in a bowl. Strain black mustard paste using milk instead of water into this. You can skip the mustard and just add milk also. Give this a mix.

When the bottle gourd has cooked, add this milk into it and the lentil dumplings. Add salt to taste and sugar. Mix all this well. Keep stirring on medium heat and if you feel that the bottle gourd is all loose and not coming together, add a little more milk and keep stirring. Finally, drizzle ghee and serve hot with rice