I was recently clearing up media files on my phone and came across hundreds (I mean it) of wedding pictures with food and rituals. My cousin brother and Anindya's cousin sister, both got married in February, though not to each other. The food pictures, albeit rather satisfying, also motivated me to enter the kitchen to prepare a fine meal. I've not been up for preparing special meals for a couple of weeks. Then again, food is the greatest pleasure in life. So our lunch that day was macher kalia, phulkopir roast and basanti polao, all taking me back to 'biye bari'.
Macher Kalia and Bengali Wedding Food
Macher kalia always has strong memories with any biye bari, a wedding. It is typically part of a wedding menu or a special occasion like an 'annaprashan' (rice eating ceremony) or 'poite' (thred ceremony). Till about the late eighties and the beginning of nineties in some regions, food used to be served at the table at weddings. There were no plates but banana leaf for food and earthen glasses for water. A white paper roll, much like a runner would be placed on the long thin tables. There would be batch seating and after every batch, fresh roll of paper with banana leaf and earthen tumblers would be placed. Eventually, from banana leaf, it progressed to sal leaves plates and now the caterers put out buffet counters with bone china or corelle plates.
The menu would typically begin with luchi or radha ballavi with alur dom or cholar dal. There would be beguni (aubergine fritter) for fried food. I never tasted chyachra in a biye bari until my brother's wedding. My father insisted on chyachra, a mixed vegetables and fish entrails stir fry kind of a dish, which was a constant, in the wedding menus of 60s and 70s. Nowadays, for an afternoon function, there would be shukto. Basanti polao or ghee bhat would follow. Macher Kalia would come in a tray and the server literally needed to be coaxed to give more gravy. Large pieces of katla or rui mach slathered in a reddish brown onion based gravy was simply irresistible. Macher kalia would then be followed by a prawn dish and nowadays, mutton. The meal would end with chutney, papad and a whole lot of sweets starting from mishti doi. I still don't get why chutney is served with papad.
The Muslim Influence
Like so much of our food, even macher kalia is evolved from Muslim cuisine. I had a chat with Tanushree Bhowmik, who does indepth research on food and its origin. As per her, 'kalia' has evolved from the Persian 'qaliya'. Both qaliya and qorma have come from Persia. While qaliya has a thin consistency and is an onion based gravy, qorma is typically dairy based. But how did it come to Bengal? Was it brought by the Mughals? Tanushree goes on to take reference of noted historian and author of several food books, Salma Hussain. Salma Hussain says that we cannot overlook the fact that Mughals had a decent understanding of the importance of seasonal and local ingredients. Qalia amba, a mango based lamb curry or a qalia samosa are prime examples.
Today's kundan kalia or a naan kalia from Aurangabad could also have evolved from qalia. Bengal has had a strong muslim influence and qalia, probably came from the sea route, through the traders and then from Dhaka muslim culture. Ultimately, over a long period of time, it changed form and today's Bengali Macher Kalia is nowhere close to what a 'qalia' was. Our macher kalia is quite a robust onion and yogurt based gravy with a rich red colour.
Since it seems you love fish here are three different ways of making fish.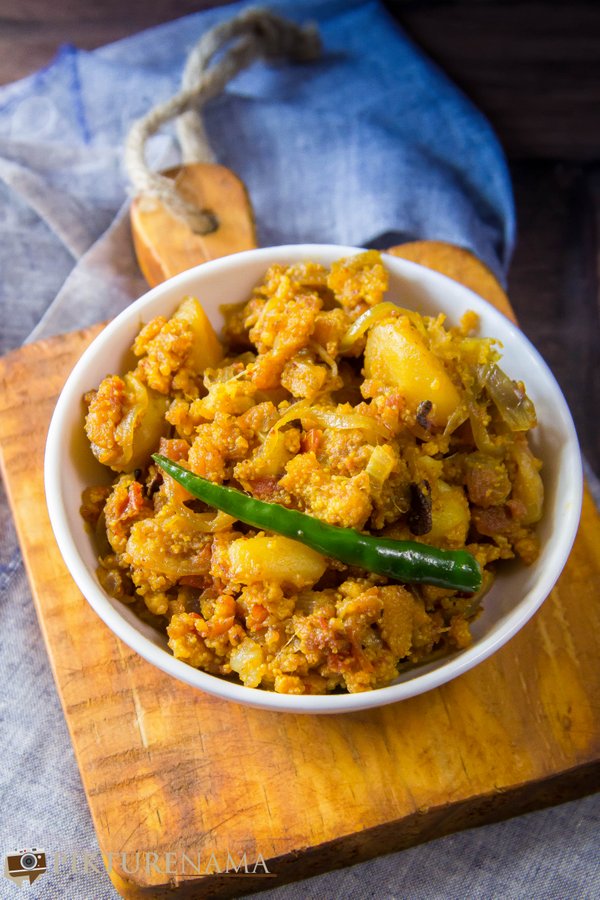 The Bengali Doi Machh or Fish in yougurt sauce is another easy yet lipsmacking recipe 
Have you tried Machher dimer Borar torkari  
This is a Dal cooked with fish head, Macher muro diye dal 
Katla kalia- A Caterer's Recipe
Macher kalia made by caterers and macher kalia at home tastes so different. It's never the same thing. So, I decided to give a call to the caterer who did all the small functions for my brother's wedding. Naba and his team really does a fantastic job for these small functions, upto 200 people. I wouldn't trust him for a larger function though. Anyway, he found it quite amusing that I picked his brain for a kalia recipe. I had to insist that I need to know step wise, how he makes the gravy and he must not hold back secrets. In case you are looking for a caterer who can do small ceremonies, you can depend on him. His number is 9836382573.
Serving and Storing Suggestions
You can serve macher Kalia with steamed rice, Bengali ghee bhat or basanti polao. macher Kalia doesn't stay fresh for too long. If you have cooked it and eaten part of it, heat it well over gas and when it cools down, store in the refrigerator for upto a couple of days. It stays in the freezer for a month. Defrost in the microwave or heat over gas to best results.
Are you following us on our youtube channel Cook with Pikturenama? Pls subscribe. 
Do try this recipe and share your feedback. You can reach out to us at our social media handles: Instagram, Facebook or any of our personal Facebook (Madhushree and Anindya) and twitter profiles. Post a picture and tag us.
Pin this for your recipe board ? You can follow us on Pikturenama recipes for more recipe ideas (Link)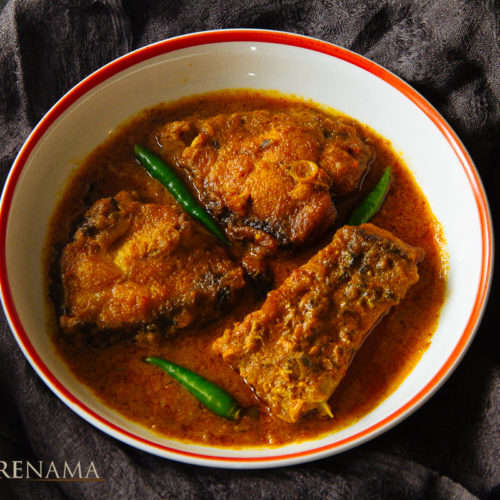 Macher Kalia | Bengali Fish Kalia
Macher Kalia is a fish curry with an onion and yogurt based. It is typically made for special occasions.
Ingredients
4

pieces

Katla or Rohu Steaks

see notes

1

tsp

turmeric powder

3 - 4

tbsp

mustard oil

1

no

dried bayleaf

3

nos

green cardamom

3

nos

cloves

1/2

inch

cinnamon stick

2 - 3

nos

dried red chillies

2

nos

medium sized onions

1.5

tsp

ginger paste

1.5

tsp

garlic paste

1

large

tomato

5

tbsp

thick yogurt

1.5

tsp

Kashmiri Red Chilli powder

1

tsp

cumin powder

1

tsp

sugar

1

tbsp

poppy seed paste

2 - 3

nos

green chillies

1/4

tsp

Bengali Garam Masala powder

see notes

1

tbsp

ghee

salt to taste
Instructions
Wash the fish steaks and pat them dry. Sprinkle salt and turmeric powder and rub the fish steaks and keep aside.

Finely slice one onion and make a paste of another onion. Also make a paste of the tomato.

In a Kadai, take 2 tbsp mustard oil and when it is smoking, slide the fish in the oil. Keep the temperature medium to high and fry the fish till it is golden and crispy but the fish inside remains soft. Take the fish out and keep aside.

In the same oil, add another tbsp of oil and let it heat. Then temper with dried red chillies, bay leaf, cardamom, cinnamon and cloves.

Add the sliced onions and fry over high heat. When the onions have become golden, add onion paste and continue stirring. Add ginger and garlic paste and stir over medium to high heat.

Once the raw smell goes away, add tomato paste and keep cooking. After a couple of minutes, add the dry spice powder and sprinkle some warm water.

Continue cooking till the spices start releasing oil from the sides. Then add whisked yogurt.

Initially keep the heat to a minimum and cook the yogurt. After a couple of minutes, increase the heat and continue to cook. In a minute or so, add a cup of water and let it cook till oil starts to float.

Finally add poppy seed paste and simmer the gravy. While doing that, take the fish pieces and gently add them to the sauce. This gravy will be more of a sauce.

Check the seasoning and adjust it. Add sugar at this point. You can skip it if you don't want.

Sprinkle Bengali garam masala and drizzle ghee. Add split green chillies. cook for a minute or two and then turn off the heat.

Serve macher kalia with piping hot rice or pulao.
Notes
The size of the fish matters for the ultimate taste. You need to buy steaks of a large katla or rohu, preferably 2.5 kg fish or more. 
Bengali garam masala is a combination of cloves, green cardamom and cinnamon in equal measures. There is no need to roast the spices. Just grind them and keep in an air tight container.