In my growing up years, liver or mete was free. Baba never had mutton or chicken, However, that was not a hindrance for mutton to getting cooked at home as Ma and I both loved it. Every time Baba would bring mutton – there was a small packet with livers inside it. Ma would make the famous Sunday Mangshor jhol with generous Alu in it. It was only when she was no longer with us, I could write my feelings for her. For Baba, it was different altogether. Now I wonder if he had a strong sense of smell for everything but never felt any strong smell of Mutton Liver. 
You should know why Mangshor Jhol is like an utility cricketer and perhaps a great utility cricketer – Read here 
Meter Torkari and then Meter chorchori – The Bengali mutton liver curry
It used to be patla (light) mete r jhol for Baba, which included small potato cubes. Baba used to love his metre Jhol on Sundays, just as we did with the Mangshor Jhol. At times, the Mete r Jhol would have been made in large quantities so that we all could enjoy it simultaneously. Many people responded on Instagram after we shared the mete chorchori video/reel by expressing their fondness for mutton/goat meat liver and less so for chicken liver. I don't recall ever having chicken liver; instead, we always had mutton liver.
Much later in life, mutton liver made a reappearance in my life in a now-closed bar cum restaurant on Park Street.  They would serve mutton liver cut into small cubes with toothpick, fried with spices and on a small plate along with drinks. You can read the experience here – The restaurant – Shehnaaz is now closed and although we tried several times to recreate the same at home alas we couldn't match the exact taste 
With Pikturenama Studios, your food will always look as good as it tastes. Behance
Meter chorchori is a perfect substitute for those days when you don't make a mangshor Jhol
There are days when you dont feel like making mangsho yet want to have a feeling like having mangsho – the liver comes to rescue. Time and again we have enjoyed any dish cooked with liver. When we posted the reel – it was evident that one generation of Bengalis grew up having this at home. Everyone missed home and one plate full of gorom bhaat as accompaniment. Each house has their own twists yet everyone remembers the Spicy chatpata mete r chorchori. Not the jhol, but the meter chorchori is little dry, tossed around.
Hat tip for cooking Mutton or chicken Liver
Always the hat tip for cooking a liver or mete is that the timing has to be perfect, a little here and there and the liver gets over cooked. Ideally the mutton liver cut into cubes shouldnt cook more than 10 – 15 minutes or when the potatoes are half done. Many complain about the smell and the best way to remove the smell is to wash the mutton liver pieces well and soak in Vinegar and then wash off the vinegar.
There has been a lot of feedback about what goes well with Meter chorchori? Many suggested Hot steaming rice but if you ask me personally I won't mind hot freshly made Rotis also. What's your take?
Here is what we had made in the reel – Link –
Share your cooking with us
Are you following us on our youtube channel Cook with Pikturenama?
Do try this recipe and share your feedback. You can also reach out to us at our social media handles Instagram, Facebook or any of our personal Facebook (Madhushree & Anindya) & Twitter profiles. Please post a picture and tag us.
Pin this for your recipe board. You can follow us on Pikturenama recipes for more recipe ideas (Link)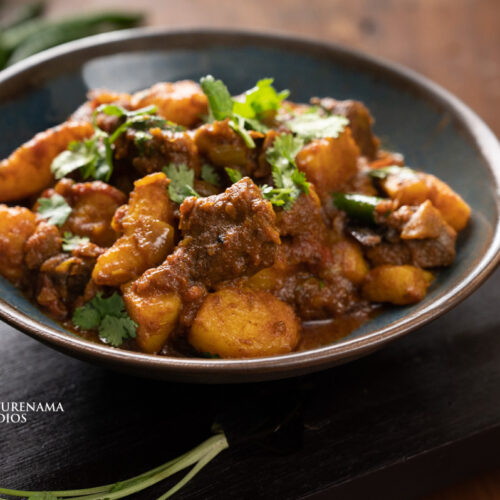 Meter Chorchori | Mete chorchori | Mete'r Torkari
Mutton liver cooked with potatoes in a light sauce in the Bengali way
Ingredients
250

gms

mutton liver

1

tbsp

vinegar

1

no

dried bayleaf

½

inch

cinnamon stick

3

nos

green cardamom

3

nos

cloves

2-3

nos

green chillies

1

large

onion

finely chopped

1

large

tomato

finely chopped

1

tbsp

garlic paste

½

tbsp

ginger paste

1

tsp

red chilli powder

½

tsp

turmeric powder

½

tsp

cumin powder

1

tsp

coriander powder

2

large

potatoes

cut into one inch cubes

1

pinch

Bengali garam masala powder

½

tsp

sugar

salt to taste

2

tbsp

mustard oil

coriander leaves for garnish
Instructions
Soak mutton liver in vinegar for 30 minutes. Give it one rise before cooking.

Heat mustard oil and fry the potato pieces to a golden colour. Take them out and set them aside.

In the same oil (you can add more if you want) add bay leaf, 1-2 green chillies, then cardamom, cinnamon and cloves.

As it starts to release aroma, add the onions and start frying them.

Once the onions have softened, add garlic paste and ginger paste.

Keep frying this till the raw smell goes (you can sprinkle water if it's sticking to the bottom).

Now add the chopped tomatoes and red chilli powder, turmeric powder, cumin powder and coriander powder.

Sprinkle water and let the spices cook with the tomatoes. When you see oil releasing from the sides, add the potatoes and mix them up.

Since the potatoes are almost cooked, you can add the mutton liver now and fry along with the spices and the potatoes (basically koshano).

You can intermittently, add warm water and cover and let the liver cook. It takes about 10- 15 minutes.

You can take one pc out, cut it to check if it's cooked.

Then add a pinch of Bengali garam masala, ½ tsp of sugar, adjust the salt and add more green chillies.

Mix this up till it reaches the right consistency and then garnish with fresh coriander leaves