For a first time entrant to Disneyland, everything remains memorable. Isn't it? The Hong Kong Disneyland Musical Mickey and the Wondrous book was one such for me. It was towards the end of my tour and definitely after trying out various rides like Hyperspace mountain, Gizzly Gilch, the mountain runaway mine car and mystic manor, to name a few. After all these rides, the nerves needed calming down and the tired legs needed some rest too. 
Where does Mickey and the Wondrous Book take place?
The serpenting queue in front of storybook theatre confirms its popularity at Disneyland. From 2006 till 2015, it was The Golden Mickeys which ran at this place. This current show has been running from 2015. It is preferred to book the tickets online in advance. The entrance itself is so spectacular that it builds up your expectation from the show. 
Inside the Auditorium when Mickey and the Wondrous book starts
An oval shaped auditorium and a very simple stage with a large cutout of a book is what will welcome you as you enter the auditorium. The Magic starts there after. The play is based on how Mickey and his best friend or partner in crime, in this case Goofy, finds a magical book which brings various favourite Disney characters like – Baloo and King Louie from The Jungle Book, Ariel from The Little Mermaid, Rapunzel from the 2010 Disney Musical Tangled, Merida from Brave, Aladdin and The Princess and the Frog.
Why you should watch 
Mickey and the wondrous book is an extravaganza on stage. The word extravaganza has been used keeping in mind the production design and the use of modern techniques along with traditional form of a musical. While there are live songs, opera singing and effective stage and auditorium use, where at times the characters enter the stage from behind the auditorium also, a smooth mix of Audio Visual and live performances are all to leave you in a state of awe by the time the show ends.
Just like the fireworks show, it's also a journey with the famous disney characters. If that was not enough, there are other 6 stories which Mickey flips through hurriedly which includes sequences from The Lion king, Beauty and the beast, Cinderella, Toy Story, Snow white and the Seven Dwarfs and Mulan.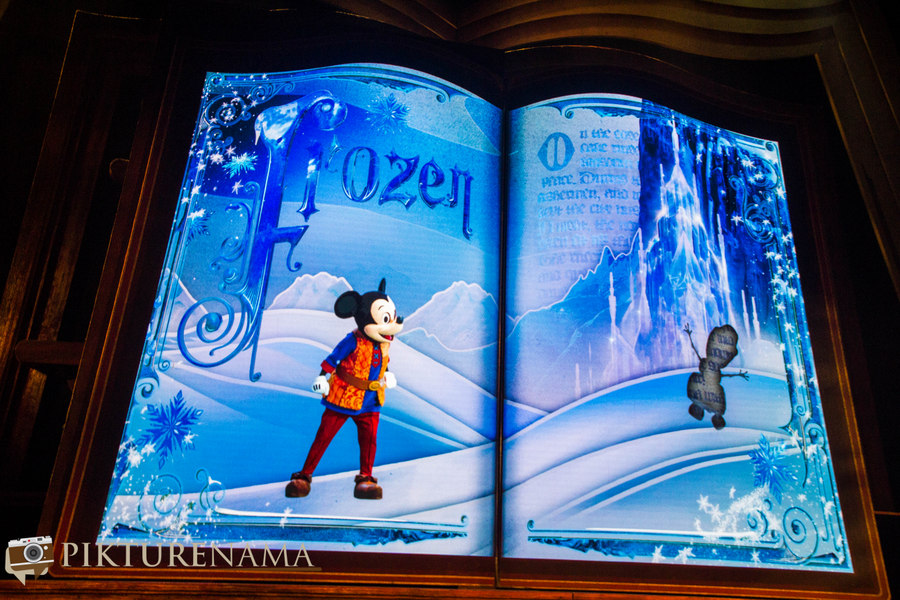 As always, I missed my son the most during the entire stay at The Hong Kong Disneyland and perhaps more here as he would have been thrilled to see these characters live and who can forget the sequence of snow flakes across the auditorium when the Frozen chapter was opened. I am sure the pictures will tell you the remaining story.
I travelled to HongKong with Cathay Dragon and enjoyed the tour courtsey Hong Kong Disneyland Resort
In case you are booking your tickets from Kolkata then you may check out these offers 
Offers with Cathay Dragon from Kolkata
Gift vouchers worth Rs 2,000 per ticket to Hong Kong – http://bit.ly/PIKXOXO
20% discount at Sky100 Observation deck in Hong Kong – http://bit.ly/PIKSKY100OFFR
Entry ticket to Ocean Park – http://bit.ly/PIKOCNPK