A couple of weeks ago, we shared a video of mouri paneer on Instagram and I spoke about how Bengali men hate paneer. This brought in a lot of controversies and the upside was that the video got over a hundred thousand views. Well, the recipe is phenomenal too. 
Let's get to the part about Bengali men and their disapproval of paneer. It has got nothing to do with the product itself but a mindset from the past. And when I say this, I am talking about people above 40s. Chhena was an integral part of Bengali kitchens. Curdling of milk to make fresh chhana and then to make mishti or chhanar dalna or chhanar kofta or maybe a cutlet was pretty common. There were several chhana-based recipes. Paneer, on the other hand, was primarily consumed by 'non-Bengalis'. That's how the rest of the population was referred to commonly till the 90s. And then Bengalis, with their sense of superior pride, always felt that fresh chhana was a better ingredient than paneer. 
Eventually in the 90s, paneer started entering Bengali homes, and much of the credit goes to wedding caterers including paneer in the menu. As a result, my father's generation had paneer only outside and much later in their lives. We also grew up with minimal interaction with paneer at home. This generation loves paneer and I find it very convenient too. It is a bit salty, but nevertheless can be used in many recipes. For that matter, I have successfully used paneer to make any chhanar kofta or cutlet. And this mouri bata diye paneer is just brilliant. 
Mouri Paneer- What is it?
There was a campaign of Addya Dairy where we needed to showcase paneer in a new way. I went through my trusted Bengali recipe books and came across this mouri paneer in Renuka Debi Chaudhurani's Pumpkin Flower Fritter. It's much like a mouri potol that we cook and the flavour is similar to biulir dal because of the use of the same spices. It is also known as mouri chhana. Fennel seeds are soaked and then ground into a fine paste with green chillies and ginger. This paste is the main flavour and fennel seeds are used additionally in the tempering of the oil.
Mouri poneer is primarily cooked in good quality ghee and also the quality of the paneer matters. Traditionally paneer is always fried in Bengali recipes, however, if you get hold of fresh malai paneer, don't fry it. Just add it in the end and simmer for a few minutes to get the best result. 
Not a Bengali recipe but have you tried this super simple shahi paneer recipe?

Share your cooking with us
Are you following us on our youtube channel Cook with Pikturenama?
Do try this recipe and share your feedback. You can also reach out to us at our social media handles Instagram, Facebook or any of our personal Facebook (Madhushree & Anindya) & Twitter profiles. Please post a picture and tag us.
Pin this for your recipe board. And you can follow us on Pikturenama recipes for more recipe ideas (Link)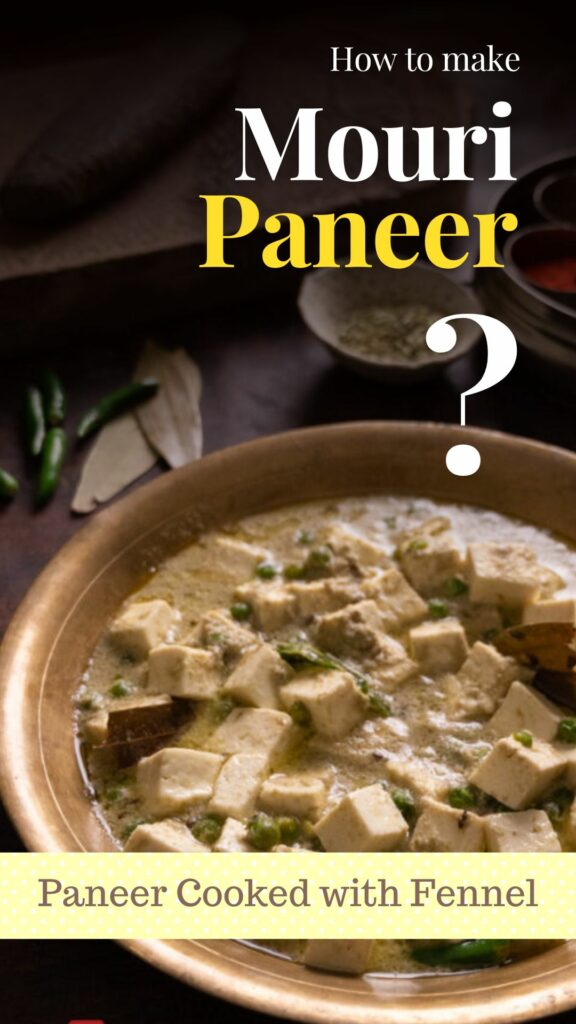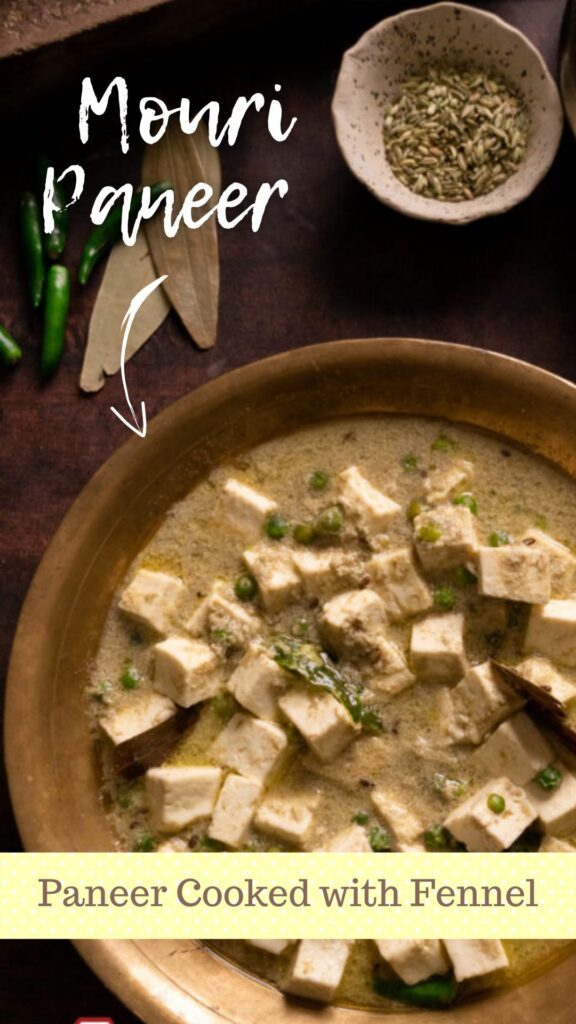 Mouri Paneer | Paneer Cooked with Fennel
Fennel and ginger is used to make this beautiful flavourful no onion, no garlic paneer recipe.
Ingredients
200

gms

fresh malai paneer

2

tbsp

fennel seeds

for soaking

2-3

tbsp

ghee

1

no

tejpata

1

tsp

fennel seeds

for tempering

4-5

nos

green chillies

½

cup

green peas

optional

1

cup

milk

1

tsp

ginger paste

heaped tsp

½

tsp

sugar

1

tsp

all-purpose flour

maida

salt to taste
Instructions
Soak 1 tbsp of fennel in water for 15-20 mins and then grind into a fine paste on a silbatta or mortar and pestle. In case you want to grind in a mixer, you need to soak 2 tbsp of fennel and use only half of it.

Cut the paneer into small cubes

Heat 2 tbsp of ghee in a kadai and add tejpatta, fennel seeds and 2 split green chillies.

Add green peas, salt and then stir fry the peas.

Then take half a cup of milk and add 1 tsp of all-purpose flour to it.

Pour this mix when the peas are almost cooked. Add another half cup of milk and stir.

Add the fennel paste and 1 heaped tsp of fresh ginger paste.

Mix this well and then add sugar. Finally, add the paneer pcs and adjust the salt.

Simmer this for 3-4 minutes, add more green chillies and drizzle 1 tsp of ghee in the end.

You can serve this with pulao, roti or rice