The year that should be wiped out –
We didn't celebrate Pujo this year. We didn't step out other than one small work. As planned earlier, we spent time with ourselves and the kids. This year is one which I really want to be wiped out from the Calendar. If you are an acquaintance then you may have the question why do I say so? It has been a stellar year for Pikturenama Studios, the professional food photography division with some prestigious clients and turnkey projects. There are two books in the pipeline for which we have given our heart and soul. We did several brand endorsements too. Overall we feel we were successful in achieving small milestones that made us happy. 
It's the same year I lost Ma, I got hospitalised in a near life-threatening situation. It took us a lot of effort and emotional strength to come out of this dual blow. It was friends and well-wishers who stood beside us when needed the most. I didn't mention the family. Like always, we take them for granted, right? It has been few months that we were slowly trading towards normalcy. Suddenly, on 23rd September, we lost our best friend. A fortnight ahead of the Pujo, Dipjoy, our friend of 17 years left us. He was our family and meant more than some actual family members. 
It's Shubho Bijoya once again – 
It's nearing the end of the Pujo and this time, we cooked more at home (anyway that happens all through the year) than ordering in. I baked a couple of loaves of bread, Madhushree made all delicacies that Tugga asked for. And one of the dinners was this classic chicken in a Mediterranean stew. However, the microphones playing in the vicinity pandals, the social media TL being flooded with Durga images or the current year hot favourite – Burj Khalifa couldn't lift up the spirits that much.
Like every time, today is Navami evening – the most melancholic evening perhaps where you want the Pujo to last a little longer but it will end quicker than you can think. It will be Dussehra / Bijoya. End of nine days of Navratri / Durga Puja . It's the celebration of the victory of Ma Durga over Mahishahshura. In some parts of the country, it's also believed to be a victory of Ram over Ravana.  
Turn your dishes into art with Pikturenama Studios' food photography. BEHANCE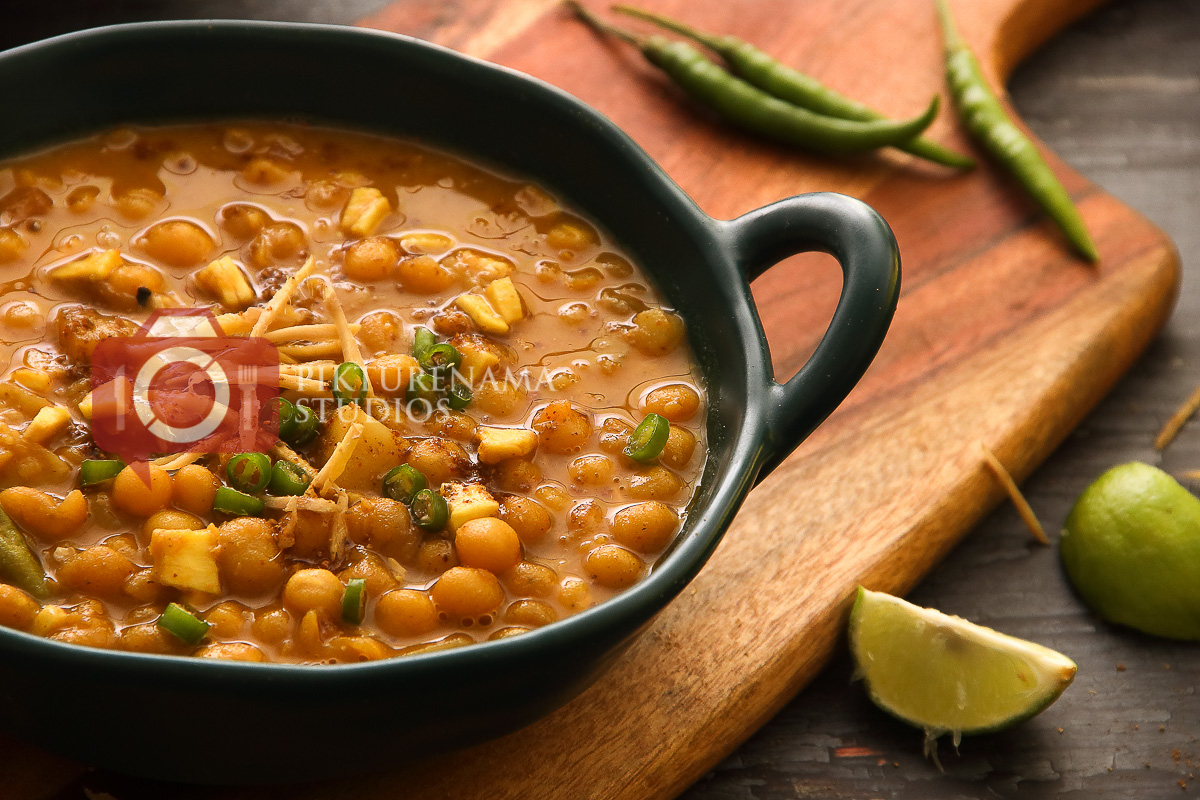 Kolakuli, Pronam Mishti and Niramish Ghugni
There is a whole set of rituals that are carried on the final day of Durga Pujo before the Bhasan or the immersion of Goddess Durga. One of the most interesting ones is Sindoor Khela and must say that's a photographer's delight. Amongst us the Bengalis, it's about doing Bijoya Dashami. You visit your elders, touch their feet seek blessings and the compulsory hugging or Kolakuli. Teachers, landlords, bosses, colleagues – this is a ritual followed by all. Elder women apply sindoor on sankha and pola. Then the mishtimukh part. 
What goes in a Bijoya platter –
The Bijoya platter will vary from place to place and the relationship. For most of the tuition teachers I had, it used to be a standard platter of some sweets, shingara and Kucho Nimki. There always used to be this enterprising aunt or grandma in each family who would make sweets and savouries at home. The platter always used to be an elaborate one at your relative's house. There were closest relatives with whom Bijoya meant a meal or two for the day. One thing was common in the Bijoya platter. Ghugni and Niramish Ghugni in particular. 
Decoding the Niramish Ghugni
The taste will vary from house to house as will be the colour. Medium-sized white peas or motor or Matar is the common ingredient and don't mix this up with chole of Chole Bature. The variations lie in the thickness of the gravy which is slightly thicker in some houses. Some add small chopped coconut and others have additional turmeric making it a bed of yellow. As a youngster, I had my mental notes on which house or relative served the best Ghugni and never missed that house at any cost. The most loved relatives were the ones who added the twist of adding some keema too. In addition, there were various vessels of shapes and sizes in which they got served. Ask a Bengali – can Bijoya be thought without a Niramish Ghugni? 
On that note – Shubho Bijoya and may we all celebrate the victory of human beings over the wretched dreadful virus – that's the biggest evil in our lives now How to make Bengali Niramish Ghugni? Keep reading .. 
Bhaja Moshla– essential for making ghugni
Share your cooking with us
An easy way to make Kucho Nimki –
Are you following us on our youtube channel Cook with Pikturenama? If not, then please subscribe. 
Do try this recipe and share your feedback. You can reach out to us at our social media handles: Instagram, Facebook or any of our personal Facebook (Madhushree and Anindya) and twitter profiles. Post a picture and tag us.
Pin this for your recipe board? You can follow us on Pikturenama recipes for more recipe ideas (Link)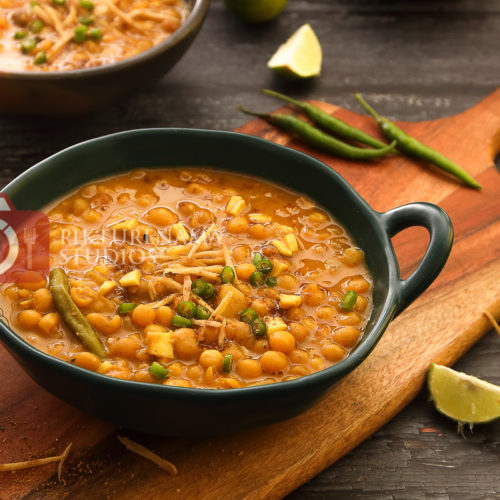 Niramish Ghugni | Bengali Ghugni without onion and garlic
White peas that is , matar, is cooked without onion and garlic for a special Bijoya aDashami platter.
Ingredients
250

gms

white peas

matar

1

tsp

turmeric powder

1

large

potato

⅓

cup

chopped coconut

2

nos

dried bay leaf

2

nos

dried red chilies

2

nos

split green chillies

4

nos

cloves

3

nos

green cardamom

1

inch

cinnamon stick

Pinch

of

heeng/ asafoetida

½

inch

freshly grated ginger

1

medium-size

tomato

1

tsp

red chilli powder

2

tsp

cumin powder

2

tsp

coriander powder

½

tsp

sugar

1

tbsp

ghee

2

tbsp

ketchup

½

tsp

bhaja moshla

recipe link in the post above

2

tbsp

mustard oil

salt to taste
Instructions
Wash and soak the peas overnight. If you have run out of time, then soak the peas in boiling hot water for one hour at least.

After that, add salt and turmeric powder and boil the peas in a saucepan. The peas should be soft but holding shape and firm.

Don't discard the water, we will use it for the gravy.

Finely chop the tomato. Peel the potato and cut it into small cubes.

In a heavy-bottomed stockpot/saucepan or a wok, heat mustard oil. Lightly fry the coconut pieces and keep them aside.

In the same oil, fry the potatoes to give them a bit of colour and take them out and set aside.

In the same oil (you can add a little more oil, if required), add dried bay leaf, dried red chillies and a couple of split green chillies.

Then add the cardamom, cinnamon and cloves and let them brown a little.

Immediately, add heeng and then the freshly grated ginger. Stir fry for a few seconds and then add the fried potatoes. Add the chopped tomatoes and the rest of the powdered spices.

Sprinkle some water and fry over medium to high heat for four to five minutes.

Then sprinkle a little more water, cover and cook the potatoes till they have softened and the tomatoes have softened as well. Add the fried coconut.

Then add the boiled peas along with all the water. If there is too much water, let the water evaporate. Since this is of thick consistency.

Add sugar and ketchup. Ketchup is not traditionally used but my aunt makes it with ketchup and it tastes fabulous.

Keep boiling till it has reached the desired consistency. Adjust the salt and add ghee and more chopped green chillies.

Finally sprinkle bhaja moshla and serve hot with ginger julienne and chopped onions if you want to.