As Indians, we have all grown up with spices in our lives- in our day to day cooking and sometimes, even for medicinal uses. Food without spices are not even considered edible and it need not be a whole medley of spices, even a single spice can sometime elevate any dish. While the rest of the country uses mostly powdered spices in their cooking and have a variety of spice mixes, we Bongs go with the whole spices for tempering first in the oil and then adding the vegetables or the protein and finally adding the powdered spices (if at all) and slow cooking the masalas along with the vegetables or proteins.
Bengali food is distinguished by the use of the tempering spices and there are various combinations which go with different kinds of preparations. So for a dalna torkari, usually cumin with dry red chillies is used for tempering, whereas for chicken or mutton, there is always the use of whole garam masala in the oil. By whole garam masala- the Bengali version uses only green cardamom, cinnamon and cloves. Some vegetables see the use of nigella seeds with green chillies and are quite often used even for a basic simple fish curry. Not to forget, the quintessential Panch Phoron which is imbibed in the taste bud of every Bengali and I think the whole country characterises Bengali food with Panch Phoron.
Panch phoron- a simple spice mix of 5 spices. Equal quantities of cumin seeds, nigella seeds, fennel seeds, black mustard seeds and little less fenugreek seeds makes this extremely powerful yet elevating spice mix. Lot of people use radhuni in place of mustard but since radhuni is not always available, black mustard seed is used.
The art of food photography is about more than just taking a picture.  

Behance
The most common dish which every Bengali household including mine makes with panchphoron is called panch mishali torkari. Yes, you heard it right, 'panch' as in 5, 'mishali' as in medley and 'torkari' as in vegetables. The vegetable basket is always used in such a fashion that a little bit from every vegetable is kept aside for this dish.
As a child, I used to abhor this dish. I knew, for dinner, every once in a while it would be panch mishali torkari with roti and my mother would have to make a special dessert so that I would eat it. Thankfully, my son is just the opposite. He loves his vegetables and has no qualms about eating any, even if the panch torkari. Once I grew up and my taste buds developed, I understood how a simple vegetable dish can be made so flavourful with panch phoron. And today, it is my go to dish on any given day.
We are celebrating #masaladay today which is a part of series of celebration of Indian food days round the year. You can read about it here . Rushina Munshaw Ghidiyal an accomplished cook, owner of APB cook studio has come up with this wonderful initiative. We are sharing our stories, why not you too?
Share your cooking with us
Are you following us on our youtube channel Cook with Pikturenama?
Do try this recipe and share your feedback. You can also reach out to us at our social media handles Instagram, Facebook or any of our personal Facebook (Madhushree & Anindya) & Twitter profiles. Please post a picture and tag us.
Pin this for your recipe board? You can follow us on Pikturenama recipes for more recipe ideas (Link)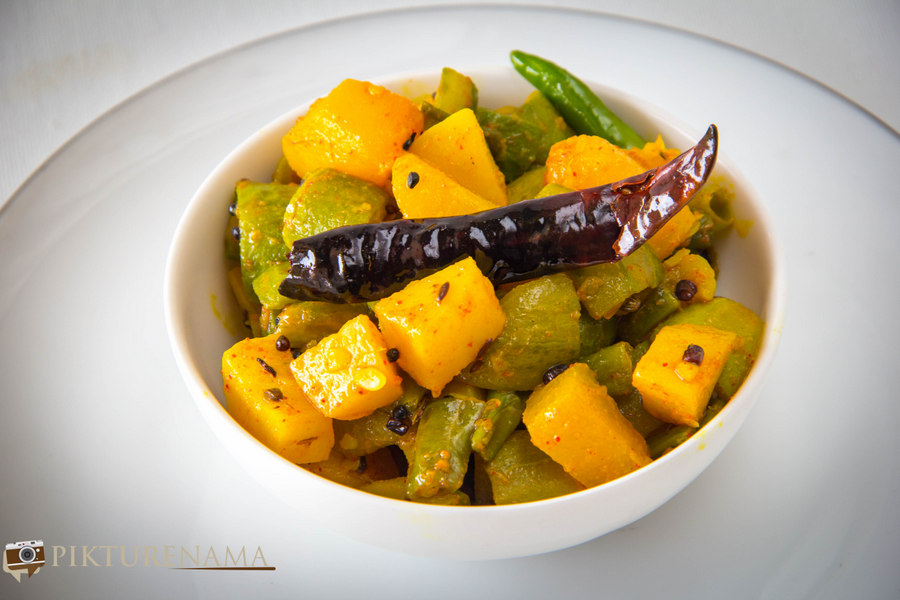 Panch Mishali Torkari
All you need is leftover vegetables from the vegetable basket and temper it with panch phoron.
Ingredients
1/2

cup

potatoes

1/2

cup

red pumpkin

1/2

cup

parwal or pointed gourd

1/2

cup

torai or ridged gourd

1/2

cup

brinjal

2

tbsp

Mustard Oil

1

tsp

Panch Phoron

1

no

Dried Red Chili

1

tsp

Turmeric Powder

1

tsp

Red Chili Powder

1/2

tsp

Grated Ginger

1/2

tsp

Ghee

1/4

tsp

Sugar

1

No

Green Chilli

Salt To Taste
Instructions
Cut all the vegetables into cubes (about 1/2 inch or little more).

In a frying pan or a kadai, take a tbsp of mustard oil. Once the oil reaches the smoking point, saute each vegetable separately for 3 -4 minutes each.

Keep the vegetables aside after draining the oil out properly.

Now add the balance of the oil and heat it. When it becomes hot, add the dry red chili and panch phoron. Watch the seeds splutter and release aroma.

Just when everything has got a bit of colour and just before it gets burnt, add the vegetables one by one.

It is important to add the vegetables in order of their cooking time. So the potatoes and parwal go in first. Then goes the ridge gourd, then the pumpkin and finally the brinjal.

While stirring, add salt, turmeric powder and red chili powder.

Keep stirring for a couple of minutes and then cover and cook the vegetables in its own juices.

Once in a while, open the lid, stir everything around and make sure that nothing is sticking to the bottom. In case you feel that the vegetables may burn, just sprinkle a little bit of water. Adding too much water makes it all mushy and for me, it takes the taste away from the vegetables.

Once the vegetables are all cooked, add the grated ginger. Add sugar and check the seasoning.

Drizzle some ghee on top and add one split green chili and just cover the dish. Turn off the heat and let the aroma from the green chili permeate the vegetables.

Your dish is ready to be served as a side with any other protein and can be had with roti or rice.
Notes
The most important thing to note here is that this vegetable dish can be made with just about any vegetables in the fridge barring a few. So, the vegetables which play the main role are potatoes, red pumpkin, brinjal, parwal, radish, cauliflower (in winters) and ridged gourd. The other vegetables which can be added are sheem (broad beans), beans, carrots and drumsticks. Make a combination from atleast 3 or 4 vegetables from the top list and 1 or 2 from the bottom list.
Here I have sauteed the vegetables first. One can also do without it and straightaway start from step 4. That way the quantity of oil required will also be less.