Have you ever watched Cheteswhar Pujara before every delivery he faces? He holds the bat close to his chest, fixes the grip, takes the right hand lowest possible to the neck and the left hand on top of it. I almost follow a similiar ritual when I eat a parshe machh or any small fish for that matter. Baba used to hate fish with small bones and this was the trick which he had taught me so that the operation fish gets smooth. I find and slowly seperate the fins first on both sides. They are almost like fine bones. Then from the midriff one can easily dislodge the flesh of the fish. That's how I eat parshe macher jhal.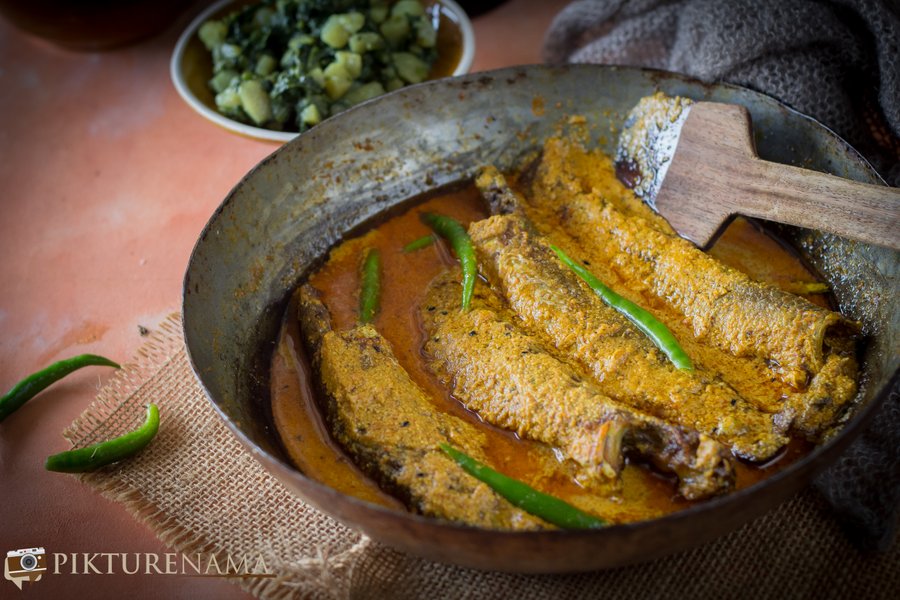 Eating small fish is considered healthy in Bengali cuisine. Hence, Parshe Macher jhal is quite a preferred dish
Like most of the Bengalis, I have grown up hearing macher muro khele buddhi hobe and chokh khele chokh bhalo thakbe. What does this mean? If you eat the fish head then you grow intelligence and if you eat the fish eye, your eye sight remains clear. Madhushree and Arnab, my brother in law, laughs over this at length. They have grown up on fish primarily and yet their eye sight problems started pretty early in life. 
Tel Koi is another small fish loved in Bengal and a very popular dish. 
Here are some of the fish recipes which we love and try making them   –
Shapla Chingri is made from Indigenous produces and prawns and super tasty 
Bengali style Doi Machh or fish in yogurt and you will love it 
Do you know there is something called Doi Ilish also ? 
What does a sorshe jhaal mean to a Ghoti ?
Coming back to parshe macher jhal. This one has all the elements which are ultimate object of lust for a Bengali and for a Ghoti, in particular. Mustard oil, black mustard paste and green chili. No matter what they say, a proper shorsher jhaal should have the mustard oil floating and the mustard slowly settled at the bottom. Green chilies are the perfect objects of garnishing, though they should not be added in the last. Am I getting carried away? That's what a sorshe jhal does to a Ghoti. I can go on trying a discourse on the perfect ratio of the Jhal with rice which can give you the pleasure you seek. However, no matter what, do keep some amount of jhal in your bowl for that final stroke of wiping it clean with your fingers. 
Let the images do the talking.

Behance
Have you tried making shorshe bhapa chingri? It's really easy to make and is again another mustard heavy dish.
There is a small act which I always follow before finding the fins or central bone of the fish. I love eating the skin of the fish with little drops of the mustard gravy in between. Then comes the flesh. The fish head comes last, chewed to the last bit of juice and I no longer care about the fish eye. If at 42 I am without the glasses, then I think I have hit the bull's eye with fish eyes.  How about trying out the parshe macher jhal now after reading this post. 
Parshe Macher Jhal at Blog to Plate
Just like any dish on the dining table, this has to be served hot. When we did Blog to plate, the pop up by Madhushree and Debjani, one little mistake which we did was that amidst all the chaos, this particular dish reached the table cold. Never do that. 
Last year Madhushree and Debjani did a pop up in fact their first food pop up called blog to plate and this was a smashing hit . We also served Chhana Koraishutir cutlet in that pop up which was a great hit 
Do try this recipe and share your feedback. You can reach out to us at our social media handles: Instagram, Facebook or any of our personal Facebook (Madhushree and Anindya) and twitter profiles. Post a picture and tag us.
Pin this for your recipe board? You can follow us on Pikturenama recipes for more recipe ideas (Link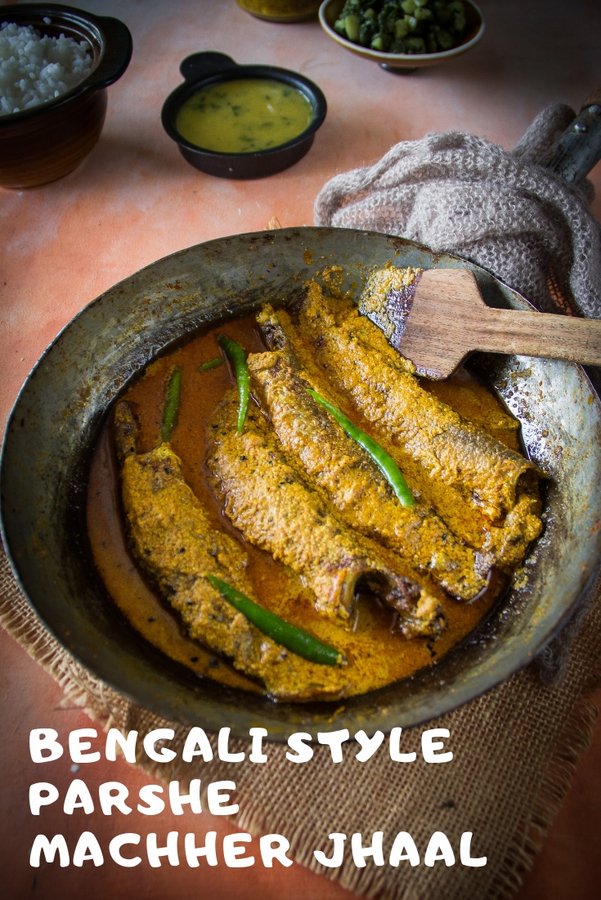 Parshe Machher Jhaal
Parshe Mach is a small fish with one central bone. It is easy to handle and there are several ways to prepare parshe mach. However, the most coveted of the preparations is parshe machher jhaal, a typical ghoti recipe using mustard paste. Recipe Author: Madhushree
Ingredients
6

pieces

parshe mach

cleaned and washed

1 1/2

tsp

Turmeric Powder

2

tsp

red chilli powder

1/2

tsp

nigella seeds

3

tbsp

black mustard paste

1

tbsp

poppy seed paste

optional

1

medium

tomato

deseed and puree it

1/2

cup

Mustard Oil

I am being generous here, it can be made with less oil

4

nos

green chillies

Salt To Taste
Instructions
After the fish has been washed and prepped, rub the skin with salt and 1/2 tsp turmeric powder and keep aside.

In case you do not have mustard paste in hand, prepare mustard paste using black mustard seeds. The point to remember is that when using balck mustard seeds, one has to always use extra water to strain the paste and discard the black husk.

Take a non stick frying pan big enough to hold the fish. Heat 2 tbsp of mustard oil and when the oil is hot, slowly slide in the fish one by one. Don't overcrowd the pan. This fish is a bit delicate. So you need to handle it gently.

Lower the temp to medium and fry the fish on both sides, each side about a minute and half. Overfrying the fish will reduce the taste of the fish.

Once the fish is done, very gently, using a spatula, take the fish out and place on a kitchen towel or a plate.

In the same frying pan, we will make the sauce using whatever left oil plus some additional oil.

Add 2 more tbsp of oil to the same frying pan. When the oil starts to smoke, add the nigella seeds and a couple of green chilies split in half.

Stir for half a minute and then reduce the temp to medium and add the mustard paste with a little bit of water. Add rest of the turmeric powder and the red chili powder. Stir around and keep the temperature low or else it will all split into a mess.

Then add the tomato puree and some salt. Let the gravy cook in a medium flame till the raw smell of the tomatoes go away. It takes about a couple of minutes.

Then add the poppy seeds paste. This part is optional. Some people prefer making a jhaal without poppy seed paste. However, for me, it makes the gravy more smooth and adds a bit of creamy texture too.

Cook the gravy for a minute with the poppy seed paste and add a cup of water. Mix it all up nicely and then finally add the fish to it.

Place the fish in the frying pan again without overcrowding it.

Add more water if you desire. Or leave it as it is. Let the gravy simmer with the fish in it for fove minutes. Make sure that the gravy has coated the fish on all sides.

Finally check the seasoning and add more salt if required. Add split green chilies and the final kick is to drizzle a tbsp of mustard oil from top and give it a final boil and switch off the flame.

Serve the fish with steamed rice.