There is no such thing called a phulkopir cutlet, said Anindya. We have heard of phulkopir shingara, phulkopir bora, but never heard of phulkopir cutlet. I was making the menu for weekend takeaways from home. It was only the second weekend and I had been focusing on seasonal ingredients. Being winters, cauliflower had to feature in the menu. The weekend before, I had some chhana koraishutir cutlet, which was a bit hit. So, I decided to follow the cutlet trail and make a phulkopir cutlet instead. I remember seeing the recipe in the Oh Calcutta cookbook. This phulkopir cutlet loosely follows that recipe.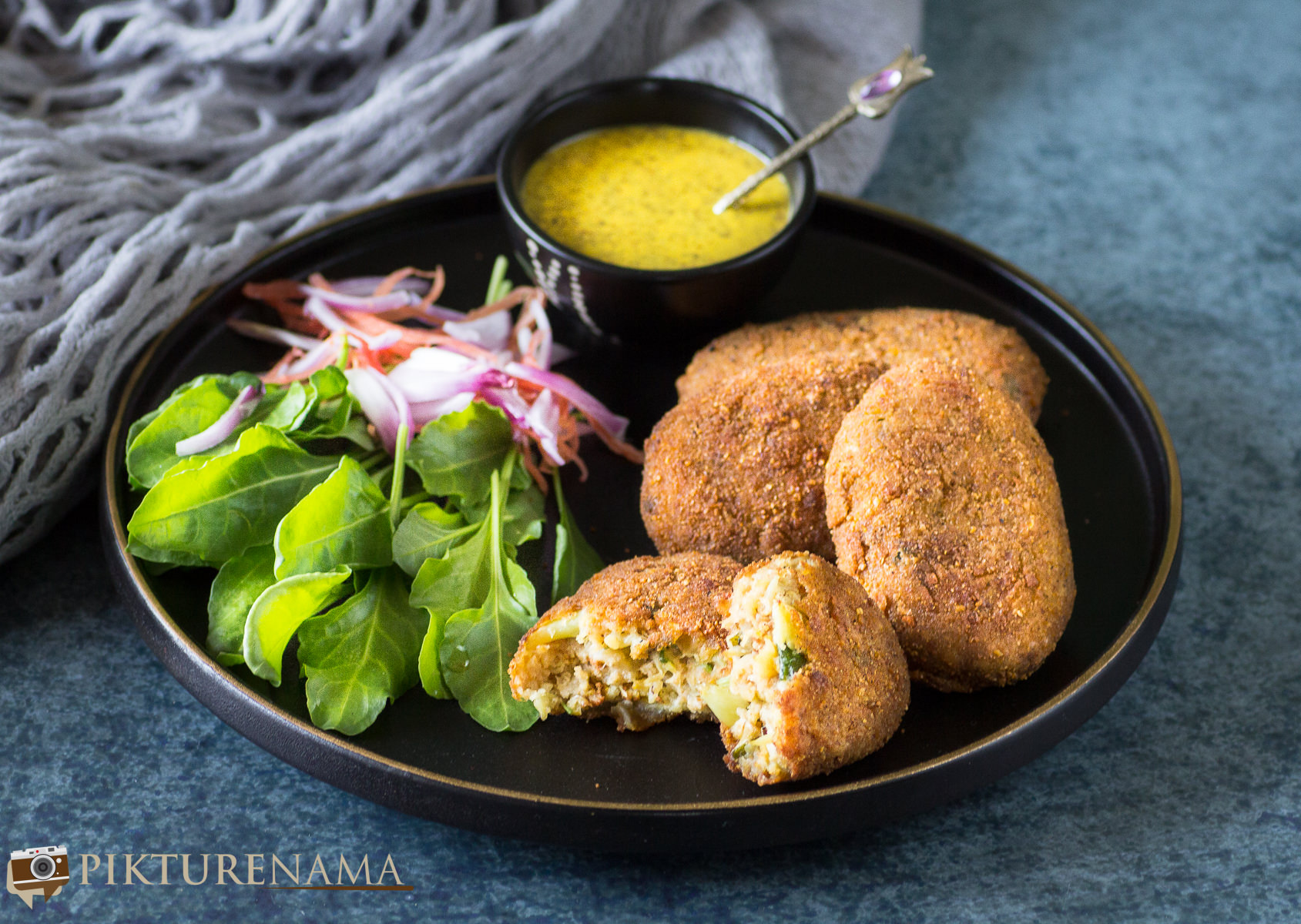 Here are some other Phulkopi recipes which you can try out –
This phulkopi roast is easy to cook and a must try for every winter
Have you heard of Shada fulkopir torkari ? Do you know it's also known as Dudh Fulkopi 
How to make a phulkopir cutlet?
You will need good quality big cauliflowers for these cutlets. Hence, it is best to use seasonal winter cauliflowers, which will give the maximum flavours. Once you wash the cauliflower thoroughly under running water, cut them into big chunks. Then soak the florets in brine for half hour. Brine is a salt and water solution, where the salt is in high quantity. In the meanwhile, boil a couple of potatoes and peel the skin once done. Cut the potatoes into cubes and keep aside. After half hour, take the florets out of the water and cut them into smaller size (which can be deep fried). In a wok, heat some oil for deep frying and fry the cauliflower florets till they are soft and golden in colour. Take them out on a kitchen towel and make sure all the extra oil has been soaked by the kitchen towel.
You need to do the same with the potatoes too- fry them till they are golden brown. Then you add salt, bhaja moshla, chopped green chilies, chopped coriander leaves and a little bit of corn flour and bind everything together. Since it is a vegetarian dish, we cannot use eggs for the batter. Instead, you need to make a slurry of flour and water with a pinch of salt. Shape the cauliflower mash on the palm of your hand in the shape of a cutlet and then dredge in the flour slurry. After that coat in bread crumbs and deep fry it.
For Professional Food Photography contact us
Challenges faced
Unlike other cutlets, this doesn't bind easily. If you mash the cauliflower completely, then it loses the texture. Potatoes help to bind but then again, we cannot use too much potatoes since this is a cauliflower cutlet. Therefore, to keep the flavour and the texture intact, the general ratio of the cauliflower to potatoes would be 1:.25. You can completely mash the potatoes but the cauliflower florets need to be handled with care. While mashing with your fingers, keep little chunks.
Another big challenge is to dredge it. Since it doesn't bind very well, it is not firm enough to dip in the flour slurry and take it out to crumb coat. It breaks mid-way. What I did was keep the cutlet on my palm and then spooned over the slurry on the cutlet. Carefully turning it around, spooned over the other side and then placed the cutlet carefully on the plate of bread crumbs. Once you have crumbed it, it becomes firm and easy to handle.
Serving and storing suggestions
You can store the cutlet mix in the refrigerator for a week. Since there is no use of onion and garlic, it stays fresh. You can also crumb coat it and keep in the freezer for up to a month. You can crumb coat in advance and keep in the refrigerator and deep fry them straight out of the refrigerator. For the frozen one too, it is better to deep fry it straight out of the freezer. In that case, you need to keep a check over the temperature of your oil. Drop the cutlets when the oil is hot but then reduce the flame since we need the inside to warm. Since the cauliflower and the potatoes are pre-cooked, it doesn't take long.
Serve phulkopir cutlet with kasundi mixed with a bit of ketchup and some onion rings for a complete evening snack.
We have a small tutorial for you for the Bengali Bhaja Masala . Learn how to make Bhaja Masala and this video will help you definitely 
Share your views / Follow us
Do try this recipe and share your feedback. You can reach out to us at our social media handles: Instagram, Facebook or any of our personal Facebook (Madhushree and Anindya) and twitter profiles. Post a picture and tag us.
Pin this for your recipe board? You can follow us on Pikturenama recipes for more recipe ideas (Link)
Phulkopir Cutlet
This is an evening snack or a party appetiser made with small cauliflower florets and potatoes shaped in a cutlet form , crumb coated and then deep fried.
Ingredients
1

no

medium sized cauliflower

1

no

medium sized potato

See Notes

2

nos

chopped green chilies

1/3

cup

chopped coriander leaves

1

tsp

bhaja moshla

See notes

1

cup

bread crumbs

1/2

cup

flour

1

tsp

corn flour

1/4

tsp

sugar

salt to taste

vegetable oil for deep frying
Instructions
Wash the cauliflower and cut it into large florets. Make a brine solution (water with a lot of salt). Keep the cauliflower florets in teh brine solution for half an hour.

In the meantime, boil the potato. Peel the skin when it it boiled. Then cut it into quarters and deep fry it till they are golden brown. Mash it in a bowl and keep aside.

After half hour has passed, take the cauliflower florets out and cut them into smaller pieces. In the same hot oil, deep fry them till they are soft and golden brown. Using a slotted spoon, drain all the oil out and keep the florets on a kitchen towel to soak the excess oil.

Then in a mixing bowl, take the florets and gently mash them with your fingers or a fork. Don't completely mash the cauliflower, we need small chunks for texture. Add the mashed poatoes.

Add salt, sugar, chopped coriander leaves, chopped green chilies, corn flour and bhaja moshla. Mix them thoroughly and bind them together.

Make equal portions of the mix.

Make a slurry of flour and water. The consistency should be such that it coats to the cauliflower cutlet. Keep the bread crumbs ready on a plate.

In the palm of your hand, take out one portion and flatten it out to about 8 mm thickness. Shape it in an elliptical form and make one pointy edge, or whatever shape you want to give it.

Then spoon out the slurry on to the cutlet on your palm and coat it on one side. Carefully flip to the other side and spoon the slurry while coating the sides as well.

Carefully slide it on the bread crumb plate and coat all sides with the crumbs.

Keep all the crumb coated cutlets on a separate plate. Once they are all done, take a frying pan with enough oil to deep fry. You can also shallow fry this.

Gently slide the cutlets in the hot oil and fry them till they have a nice brown colour.

Once done, take them out on a paper towel.

Serve them hot with kasundi mixed with ketchup. Alternately, you can also serve this with mayonnaise.
Notes
Keep the cauliflower to potato ratio to 1:.25 . So, in case it is needed for binding, add more potatoes without compromising on the taste and the texture. 
Bhaja moshla is a Bengali spice mix, which is pretty much used to enhance the taste of several vegetarian recipes. A simple bhaja moshla would be a mix of cumin seeds, coriander seeds, bay leaf, dried red chilli and fennel seeds dry roasted and then ground to a fine powder.