There was a point of time when I had pickle for all my meals. We had been to Nepal and as Nepal will always carry a soft spot for this blog, it will also be remembered for the pickle. We carried back a bottle of chicken pickle. Tangy, fiery and burst of flavours, this chicken pickle was all that a pickle lover could fathom. Shredded pieces of chicken, well soaked in the pickle oil and the taste got me addicted. Sometimes I would even have this pickle for breakfast also. Alas! I don't remember the name and the manufacturer but when I need them we request our friend Komal to carry the same for us as she is from Kathmandu and visits the city once every year.
If you are as much in love with Nepal as I am then you cannot miss these stories. Read here
My family has been a pickle passionate family. In my Chandannagore home, it was primarily focussed on variants of chili pickle throughout the year and green chili in particular, occasional Lal mirch ka bharva achar was also brought it. My parents used to say that these large red shaped stuffed red chillies were apparently also called as kartoos. Then a child, this was considered as very hot and only a little portion of the skin of the chili and the stuffing which had the chili seeds were given to me. As I grew up, the green chili remained constant and just like baba and ma, I continued with the tradition of occasional aamer achar or pickled mangoes, lebur achar lemon pickle and others too from time to time.
In my mamar bari ( maternal grandfather's house) the mamas were equally fanatic about pickle. Throughout the year, different size and shapes of pickle bottles used to adorn the dining table and even simplest of the food used to taste different with the addition of the pickle. Pickle often gets soaked in nostalgia too. The sun dried lemon pickles made by didima (nani) almost carried her smell soaked in her smile, affection and care. We used to have these year after year. Very less is often said about the pickle jars. In our times, these jars were like the magic potion out of Harry potter and sneaking into them silently was an adventure. Not sure how many of you would remember, in Kolkata there were 2 or 3 brands like Soma, AKG and few others which were ruling pickle makers. Well, none of them can be found now.
This prawn pickle recipe is not the Balchao prawn which is famous in Goa but you can trust me, this is good and if you are a prawn lover then the small chunky shrimps can take you to a level of ecstasy. The Prawn pickle is a new entrant to the team at service currently, which includes green chili pickle, olive pickle, a large jar of a newly made jack fruit pickle and also the all season mango pickle.
Celebrity chef Atul Kochhar the first Indian chef to get a Michelin star for Tamarind in 2001 and then again for Benares in 2007, says this when it comes to pickle –
If you took pickles out of Indian society," Kochhar says, "I don't think it would survive." The country has changed dramatically in recent years, with a growing economy and expanding middle class, but some things stay the same. "I would say 90% of people still live the old lifestyles. In old Delhi, for instance, people still have small houses with flat roofs where they dry their pickles." Vinegar", he says, is seldom used. "We generally rely on sunlight, salt and spices," says Kochhar. But that's the only constant – mango and lime achars are the best-known Indian pickles, almost everything can be made into achar, including meat and seafood. "Meat pickles are very important in places like Rajasthan, which is dry and arid, and where they can't grow many things," says Kochhar. "They have plenty of sun so whatever little produce they get they can pickle it and use it over the months ahead." You can read the detailed write up here 
We create the art of observation. Behance
Well known food writer and food consultant Rushina M Gildwal celebrated Aam Achar day few days back and here is what happened. This is a praiseworthy effort by her and across India various food lovers, cooks, chefs all shared their stories and recipes. Thank you Rushina for this effort and all the other days for Indian food that you celebrate and encourage us to do also. 
One thing has never changed. From the time we used to have the meal at the famous Railway canteen at the Howrah station in the compartmental thala (the plate which used to have several sections) till all the long distance train journey, the achar or the pickle that they provided never changed the taste. From initial thrill of the taste to a degree of boredom to returning back to nostalgia, the mixed pickle in trains perhaps remained the same for me.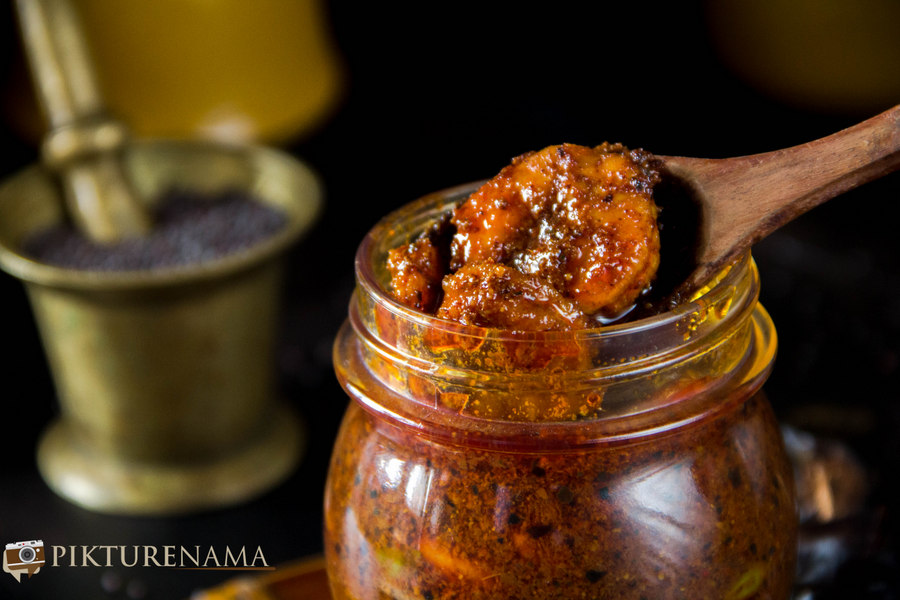 Share your cooking with us
Are you following us on our youtube channel Cook with Pikturenama?
Do try this recipe and share your feedback. You can also reach out to us at our social media handles Instagram, Facebook or any of our personal Facebook (Madhushree & Anindya) & Twitter profiles. Please post a picture and tag us.
Pin this for your recipe board? You can follow us on Pikturenama recipes for more recipe ideas (Link)
Prawn pickle recipe for the love of the pickles
Ingredients
300

gms

shrimps

you could also do a combination of 200 gms shrimps and 100 gms of medium prawns

5

nos

dried kashmiri red chilies

you could also use any form of dried red chili

2

tsp

cumin seeds

2

tsp

black mustard seeds

1

tsp

fennel seeds

8

nos

fenugreek seeds

1

tsp

Turmeric Powder

2

tsp

Red Chili Powder

(optional)

6

nos

green chilies

chopped

1

tsp

Sugar

1/2

cup

White Vinegar

you can also use any other strong vinegar if you like

5

tbsp

sunflower oil

2

tbsp

Mustard Oil

6

tsp

Garlic Paste

6

tsp

Ginger Paste

Salt To Taste
Instructions
Make sure that your shrimps and prawns are de veined and cleaned properly. Remove the heads and the tails and keep them for making something else. You need just the body for this pickle. Then wash and marinade in salt and turmeric powder for about half hour.

While the shrimps are in the marinade, prepare the basic masala. In a frying pan, dry roast Kashmiri red chilies, cumin, fennel, fenugreek and mustard seeds. Once they start releasing oils and your kitchen is fragrant with different aromas, turn off the heat. Cool them down and grind them into a powder.

Take 3 tbsp of sunflower oil in a pan and heat it. Once the oil is hot, fry the shrimps in the same. Some prefer to make them crispy however, I prefer them to be just lightly fried since it will further cook in the masalas.

Drain the shrimps out and keep on a paper towel.

In the same pan, add the balance 2 tbsp of sunflower oil and when hot, add the chopped green chilies. Add the ginger and garlic paste and saute them in medium heat.

When the raw smell of the garlic goes away, add the dry masalas and sprinkle some water or else the masalas will burn. Stir and lightly cook them. Add red chili powder if you want more heat.

Add the prawns and finally the vinegar, sugar and more salt if required.

Continue cooking for about ten minutes or until all the raw smell of the masalas have gone.

When it is almost done, add the mustard oil and turn off the heat.

Once it has cooled down, pour it into a jar and keep outside in the sun for a day or 2. It always tastes right after a couple of days.

It stays well in the refrigerator for a couple of months. Although I promise, it won't last for more than 2 weeks if you are pickle lovers.