Sunday Bengali chicken curry –
Baba never had meat. When he was a child, once he had seen a Goat being slaughtered and that was it. He was in class VII . Since then he could never have mutton or chicken. This never prevented the entry of chicken or mutton at home. Ma and I always enjoyed mutton and the occassional chicken on Sundays. Chicken or mutton was only for Sundays. There was a mindblock in having chicken and even my extended family shared that thought. Everyone prefered patha or mutton. If it was Mangsho or goat meat then it had to be Mangshor Jhol.  Big pieces of aloo and a slightly thicker gravy was the highlight of this.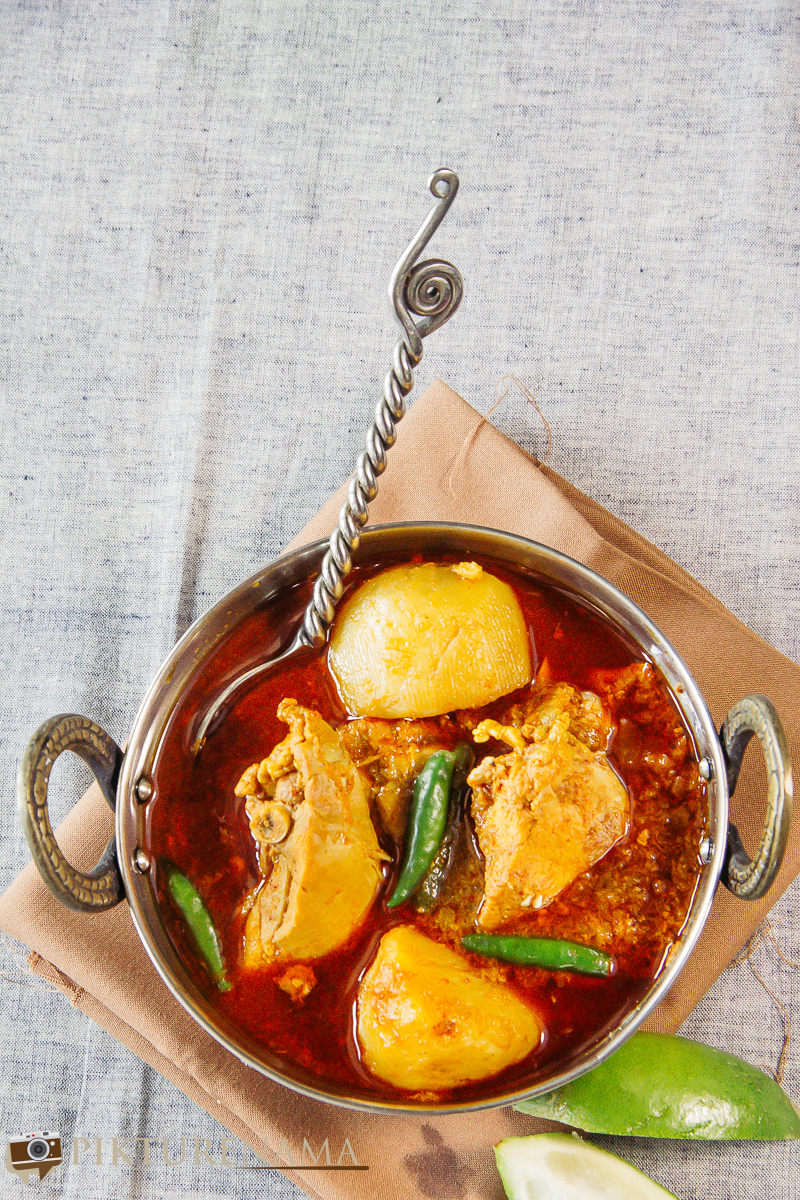 How red was my Sunday Bengali chicken curry 
It's Sunday Bengali chicken curry but you need to have it only on Sunday. It's a mood lifter for me. The aroma from the spices and onion with garam masala gives a general sense of happiness in the air. Happiness for no reason as such. What could be the causes of happiness of a middle class Bengali family in a suburb on a Sunday? A nice regional movie in the afternoon on DD, a blockbuster movie in the evening, a possible great 'football match' with friends, what else? Special occassions were mostly birthdays or relatives coming home. There was a notion and don't know why, that there is an 'anshte' smell from chicken. 'Anshte' is a broad classification of any smell which is fishy.
If we look back into the history of food practices in Bengal, in addition to the love for fish, there was a tradition of eating deer, goat, lamb, pigeon and turtle meat. The first Bengali cookbook ever – Pak Rajeshwar by Bisweswar Tarkalankar released in 1831, has reference of recipes of various meats including Rabbit meat also. The reference of chicken is very less, almost none. When did chicken become popular in a Bengali kitchen? May be in another post .. 
The fascination for laal jhol for 80's kids 
Red was ruling colour in Bengal in 80's and 90's. Though that has got nothing to do with the fascination for laal jhol. My friend – Kalyan Karmakar, food blogger and author, remembers the red coloured mutton curry, which he had for the first time as a kid.  That was not too jhaal (spicy) yet had fascinating taste and he became a fan of that. Subsequently, he found the same colour in Kombhi rasa in Mumbai, chicken curry in Malwani places or the mutton curry in Khandeshi food joints in Nasik.
For a long time, the inexperienced me took the red colour as a signature of a great dish. The easiest way to get the desired red colour is to add red chili powder. That comes with limitation though, after a while you cannot add more. In Pune, my junior Mrinal from Himachal got us introduced to 'ratanjot' from Himachal. We were thrilled and treasured it so much. A little part of that while the chicken or any curry is made and it's magic red. Yes, I still look for shining red colour yet, it's not the only factor that can make me judge a chicken or mutton curry. Have you checked out the new range of Chicken Easy Indie Bowls by Alko Foods? You can check out the range here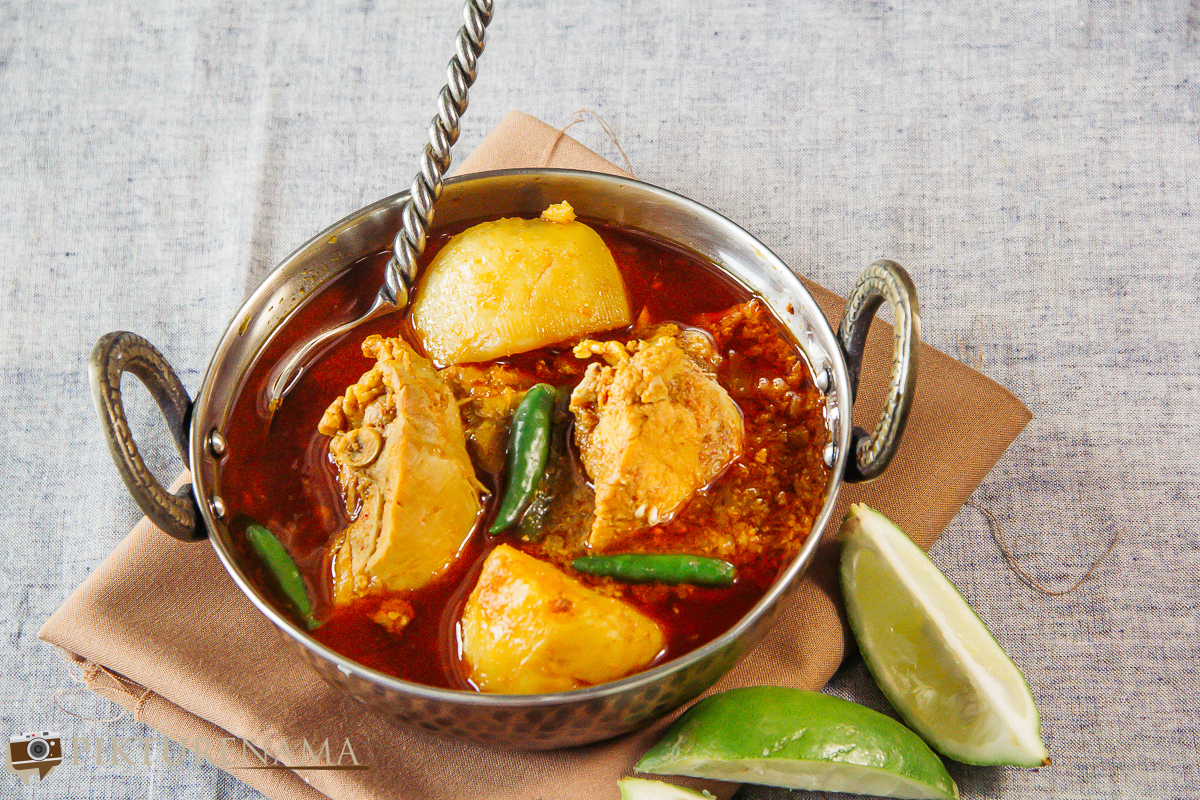 How the Bengali Sunday chicken curry was made red? 
It took sometime for Madhushree to pick up the trick of making the Bengali Sunday chicken curry red. It was some 5 years back, when one of our neighbours made a shining red curry and then Madhushree invaded her kitchen to figure out how that's made. So, no matter what happens and how much the taste evolves, on a gloomy day, on a lazy Sunday, after a tiring weekend, it's the red shining Sunday Bengali chicken curry with Aloo poured over a heap of hot rice, which is parallel to only Mangshor Jhol perhaps. As Tugga has started understanding food, we have often found that he gets fascinated by this red colour. Yes, a lot may change and perhaps after three and half decade, Tugga will have the same reaction as we have now.
Here is a video so that you can make the Sunday Bengali chicken curry 
Share your cooking with us
Are you following us on our youtube channel Cook with Pikturenama? Pls subscribe. 
Do try this recipe and share your feedback. You can reach out to us at our social media handles: Instagram, Facebook or any of our personal Facebook (Madhushree and Anindya) and twitter profiles. Post a picture and tag us.
Pin this on your recipe board ? You can find some awesome recipes at Pikturenama recipes in Pinterest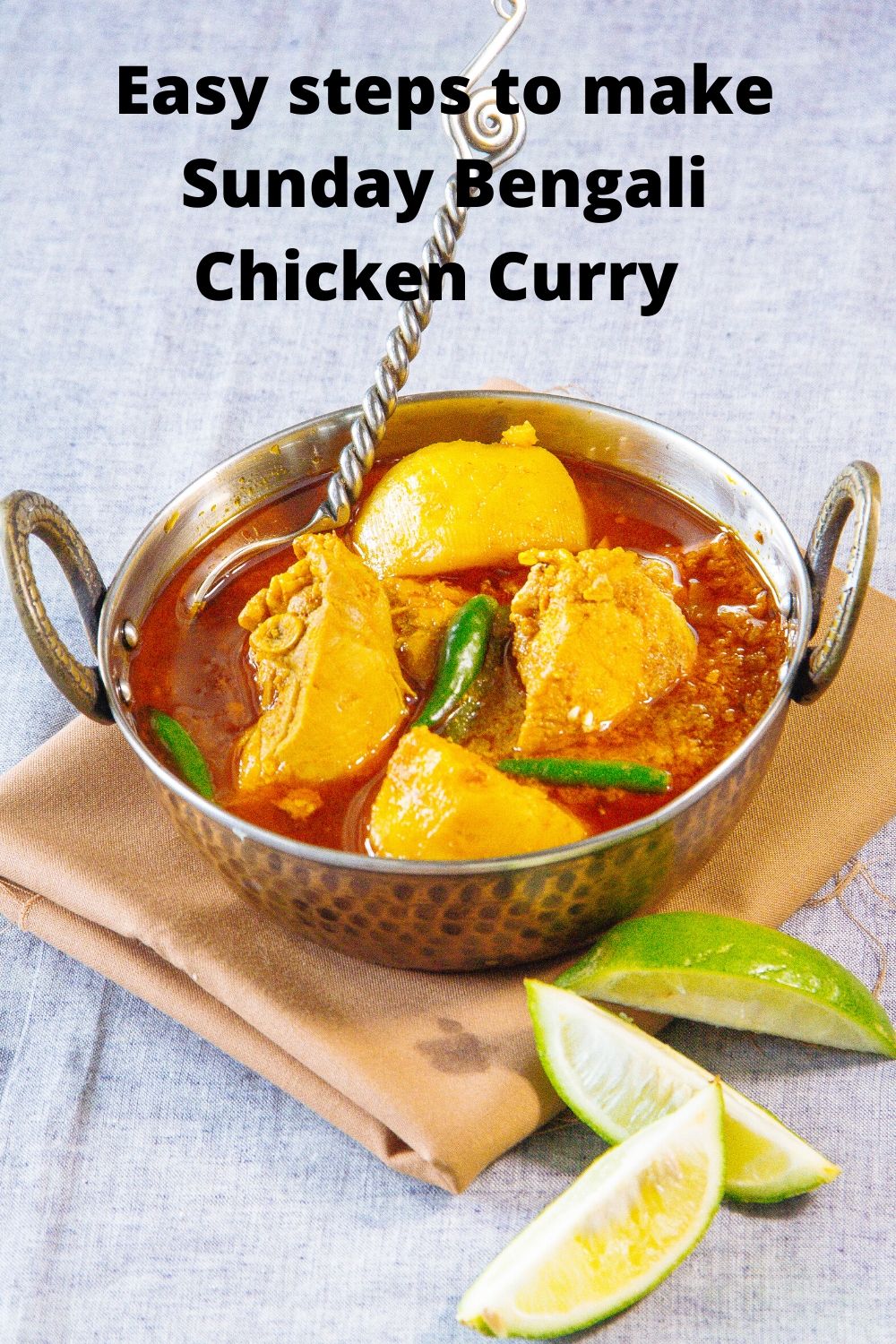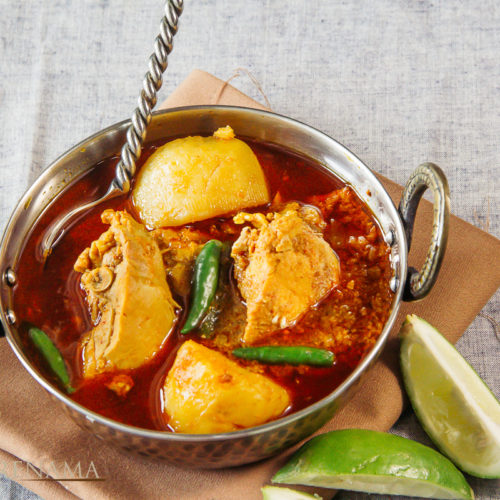 Robibarer Murgir Jhol | Bengali Chicken Curry
A typical Sunday chicken curry with a red coloured gravy, very light in spices and bold in flavours.
Ingredients
500

gms

chicken

curry cut

1.5

tbsp

garlic paste

1

tbsp

ginger paste

1.5

tbsp

yogurt

1

tsp

turmeric powder

3

tsp

Kashmiri Red Chilli powder

2

nos

medium sized onions

1

small tomato

4

nos

medium sized potatoes

1

no

dried bayleaf

3

nos

cloves

1/2

inch

cinnamon

2

nos

green cardamom

4-5

nos

green chillies

1 and 1/4th

tsp

sugar

1

tsp

cumin powder

1

tsp

coriander powder

1/4

tsp

Bengali Garam Masala

3

tbsp

mustard oil

salt to taste
Instructions
Marinate the chicken pieces with yogurt, ginger paste, garlic paste, 1/2 tsp of turmeric powder, little salt, 1 tsp of Kashmiri red chilli powder and 1 tbsp of mustard oil. Keep is aside for 1 hour or overnight in the refrigerator.

Slice one onion and make a paste of one onion. Make a paste of the tomato. Peel the potatoes and sprinkle salt and 1/2 tsp of turmeric powder.

In a kadai, take 1 tbsp of mustard oil and when it is hot, slide in the potatoes. Over medium heat, fry the potatoes for 4 - 5 minutes, just to get a golden colour on the outside.

Take the potatoes out and keep aside.

In the same kadai, add another tbsp of mustard oil. Let the oil reach a smoking point.

Then temper with bay leaf, couple of green chillies, cloves, cinnamon and cardamom.

Add the sliced onion and fry on high heat. Sprinkle some salt and 1 tsp of sugar in this.

Keep frying the onions over medium heat till they have become golden. Then add the onion paste and keep frying.

At this time, add the Kashmiri red chilli powder and keep frying till the raw smell has gone off. Then add the marinated chicken and fry on high heat and coat all the spices on the chicken.

After a couple of minutes, pour in the tomato paste. If your tomatoes are very sour, add only half of it.

Stir it for a minute and add cumin powder and coriander powder. Mix everything thoroughly.

Stir over medium heat for 5- 6 minutes. Then throw in the fried potatoes into this and incorporate everything together.

Add 2 - 3 cups of hot water or just enough water so that the chicken pieces are sinking in the water. Let it come to a boil. Then reduce the temperature and cover and let the chicken cook slowly.

In case you want to speed up, you can also transfer everything to a pressure cooker after add the potatoes and then add just enough water to pressure cook. Give a couple of whistles and the chicken curry is done.

However, when it comes to this curry, I prefer doing it in a kadai. The chicken takes about 15- 20 minutes to cook. Once the chicken and the potatoes have become soft, remove the lid.

Add the rest of the green chillies. Split them in halves and then add them. Sprinkle bengali garam masala, little sugar (if required) and salt to adjust the seasoning.

Give it another boil and turn off the heat.

Serve Rabibarer Murgir jhol with Steamed rice.