Murthy uncle has been my neighbour for the last 5 years. Last year I saw him buying a Royal Enfield bike and could see him glowing in happiness of being a proud owner. Later I found in one of my conversation with him that he is an enthusiastic biker and never lets a chance go by for biking.
With a partner in crime included, I mused to myself that the sojourns of this trip must be aptly captured to make for better memories. And without wasting a second, my mind presented me with the thought of Sayantan Sarkar.
Sayantan Sarkar is a fashion and food photographer and perhaps, one of the best in Kolkata today and a proud owner of a Royal Enfield. When I called him to discuss the Royal Enfield biking gears that I have received, he was more excited than me. He cancelled one of his assignments to come down to check on  the gears and also gladly did a photoshoot for us too.
When life gets complicated I ride 
Biking is sexy. Biking is sleek. Biking is dangerous too. Just like driving a four wheeler, safety will be the key here. Hence, the helmet, the most essential biking gear. The feel of this single unit fibre glass shell outside which can absorb impact and the Internal liner made from Expanded Polystrene Foam gives you a great feeling of comfort. The helmet has a snug fit and the leather piping makes it look the right fit for a long drive. The visor is optically corrected and UV treatment gives it increased scratch resistance. There are other varieties of Helmets too from Royal Enfield biking gear and each one is worth checking out
Four wheel moves the body, two wheels move the soul. 
The bikers are a separate tribe altogether just like the photographers, anglers or any other hobbyists. Royal Enfield is like the most aspired brand to own, possess, ride and flaunt and if you are a brand loyalist, then owning a Royal Enfield biking gear is what increases the connect to the brand. They have a wide range of apparels like T Shirts, Pants, Jackets and Sweat T shirts too. When riding the bike, the T shirts are a style statement which you can make and impress people around.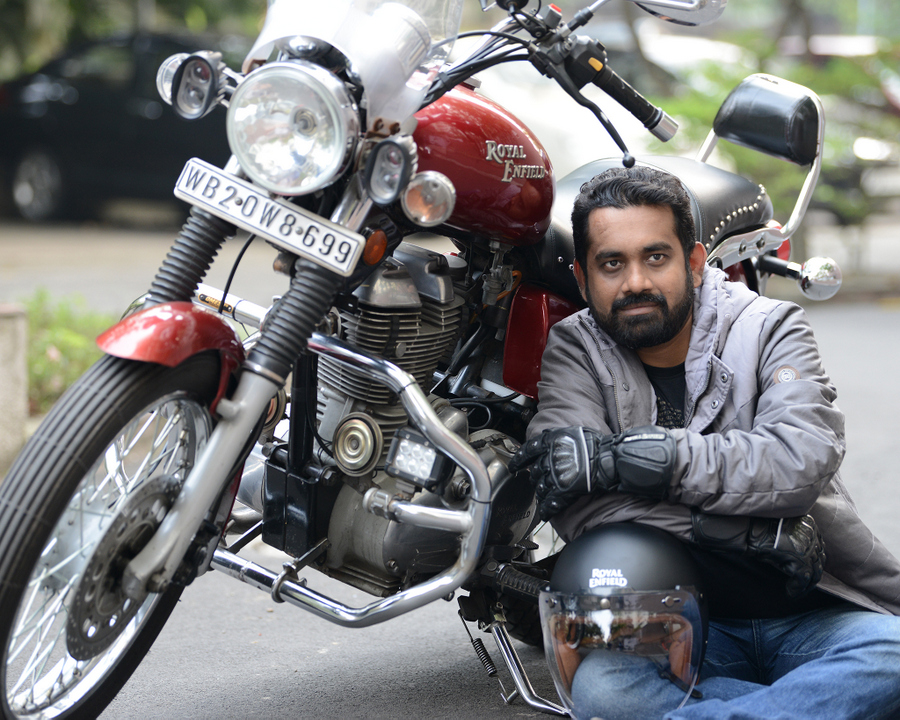 Take the journey, Soar like an eagle, there are so many roads to explore so little time 
The Wanderer Jacket which reached me impressed Murthy uncle and me more. Priced at Rs 5500, this is only 1 amongst many which are a part Royal Enfield Biking gear jacket collection. There are leather jackets, safari touring jackets, Jaisalmer jackets, Urban Scout Jackets, to name a few. The Urban Wanderer jacket comes with hood, cotton coated which will keep the biker warm and pockets on elbow and shoulder to insert armour upgrade. I would use this jacket from Royal Enfield Biking gear which comes with hoodie, for normal tours also and while travelling to cold places or as a matter of fact to Ladakh, which is my long time dream
I don't ride a bike to add days to my life, I ride a bike to add life to my days
As a travel blogger, I have always wished to go for a road trip and more of an off loading and I know that's not an easy job as one has to face bad roads, extreme weather conditions and unknown challenges at every turn. Safety and protection should be of utmost importance and as Murthy uncle and Sayantan were saying, in most of the cases when an accident happens the palm and wrist and knees are the worst affected. The Long riding gloves from Royal Enfield biking gear are one of the best ones to use with wrist covers, pre curved fingers, sure grip palm, dual closure and adjustable cuffs for a better grip.
With all these, I am ready for my next long drive. Thanks for the pictures Sayantan Sarkar. You make me look like a perfect biker and thanks Murthy uncle for your time and the enthusiastic discussion over the gears.
You can check out the Royal Enfield biking gear from here. Thanks Blogchatter for the opportunity to be a part of this initiative. This post is in collaboration with Royal Enfield biking gears.