Most people associate Bengali cuisine as consisting of primarily 'macher jhol' or fish curry. It is a very common misconception that Bengalis eat mosty non vegetarian food and that our specialities revolve around fish curry and kosha mangsho, finishing with a bowl of roshogolla. WIth fast moving lives, our generation has definitely adapted to short cuts in our meal planning. I would assume that like me, most moms would include a dal, a vegetable and a protein in their daily meals. However, everytime I am at my mother's place, I get to experience a full blown Bengali meal which starts with a bitter, moves on to shaak (any green leafy vegetable), then to a mash of some vegetable, moving on to dal (the bhaja is now excluded), another vegetable with a bit of sauce or what we call dalna, then finally the fish curry and ending with doi. On a regular basis, chutney is omitted.
Bengali cuisine has always known to include a lot of seasonal vegetables. Hence during winters, every meal consists of something made with cauliflower. Flat beans, peyajkoli or scallion stalks, green peas, radish, spinach, methi leaves, mustard leaves and many more green vegetables rule the markets and we try to include these vegetables in our daily meals in some form or the other. Shaker jhol is one such dish, which includes most of the seasonal vegetables combined into a light stew, full of flavour and very comforting too. And it is literally effortless ot make it.
My grandmother used to make shaker jhol quite often and it is extremely popular not just in winters, but in summers too. The recipe itself is very simple. It tries to keep the taste of the individual vegetable intact and yet create a beautiful medley of flavour in the stock. The primary vegetables can change as per the season. The leafy green can also be changed. With small or minimal alterations, a shaker jhol can taste completely different without losing out on the essence of being a healthy one pot vegetable stew.
The recipe of the shaker jhol here has spinach in it. However, the day we shot the images, it was made with matar shaak (baby leaves of green peas). Not everyone can get matar shaak, hence I decided to give the recipe with spinach, which is commonly available. During monsoon, one can also use kolmi shaak or water spinach with the same recipe of shaker jhol. The accompanying vegetables can also change. In winters, shaker jhol is made with cauliflower, potatoes, carrots, flat beans, green peas, radish and brinjal. In summers, one can use pumpkin and ridge guard. I never add carrots in summers. Don't like the taste of them.
Do any kind of combination with a variety of vegetables and see how the taste differs. Here is the recipe of shaker jhol.
Pin for future reference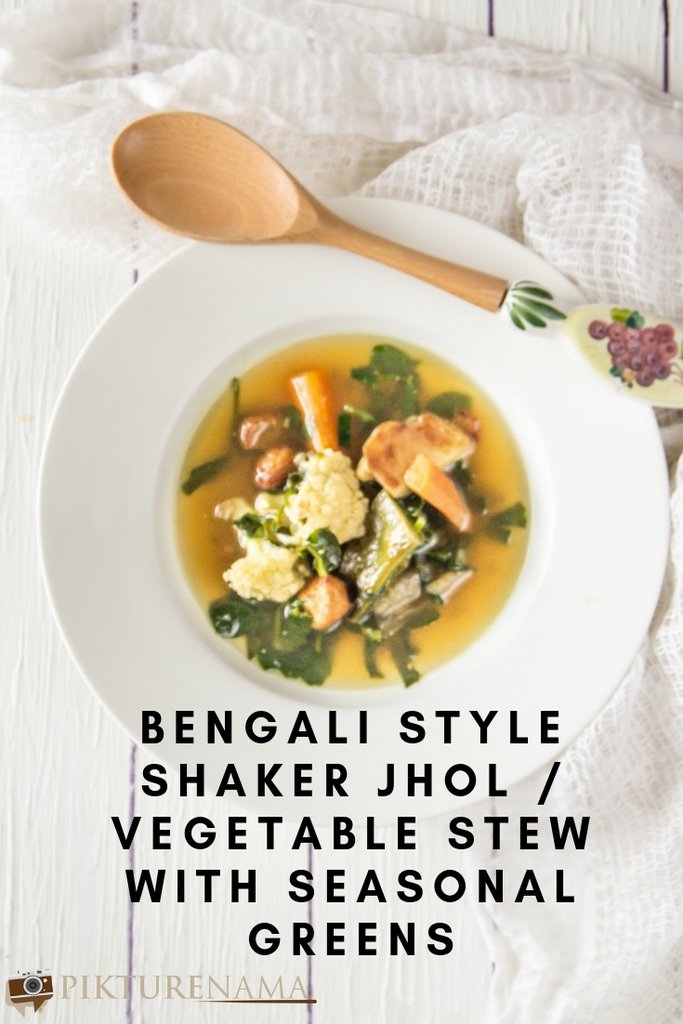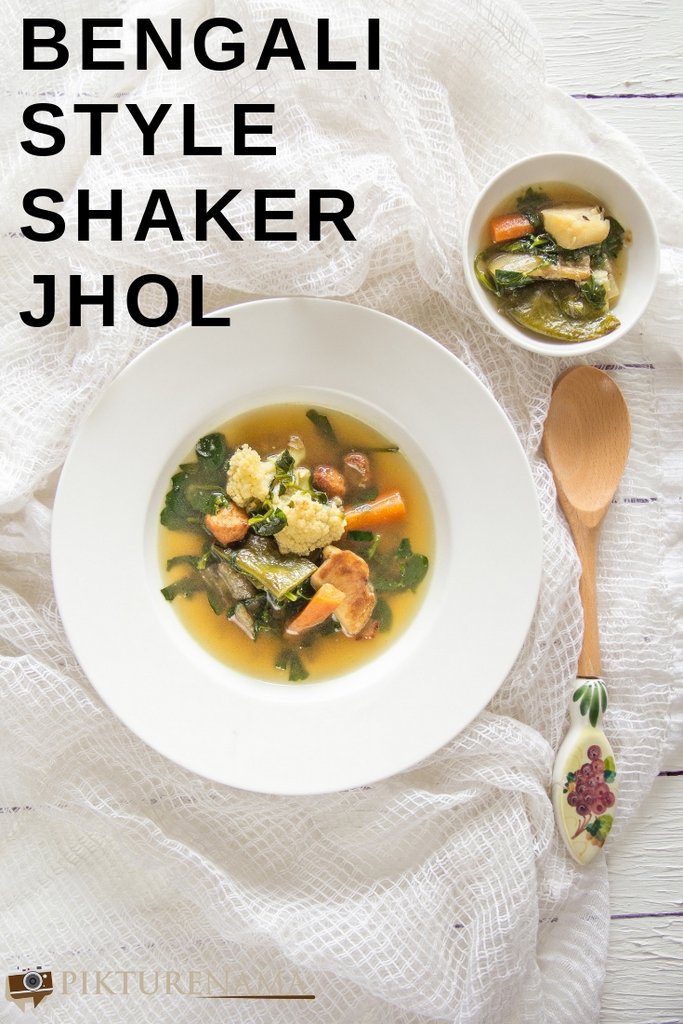 Shaker Jhol- A light vegetable stew with seasonal greens
A light vegetable stew made with fresh seasonal vegetables and leafy green. It is a one pot hearty dish which goes well with rice as well as on its own, like a soup. Recipe Author: Madhushree
Ingredients
1

bunch

spinach

2

nos

medium sized potatoes

1

no

carrot

1

no

radish

8

no

medium sized cauliflower florets

8

no

flat beans or sheem

1/2

cup

green peas

1

no

medium sized brinjal

1

no

bayleaf

1

no

Dried Red Chili

1

pinch

asafoetida/ heeng

see notes

1/2

tsp

cumin seeds

1

tsp

freshly grated ginger

1

tsp

Ghee

1/2

tsp

Sugar

1

tsp

gobindobhog rice flour

optional. see notes

handful of bori/ dried lentil dumplings

optional.

4

tsp

vegetable oil

Salt To Taste
Instructions
Wash the spinach leaves under running water thoroughly. Roughly tear the spinach with your hands and keep aside.

Wash all the vegetables with water and then peel the potatoes, radish and carrots and cut them into one inch cubes. The cauliflower florets should also be of medium size. Cut the brinjals a little larger. Cut the ends of the flat beans and then cut them into one inch and a little more of length.

In a frying pan or a kadai, preferably, add 2 tsp of oil and when the oil has heated up (not too high), fry the boris on a medium heat till they are golden brown. Using a slotted spoon take the bori out and keep them aside.

In case you do not have bori, skip this above step and start from the next step. In that case, you will need only 2 tsps of oil.

Add 2 tsps of oil to the kadai and when it is hot, addadd the bayleaf and dried red chili. Then add the cumin seeds and finally the heeng. Stir it around till the cumin seeds start to brown and at that point, add the potatoes, cauliflower and radish.

Sprinkle some salt and stir everything for two to three minutes onon high flame. Afterwhich, cover and lower the flame and let it cook for five minutes.

Remove the cover and add the carrots. Stir once again and sprinkle a little bit more of salt if required.

Cover once again and let eh vegetables cook in its own juices for 5 to 8 minutes. Then add the flat beans and the green peas. Half way through the cooking of the vegetables, ass the brinjals.

Sprinkle some water from time to time so that nothing sticks to the bottom. The vegetables should also cook uptil a point they are soft and still holding proper shape.

When the vegetables are almost done, add the grated ginger. Add sugar and adjust the seasoning if required.

Let the vegetables simmer in the water over a medium heat. Add the torn spinach leaves, the bori s and finally slit green chillies and top with ghee.

The quantity of liquid you want in the dish is upto you. Add more if you want a very soupy jhol.

Spinach leaves don't take long to cook. At the end you may sprinkle some gobindobhog rice flour. It adds to the fragrance of the jhol.

Turn off the heat and serve it with rice or just as it is in bowls.
Notes
In case you are using matar shaak, do not use heeng. Everything else remains the same. Matar shaak has a very delicate flavour and it does not require any amount of cooking. Just add in the end and turn of the heat. The leaf cooks in residue heat.
The rice flour in the end is also optional. It adds a light fragrance and a little bit of body to the soup. You can, alternatively, add some aata for body. In that case, the colour of the soup becomes little translucent. Or you may not add anything and have a very clear golden soup.