What can be the possible English word for 'Kai'? Curry? Gravy? I don't have an exact word. We have made many Ilish recipes here. The all time favourite of Madhushree is Ilish begun Jhol. According to many ilish machh lovers, this is one dish which does justice to Ilish Machh.The light, almost watery gravy with large or small slized Begun/ Brinjal and Black Cumin seeds with green chilies, is temptation to overeat the rice part. We made Paturi too and there was the family recipe of Doi Ilish which Ma cooked for Madhushree after marriage. However, we realised, we haven't done the Shorshe Ilish here. 
Shorshe Ilish was all time favorite
I grew up with the understanding that lish machh was a seasonal celebration. Which it is even now, other than some restaurants making it a permament feature on their menus. It was a symbol of Monsoon has set in.To an extent, that if it has been a rainy Friday and Sunday – Baba had springs in his steps to go to market on Sunday. It was assumed that one would get a good size, with eggs next day. Doi Ilish was a double celebration. If Ilish was a backhand crosscourt by Federer, then Doi Ilish was like enjoying that backhand at Wimbledon. Sorshe Ilish was Bae but still, it was a happy and good feeling. 
Sil Nora for that mustard paste for
We didn't have a mixer grinder those days. In fact, Ma could accept and get at peace with Mixer grinder at a very old age when she could not use the Sil Nora anymore. The rhythmic sound of stone grinding, brown and yellow small globules with sprinkling of water time and again, turned into a fiery mustard paste. In case like me, you find Sunday sunlight is also special, then I must mention the sunlight through the small east window used to fall on the Sil nora. The mustard globules used to shine. These days, Madhushree makes mustard paste in Mixer grinder and perhaps, it's never the same. 
Bangal and Ghoti division in Shorshe Ilish too
There is always a healthy banter between the food and food habits of Epar and Opar Bangla. You will find many Bengalis with roots from modern Bangladesh, who prefers their Ilish not fried at all. In fact, in Ilish begun Jhol, which gets made in Madhushree's house, it's always sauted for a very brief time and then dropped into the begun/ eggplant mix. In this case also, Madhushree, added her twist to the Shorshe Ilish. Ma used to fry this lightly but Madhushree sauted the fish for 3 – 4 seconds and Ma used to add red chili powder, so the colour was predominant mustard but there was a hint of red. 
I often wonder, if overpowering mustard kills the flavour of Ilish but rarely I have experienced that. For Shorshe Ilish, the wish always remains that more more and strong shorshe. However, Ma always used to balance it and Madhushree also never goes overboard. I often wonder what would have happened if there was no mustard.
The easy way to cook Shorshe Ilish ? Check out this video . Have you subscribed to our youtube channel yet ? 
Do try this recipe and share your feedback. You can reach out to us at our social media handles: Instagram, Facebook or any of our personal Facebook (Madhushree and Anindya) and twitter profiles. Post a picture and tag us.
Pin this on your recipe board? You can find some awesome recipes at Pikturenama recipes in Pinterest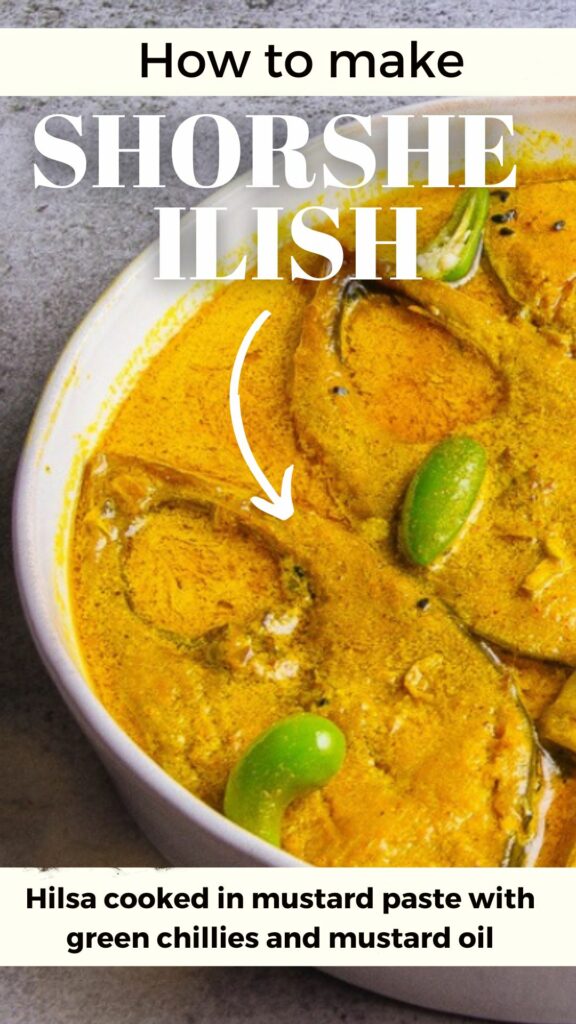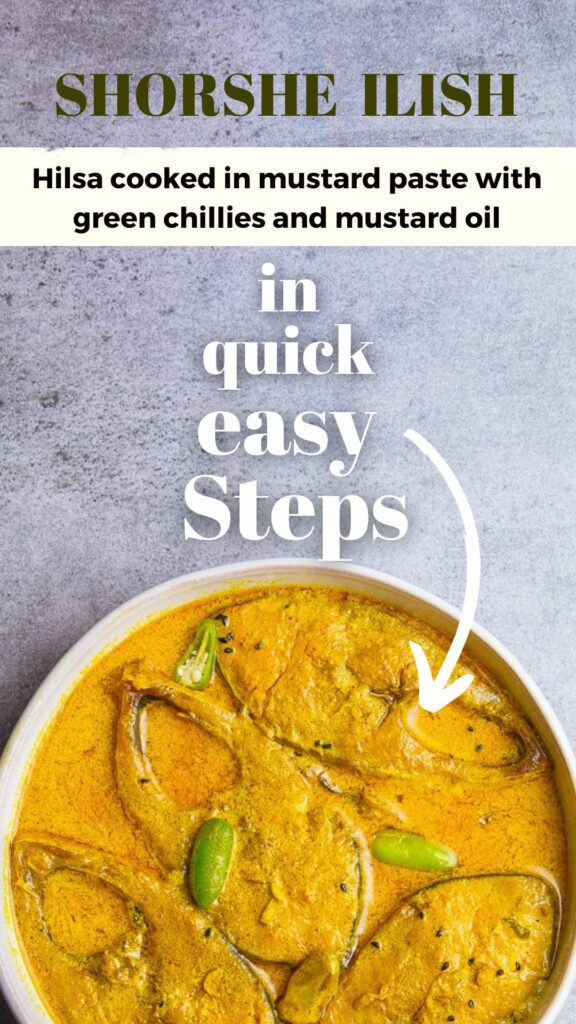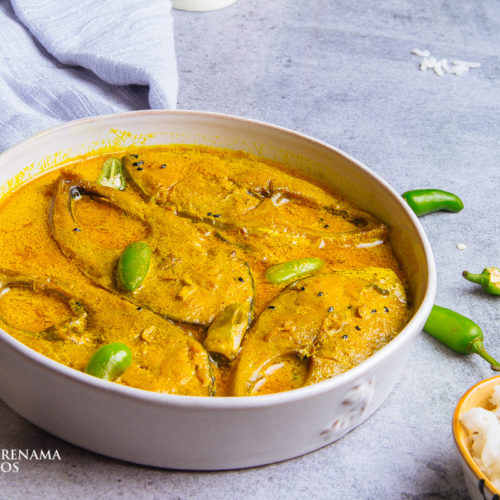 Shorshe Ilish | Ilisher Jhal
Hilsa cooked in mustard paste with green chillies and mustard oil
Ingredients
4

pcs

hilsa steaks

1.5

tbsp

yellow mustard seeds

1

tbsp

black mustard seeds

1.5

tsp

turmeric powder

1/2

cup

mustard oil

1/2

tsp

nigella seeds

4-5

green chillies

salt to taste
Instructions
Marinade the hilsa pieces with salt and 1 tsp turmeric powder.

Soak both the mustard seeds in half a cup of water for 15 minutes.

Discard the water and take the mustard seeds in a grinder jar. Add a couple of green chillies, 1 tbsp of mustard oil and little water for grinding it into a smooth paste. It takes some time to make a good paste and add more mustard oil or water, if required to make the paste.

In a frying pan or a kadai, take 1.5 tbsps of mustard oil. When it heats, add a couple of green chillies and then nigella seeds. Let them splutter. Then add the rest of the turmeric powder and the mustard paste. While you are doing so, keep the heat to a medium to low.

Stir this for a few seconds and then add water. Add as much water as the desired consistency.

Let the water come to a boil and then transfer the fish into the mustard gravy.

Keep the heat at a medium and let it simmer for 3 to 4 minutes. Then flip the fish and let the other side cook for 3 - 4 minutes.

Then drizzle some more mustard oil and add more split green chillies and let it boil.

Season with salt if required and once oil starts to rise, turn off the heat.

Serve shorshe ilish with steamed rice.