It was day 4 of our Kashmir trip and after an overnight stay at Pahalgam, we set out for local sight seeing tours around Pahalgam. This consisted of Aru Valley and table top, Betaab Valley and Chandanwari.
But this is not about these tourist spots but the school at Aru Valley.
Tugga was just about to turn 4 and for him, school was still like that new girl in college. An uncertain relationship which has all the possibilities of turning in any way. He was thrilled to see this school. Imagine a school surrounded by serene beauty like this. Aru valley or Adu valley as popularly known as, is about 12 kms from Pahalgam and 11 km upstream from Lidder river.
We didn't want to disturb the students or the ongoing class as the children sat outside open air with a wonderful view of the mountain ranges in front of them. By the time they realized that we are clicking pictures (I tried to be as clandestine as possible, however soon was busted) they started hiding their faces. A no frill classroom amidst the nature is the best that one can ask for. One white board and random seating arrangement is all that you need.
Seeing us, the teacher came down to have a chat with us. It appeared that he had joined that day only as the Head master of the school. A humble middle aged local with typical Kashmiri features, he shared that he is also a local and started reading at this school only. The school at Aru Valley or the pathshala as its known locally remains shut for 6 months a year almost for various holidays and inclement weather.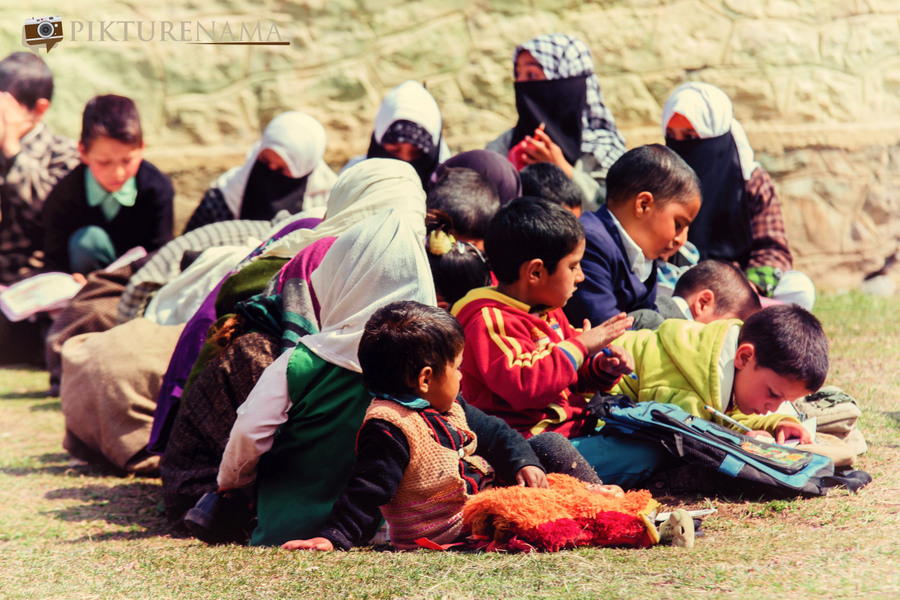 Whenever you read about Aru Valley, there will be Green top, the horse trail and the scenic beauties; however this school at Aru valley and the innocence of the kids is what will remain with us forever. Throughout the entire experience what moved us most was that amidst the innocence of the kids and the calmness, there is a high degree of uncertainty about the future which we know and they are yet to realize.
If you are visiting Aru Valley in the near future, then amidst all the tourist spots please also visit this school. I don't know about others, but it did evoke very strong emotions in me as well as in Madhushree and it took us back to our school days. Nowadays schools in cities are all about concrete. There are barely even playgrounds, let alone outdoor teaching style in nature. How we wished we could leave everything and let our child study in a simple school amidst nature (of course, that is minus all the insurgency that is prevalent in Kashmir).
I wish I can make Tugga realise this soon, real soon –
Sometimes, it's better to bunk a class and enjoy with friends, because now, when I look back, marks never make me laugh, but memories do. – A.P.J. Abdul Kalam