Today is one of those days when I do not feel like writing. I am not a natural writer or rather, I do not have an inclination towards it. I don't love it either. All my growing up years, my father asked me to maintain a journal or a dairy to pen down my thoughts. Each time, I would vehemently protest the idea in my head and I never did write other than what was required in school. And here I am, day after day, for the last 5 years, hitting the keys on my laptop and pouring out my heart in this blog. Initially, I was required to only write down the recipes. Then it came to writing the various food or restaurant reviews. When it comes to writing reviews, I find it easier and if I have enjoyed a certain experience, then words just flow out. Hence I end up writing more of reviews. Lately, I have started writing a lot of the recipe posts. Anindya seems to be focusing on travel and other posts. There are some who are natural story tellers. I am not sure if I am or not but I need extra self motivation to sit and write down a post. And when there are days like today, it is quite a challenge. The name 'nutella hot chocolate' is supposed to stir up many warm fuzzy thoughts. So, I went into the kitchen and got myself a nice cup of nutella hot chocolate and then, sat down with the lap top to write this post.
There are some drinks which are winter specific and some, which are meant for summers only. Then there are drinks like hot chocolate, which can be had round the year. Some would disagree with me and would associate hot chocolate with only winters. But hot chocolate has been our night companion for the last five or six years. Every night, post dinner when Anindya and I sit down with our lap tops and start to work in absolute peace, Ashok (our man Friday), asks us if we would like to have something. And that something is usually a cup of hot chocolate. The variant of hot chocolate changes. Ashok has now been taught to make nutella hot chocolate. Whenever there is  a jar of nutella at home (which is almost round the year), he makes nutella hot chocolate. Other times, Ashok simply stirs up a few tea spoons of drinking chocolate in a cup of milk and we drink it up in utter disgust. Then there are times, I feel very luxurious and end up making hot chocolate with chopped up dark chocolate and milk and jazz it up with some spice. I cannot rely on Ashok for the last one. I have to do it myself. But nutella hot chocolate is so easy to make that once you know the ratio of milk to nutella, it's a breeze.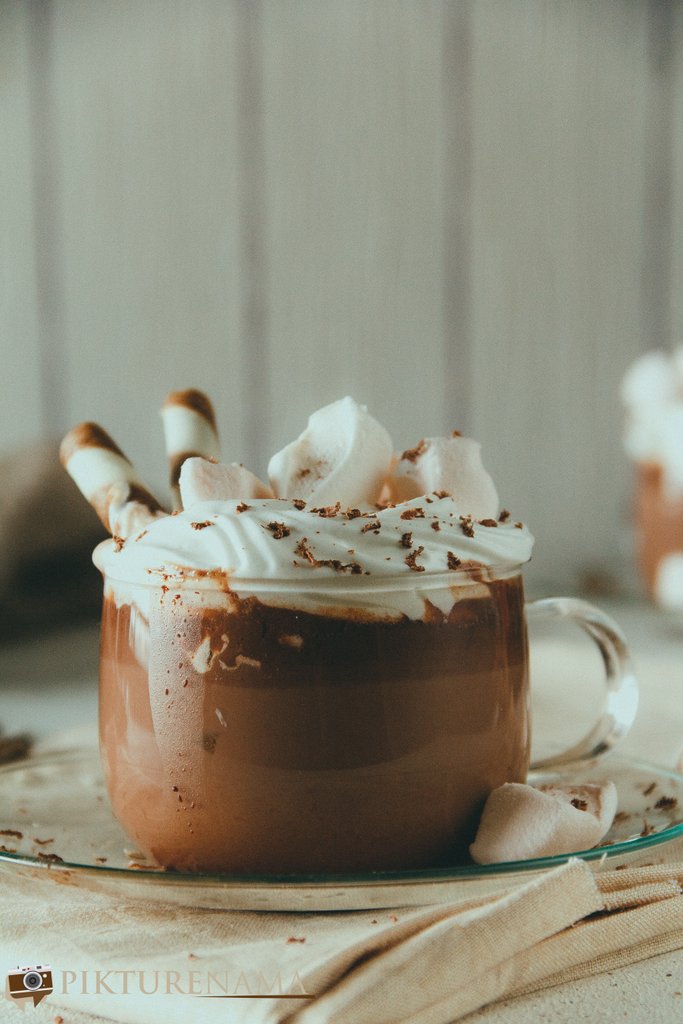 All you need is a saucepan with milk, a jar of nutella and some good quality cocoa powder. I add the cocoa powder, since I find hot chocolate with only nutella extra sweet. A little bittterness from the cocoa powder literally balances out the drink. There are a wide variety of toppings that you can think of to make nutella hot chocolate a truly exquisite chocolaty beverage. A dollop of heavy whipping cream is by far the best. Children love some marshmallows on top of nutella hot chocolate. Honestly, I love marshmallows too, especially when I use my blow torch to make smores and then top them on the nutella hot chocolate. Chocolate shavings, chocolate sprinkles, whipping cream with chocolate sauce; the options are numerous. Just get creative.
Pin for future reference ?
The Best Way To Make Nutella Hot Chocolate
A cup of rich chocolate drink made completely with nutella, giving it that wonderful hazelnut flavour and bitterness added by some cocoa powder. The hot chocolate is jazzed up with some whipped cream, marshmallows and chocolate shavings. Recipe Author: Madhushree
Ingredients
2

cups

Milk

3

tbsp

nutella

it needs to be heaped tbsp

2

tsp

cocoa powder

handful of marshmallows for garnish

whipped cream for garnish
Instructions
In a saucepan, take the milk and add three heaped tablespoon of nutella. Add the cocoa powder as well. Now turn on the heat and stir the nutella and cocoa powder till they completely dissolve. Keep the heat low so that the milk doesn't boil before the nutella completely incorporates with the milk.

Pour in mugs and then top with whipped cream, some marshmallows and grate some dark chocolate over it. Serve it hot.