Will you judge me if I tell you that I had a crush on Amrita Singh?
Will you judge me if I tell you that I have also been a fan of Shabbir Kumar?
Now if I tell you that I am a fan of Sunny, I am sure you won't judge me …
Betab, as a film had everything which I loved – Sunny Deol, Shabbir Kumar, RD Burman and it had Amrita Singh. My love for Amrita Singh began with Jaane kya baat hai in Sunny. I first watched that song in Chitrahaar (the only window to get a forbidden taste of Hindi film songs in that era), at a neighbour's place. Waqt jaisa ruk gaya… She was like a school sweet heart. With time, there was Juhi Chawla in QSQT, Madhuri Dixit in Tezaab, Pooja Bedi in Jo Jeet wohi Sikandar and not to forget, Sridevi. However, Sridevi was like that school senior, who always drew a sigh but you knew that she was unapproachable. In between all of them, Amrita Singh somehow faded away…….Her dimples, her dark brown beautiful eyes, long hair and a certain innocence, all got lost. Films reduced, roles got shortened, but be it Chameli ki shaadi, Raju Ban Gaya Gentleman with tu mere saath saath aasman ke aagey chal or Pyar Ka saya or Aaina; always watched her with a slight twinge in my heart.
If you are visiting Betaab Valley and are a Amrita Singh fan, then you cannot help but remember all this. Betaab Valley is the place where the film was shot . When you visit Pahalgam, the regular tourist spots include Aaru valley, Betaab Valley and Chandanwadi.
Betaab Valley is 15 mins from Pahalgam and most of the time, you will reach here on your way back from the day tour. It somehow resembles Amrita Singh. As a biased fan, I always felt that she had immense potential in acting and perhaps, can still do justice to a meaningful role. Betab was her debut film and although, she continued giving a few more hits, she slowly disappeared into oblivion.  Well, same goes for Betaab valley too. This valley, I am sure, must have been a hot tourist spot once upon a time in contrary to the present day. It still has massive prospect in being more than it is.
There is an entry fee and then there is a silence which engulfs you. We went in the month of March, so the green meadows were barren. There were few flock of sheep which were moving around, the silent stream with ice freezing cold water flowing down the mountains and there was the cottage. The cottage where Betab was shot. The original bungalow where the song was picturised has been demolished but the small cottage still remains. Words cannot describe my feelings for standing in the same place where almost 35 years back, this film was shot.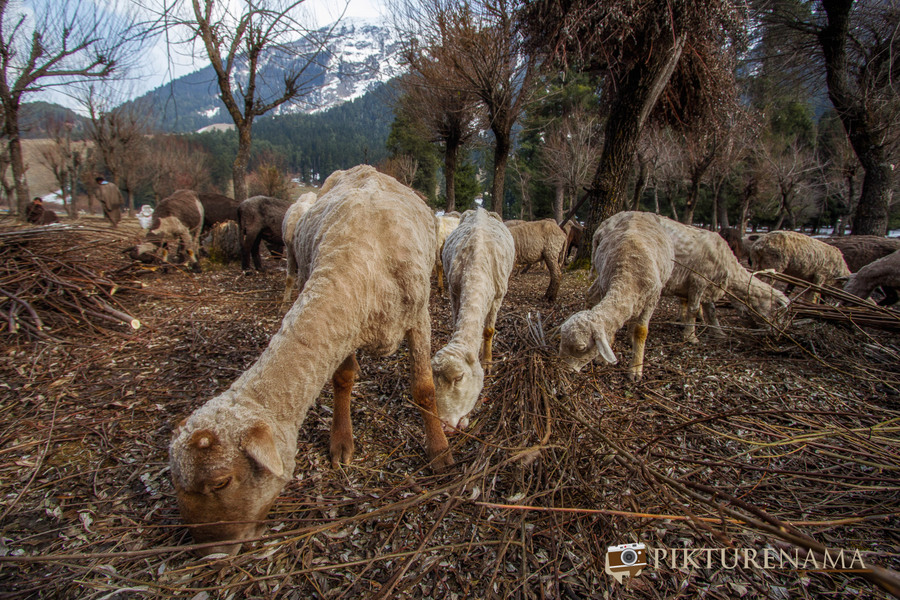 What do you do in Betaab Valley? Well nothing. Take a stroll, sit down on the bench, play with the lambs as they are headed by a shepherd, feel the air and an ultimate sense of quiet and peace. My son had a fascination for Shaun the sheep and he was thrilled. If you are a traveller and not a tourist, then catch up on a conversation with the shepherd and he will happily pour his heart out and perhaps pose for you. Taste the Maggi (which never tastes the same at home), Kahwa or coffee (there is only one small food shack here) and that's it. If you are lucky, then you will see flock of sheep and lambs headed towards their home in the evening.
If this place was in any European country, then this would probably have been a tourist hotspot with developments all around and enough engagement for the tourists to spend some time. But then this is not in Europe and this is Kashmir we are talking about. I can only hope and pray that someday in the future, things will change in the valley for good.
I wish to see Amrita Singh in more substantial role and I hope Betaab valley improves for good.