This April, the entire household had all the members (not counting the junior versions) Covid affected. It happened in a phase and Madhushree was the first one to show symptoms and within a couple of days, she lost her taste and smell.
We self quarantined and Madhushree's family, who stay nearby, started sending food. My mother in law is indeed a great cook. Just like the recipes from my mom (Phulkopi roast, ranga alur roshopuli, doi Ilish to name a few) which have got a permanent placeholder in the menu, my mom in law also has a repertoire of recipes which we keep try time and again. The recent being the Bhekti macher malaikari. 
You can check out our professional food photography offerings here.
Your food deserves to be shown off in the best possible light and that's exactly what Pikturenama Studios delivers.

BEHANCE
Change in taste buds and the good samaritan neighbour coming to help
Neighbourhood para culture is long lost in Kolkata. It's still there in the suburbs, in my hometown Chandannagore in particular. At the place, we stay now, we have many acquaintances and few neighbours whom we can rely upon. Over the years, some of them have become good friends and all courtesy Tugga and Madhushree, one such is Sudarshana, Ramesh and their two daughters who stay in the same building on the 10th floor.
It's a relationship that has grown over the years from 'hi and hello' in the lift, chat at the tennis court, sharing a drink and meal together and so on. Both the husband and wife stood by us like the rock of Gibraltar in times of crisis. There wasn't a day when they didn't check on us. It was one such day, Madhushree and I were down with the loss of taste and smell, a Whatsapp reached us. It came with a small tiffin box outside our door.
For more recipes you can check out our Youtube channel – Cook With Pikturenama 
Kale Chane and then later it was Kala Chana chaat
We fought a life-changing battle between Kale Chane and Kala Chana Chaat. As they say, in all places that you need nutritious food and proteins in particular, so Sudarshana had sent us Kale chane. Kale chane, also known as sookhe kale chane is a cooked black chickpea stir fry with spices coating the little black jewels. And later when I was back from the hospital, one evening Madhushree made this Kala Chana Chaat. I was never fond of Kala Chana honestly. For me, it is mostly chhola makha with onion, cucumber, tomato and potato slices. We don't boil but only soak the chickpeas and mix them when they are about to sprout. 
The Para culture as I have grown up with
Neighbourhood, para culture was a great support in the growing up days. A small tiffin box with the dish of the day, the latest issue of Bengali film magazine often got exchanged. The windows facing each other would be the platform for a heated debate on the supremacy of Mohan Bagan or East Bengal. There were evening football and cricket matches, Holi, Durga Pujo, cultural functions – you name it and you miss the camaraderie of those days. The standalone buildings got replaced by apartment and societies where you don't even know the name of your neighbour. I always wonder if the neighbours in the past were more than modern-day friends. I don't want to categorize Ramesh and Sudarshana into either. Can say as much that we are blessed to have them in our lives. And Kala chana chaat will always be special henceforth.
Health Benefits of Kala Chana Chaat
Power-packed with protein

Oil-free

Gluten-free

Vegan

No added sugar

Loaded with fibre as well

Facilitates weight-loss

Tomatoes have antioxidants with numerous health benefits
Do try this recipe and share your feedback. You can reach out to us at our social media handles Instagram, Facebook or any of our personal Facebook (Madhushree and Anindya) and Twitter profiles. Post a picture and tag us.
Pin this for your recipe board? You can follow us on Pikturenama recipes for more recipe ideas (Link)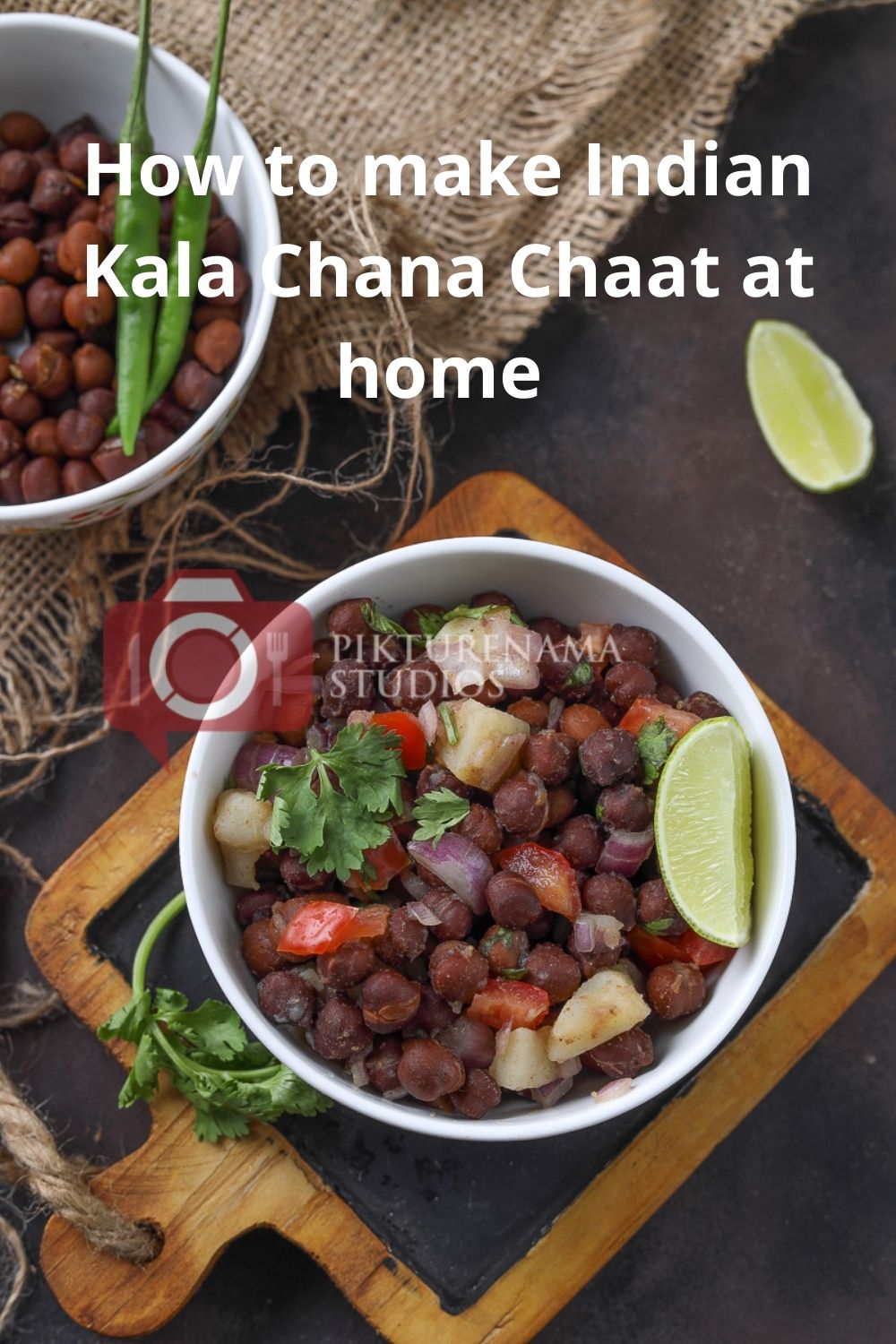 Kala Chana Chaat | Black Chickpea Chaat | Vegan Recipe
A healthy and nutritious jumble of ingredients comes together to become this delicious chaat, which makes for a great evening snack as well as a salad.
Ingredients
1

cup

kala chana

black chickpeas

1

no

tomato

1

no

onion

handful of coriander leaves

2

nos

green chilies

1

tsp

chaat masala

1/2

cup

boiled potatoes

optional

1

no

lemon

black salt to taste

1/2

tsp

bhaja moshla

see notes
Instructions
Wash kala chana and soak in 2- 3 cups of water overnight

Drain the water and rinse the kala chana the next day. If you are making it the same day, then soak in hot water for 2- 3 hours.

Then boil the chana in a pressure cooker or a saucepan with boiling water till they have become soft but holds shape

Once done, drain that water and transfer the kala chana to a mixing bowl. Cool it down in the refrigerator before making the salad.

Finely chop the onion, green chilies and coriander leaves. Deseed the tomato and finely chop it. Cut the potato into small cubes as well.

Transfer everything to the mixing bowl.