There is khichdi for the rest of the country but we Bongs, take immense pride in our different types of khichdi. We have bhuni khichuri, which is the dry variety with moong dal. The rice grains are literally separate from each other. Bhuni khichuri is served during Durga Puja or Lakshmi Puja. There is another type of bhuni khichuri, which is also most commonly known as pujor bhoger khichuri. This one is also with roasted moong dal but has a lovely mushy consistency. It is quite rich in flavour and laden with ghee. Hence, it is not a regular food but is cooked only on special occasions. Contrary to the above khichuri, Bengali masoor dal khichuri is the ultimate comfort food. 
Bengali masoor dal khichuri is usually associated with monsoon or cold winter nights
It's almost like a switch in the brain. If it rains heavily, take out your pressure cooker and make some masoor dal khichdi. And it's not an exaggeration if I say that this applies to almost 99 percent Bengalis. This khichuri is often paired with Ilish mach, which is Hilsa. Deep-fried Ilish mach, which we call Ilish maach bhaja with some patla (runny) masoor dal khichuri is a pairing made in heaven. So, during winter, Ilish maach is replaced with any other fish fry or an omelette. We have our kind of omelette too. It is called mamlette and we make it with mustard oil. Some papad and begun bhaja on the side and you are sorted. 
Turn your dishes into art with Pikturenama Studios' food photography.

BEHANCE
How is masoor dal khichuri different from other khichuri?
All other khichuri, especially the ones with moong dal are pure vegetarian. That is, they are cooked with onion and garlic. Whereas, in the case of masoor dal khichuri, we cook it with onions, ginger, and garlic. Also, the consistency is thinner and we don't add too many vegetables to this. It is of a runny consistency, much like a soupy khichuri. The spices used are also minimal. And sometimes, you can be indulgent and add some mutton keema to the khichuri too. 
The inevitable part of Khichuri bhog is the Labra torkari. Check out how to make it. Join our youtube channel for more videos 
How to make dimer mamlette with the khichuri?
Mamlette is the Bong version of omelette. Mamlette also has finely chopped onions, green chilies and coriander leaves (optional) like a masala omelette. Whisk it well and then comes the part which makes it different. You have to make it in a kadai and you have to use mustard oil. Also, a little generous amount of mustard oil makes it nice and fluffy. And now without any more dilly-dallying, let's move on to the recipe of Bengali masoor dal khichuri. 
Do try this recipe and share your feedback. You can also reach out to us at our social media  handles Instagram, Facebook . You can also tag us on our personal Facebook (Madhushree and Anindya) and Twitter profiles. Post a picture and tag us.
Pin this on your recipe board? You can find some awesome recipes at Pikturenama recipes in Pinterest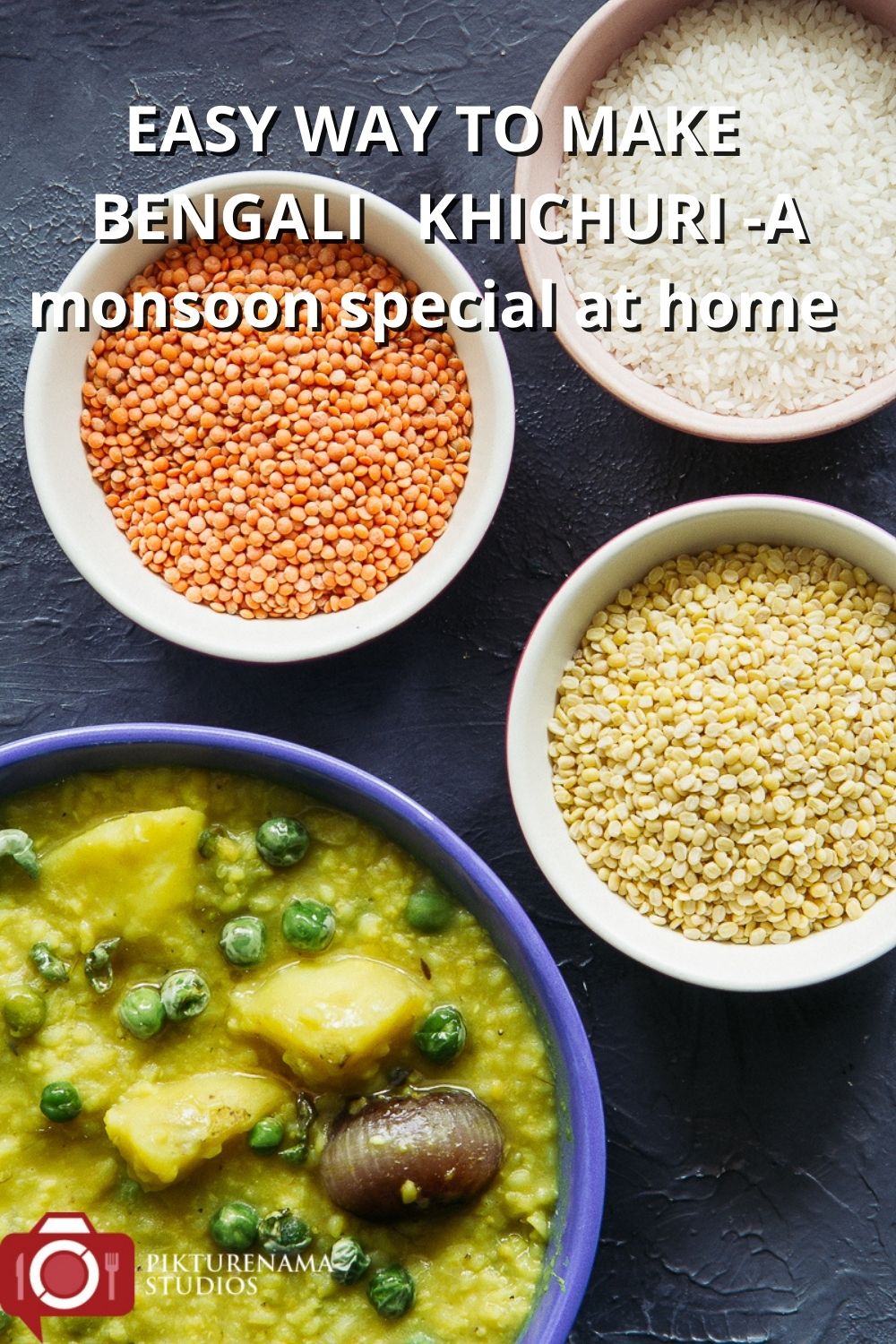 Bengali Masoor Dal Khichuri/Khichdi
Masoor dal and gobindobhog rice cooked together with onions, garlic and ginger is the ultimate comfort food.
Ingredients
½

cup

masoor dal

red lentils

¼

cup

moong dal

small yellow lentils

½

cup

Gobindobhog rice

or any short-grained fragrant rice

3

nos

large onions

or 8-10 shallots

2

tbsp

chopped garlic

4-5

nos

garlic cloves

1

tsp

ginger paste

3

nos

cloves

2

nos

green cardamom

1/2

inch

cinnamon stick

1

tsp

cumin seeds

1.5

tsp

turmeric powder

2

nos

bay leaf

1

tsp

sugar

1

cup

green peas

2

large

potatoes

2

tbsp

ghee

1

tbsp

mustard oil

2-3

nos

green chilies

optional
Instructions
Dry roast moong dal over medium flame till the dal becomes just a little bit red. It's better not to roast it too much for this dal. Take the dal out of the hot kadai and leave it to cool down.

Measure out the rest of the dal and the rice. Take them both in one container. Add the cooled down moong dal to this. Wash all three together three or four times. And then drain out all the water.

Peel the potato skin and cut the potatoes into quarters. Cut the onions into large quarters and if you are using shallots, you can use them whole.

Wash the peas and keep aside.

In a pressure cooker, take 1 tbsp of mustard oil and 1 tbsp of ghee. Then when the oil becomes hot, add bay leaf, cinnamon, cardamom and cloves.

As soon as they start to splutter, add the cumin seeds, onions, ginger and chopped as well as whole garlic cloves. Stir fry for a couple of minutes. Keep the heat at medium so that the spices don't burn.

Add the potatoes and green peas. Sprinkle a little bit of salt and stir fry for a couple of minutes.

Add the rice and dal mixture. Add turmeric powder, salt and sugar and stir fry with the spices and vegetables for two to three minutes.

If you want, you can add a couple of gree chilies here. After that, add 3.5 cups of water and give it a boil. Adjust salt and add more turmeric powder if you feel that it is not enough yellow.

Then close the lid of the pressure cooker and let it cook for 1 whistle or 10-12 minutes. At the same time, boil a litre of water in another pan and keep it hot.

Don't force the steam out of the pressure cooker and let the potatoes cook in the steam. Once the steam has released, open the lid. Then add hot water and gently stir. Masoor dal khichuri has to be of runny consistency. Hence a lot of water is required.

Finally, add ghee and serve hot with some fried fish or begun bhaja, papad or some omelette. You can also make some Bengali-style omelette called mamlette. You will find the description of mamlette in the post above.