It is perhaps the easiest of all Indian mithais- Besan Laddu. Come September, markets are flooded with different kinds of ladoos and Indian sweets. It is the beginning of the great Indian festival months starting from Ganesh Chaturthi and continuing till Diwali and chhath puja.
No matter how much you try, this isn't the season to go on a diet. At least, that applies to me. There is so much temptation and the craving for Indian mithai goes up till December when the cakes enter the market. Besan ke laddoo, halwas, kaju barfi, gulab jamun and so on. And then we live in the land of mishti in Kolkata. Every two-step, there is a mishtir dokan enticing us with their offerings.
If you haven't tried this recipe of pantua, then do it now
Ganpati Bappa has always been associated with modaks and laddus. While I am not a massive fan of the traditional modaks and find it challenging to make them too, it's not the same with laddus. They are relatively easy to make, especially besan ladoo. You need only 3 ingredients- besan or Bengal gram flour, sugar (preferably boora) and ghee to make good besan ke laddu. A handful of dry fruits can enhance the flavour. There are so many stories of Ganesh ji and why he preferred laddu that I cannot give you one specific theory. But yes, every idol of Ganesha will have laddu in his hand or a plate of motichoor laddu in front of him. Well, nevertheless, besan laddu is also a great choice for Ganesh Chaturthi as well as Diwali.
Few things to keep in mind while making besan ladoo
The quality of the besan matters. You can get besan specifically for making laddus that are coarse in texture. Alternatively, take a handful of Bengal gram, and roast it well. Then grind into a coarse powder. Mix this with the regular shop-bought besan and that should give you the necessary texture

Always dry roast the gram flour for 5 minutes before adding ghee. I think it brings out the flavour of the besan.

Also, add a pinch of turmeric while roasting so that you get a little bit of added colour and the raw smell of the turmeric also goes away by the time you add the ghee

Use the best quality desi ghee

Using dry fruits is optional and the same for cardamom powder. I don't prefer the flavour of cardamom, hence I skipped it in my video

The ratio of besan to sugar to ghee is 4:2:1 . Having said that, sometimes you may need a little extra ghee or a little less, depending on the quality of the ghee. So keep a tsp of ghee handy while doing the final mixing

Coming to sugar- you must use boora. Boora is a coarse sugar used specifically for halwas and laddus. You will get it on Amazon or any other online portal or local grocery store. ABoora or bura is a powdered sugar that is caramelized, dehydrated and then powdered. Alternatively, you can use castor sugar as well but that won't give you the same texture

While roasting with ghee, you cannot leave it unattended. You have to stir continuously for 10- 15 minutes or until the colour has deepened, the ghee starts to release and the texture becomes like a thick lava

You have to cool this down completely before adding sugar or else you will have a watery mess

Finally, while rolling besan laddu, if you find it too sticky, refrigerate for 10 minutes and then start shaping.
Share your cooking with us
Are you following us on our youtube channel Cook with Pikturenama?
Do try this recipe and share your feedback. You can also reach out to us at our social media handles Instagram, Facebook or any of our personal Facebook (Madhushree & Anindya) & Twitter profiles. Please post a picture and tag us.
Pin this for your recipe board. You can follow us on Pikturenama recipes for more recipe ideas (Link)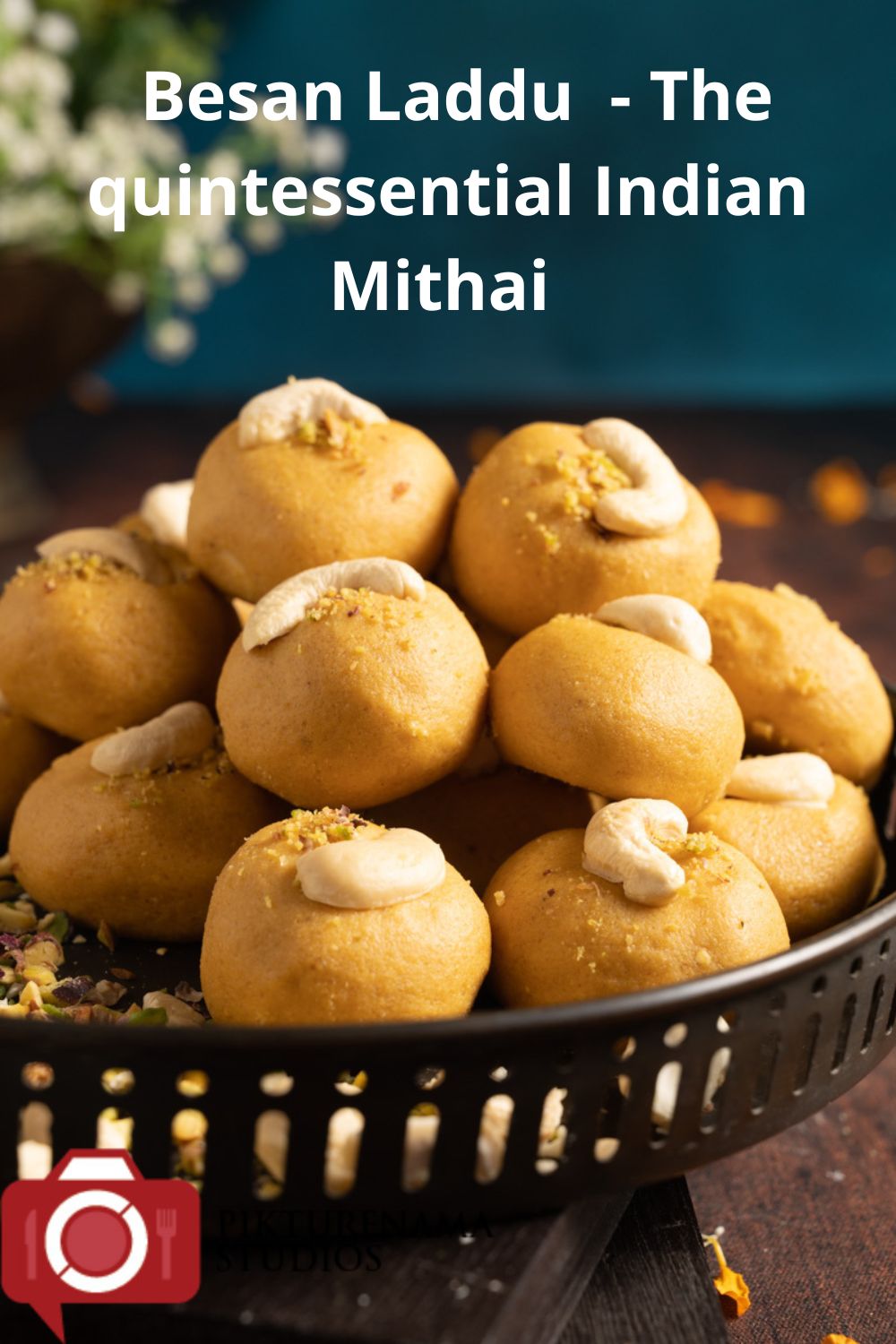 Besan Laddu | Besan Ladoo
Besan laddu is a traditional Indian sweet made during festivals. It is made only with 3 ingredients- Bengal gram flour, sugar and ghee
Ingredients
2

cups

besan or Bengal gram flour

see main text for tips on the texture of besan

1

cup

bura or boora sugar

coarse powdered sugar

½

cup

desi ghee

1

pinch

turmeric powder

1

pinch

cardamom powder

optional

a handful of dry fruits chopped

optional

a handful of cashews for decoration

1

tbsp

powdered pistachio for garnish

optional
Instructions
Dry roast the Bengal gram flour in a heavy-bottomed kadai or frying pan for 5 minutes over low heat. Add a pinch of turmeric powder and continue stirring for another 2- 3 minutes.

Add ghee to this and keep stirring for 15 minutes. The heat has to be low and you have to stir continuously. Ensure that there aren't any lumps of besan and that everything has mixed well.

When the colour deepens and you can see the besan shining with ghee, that's when you know that it is ready.

Remove it from the flame and transfer it to a cool plate. Spread this out and let it cool down completely.

Add the dry fruits, cardamom powder and the bura and then use your hands to mix this well.

After that, make small balls and roll them on the palm of your hand to shape them.

Place the laddus on a plate and garnish them with pistachio powder and cashews.

Serve immediately or store in an airtight container in the refrigerator.

It stays well for 2 weeks.