Why we selected to make Doi Begun 
There would rarely be a blogger who would not like to release a book someday. In this digital age, the thrill of seeing your name in print and holding the first copy of the book is like holding your baby. That feeling is unparalleled. Kankana Saxena has been blogging for years now at playful cooking, which was earlier called Sunshine and smile. When her book on Bengali recipes – Taste of Eastern India reached our doorstep, it was a happy feeling for both Madhushree and me. 
You definitely need to pose with a new book and a personalised hand written note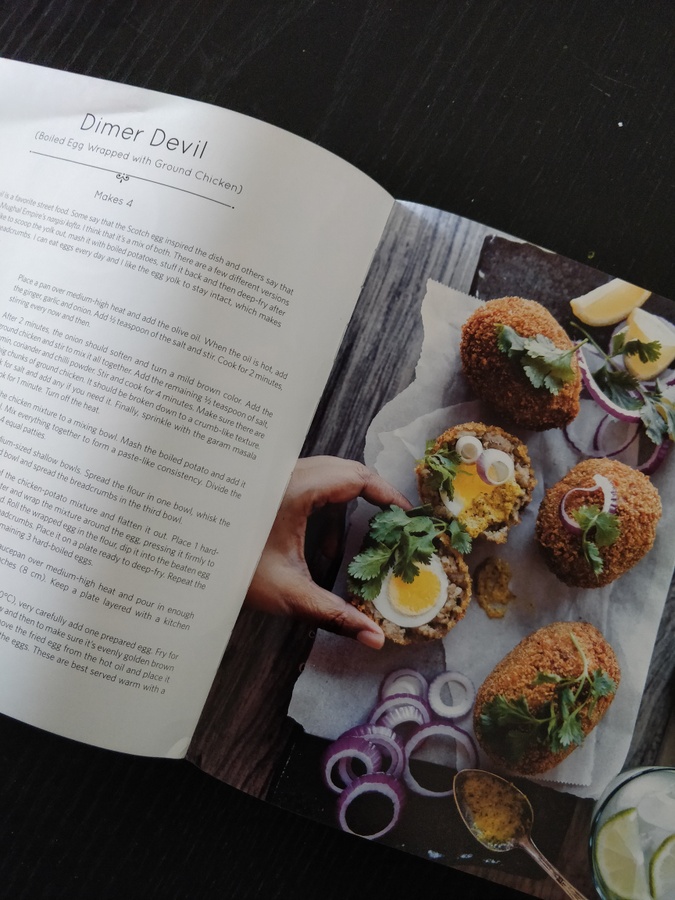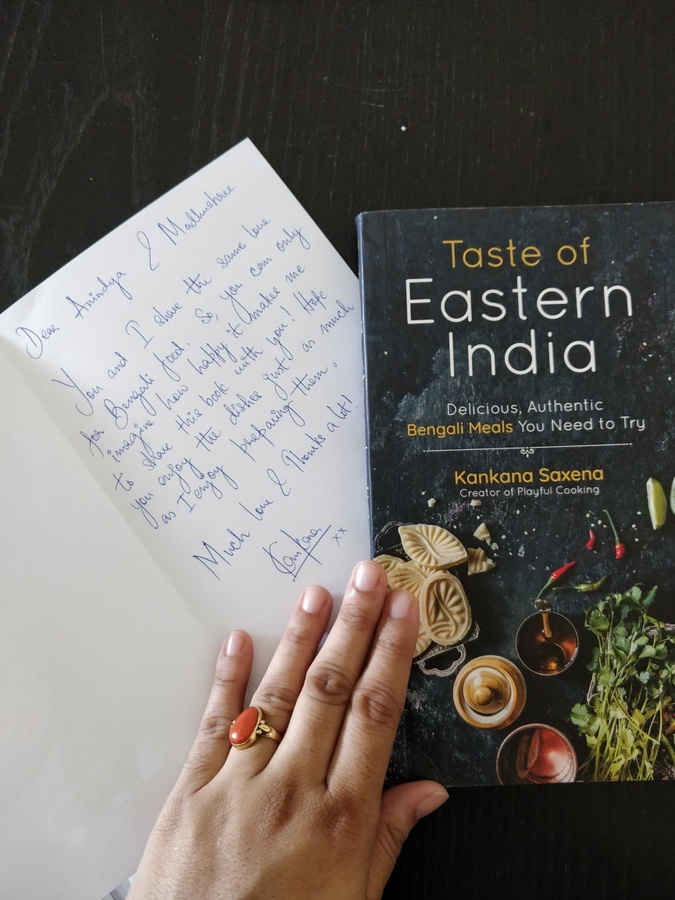 I have been a follower of Kankana's blog for years now. It's her people photography (interestingly) in her food blog which attracted me to follow her blog. Just as it happens with any reader, I developed a relationship with her blog. In the last three years, she shifted cities and countries in between but just as a true blue dedicated blogger, she worked on her recipes and Bengali recipes in particular. 
This is not a review of Taste of Eastern India 
Expression of opinion cannot be considered as a review, as I am not professionally qualified to review a book. On the contrary, I can confess I am biased towards this book as this book like few others, encourages you to aspire for a book publication. This is a recipe book which should ideally entice you to cook. Easy recipes, back end stories of the author and an attempt to make Bengali cooking look easy and approachable as well as interesting, is what makes this book a smooth journey between the covers. The book is divided into 5 sections – Let's start with the basics, For the love of rice (yes the Bangaliana starts) – one cannot miss the Bhoger Khichuri here. It may be very insignificant and may not be held at high esteem in terms of cooking technique or complexity of flavours but ask any Bengali, the emotional impact of this dish is too high. Deep fried goodness – the Chandannagore boy who grew up on tele bhaja skimmed through this section many times. She starts with easier ones like jhuri aloo bhaja, beguni and graduates to Chicken Kobiraji to Dimer Devil in this section.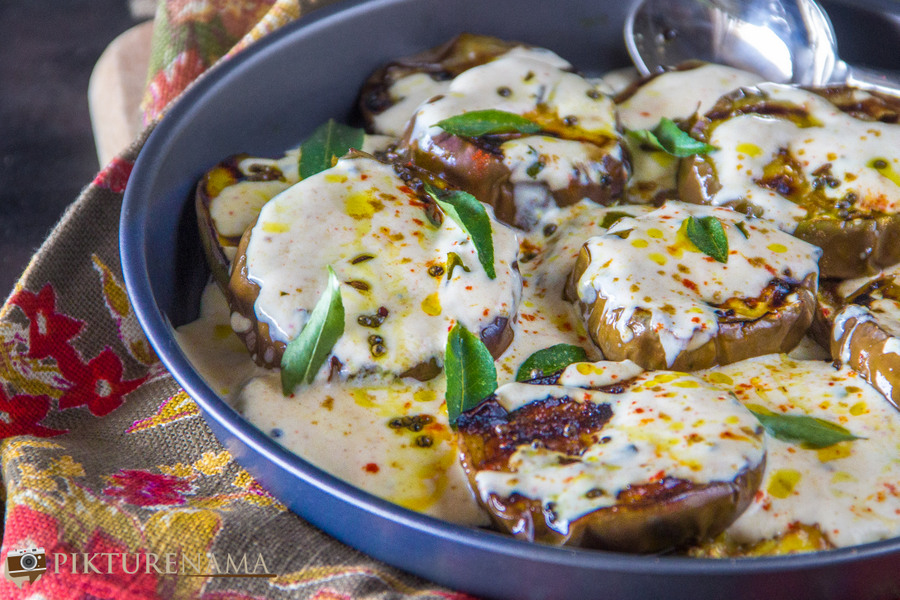 Then it's Feel Good Food, which is the comfort food and in Kankana's words – she feels nostalgic whenever she cooks these dishes. While the puritans may always raise a question on why Alu Seddho Makha (although there is a surprise when she presents 3 varieties of the same) but my question will be, why not? A comfort food is always simple and yet it needs to be documented. There is Panta Bhat, Begun Poda, Piyaj Musur daal and some more.
The plant based main dishes could have had more dishes and that would have been like one more step on showcasing the mostly underplayed vegetarian spread of the Bengali's but the top of the recall of main Bengali dishes find a place here sans the ghontos and chochhoris. In the same way, Kankana has shown restriction in fish, chicken and meat section and 11 recipes (covering most of the popular ones and surprise inclusion of Deem Papad er jhol and Omelette curry) may seem less but the reason for which the space has been sacrificed is worth it.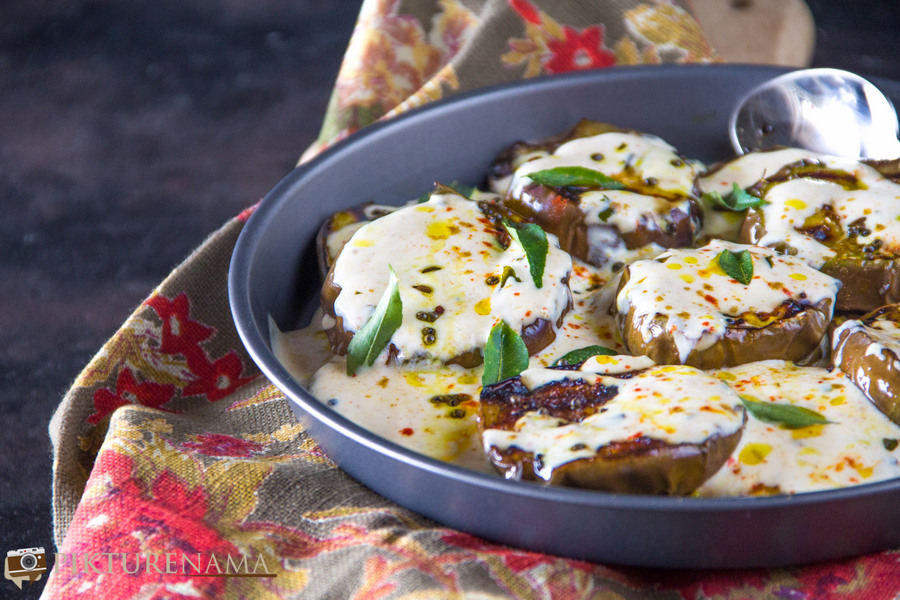 Bengali achaar and chutney is one of the most consistent yet underplayed part of the cuisine. The next two sections Smack your palate, Sweet Tooth covers up for that (including how to make Rosogolla). Smack and Sip can give you some insider tips on Jhalmuri, Kolkata egg roll and some more of the other popular dishes. 
The Playful cooking (incidentally, that's the name of her blog also) is the place where one perhaps gets an idea of Kankana the chef. It's the place where she adds twists to the popular dishes e.g. the daler bora gets Middle Eastern falafel perspective, bhoger khichuri turns into Quinoa split yellow beans pilaf and some more. 
Amongst all the genres of food blogging, recipe writing is considered as the simplest and easiest by many and mostly by people who have a ringside view. One misses out on the simplest fact that, cooking in person and documenting it for another person to cook, who may not have the same competency level is a huge challenge and a perfect recipe is supposed to be just perfect . Kankana, doesn't deviate in the history, doesn't test the waters of authenticty and keeps it simple. Remember, keeping it simple is tough – always. Kankana is based in California Bay Area and the book has been released across all book selling portals as well as in the US. It took her 6 whole months of rigourous working in the kitchen from 9 to 5 for the book to be ready to be published. I can safely say, she has perfected it. A book with some known, some uncommon recipes and some nostalgia – would you need anything more as a food lover?
P.S. – Ending with sweet dishes is a Bengali tradition, so here it goes. I have been a fan of Kankana's pictures and started with her people photography but I don't remember any Bengali recipe book which has the pictures like these. I am in the process of figuring out what makes a perspective of a photographer change and if location is one of the reason? The redefining style of a grey background with toned down red, green and yellow gives Bengali food a new look, which will definitely work well with an international audience. 
Madhushree made Doi Begun and the recipe is followed from Kankana's Book. We selected Doi Begun as its easy to make and has a twist which makes this 
This is not a paid post nor an obligatory post. I am sharing the link from where the book can be purchased and it's not an affiliate link so I earn "lobodonka" (a big nothing as they call it in Bengali). You can place your orders here for a free delivery to India – https://www.bookdepository.com/Taste-Eastern-India-Kankana-Saxena/9781624146039
We made a video for Doi Begun in our youtube channel also . Have you subscribed to our Youtube channel yet ? 
Add this to yummly ? – Yum

Do try this recipe and share your feedback. You can reach out to us at our social media handles: Instagram, Facebook or any of our personal Facebook (Madhushree and Anindya)and twitter profiles. Post a picture and tag us.
Pin this for your recipe board? You can follow us on Pikturenama recipes for more recipe ideas (Link) You can pin this Doi Begun image for your pinterest board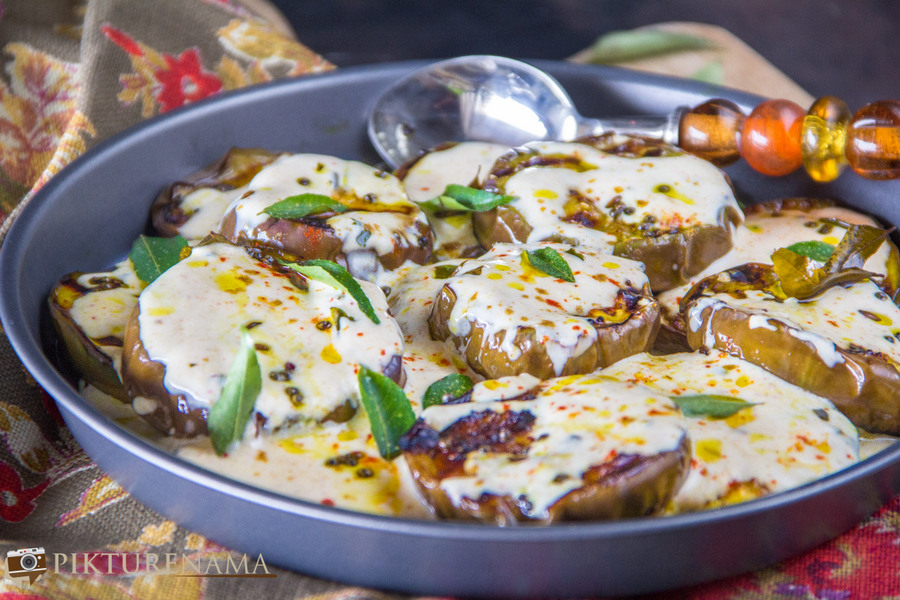 Doi Begun
As described by Kankana in the book, this is not a typical Doi begun recipe. Instead of cooking the yogurt with the spices and then adding the eggplant to the sauce, over here, the yogurt is tempered with the spices and topped on the fried eggplant slices.
Ingredients
1

no

medium sized eggplant or begun

2

tsp

Salt

1

tsp

Turmeric Powder

3

tbsp

Mustard Oil

Kankana uses 2 tbsp and 2 tsp of oil

1

tsp

cumin seeds

2

cups

thick greek yogurt

I used 490 gms of regular yogurt and hung it in a muslin cloth for an hour to take the excess water out.

1

tsp

Sugar

10

nos

fresh curry leaves

1

tsp

black mustard seeds

1

tsp

chilli powder
Instructions
Cut the eggplant into slices, about 1 cm thick. Sprinkle some salt and the turmeric and smear them on both sides of the eggplant and keep them aside for half an hour.

After half hour, you will notice that the eggplant has released some moisture. So just drain the water out.

In a frying pan, heat 2 tbsp of mustard oil and when the oil become hot, place the eggplant slices evenly in the frying pan. There should be only one layer of the discs. Cook for 2 minutes on each side or until the eggplants have softened. Remove them from the frying pan and place them on a serving dish.

Dry roast the cumin seeds on a separate pan and grind into a fine powder using a mortar and pestle or a coffee grinder. (see notes)

In a small mixing bowl, mix the yogurt with the cumin powder, sugar and salt to taste. Whisk it thoroughly till you have a smooth yogurt mixture.

In a small tadka pan, take 1 tbsp of mustard oil and heat it. Add the curry leaves, mustard seeds and chilli powder. (See notes)

Swirl the pan till all the seeds start to splutter and then pour half of this oil into the yogurt. Whisk the yogurt once again and pour this flavoured yogurt over the eggplant slices using a spoon.

Make sure that all your eggplan slices are coated with the yogurt. Finally spoon in the rest of the infused oil on the eggplants and allow it to sit for 15 minutes before serving.

This dish tastes great with steamed rice.
Notes
One needs to prepare everything and assemble them only before serving. Reheating in the microwave leads to the yogurt loosening up and changing texture. It becomes qyite watery and does not taste the same.
The recipe,as per the book has cumin seeds which needs to be roasted and then ground. In my kitchen, I always have roasted cumin seeds ground in a container. Hence I used little less than a tsp of cumin powder.
Finally, while adding the mustard seeds for tempering, I also added 1/2 tsp of cumin seeds to the same.
I have used 2 medium sized brinjals cut into slices and the rest of the ingredients remained the same as per the book.
I have written the recipe, exactly as the book. So feel free to follow the same or to make small changes as I had done.