Prawns are literally sacred for us. I grew up by the sea and lived on seafood every single day till I left Port Blair. So prawns, lobsters and crabs were easily accessible and Ma loved cooking with them. During summer holidays, we would spend our time at Canning, where we had our own fish pond. So it was always some fresh catch of the day for lunch and a weekly dose of prawns from matla river. Sometimes golda chingri (local lobsters), sometimes bagda chingri (tiger prawns) and sometimes the small prawns for lau chingri or a
chingri makha
.
Golda chingri was so precious that only
chingri macher malaikari
would be made with it. Tiger prawns, on the other hand, got made several ways, especially shorshe bhapa. However, it was after marriage, that I saw my mother in law cook fulkopi diye chingri mach.
Typically in winter, when cauliflowers becomes a routine affair in the kitchen, I have seen Ma (mother in law), cook nice plump tiger prawns with cauliflower and potatoes. I grew up with the idea that cooking big prawns in any other way but a malaikari or a shorshe bata was sacrilege. More than the cook (my grandmother and later my mother), it was the men, who would sort of give the idea that any other way was unacceptable. I got married in March, it was still cauliflower in season. I still vividly remember the beautiful aroma from the kitchen of cauliflower and prawns together getting cooked.
Fulkopi diye chingri mach tastes best with tiger prawns
Tiger prawns or bagda chingri is best suited for this dish. And to be honest, like most prawn recipes, this one is too easy to make. Whenever it came to entertaining guests, prawns are the easiest and safest bet (unless someone is allergic). It gets cooked within no time and the prawn itself has so much flavour, that it doesn't need to many spices.
For Professional Food Photography contact us
Few Important points to remember while making cauliflower and prawn curry
The most important step is to de vein the prawns and clean them well. You can cook with or without the heads, it is your choice. You can also keep the shell on the tail if you wish to. If you choose to keep the heads, don't forget to take out a poop bag at the back of the head.

You can add the prawns at the end of the process without frying as well. However, when you fry it, the oil from the heads goes into the mustard oil and the gravy becomes ever so flavourful.

Depending on the size of the prawns, cook the prawns. Prawns don't take long to cook and if you overcook, they become quite rubbery. For a soft and delicate taste, lightly sautee in the beginning and add in the gravy right towards the end when the vegetables are almost cooked.

You may not want to add sugar, but sugar is a key element. It really balances the taste of the dish.

Serving and storing suggestions
This dish is typically had with a plate of hot steaming white rice. You can also squeeze a bit of lime on top to give it an extra punch. You can also serve it with Basanti Polao or Ghee Bhat. Phulkopi diye chingri mach can be kept in the fridge for up to 4 days. While re heating, add a bit of ghee for extra freshness. You can also freeze for a month and thaw in the microwave.
You can check our youtube channel for some more cooking videos . Please show some love there. 
Do try this recipe and share your feedback. You can reach out to us at our social media handles: Instagram, Facebook or any of our personal Facebook (Madhushree and Anindya) and twitter profiles. Post a picture and tag us.
Pin this for your recipe board ? You can follow us on Pikturenama recipes for more recipe ideas (Link)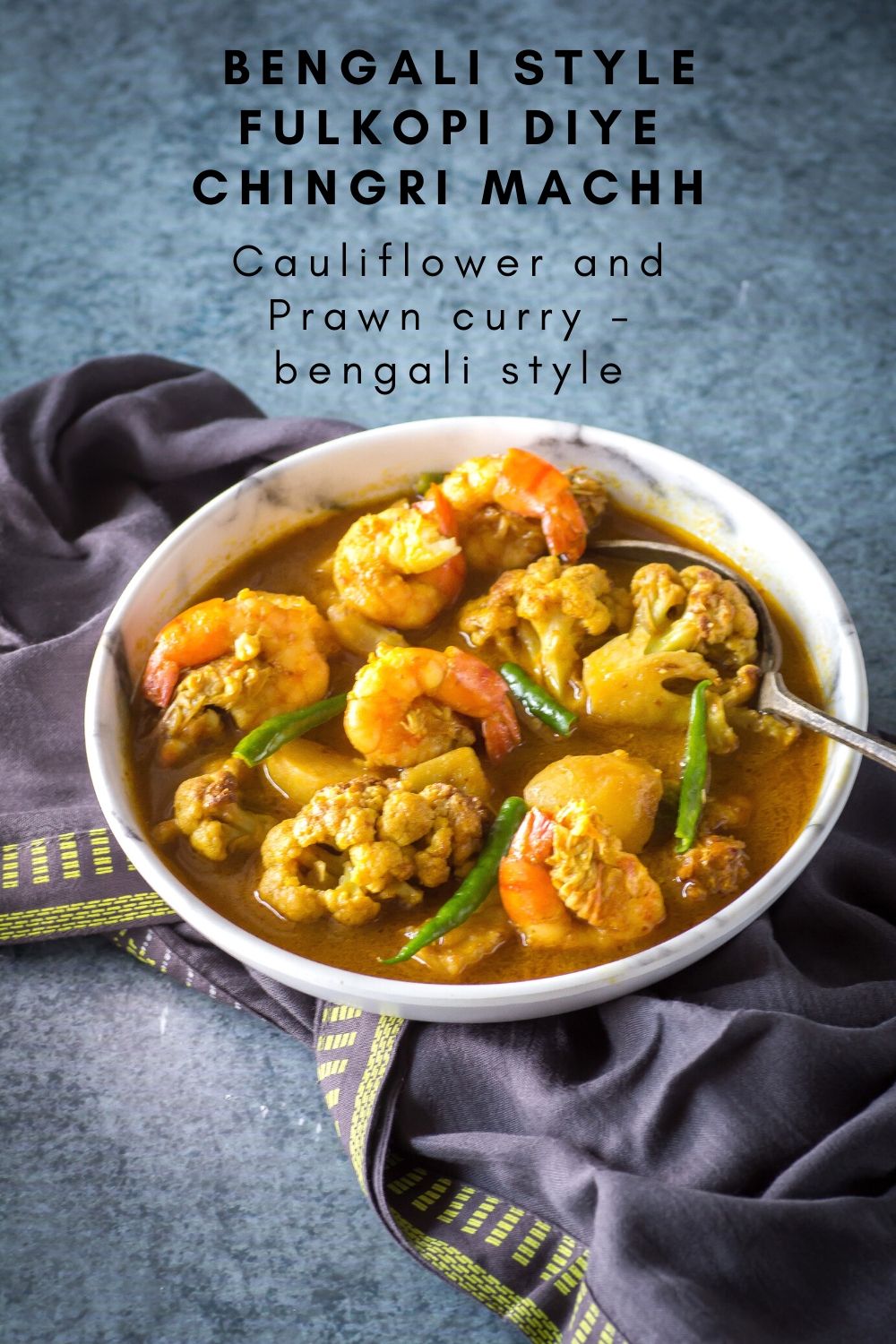 Fulkopi Diye Chingri Mach | Cauliflower and Prawn Curry
A traditional Bengali recipe where Tiger prawns are cooked cauliflower and potatoes in a light and flavourful gravy with no onion and no garlic.
Ingredients
8

nos

medium or large sized tiger prawns

1

tsp

turmeric powder

2

tsp

Kashmiri red chili powder

you can use regular chili powder as well

2

nos

medium sized potatoes

1

no

medium sized cauliflower

2

tsp

ginger paste

1.5

tsp

cumin powder

1/2

tsp

sugar

2 - 3

nos

green chilies

3

tbsp

mustard oil

1

tsp

ghee

1/4

tsp

Bengali garam masala

see notes
Instructions
Devein the prawns and clean them well. You can cook with or without the heads, it is your choice. You can also keep theshell on the tail if you wish to.

Marinade the prawns with salt and 1/2 tsp turmeric powder.

Peel the potatoes, wash them along with the cauliflowers. Then cut the cauliflowers into medium sized florets. Cut the potatoes in quarters.

Then in a kadai, take 1 tbsp mustard oil and fry the cauliflowers and potatoes till they are nice and golden. Fry on high heat first and then lower the heat and cover for a couple of minutes. Then take them out and keep aside.

In the same kadai, add 1 more tbsp of mustard oil and let the oil be almost smoky hot. Then gently slide in the prawns, without any excess liquid from the marinade. Lightly fry the prawns on each side, just enough for a mellow colour and then take then out and keep aside. 

In a small bowl, take ginger paste, balance turmeric powder, red chili powder, cumin powder salt and some water to make a paste.

Add the balance mustard oil in the kadai and when the oil is hot, add the above spice paste. Keep stirring for a couple of minutes on medium heat and if the spices stick to the kadai, sprinkle water.

Then add the cauliflower and the potatoes and coat the spices. Add half a cup of water, sprinkle some salt and let the sauce simmer over medium to low heat. Cover the kadai and let it simmer for 5 to 6 minutes or until the vegetables have become soft.

At that point, add the prawns and if required, add little water. Adjust the seasoning and add sugar. Increase the heat and let it boil.

Add split green chilies, ghee and garam masala. Give it a final boil and turn off the heat.

Serve this with steaming white rice or a basanti pulao or ghee bhat.
Notes
Bengali Garam Masala uses only green cardamom, cinnamon and cloves. They are ground together and not necessarily roasted before powdered.