Chilli Chicken- the origin
Before I started researching and writing about food, I never gave the history of chilli chicken any thought. When I was younger, it was inevitable that I would have the chilli chicken and fried rice at Chung Wah or Waldorf (at its former location on Park Street, where they currently have a variety of restaurants and where MamaGoto had opened and closed as well). Noodles were clearly the obvious choice too. I questioned my friend Freddy, the owner of Golden Joy, one of Tangra's most well-known Chinese eateries, as to why they added chilli chicken to their menu. The market demanded it, was his straightforward response.
Chilli chicken in the neighbourhood
There was a passage of time when Chili chicken became CHILLI Chicken with additional stress on 'L'. It was the same time when Chinese Hakka Noodles ( with no trace of origin in Hakka province) were tossed with Indian Garam Masala, and became an iconic food of India. Chicken Manchurian by now had become a much-loved food as was Gobi Manchurian. Both were invented by the Kolkata Tangra boy turned legend – Nelson Wang. Every roadside cart from small joints to large restaurants mastered the art of cooking Indo-Chinese and started making chili chicken. Just like Kolkata Biryani and Chicken Chaap , chowmein and chili chicken became a great combo. It started selling like hot cakes. 
Easy process of making Chili Chicken
Chinese food has the lowest food cost and the convenience of making it quick. Hence featured in multi-cuisine restaurants across the country in the 80s and 90s. The roadside stalls keep a fixed quantity of noodles boiled and prepared beforehand.  And on order, they toss and sizzle it up on a large tawa and serve it. A fixed number of chicken pieces with chunks of capsicum and onion and green chillies always looks incredibly enticing. When we posted the reel for chili chicken, there were many nostalgic comments.  Some even identified which places are best for roadside Indo-Chinese. Some wondered if Tangra Style Chili chicken could be rechristened as a National dish of Bengal – Well think over it. In the meantime what makes it so great?
Chili chicken and UMAMI 
Umami is the real thing now and a lot is getting discussed about it. Unknowingly we all have been discussing Umami in various forms but haven't been able to identify one particular taste. When we met Mr Sanghvi (who needs no introduction) yesterday, it was a serious discussion on food stories across the world and the recipe for making the best Chili chicken came up.
As effortlessly as possible, Mr. Sanghvi mentioned that the Umami comes from the ketchup and Soy sauce and true it is. Some use green chillies, slit and tossed and dried and some use capsicum only. It is a dish which is adopted by Kolkata and India yet is very close to our hearts. What's the best chili chicken you have had? I am biased towards any fried snack. So a chicken lollypop works great for me too as long as the spice level is kept moderate. 
In case you are wondering what is UMAMI – check no further. Read this article by Mr. Vir Sanghvi 
Share your cooking with us
Are you following us on our youtube channel Cook with Pikturenama?
Do try this recipe and share your feedback. You can also reach out to us at our social media handles Instagram, Facebook or any of our personal Facebook (Madhushree & Anindya) & Twitter profiles. Please post a picture and tag us.
You can also check out the Instagram handle of PIKTURENAMA STUDIOS if you want to give your culinary creations a voice.
If you have any queries regarding food photography, food styling, and Content creation, Check out our website right here – BEHANCE
What else can go best with a Chilli Chicken other than Chowmein, Isn't it ? 
So, here is a reel of Kolkata Style Chowmein on Instagram
Pin this for your recipe board. And you can follow us on Pikturenama recipes for more recipe ideas (Link)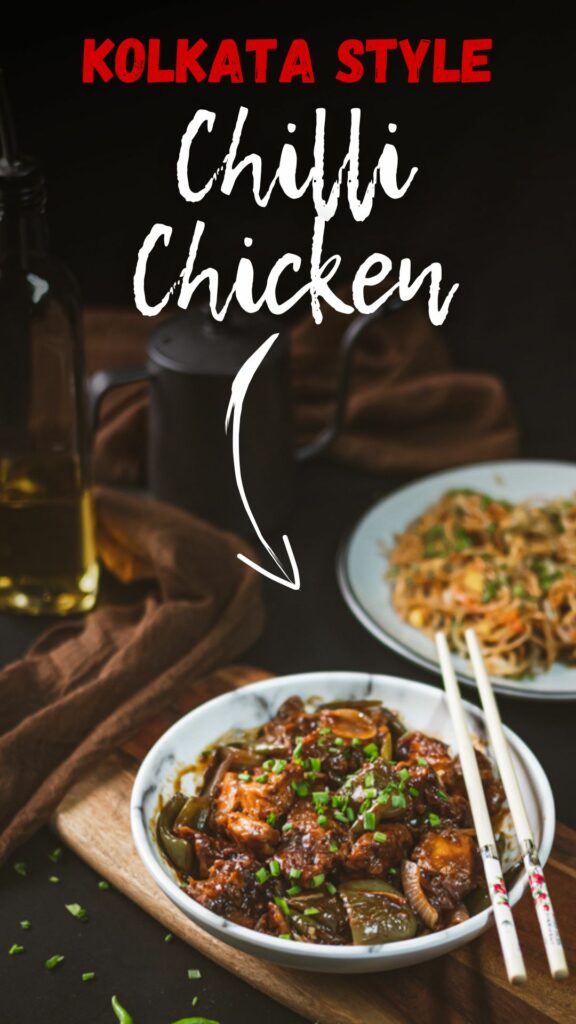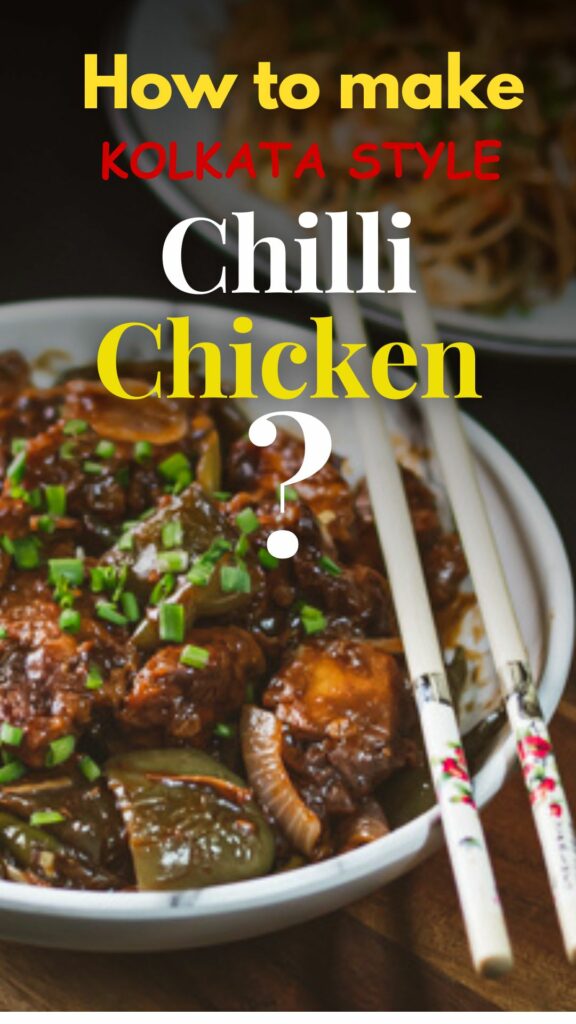 Kolkata Style Chili Chicken
A popular street food as well as restaurant food, this Indo-Chinese dish is made with chicken cubes battered and coated in a soy-based sauce with lots of green chilies.
Ingredients
For the marinade
300

gm

boneless chicken legs

cut into one-inch cubes

1

tsp

ginger paste

2

tsp

red chili sauce

chinese red chili sauce

2

tsp

dark soy sauce

1

large

egg

2

tsp

green chili sauce

3-4

tbsp

corn flour
For the sauce
1

tsp

chopped garlic

1

tsp

ginger julienne

2

large

onions

cut into large cubes

1

small

capsicum

cut into thin strips

1

tbsp

soy sauce

1

tbsp

ketchup

1-2

tsp

vinegar

4-5

numbers

green chilies

cut diagonally

1-2

tsp

corn flour

oil for deep frying
Instructions
Marinade boneless chicken legs with ginger paste, red chili sauce, dark soy sauce, one egg, green chili sauce and 2-3 tbsp of corn flour or a little more if needed.

Use salt if needed but soy has a lot of salt anyway. Also, you have to taste the marinade as you go and add more or less of what you need. The taste changes depending on the sauces that you have.

Heat oil for deep frying and then take the chicken pcs one by one and deep fry them on medium to hot oil, so that the chicken cooks without burning the coating. Take them out on a paper towel.

Heat 2 tbsp of oil in a frying pan and add chopped garlic and a little bit of chopped or ginger julienne. Add the onions immediately or else the garlic will burn.

After 20 seconds, add the capsicum and stir fry on high heat. Once the capsicum has softened a little bit, reduce the heat and add soy sauce, ketchup, vinegar and mix.

Then add the chicken pcs and a whole lot of green chilies cut diagonally into smaller pcs. Mix this and add 1-2 tsp of green chili sauce.

Toss this around and you can serve it like this also or add 1 cup of water mixed with 1-2 tsp of corn flour, make a gravy, give it a boil and take it off the heat

Hope you enjoyed this home version of chili chicken. With chili chicken, you have to go as you like with the sauces.