There's no hiding of our love for South East Asian food. Once a weeknight, we end up making a curry. Fortunately, from Anindya's travels and several friends in South East Asia, I am never out of stock of different curry pastes. Using a curry paste is easy and effortless cooking. It is great for weeknights, when you have been literally running about like a headless chicken and want an easy meal for the night. Having said that, sometimes, there are curries you want to have and the pantry doesn't present itself with an easy solution. Like this time, when I was particularly craving for a Chicken Massaman Curry.
Compared to a Thai green curry or a red curry paste, Massaman curry paste is not that easily available. And unlike these, Massaman curry paste does have a lot of spices but is mild in heat. Initially I used to think that Massaman curry is a Malaysian dish. On a google search, I was confirmed that it is a Thai curry of Muslim origin. I have a few books on Indonesian cuisine but couldn't get any details on this particular curry. So, like me, you can check online on wikipedia for information on Massaman curry. One thing I can say for sure, it is just too delicious.
Curry Paste from Scratch for Chicken Massaman Curry
As I said before, Massaman curry has a muslim origin. Hence, it is most commonly cooked with chicken or beef and sometimes, lamb. You will never find a pork massaman curry. Having said that, you can make the curry paste and store it in the refrigerator. You can later, use the paste to make chicken massaman curry or even vegetarian massaman curry. However, massaman curry paste has shrimp paste. So you will have to omit the shrimp paste and the fish sauce in the gravy to get a vegetarian version of massaman curry.
The basic ingredients for a Massaman curry paste are Galangal, Lemon Grass, shallots, cumin seeds, coriander seeds, dried red chillies, cardamom, nutmeg, mace, cloves, cinnamon, garlic and shrimp paste. Well, after doing an extensive research online, I finalised on the recipe of the paste from the label of one of the Massaman curry paste jars sold online.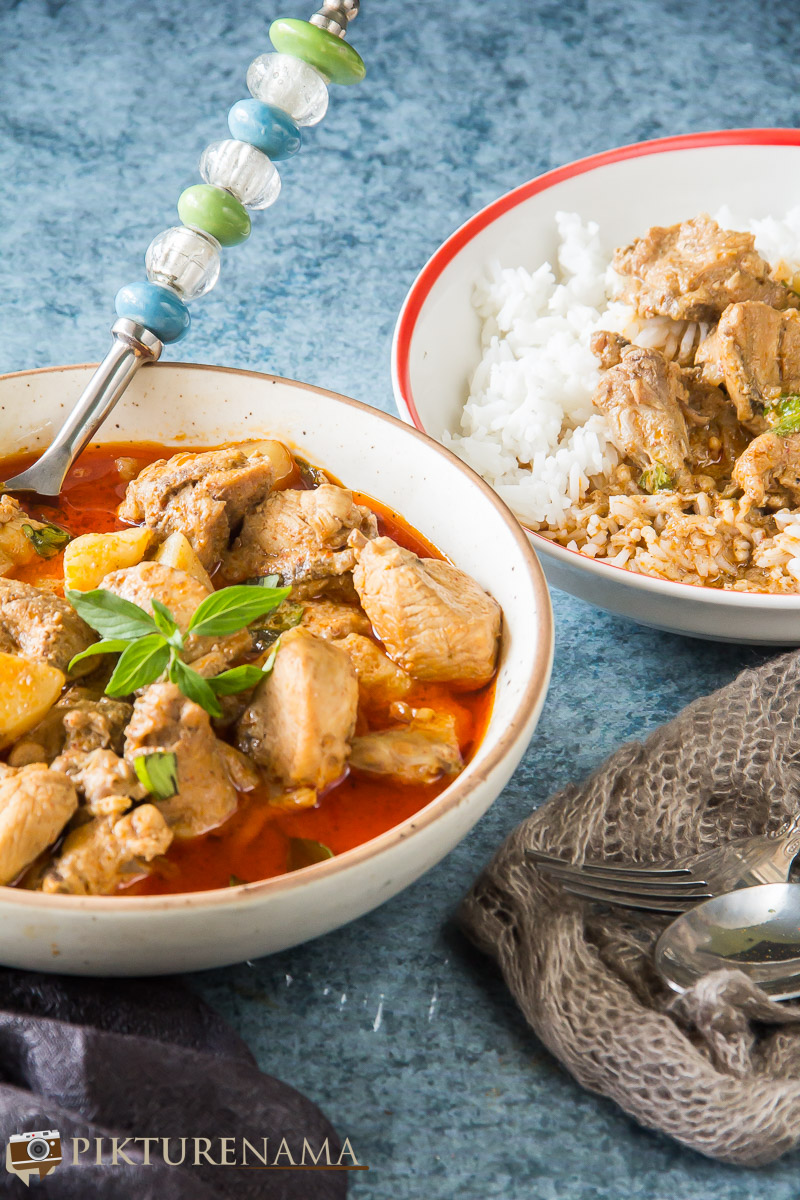 Using Substitutes and Making the Paste
You can easily use susbtitutes for the curry and the paste. Most of the ingredients are available in Asian grocery stores and stores selling exotic ingredients. However, sometimes, we just have to find a way to substitute without much altering the taste. You can use ginger instead of galangal. If you cannot find shallots, use red onions or other onions. Essentially, all the ingredients are pounded in a mortar and pestle and stored. If you want to store for a longer period, then I suggest frying the paste in oil and then storing it.
Serving and Storing Chicken Massaman Curry and the curry paste
The best way to savour a massaman curry is with steamed rice. You can store Massaman curry in the refrigerator for upto a week. I wouldn't suggest freezing the curry. It's a coconut curry and the texture changes on freezing. You can of course, store your massaman curry paste (the fried one) for a long time in the refrigerator.
You can try out The classic Bengali robibarer Murgir Jhol in this video – 
Are you following us on our youtube channel Cook with Pikturenama? Pls subscribe. 
Do try this recipe and share your feedback. You can reach out to us at our social media handles: Instagram, Facebook or any of our personal Facebook (Madhushree and Anindya) and twitter profiles. Post a picture and tag us.
Pin this for your recipe board ? You can follow us on Pikturenama recipes for more recipe ideas

 (Link)
Chicken Massaman Curry Recipe from Scratch
Chicken Massaman Curry is a mild Thai curry of Muslim origin and uses a variety of spices. It is a coconut based curry.
Ingredients
For Massaman Curry Paste
2

shallots

or 1 large onion

2

inch

galangal

or ginger

1

stalk

lemongrass

take only the soft pulp inside

6-8

cloves

garlic

1/2

tbsp

coriander seeds

1

tsp

cumin seeds

1

pinch

nutmeg powder

1/2

tsp

mace

1/2

inch

cinnamon stick

2- 3

cloves

2-3

green cardamom

1

tsp

shrimp paste

3 - 4

dried red chillies

you can take more if you like spicy food

salt to taste
To Make Massaman Curry
1

kg

chicken curry cut

2 - 3

nos

green cardamom

1/2

inch

cinnamon stick

2

nos

star anise

8-10

nos

shallots

or equivalent quantity onions

400

ml

coconut milk

2

tsp

fish sauce

or soy sauce

3 - 4

tbsp

Massaman curry paste

2

no

potatoes

2

tbsp

palm sugar

or brown sugar

handful of roasted peanuts

1/2

tsp

thick tamarind paste

salt to taste

2

tbsp

vegetable oil

fresh basil leaves for garnish
Instructions
Making Massaman Curry Paste
Dry roast the spices and dry red chillies. Grind all the ingredients together in a blender. For best results, grind in a mortar and pestle.

Keep the curry paste ready and store in the refrigerator. In case you want to use the curry paste much later, you can fry the paste in a little bit of oil and then keep it stored for a long time in the refrigerator.
Making Chicken Massaman Curry
Marinate the chicken pieces in 1 tsp vegetable oil and 3 tbsp massaman curry paste. Let it sit in the marinade for at least 30 minutes.

Peel the potatoes and cut them into large quarters.

In a heavy bottomed sauce pan or a wok, take the rest of the vegetable oil and heat it.

When the oil is hot, add cardamom, cinnamon and star anise. Let the spices release some fragrance. Then add the shallots and fry on medium flame.

When the shallots are golden brown, add the potatoes and fry them on medium heat for 2 - 3 minutes.

Then add the marinated chicken and stir fry on high heat so that the chicken gets some colour.

After 4 - 5 minutes, add coconut milk (leaving aside 1/4 cup), fish sauce and just about enough warm water to cover the chicken pieces.

At this point, if you feel the need, then add another tbsp of massaman curry paste.

Let it boil for a couple of minutes and then cover and cook on low heat till the potatoes and chicken have become soft.

Once chicken and potatoes are cooked, add palm sugar (you can add less of palm sugar too), peanuts and tamarind paste.

Add the rest of the coconut milk and water , if required. Check the seasoning and add fish sauce or soy sauce if you think it needs more salt. Or else, simply add salt.

Lastly, add basil leaves, give it one boil and turn off the heat.

Serve chicken massaman curry with steamed rice.